India's G20 presidency a chance to bridge the global divide between countries: Observers
India is also in a prime position to facilitate a resolution to the war in Ukraine, due to its historical ties with Moscow and continued engagement with the West.
NEW DELHI: India's G20 presidency gives it the opportunity to not just focus on the interests of the developing world, but to build a bridge between them and the developed world, said experts.
The South Asian giant officially took over the G20 leadership from Indonesia on Thursday (Dec 1), with Prime Minister Narendra Modi promising that India's stint as head of the bloc will be inclusive and action-oriented.
With issues such as the Russia-Ukraine war and the superpower rivalry between the US and China at play, the diplomatic balancing act will put India's G20 motto "one earth, one family, one future" to the test next year when it plays host to world leaders in New Delhi.
Experts said India will also need to deftly juggle its diplomatic interests with its domestic concerns.
TAKING THE REINS IN A TIME OF CHAOS
Mr Modi has acknowledged that India's G20 presidency is coming at a time of global chaos, but he wants to ensure New Delhi plays the role of a problem solver.
"We will strive to ensure that the G20 acts as a global prime mover to envision new ideas and accelerate collective action," he said during the G20 summit in Bali last month.
Mr Richard M Rossow, senior adviser and Wadhwani Chair in US-India Policy Studies at the Center for Strategic and International Studies, said it remains to be seen whether India will drive the agenda, or if it will succumb to external forces.
"Right now, you've got a bit of a lull in terms of the pressure India's felt over its benign position on Russia's invasion of Ukraine. COVID is in a bit of a lull. So apart from inflation and such, they got a fairly clean slate to drive the agenda," Mr Rossow told CNA's Asia First.
"If they get to control it, their work on improving digital inclusivity and expanding public services are all great things that I think they want to share with the world."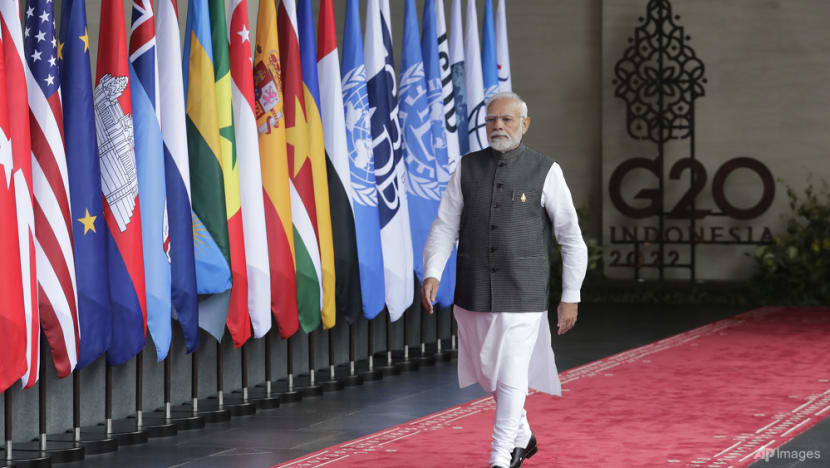 One of the biggest challenges for India would be building a consensus on and de-escalating the conflict in Ukraine.
Because of its historical ties with Moscow and continued engagement with the West, India is being courted by all the players involved in the conflict, and that could be pivotal to holding a successful summit.
Carnegie India director Rudra Chaudhuri said: "India is the one place where you can imagine Russian representatives sitting alongside the EU, and maybe even the US, and trying to find some balance with regards to the future. Look at how many countries can do that today? Can Europe and the US do it? No. Can China do it? No."
He added that while Russian President Vladimir Putin skipped this year's G20 summit in Bali, he remains hopeful that the leader would head to New Delhi next year.
ON RUSSIA AND CHINA
India has for years walked a diplomatic tightrope, carefully navigating the US-Russia rivalry. But while most countries currently shun Russia for its actions in Ukraine, India is standing by its old friend.
It has condemned the war in Ukraine but not Russia's invasion specifically, and has also consistently abstained from United Nations votes against Moscow.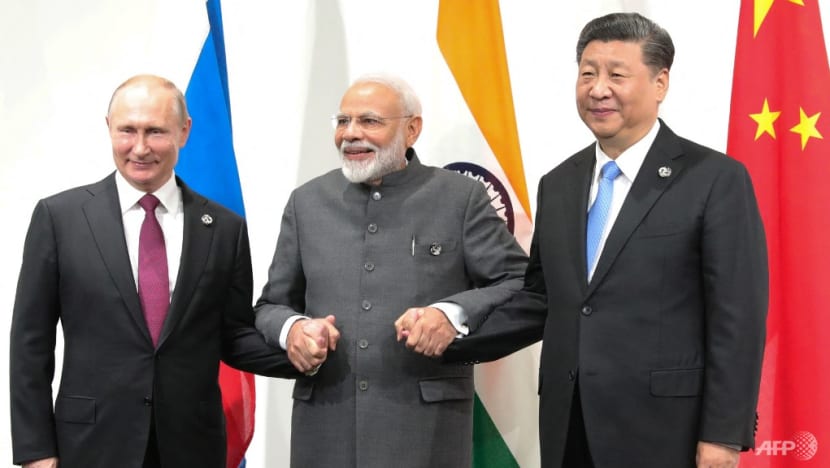 The South Asian giant also continues to buy heavily discounted Russian oil, on the basis of fulfilling the needs of its 1.4 billion citizens.
It also maintains a thriving defence partnership with Russia dating back to the Cold War. This year, bilateral trade between Moscow and New Delhi tripled, despite threats of sanctions from the US.
Mr Rossow said that when Mr Putin eventually decides on his country's endgame in the conflict, "India is one of the few that can pick up a phone and speak to practically every world leader" and facilitate a reasonable outcome.
"I don't suspect the G20 is going to be the place (to discuss this). I think those will be sidebar conversations, but we'll see how that plays out."
While it retains close ties with Russia, India is also expanding its engagements with the US and western allies, helping them balance against China's rise.
"Privately behind the scenes, he (Modi) also has been nudging European leaders in particular to start paying more attention to the threats that countries like India face in the Indo-Pacific, a view that I think is widely shared by the United States," said Mr Rossow.
MOVING FORWARD
India today is less self-conscious of its own actions and decisions, and will do what it takes to develop itself further, even if it does not necessarily appease other major countries, said former Deputy National Security Advisor Pankaj Saran.
"When you're seeking to break out of poverty and disempowerment internationally and globally and you want to make your voice heard, you have to make difficult decisions sometimes," said the former Indian ambassador to Russia.
For India, the G20 presidency will also be an attempt to bring the group's focus back to economic challenges facing the world, something that will have resonance at home as Mr Modi gears up to seek another term in office in 2024.
Officials say India will also use its presidency to be a voice for the Global South and for poorer nations suffering the ravages of conflicts the West is engaged in.
Apart from geopolitical tensions, India will also have to deal with contentious issues such as global climate finance, protectionism, and shifting manufacturing supply chains, said Mr Rossow.
"The question is, what role is India going to play in this? When you think of trade matters and things like that, India has generally chosen to be a leader of the developing world. Hopefully at the G20, they're going to instead choose to be the bridge builder," he said.
He added that while India has been met with a "confrontational approach" by the West on some issues, it can still go on to achieve some success on issues like the Russia-Ukraine conflict and on climate finance, things which India itself has a big stake in.
Mr Rossow added that with countries like the US investing vast amounts of financial resources to build up their own domestic manufacturing capabilities, India would face some challenges in this sector.
"Since Modi came in, he's had a bit of a protectionist bent on trade," said Mr Rossow. "They want to be the next best place to attract all that global manufacturing. They'd love for the G20 to be a platform to showcase their power and might and manufacturing prowess."