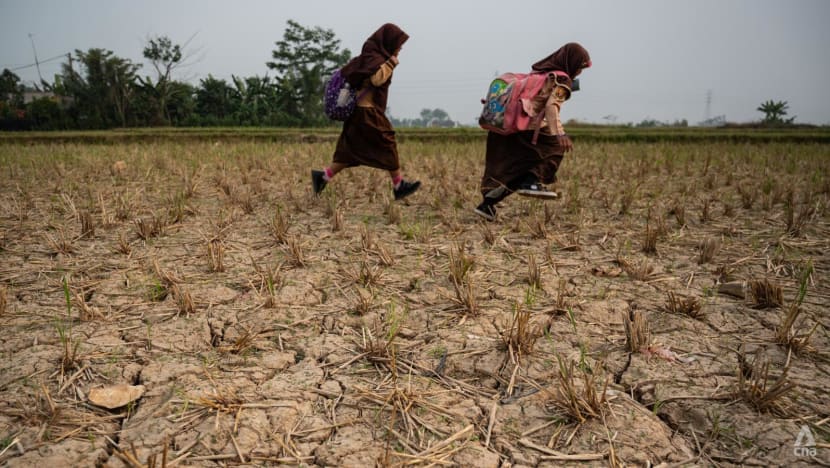 JAKARTA: For weeks, dozens of residents of Ridogalih Village have been flocking to a small river to bathe and wash their clothes, travelling on foot or by motorcycles under the relentless heat of a blaring summer sun.
The water wells in this sleepy village – a 90-minute drive from the eastern edge of the Indonesian capital Jakarta - have dried up since early June, their depths barren and empty.
Meanwhile, the once fertile rice fields that used to stretch like a green sea have started to turn into parched dirt with withered brown rice stems jutting out of the ground.
The dry spell left residents with no choice but to seek water from the nearest body of water: Cihowe, a small river that cuts through the middle of the village.
"Even now the river's water level is already receding," 45-year-old Hanifah, who like many Indonesians goes by one name, told CNA.
The mother of two worries that if the dry spell continues, the Cihowe would reduce to a trickle just like it did in 2019 when two weather phenomena - El Nino and the so-called positive Indian Ocean Dipole (IOD) event - resulted in a prolonged drought across Indonesia.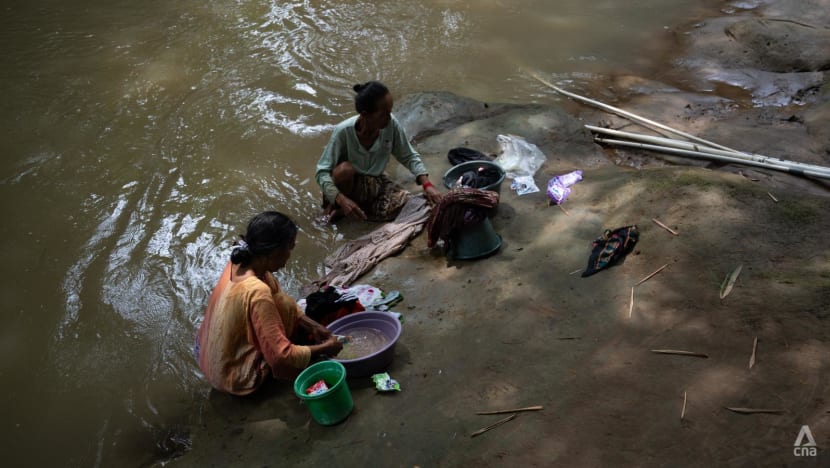 A positive IOD event, which suppresses cloud formation over certain parts of the tropical Indian Ocean, typically brings drier and warmer conditions to many parts of southern Southeast Asia.
That year, the water wells of Ridogalih were barren for seven months, Hanifah said, and the Cihowe stopped flowing completely. Residents had to queue for hours for fresh water distributed by the government and private donors using an army of tanker trucks.
The trucks did not come regularly and residents had to set aside a huge portion of their income to buy mineral water. With nothing growing that year, the farmers of Ridogalih had to look for odd jobs elsewhere, depriving the village of most of its productive-aged residents.
Scientists at the Indonesian Meteorology, Climatology and Geophysics Agency (BMKG) predicted that the two weather phenomena will return this year, warning that millions of Indonesians could face prolonged drought, clean water scarcity and crop failure.
The agency also warned that forest and land fires could rise this year.
"Regional governments must mitigate and be prepared (for drought) immediately," BMKG chief Dwikorita Karnawati warned on Jul 21, adding that the dry season is expected to peak between August and September and last until early next year.
Last week, local officials across Indonesia began mapping out drought-prone areas and devising strategies to mitigate the impacts of the two weather phenomena. At least one Indonesian province, West Java, where Ridogalih is located, has declared a state of emergency.
WIDESPREAD IMPACT
According to government data, around 92 per cent of the country reported a "harsher-than-usual" dry season as a result of the 2019 El Nino and positive IOD event.
The condition caused approximately 48.5 million people across Indonesia to experience reduced access to clean water. That year, states of emergency were declared in Java's Banten, West Java, Central Java and Yogyakarta provinces along with West Nusa Tenggara and East Nusa Tenggara.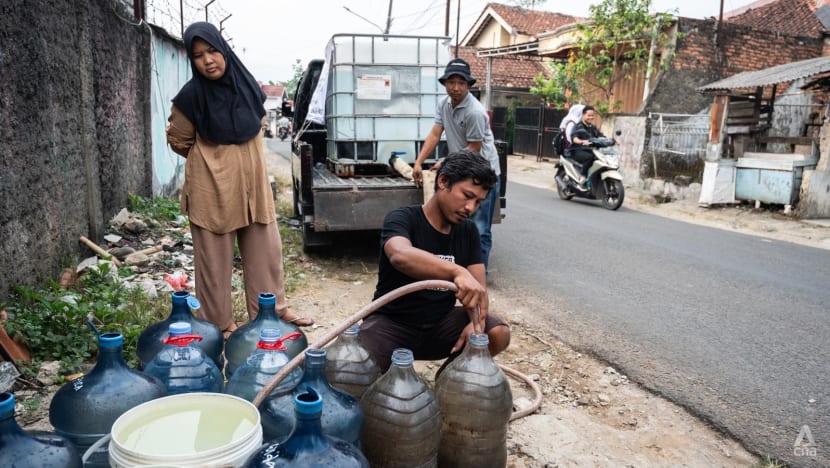 The Indonesian government has not made any prediction on how many people will be affected by this year's drought but certain areas across the vast nation are starting to see the impacts of the two weather phenomena.
This week, famine is reported in three districts in Papua after the dry season resulted in crop failure, Indonesia's social affairs ministry said. Officials are trying to send in food and other relief aid to affected areas.
In Sragen, Central Java, more than 3,000 people in four districts are facing a clean water crisis and had to rely on supplies dropped by the local disaster mitigation agency, local media reported. The disaster agency predicted that the number of affected people will increase as the dry season continues.
Water scarcity is also reported in two other regencies in Central Java.
Meanwhile in Jakarta, the city's notoriously flood-prone river Ciliwung has been seeing its water level dwindle over the last few weeks.
In one area, at the Katulampa sluice gate, water level was even reduced to a rare zero centimetre this week, which means there is no water coming in from Ciliwung's many tributaries in the hilly upstream areas. The sluice gate has an average water level of 50cm and during a major flood can reach up to 200cm.
The dry season is also affecting water quality and quantity in other areas.
Jakarta resident Nurbayati said she has been getting only intermittent tap water service for the past few weeks.
"The water is only running at certain times of the day. It runs for a few hours and it stops again. This is why many people in my neighbourhood including myself had begun acquiring water tanks to hold the water," she said, adding that the water was at times murky and reeked of the smell of chlorine.
GOVERNMENT PREPARING FOR PROLONGED DROUGHT
President Joko Widodo on Monday (Jul 24) instructed regional governments and state owned enterprises to set aside funds to aid those who might be impacted by the drought.
"We hope we can (prepare) ahead of time, so that when El Nino hits, people will not be overwhelmed because the heat can cause health problems and secondly, our food (security) can also be disrupted," he told reporters in Jakarta.
The president said the government is ready to provide food aid and subsidies to anticipate a possible price hike due to crop failures.
BMKG deputy for climatology, Ardhasena Sopaheluwakan, said the government also needs to prepare for other impacts of a prolonged drought.
"During the dry season, the air will be drier and laden with dust and thus more prone to the spread of disease," he said in a statement.
Sopaheluwakan said the average Indonesians can also play their part to mitigate the effects of a drought by only using water when they absolutely need to and refrain from water-reliant activities like watering the garden or washing the car too often.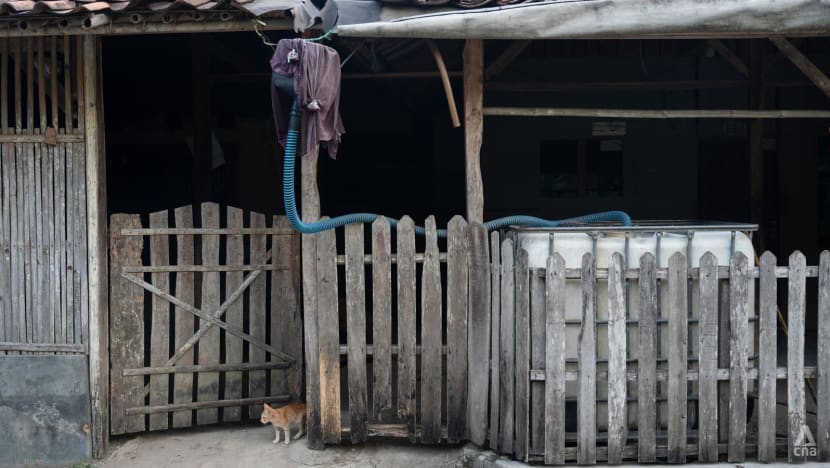 National Disaster Mitigation Agency (BNPB) deputy for prevention Prasinta Dewi said her office has been pushing regional governments to come up with a mitigation strategy to deal with the impacts of a drought.
"Every region should come up with a contingency plan based on the resources that they have. Then, they need to list down what they would need should a disaster hit," she told a discussion on Tuesday.
Several provinces, Dewi said, have begun mapping out drought-prone areas and preparing dozens of tanker trucks ready to distribute water from unaffected water sources to areas in need.
The West Java government took things further by declaring an emergency status on Monday, allowing the province to allocate more money and resources to mitigate drought. The status also allows the province to seek help from the central government in Jakarta.
Firdaus Ali, an environmental engineering expert from the University of Indonesia, said the country needs a more strategic solution to mitigate drought in the long run.
Ideally, he said, a country as big as Indonesia should have at least 4,000 dams and reservoirs to hold water during the rainy season and redistribute it during a drought. The country of 270 million currently has 235.
"We need massive water infrastructures to increase our ability to supply fresh water, control floods and so on," Ali told a discussion recently, adding that such projects would require billions of dollars in investment.
"We are still far (from ideal) and of course, it won't be easy."
Read this story in Bahasa Indonesia here.