'Time to reflect': Indonesia's football fans set aside rivalry in wake of deadly stadium stampede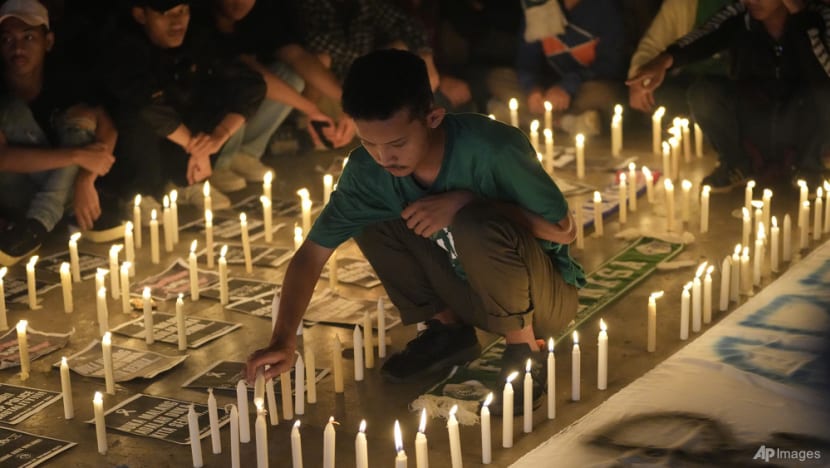 JAKARTA: It was supposed to be a night of celebration for fans of Indonesian football club Persebaya.
On Oct 1, their team defeated its bitter rival Arema 2-3, the first away win on Arema's soil in 23 years.
In honouring an existing pact with Arema fans, Persebaya supporters, known as "Bonek", did not travel to Malang, the home of Arema, to attend the match. 
They had instead planned a motorcycle convoy to welcome the squad back to Persebaya's home city, Surabaya, a two-hour drive away from Malang.
"But upon hearing the news, we decided to disband," Mr Husein Gozali, the coordinator of one of Persebaya's biggest fan clubs Green Nord said, referring to the stampede at Malang's Kanjuruhan Stadium after the match. 
The stampede, which killed 125 people and injured 300 more, became one of the world's deadliest sporting disasters in history. 
"'Go home! There will be no convoy tonight! No celebration! We won, but we will not celebrate over someone else's tragedy,'" Mr Gozali recounted what he told other supporters that night.
After the final whistle was blown on that Saturday night, thousands of Arema fans, known as "Aremania", invaded the pitch to vent their frustration for the loss.
Police and military officials guarding the match responded by firing tear gas canisters, which ran against security protocol set by football's governing body FIFA.
Videos taken by spectators, which had since circulated online, showed security officers firing tear gas canisters both at the crowd on the pitch and the spectators on the stand.
Some 42,000 people who were watching Saturday's game rushed to flee the cloud of irritating smoke blanketing the stadium. Many were crushed in the ensuing panic, including women and children.
The tragedy has prompted football fans to set aside their differences and stand in solidarity with Arema and the victims. Some believe it could even spell the end of the sometimes unhealthy rivalry among fans.   
LONG-TIME RIVALS
The rivalry between the two cities' football clubs has lasted for decades. Both clubs are known for their diehard fans and both Bonek and Aremania often engage in brawls with each other or with supporters of other clubs.
"Aremanias wouldn't dare wear their club jersey or T-shirt whenever they're in Surabaya. We wouldn't dare to do the same when we're in Malang," Mr Gozali said. "That's just asking for trouble."
To prevent further violence, a pact was signed in 2006 between supporters of both clubs that Boneks will not attend away matches when Persebaya plays Arema and vice versa.
"Both sides have always honoured that pact, which was why there were no Boneks at the stadium," he said.
But despite their rivalry with Aremania, Mr Gozali said many Boneks were devastated upon hearing the news. "We were shocked that so many people died. Whatever the reason, this should not have happened," he said.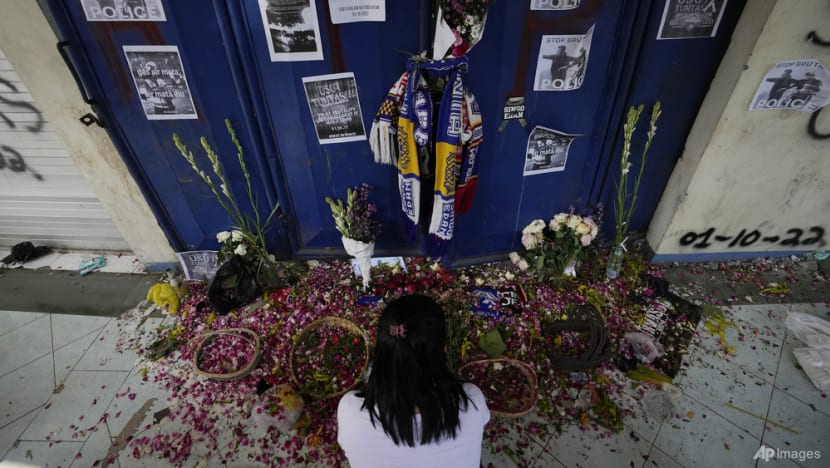 Surabaya mayor Eri Cahyadi echoed the sentiment, writing on his Instagram that he wished Persebaya had lost.
"If only Persebaya had lost … the worst tragedy in Indonesian football history might have been averted and hundreds of lives would have been saved. This is the time to reflect. This should be the last time people lose their lives over football," he wrote.
Persebaya also extended their condolences on their social media page. "No football match is more precious than a (human) life," the club wrote.
ACT OF SOLIDARITY
The following days, several Persebaya fan clubs staged prayers at their respective headquarters and chapter offices. 
On Sunday evening, thousands participated in a vigil staged at the Heroes Monument at Surabaya's city centre.
"I cried when I heard so many were killed in the incident. All of my friends were also devastated by the news. This is why we participated in the vigil. It is the least we could do," Persebaya supporter Zainal Budianto told CNA. 
"Even though we are rivals in football, we are brothers in humanity."
Vigils were also held on Sunday across the country, including in Jakarta by supporters of Persija and in Bandung by supporters of Persib, both are football clubs of the cities.
Mr Gozali said with tension still running high in Malang, Persebaya supporters are anxious about doing more to help Aremanias who have fallen victim to the tragedy.
"There have been suggestions that we should go to Malang and offer help. But it is best to let things cool down a bit before we do that. We are rivals after all. There might be one or two diehard (Arema) fans who are still upset about the loss," he said.
MOMENTUM FOR RECONCILIATION
Another Bonek, Mr Andie Kristiantono, said he has been in constant communication with his counterparts in Malang. 
"If it is alright with Aremania, I would like to come to Malang and express my condolences and together we will get to the bottom of the tragedy at Kanjuruhan (stadium)," he told CNA.   
The Indonesian government has formed an ad hoc fact-finding team to evaluate how security was handled during the incident. Police had also suspended several officers responsible for securing the match as part of their internal investigation.
Meanwhile, the Indonesian Football Association (PSSI) ordered a suspension of all matches from the Indonesian top division league, Liga 1, as investigation unfolds. 
Arema has also been barred from staging the remaining 23 home matches for the rest of the season.
Several Arema fans clubs are planning to sue the match's organiser, saying that they should also be held responsible for the tragedy.
Mr Kristiantono said he supported the move.    
"We support any step and movement done by Aremania in the face of this tragedy. We wish to be a part of this step and movement," he said. "Their wound is our wound."
Arema supporter Haris Subandio said he is touched by the support shown by fans of other clubs across Indonesia.
"It's time for everyone to set aside their differences and come together. I hope this marks the beginning of unity and peace among football lovers across Indonesia," he said. 
"We should all reflect on this tragedy and work together to make sure it never happens again because if it does, those killed would have died in vain."