'You are not alone': Support group in Indonesia extends help to those grieving the death of loved ones
Grief Talk, Indonesia's first support group for those who are grieving the loss of their loved ones, has been extending its reach since being set up in 2020.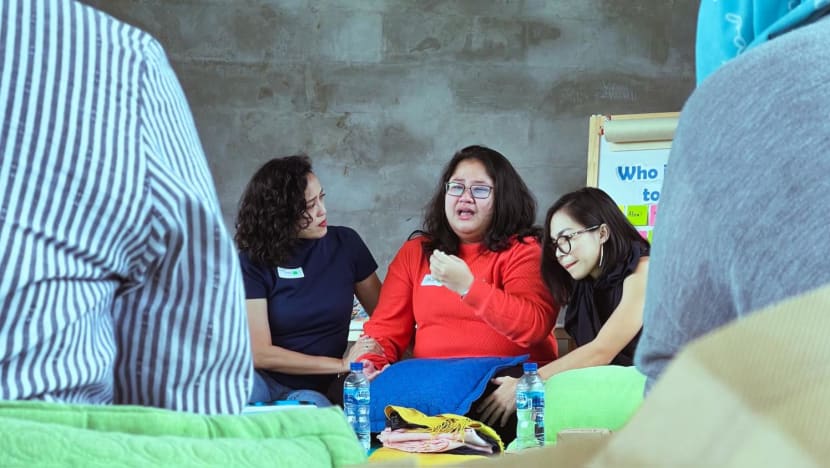 JAKARTA: The online meeting was attended by more than two dozen people, ready to speak about the shock of losing someone dear to them and the pain they endured after the passing of their loved ones. 
One-by-one, they talked about their children, spouses, parents and siblings. Some losses occurred years ago while others were as recent as a few weeks ago.
At a Grief Talk session on Jan 19, one young woman shared her recent pain of having to attend a university graduation without her long dead father. There was also a woman who talked about her guilt due to occasional impatience towards a deceased son who had autism.
One woman broke down and sobbed after she talked about her late mother who passed away just days before her high school final exam. She was overcome by emotions and decided to switch off her video feed, unable to continue speaking.
Grief Talk founder Nirasha Darusman, the host and a constant face in the dozens of online sessions staged by the Indonesian support group, listened to every story attentively.
The 44-year-old mother of two was at times ready to shed a tear herself. She could relate with the stories shared for she too had to deal with the loss of two siblings and both parents over the course of seven years.
Many at the session also felt the same way, offering words of encouragement and love on the message board each time a participant spoke.
Darusman started Grief Talk in December 2020, when the COVID-19 pandemic was in full swing and the death toll was increasing across Indonesia. 
"The world was closing. People died. That was when the desire to help others reemerged," Darusman told CNA, adding that the idea to establish an Indonesia-based support group for those who were grieving started a few years before in 2018.
Over the course of two years, hundreds of people have attended Grief Talk sessions, which have now evolved into bi-weekly online meetings, each capable of drawing dozens of participants.
The support group also had its first in-person event last December with plans to stage such offline meetings more regularly as the pandemic eases. 
"I WAS HELPING MYSELF"
Like many others in the support group, Darusman had been suppressing her grief for years.
She first lost her younger brother to HIV in 2007. Two years later, her father passed away after years of battling severe bronchitis. In 2013, Darusman lost her older brother due to previously undiagnosed leukaemia. Less than seven months later, in 2014, her mother, who had a series of strokes since 2001, died as well.
But Darusman did not have a chance to properly mourn her losses. She felt that she did not have anyone who understood what she was going through. Instead, she felt that the people around her constantly urged her to tough it out, let her loved ones go and move on.
"It was hard, very hard. I didn't know how to deal with (my losses)." she said.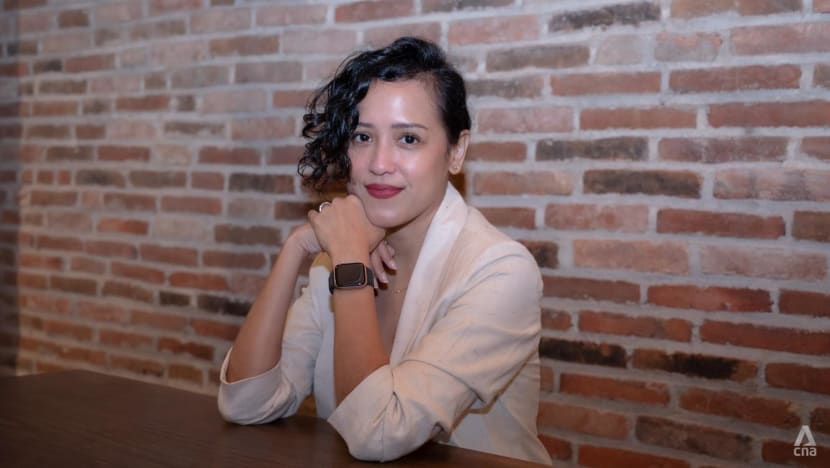 Darusman tried to internalise her pain, thinking that crying would burden and upset those around her.
But years of unresolved grief would manifest itself in other forms.
"I was angry all the time. At the height of it, I was crying for two weeks for 80 per cent of my waking hours for no apparent reason. I didn't know why I was sad. I just couldn't stop crying," she said.
Her emotional baggage became so heavy that she sought professional help in 2017. She was diagnosed with mild depression caused by her suppressed grief which had accumulated over the years.
She spent the next few months reading several books on how to deal with her unresolved grief.  The prescribed solution she came upon, it seemed, was joining a support group so she could share her pain with people who had similar encounters.
But support groups were few and far between in Indonesia. None was specifically dedicated to people who had lost their loved ones.
"That got me thinking: 'Should I make one?' But I wasn't confident enough. Where should I start? How should I start? There were many mental blocks (preventing it)," she recounted.
Darusman decided to act on the idea after the pandemic had swept across the globe.
"I started Grief Talk because I needed it. I was helping myself. I was the one who needed it the most. During the pandemic, I thought: 'If I start this now, I will not only be helping myself but I will also be helping others'," she said. 
Darusman is not a trained psychologist. She has a degree in literature and now works as a human resource consultant providing corporate training. 
For now, Grief Talk remains an informal group although there are plans to have psychologists attending some sessions in the future. 
"I FELT LIKE I WAS NOT ALONE"
For others who have attended Grief Talk's sessions, it made them feel less alone.
Jihan Alfarel remembered feeling heartbroken when she lost her father to COVID-19 in 2021. Five years before, the 24-year-old lost her mother after a battle with breast cancer.
"Suddenly, I was the head of the family. My sister was still in school and I had to provide for her. I also lost someone close to me. He (my father) was the one I turned to whenever I had problems and all of a sudden I had no one," she told CNA.
Alfarel said she struggled to find someone to talk to as she felt none of her friends could relate to what she was feeling. The desire to find a place where she could speak up led her to Grief Talk.
"I felt like I was not alone. There were fifteen other people who had similar pain. Maybe, that is what Grief Talk is all about. You feel that you are not alone," she said.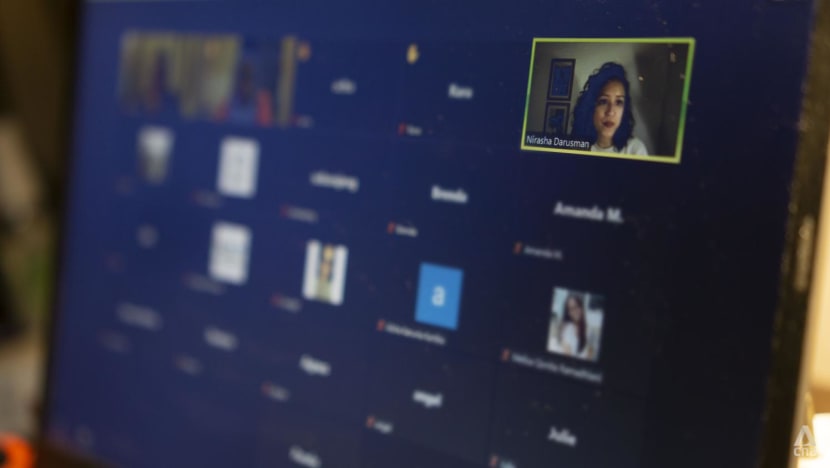 And everyone felt welcomed at the support group, no matter how small their losses seemed in comparison with other participants.
Sarah Aurelia said she only participated as a listener when she attended her first Grief Talk session in 2021. The 23-year-old felt that her loss was nothing compared to those who had lost their spouses or children. She lost her grandfather who died at the age of 81 and his passing happened years ago.
"The second time I joined, someone talked about losing her grandmother. Because I had a similar story, I decided to speak up," Aurelia told CNA.
She said it was the first time she openly talked about how she felt losing her grandfather who was close to her heart, adding that she never discussed this with her friends or family. 
"I didn't expect I would talk for 45 minutes. Occasionally, I paused and cried and proceeded talking while sobbing. I didn't realise that my grandfather was such an important part of life, that the loss had a profound impact on me and that I haven't processed this properly (because) I was 16 at the time," Aurelia said.
"Through Grief Talk, I realised that it is okay to grieve even seven years after he passed. It provided me with the comfort and validation that what I am experiencing is not wrong." 
A typical Grief Talk session could last between three to four hours, ending late at night after everyone had their chance to speak. Darusman said she never puts a limit to how long a participant can share his or her life story. 
The Grief Talk founder said sessions could even last until early in the morning, like when the deadly COVID-19's Delta variant swept the country in mid 2021. 
There is also no pressure to speak when one is not prepared to, as is the case with Aurelia when she participated for the first time. 
"People shared about losing someone but they also talked about how grateful they are to have this community," Darusman said. "Because only at Grief Talk they feel validated, not judged upon, not frowned upon (by others) for being sad. That was my goal."
A GROWING COMMUNITY
Over time, the support group has evolved into a larger community. There are people who regularly attend every session, sharing their progress in coping with the loss as well as showing support to those who are attending the sessions for the first time. 
One of the reasons why the group has grown in size is due to social media. Grief Talk has been proactive in educating people about mental wellbeing and providing information on upcoming sessions. At the same time, word of mouth has also helped the group to enlarge its reach, as those who attended the sessions told their friends about their experiences.
Several of the participants, like Alfarel and Aurelia, were so impressed by the group that after attending only a few sessions, they offered to volunteer and dedicated their time and effort to grow the group.
The pair now helps Darusman to manage Grief Talk's social media accounts and populate them with content to educate others about grief. Previously, Darusman used her own social media account to share about the work of the group.
"Society feels that when you lose someone you have to let them go. But sometimes you cry, not because you are not letting go but simply because you miss them. Is that such a crime?" she said.
"Grieving is viewed negatively. It is considered not good. But not many people realise that if you don't process your grief well, it will affect your well being. I am providing space and a home for the grievers and also educating people that there is such a thing as grieving healthily."
Read this story in Bahasa Indonesia here.