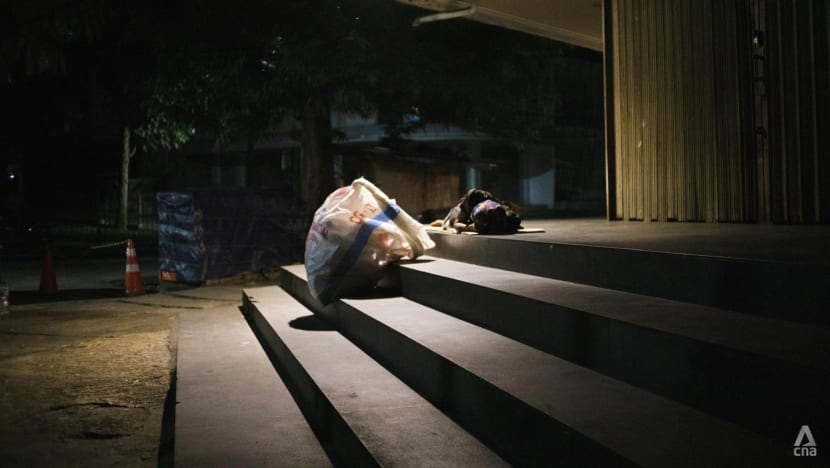 JAKARTA: For days, Dede has not been feeling well. Her throat felt dry and sore, her coughing incessant and her muscles ached. She developed a fever the night before, her ageing body shivering in the cold, damp air of a rainy season evening.
This was the second time that Dede, a septuagenarian who has been sleeping rough on the streets of Jakarta for the past three decades, showed signs of a COVID-19 infection.
Despite living just a few hundred metres from a drive-thru testing facility, she refused to get tested.
The cost of a rapid antigen test there is three times what she earns daily from collecting empty plastic bottles littering the pavements or washed ashore on the banks of a nearby river which she sells to a recycler.
"If I spend my money on a test, what would I eat?," Dede, who only agreed to provide her first name, told CNA in front of a vacant three-storey building where she likes to sleep at night. 
"Even if I test positive, where would I go? If I am in isolation, how will I be able to earn money to buy food?"
The COVID-19 pandemic has hit the thousands of people living on the streets of Jakarta hard.
Many of them have seen their little income shrink even further. Those who are busking and panhandling have seen the number of people willing to spare them change dropping dramatically, as Jakartans are encouraged to stay at home to curb the spread of the virus. 
At the same time, more have become homeless as they lost their livelihoods. 
Public health experts said that the homeless are more susceptible to being infected with COVID-19 as they live in crowded areas with poor hygiene and sanitation. They spend most of their time being exposed to the elements and are sometimes malnourished which can lower their immune system. Access to vaccines is also an issue.
Social agencies have stepped up their efforts to help this group of people but they face various challenges including distrust and lack of public awareness.
According to figures compiled by the Jakarta Social Affairs Agency, the number of these so-called "people with social welfare problems" is on the rise.
In Central Jakarta, one of the city's six municipalities and regencies, for example, the agency reported that there were 256 people living on the streets in 2020. By September 2021, the figure rose to 1,377.
However, activists said that the figure is only the tip of the iceberg as the agency only recorded those who have been found loitering and taken to government-run shelters. They said that the majority of those who are homeless in the capital city remain undetected.  
With the pandemic, money is tighter than ever for the low income.
In September 2019, before the pandemic began, Indonesia had 24.7 million people living below the national poverty line, according to data from the Indonesian Bureau of Statistics. 
Two years later, the figure grew to 26.5 million. Indonesia defines those living below the poverty line as being in households that earn less than 486,000 rupiah (US$34) monthly. 
Waste picker Dede said that every time the government imposed a lockdown, money would be even harder to come by.
"People are afraid to give money to us during the pandemic. Before, there would be office workers giving me food. But now, no one comes to work anymore. If the offices are empty, what are we going to eat?," she said.
Although the government has not imposed a lockdown amid the Omicron wave, many offices have started to tell their employees to work remotely as the caseload grows dramatically this month.
Throughout this week, Indonesia logged around 60,000 new cases every day, bringing the total caseload to more than five million.  
"Things have been quiet recently. The offices are mostly empty. It has been a struggle for me these past few weeks," Dede said.
MORE ARE BECOMING HOMELESS
Walter Simbolon, an advocacy manager at charity group Sahabat Anak, said he has noticed more people living on the streets since the pandemic began.
"Many informal workers are seeing their incomes reduced to pretty much zero," he told CNA. Meanwhile, he added, there are many formal workers who have been laid off and now have to work in the informal sector by selling tissues or drinks on the streets of Jakarta.
"They are all struggling because tourist areas are closed and crowds are being discouraged and dispersed by authorities. Meanwhile, people wouldn't buy anything from them because they are afraid (of getting infected)," he said.
However, calculating the exact number of people living on the streets can be hard, public policy expert Trubus Rahadiansyah told CNA.
"Documentation for these people has been minimal. Even before the pandemic, the marginalised are often forgotten and ignored. At the same time, they also don't want to expose themselves and remain invisible. This is why data on them is hardly ever valid and reliable," the lecturer from Jakarta's Trisakti University said.
"Whatever the true number is, you can be sure that the number has grown because of the pandemic."
Among those who became homeless after the pandemic hit the country were Aisyah and her family.
Aisyah, who only agreed to disclose her first name, said that they have been without a roof over their heads since her husband lost his job as a factory worker in June 2020 because of the pandemic-induced economic slowdown.
"My husband has tried to find another job, doing odd jobs such as becoming a construction worker, becoming a truck driver but jobs are few and far between," the 29-year-old told CNA as her two toddler sons played on a plastic mat spread across a dirt covered pavement next to a busy street.
As her husband looks for work, Aisyah spends her days collecting discarded plastic bottles to sell to a recycler. She does not dare to venture far, opting to source the recyclables from a nearby restaurant so she can keep a close eye on her two children and their belongings.
"I hope my husband can find decent work soon so we don't have to keep living like this," she said.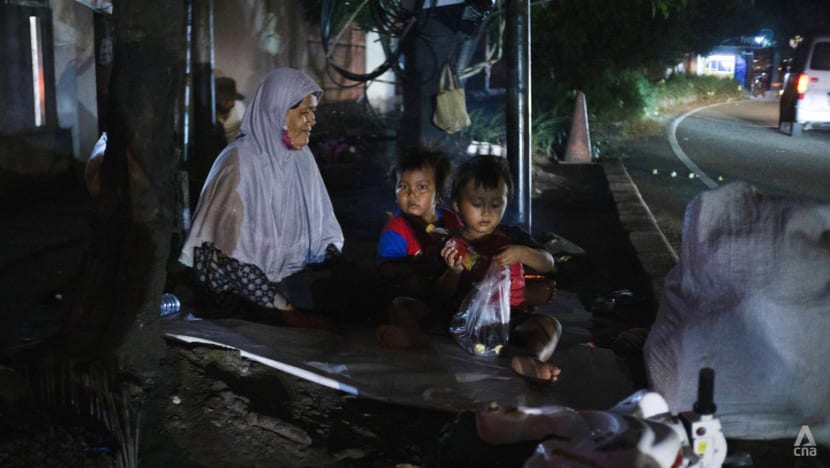 There are others who have been made homeless as the pandemic dragged on.
Armed with a ukulele and the knowledge of a few basic chords, Tasya has been busking at one of Jakarta's most popular commercial districts.
The 30-year-old had been busking in return for money since she was a child. Over time, Tasya's voice became raspier, a result of chronic tuberculosis she had developed after years of being exposed to the city's air pollution.
The pay is lousy, Tasya said. Even on weekends, when there are more people flocking to the commercial districts to dine and hang out, she could only make around US$5 a day.
But that was enough, she said, to provide a roof over her head. Together with her sisters and their children, they rented two rooms in a crowded low-income neighbourhood.
The pandemic changed things. She said her income has been cut by half during the pandemic, particularly during the series of community lockdowns. She tried to switch her profession to selling face masks but the money she was making was still not enough to pay for rent. 
"Now this is where I sleep," said Tasya, sitting on her mattress for the night: a flattened cardboard box which she had picked up from a supermarket nearby. 
She was sleeping on the pavement in front of a store and did not want to disclose her full name.
"All the stores are closed. No one is giving (money to buskers) at traffic lights. It is hard for us to busk or sell tissues because of corona(virus) … 
"Our income has declined drastically. Eventually, we couldn't pay for our rent and this is what became of us."
HIGHER INFECTION RISK, LACK OF VACCINE ACCESS
Windhu Purnomo, an epidemiologist from Airlangga University in Indonesia's second biggest city Surabaya, said the homeless are more prone to a COVID-19 infection compared to the general population because of their living conditions.
"They live in an unhygienic environment. They often come into contact with many people and they can be found in crowded areas," Purnomo told CNA.
Furthermore, he said, the homeless are often exposed to the elements and can suffer food poisoning or malnutrition because they cannot afford to be choosy about what they eat.
"These things can lower their immunity so they are more susceptible to diseases," he added.
Meanwhile, those who are sleeping rough may have pre-existing medical conditions or are in vulnerable age groups and this multiplies the risks for them.
Purnomo believes that what is needed to reduce their chance of infection is to facilitate their access to vaccines.
But a major hurdle is the fact that not all of them have identity cards.
"These people are not documented as residents of a particular neighbourhood. They often move around from one place to the next," Yesua Pellokila, a project manager with Dutch-based non-for-profit organisation Hivos, told CNA.
As a result of this, the homeless are often not listed as beneficiaries of government aid programmes or as potential COVID-19 vaccine recipients, he added.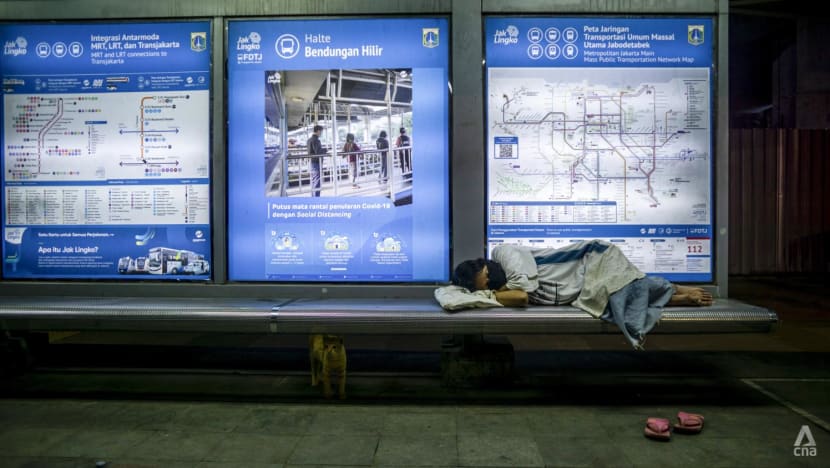 Health Ministry spokeswoman, Siti Nadia Tarmizi said the government is welcoming everyone to get vaccinated including homeless people.
"Those with identity cards can get vaccinated at their nearest Puskesmas," she told CNA, referring to the government-run community health centres.
"For those without identity cards, we suggest that they make one first because we need it for administrative purposes. Which is why we are working together with (Jakarta's) Population and Civil Registration Agency so they can make their identity cards and get vaccinated at the same time."
Tarmizi said government officials have also been visiting homeless shelters and places where the rough sleepers can be found and urging them to get vaccinated.
But not all have jumped at the opportunity. Pairin, a 60-year-old construction worker who has been sleeping rough on a busy Jakarta overpass half his life, said he is reluctant.
"There had been government officials who came and tried to convince us workers to get vaccinated. But I would rather stay here and wait for passing trucks just in case they need my service. If I leave this spot to get myself vaccinated, I might lose my chance of finding work," he told CNA.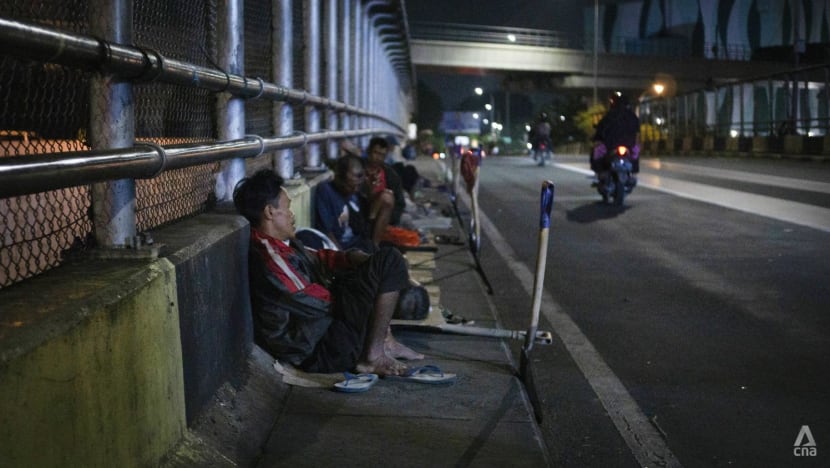 JAKARTA SOCIAL AGENCIES REACH OUT
Social agencies in Jakarta are also reaching out to the homeless community. 
Ngapuli Paranginangin, chief of the Central Jakarta Social Affairs Office said the city has converted a number of public sporting facilities into makeshift shelters for the homeless, providing them with a place to stay and the healthcare they might need during the pandemic.
"We will give them all of their basic needs. We will test them (for COVID-19) and vaccinate them if they are not already vaccinated. We will not abandon any resident of Jakarta," he told CNA.
But Paranginangin admitted that the homeless are not checking into these shelters voluntarily and that their occupants are mainly those who were caught during raids by the Public Order Agency.
As Jakarta began to tighten activity restrictions due to the rising number of COVID-19 cases in the city, the Jakarta Public Order Agency has been ramping up patrols to look for violators.
Their main targets are restaurants and shops which violate the city's rules to close before 9pm. But during these raids, officials occasionally encounter the homeless and charge them with loitering, disturbing public order and illegally occupying private or public properties.
"We are not conducting these patrols to target them specifically. At least for now, (raids on the homeless) are routine in nature," chief of the Jakarta Public Order Agency Arifin told CNA.
"If any of them require immediate medical attention we will take them to the clinic. But such cases are very rare," said Arifin, who like many Indonesians go with one name.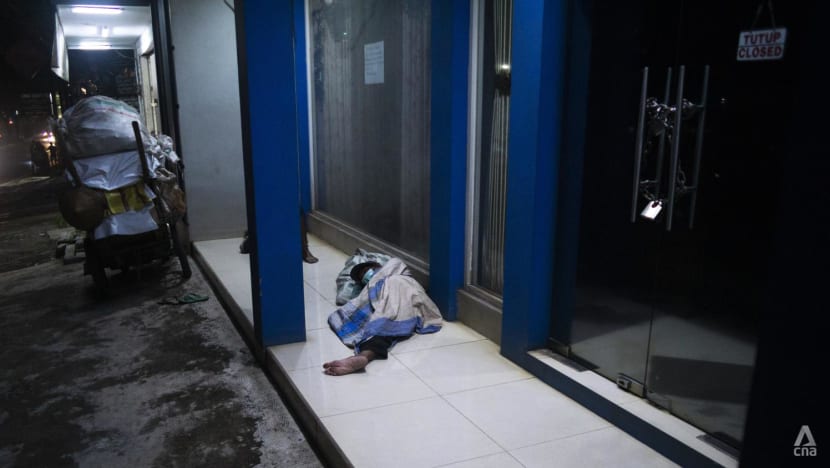 He added: "For those who are netted during our routine inspection, we first take them to a temporary holding facility where they will be tested using PCR.
"If their test comes back positive, we will take them to an isolation centre or the hospital if they exhibit symptoms."
Arifin also said that those who tested negative will be taken to a government-run homeless shelter.
However, these efforts have not always been well received by those who are sleeping rough.
Simbolon, the activist, said many homeless people are suspicious of the government's intentions despite the fact that officials are trying to stop them from contracting COVID-19 or provide them with the care that they need.
"Because they don't have access to the Internet or television, everything they know about COVID-19 is from hearsay and it is hard for us to dispel these myths and hoaxes they so vehemently believe," he said.
"There are many who don't believe that COVID-19 exists. Some also believe that the whole thing is a conspiracy. They believe if they are caught, they will most likely be declared positive (for COVID-19) and put into isolation so the government can vacate them from the location that they are occupying."
Dede is among the homeless people who tend to avoid encounters with government officials, hiding behind the bushes of a nearby park whenever raids are being conducted.
She also refused to check herself into government-run shelters despite the fact that this is the second time she showed signs of contracting COVID-19.
"If they tell me to isolate, they might not let me come back," she said.
"What am I supposed to do in isolation? I can't just sit around and do nothing. Life on the streets is all I know. I would rather go look for plastic bottles and be on my own two feet."