Sabah, Sarawak want their full rights, not interested in federal top posts: Warisan deputy chief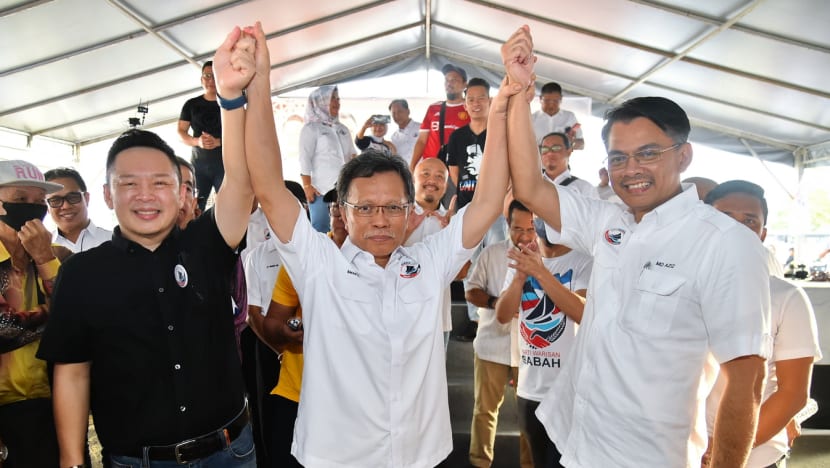 KOTA KINABALU: What the people of Sabah and Sarawak want is that their rights be fully given to them and not any top federal positions such as prime minister or deputy prime minister, said Parti Warisan (Warisan) deputy president Darell Leiking. 
"In Sabah or Sarawak, I don't think the post of PM or TPM (Deputy Prime Minister) was ever our interest. Our interest in Sabah and Sarawak is about our rights being given fully to us," said Mr Darell as quoted as saying by the Borneo Post on Thursday (Nov 17).  
He said what the people of the two states want is for the 21 claims under MA63 to be fulfilled, with the amendment of the laws relating to them. 
Mr Darell was explaining why Sabah and Sarawak have to create their own 'Borneo Bloc' in Malaysia's 15th General Election (GE15), which will be made up of members of parliament from the two states. 
The bloc is to enable the two states to gain their rights from the federal government, he added.   
He said that Warisan is contesting in all the 25 parliamentary seats in Sabah and one at the Labuan Federal Territory to show to others in Malaysia, including Sarawak, that the Sabahans  want their own political bloc just like the Sarawak political bloc.
Mr Darell also said that if Sabah is controlled by local parties, Sarawak would be open to forming a Borneo bloc, which would then grant the Borneo states more power from Putrajaya. 
"If we win a lot, don't you think we can, by then, extend our hand to Sarawak and ask them to combine with us? To help us?" said Mr Darell. 
He added that the Sarawakians would probably be open to the suggestion of forming the Borneo common bloc since the Sabahans can prove that they are not dependent on parties from Peninsular Malaysia. 
He pointed out that unlike Sarawak, Sabah is controlled by parties from the peninsula, such as BN through the Gabungan Rakyat Sabah (GRS)-BN alliance and Parti Pribumi Bersatu Malaysia (Bersatu). 
"Every decision they make, although they make the decisions in Sabah, KL (Putrajaya) has the final approval," said Mr Darell.
In GE15, Warisan, which is led by former chief minister Shafie Apdal, is facing multi-cornered contests from several parties including the GRS-BN alliance. 
Mr Darell said if Warisan wins all the 25 seats in GE15, Sabah will no longer be under the control of Peninsular Malaysia.
On Monday, Mr Shafie called on voters in Sabah and Sarawak to vote for local parties, instead of peninsula-based parties, so that the Borneo bloc could be formed. 
He said such a bloc is possible, with Warisan and Gabungan Parti Sarawak (GPS) led by state premier Abang Johari Abang Openg, working together to create it.
Meanwhile, Sabah BN chief Bung Moktar Radin has urged Sabahans to vote for GRS-BN candidates on Saturday's Polling Day, adding that the electoral partnership offers a much better future for the state compared to the other parties. 
Mr Bung Moktar, who is also Sabah deputy chief minister, said that GRS-Barisan candidates can bring better changes and development in Sabah as these candidates come from the parties which are running Sabah.
GRS, which consists of Bersatu, Parti Bersatu Sabah (PBS), Parti Solidariti Tanah Airku (STAR), Sabah Progressive Party (SAPP) and Pertubuhan Kebangsaan Sabah Bersatu (USNO), together with BN, is the governing coalition since the state election in Sep 2020. 
"Our victory will contribute to the overall victory for BN to form the next federal government which will definitely be advantageous to us in bringing development to Sabah," The Star quoted Mr Bung Moktar as saying during campaigning on Thursday. 
"Hence, Sabahans should vote for Barisan and GRS on polling day. Don't be influenced by sentiments brought about by rival parties who would not be able to do anything even if they won." 
He said that based on the support received throughout the campaigning period, he was optimistic that GRS-BN could win a majority of the 25 parliamentary seats in the state.
Both Warisan and GRS-BN are contesting in all the 25 parliamentary seats in Sabah. Warisan is also contesting one parliamentary seat of Labuan Federal Territory. 
Before the dissolution of parliament, the GRS and BN bloc held 12 out of 25 federal seats in Sabah while Warisan held seven. The rest are held by Pakatan Harapan and other local parties.