PAS will pick BN if there is a need to form coalition government: Party secretary-general
Perikatan Nasional chairman Muhyiddin Yassin has emphasised that he did not give a mandate to Mr Takiyuddin Hassan to discuss the formation of a coalition government with Barisan Nasional.
 
KOTA BHARU, Kelantan: Parti Islam Se-Malaysia (PAS) said it will work with Barisan Nasional (BN) if the 15th General Election (GE15) results dictate the need to form a coalition government.
"If we really need to work with others, our choice is BN," PAS secretary-general Takiyuddin Hassan told reporters on Tuesday (Nov 15).
"That decision still has to be made by PN (Perikatan Nasional), not just PAS alone."
Local media quoted Mr Takiyuddin, who is defending his Kota Bharu seat in a six-cornered fight, as saying on Monday that a PN-BN tie-up would be possible after polling results. PAS is a component party of PN.
In a statement on Tuesday, PN chairman Muhyiddin Yassin said that he did not give a mandate to Mr Takiyuddin to discuss the formation of a coalition government with BN.
"As chairman of Perikatan Nasional, I never gave the mandate to Takiyuddin Hassan, secretary-general of PAS, to negotiate with Barisan Nasional for the purpose of forming a government after GE15." 
Mr Takiyuddin on Tuesday said he wanted to clarify his previous statement. He laid out PAS' position if it emerged that no coalition gets a simple majority by winning 112 federal seats.
"For PAS - I don't have the authority to talk about PN - it is very clear. If there is a need to work with others, we will not work with PH (Pakatan Harapan) or any of its component parties," he said.
If PAS really needed to work with another coalition to form the government, it will choose BN, Mr Takiyuddin said, adding that this position is shared by PAS president Abdul Hadi Awang.
"If PN gets a simple majority, we will form the government without working with other parties. If other parties want to work with us, that's up to PN," he said.
However, Mr Takiyuddin stressed that the decision on whether to work with BN will still need to be discussed within PN.
He also responded to Mr Muhyiddin's statement, clarifying that he never stated that he had the authority to speak on behalf of PN.
"As the secretary-general for PAS, I have the authority to make a statement for PAS. All I have said, I have consulted the party president," he said.
When asked if his decision on possibly working with BN might turn away PAS voters, the caretaker energy and natural resources minister said PAS supporters are very clear about his comments.
"Don't try to spin it. It doesn't mean that if you support PN, you support BN. We are competing against each other," he said.
"So, supporting PN means giving victory to PN. Not giving a win to BN."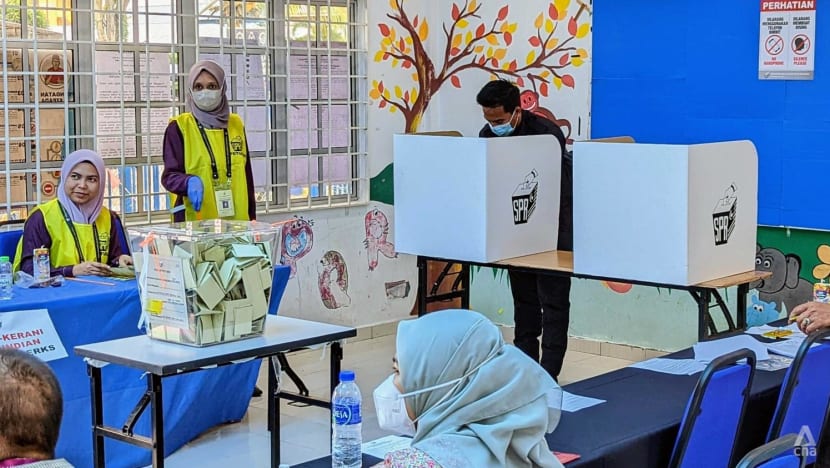 Mr Takiyuddin also criticised Democratic Action Party (DAP) vice chairman Nga Kor Ming's recent comments that said Malaysia would become "another Afghanistan" if PN came into power.
He said Mr Nga had also previously compared PAS to the Taliban. These comments were "excessive", he said.
"This is a statement that is insulting and not grounded in reality. If he wants to know, come to Terengganu and Kelantan and see if the states are governed like in Afghanistan," he said.