Strong support for PAS in swing state Terengganu, but race against BN could be too close to call
Parti Islam Se-Malaysia is aiming for a clean sweep of the parliamentary seats being contested in Terengganu.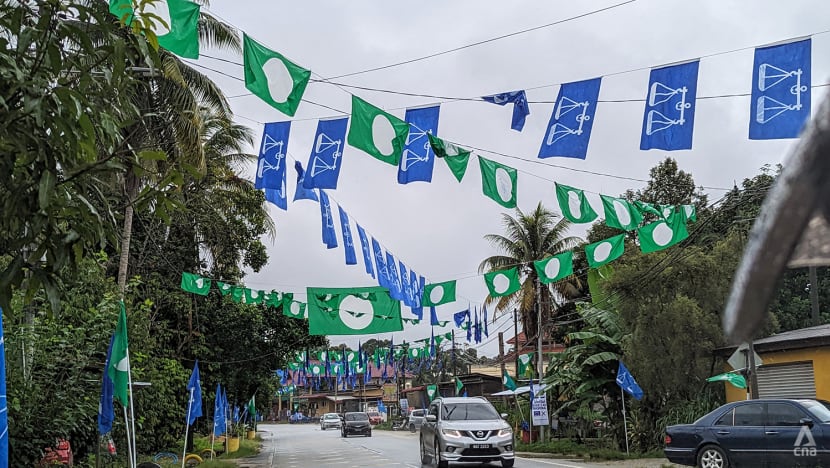 KUALA TERENGGANU: The streets of Rusila in Terengganu are flooded by a sea of green flags bearing a white moon, the symbol of Parti Islam Se-Malaysia (PAS).
These flags dwarf the emblems of other coalitions, a testament to the fact that Rusila, in the constituency of Marang, is the home of PAS president Abdul Hadi Awang.
The incumbent Member of Parliament (MP) for Marang is gunning for a seventh term in the 15th General Election this Saturday (Nov 19).
Kuala Nerus resident Mat Yo, 50, told CNA last week that Mr Abdul Hadi exerts a strong influence in Terengganu.
"I believe in the party's mission. Everything has been good here in Terengganu," said the PAS supporter.
PAS, contesting this year's election as part of the Perikatan Nasional (PN) coalition, has stressed that all its candidates are free of legal troubles. It notes that this is in stark contrast to opponents like Barisan Nasional (BN) and Pakatan Harapan (PH).
The party also promotes Islamic-style governance, a draw for conservative voters in the Malay-majority and rural east coast states of Kelantan and Terengganu.
But unlike in Kelantan, where PAS has ruled since 1990, support for the Islamist party in Terengganu has ebbed and flowed. PAS managed to recapture Terengganu's state assembly during the last election in 2018, the first time it emerged victorious since 2004.
While most of Terengganu's federal seats will see four-cornered fights this year, observers say the heavyweights are PAS and BN.
BN's 38-year reign in Terengganu ended in 1999 after it suffered a shock defeat to PAS in the state election, amid a nationwide swing to the opposition as voters sought alternatives to a one-party system.
The United Malays National Organisation (UMNO)-led coalition reclaimed power in Terengganu at the 2004 election with a clean sweep of the state's eight federal seats, but PAS gradually made a comeback in the next few elections. PAS candidates won one federal seat in 2008, four in 2013 and eventually six in 2018.
This year, PAS is aiming to turn the tables and achieve its own clean sweep of the eight federal seats, while BN has said it is confident of winning four seats.
ALMOST EQUAL SUPPORT FOR PAS AND BN
Head researcher Mohd Yusri Ibrahim of research firm ILHAM Centre told CNA that support for BN and PAS in Terengganu is almost equal. But he said BN may have a slight edge.
"In a normal situation, BN will emerge as winners in Terengganu," he said, highlighting two incidents that disrupted BN's support both in the state and across Malaysia.
BN lost in Terengganu in 1999 amid a wave of sympathy for former deputy prime minister Anwar Ibrahim, he said. A year earlier, Mr Anwar was sacked by UMNO and assaulted in jail amid allegations of sodomy.
BN was also defeated in 2018 due to the 1Malaysia Development Berhad (1MDB) scandal and the introduction of a Goods and Services Tax under the Najib Razak administration, Dr Yusri said.
"Both sides have the same strengths, that is loyal support from grassroots members. But PAS has the slight advantage of being able to gain the support of voters who are not in party circles," the analyst added.
"For voters who are uncomfortable with BN's issues, like the corruption cases involving UMNO leaders, the alternative is to choose PAS. This is quite common for semi-urban voters who have upper-middle class jobs."
In an interview with CNA, the chief of BN's Terengganu chapter and former state chief minister Ahmad Said noted: "The support level for BN and PAS in Terengganu is not that different."
The BN candidate for the Kemaman seat and six-term state assemblyman for Kijal added: "We have 45 per cent of the support, and PAS has 35 per cent. But the remainder are sitting on the fence, and they make up a big proportion (when deciding who wins)."
These so-called fence sitters have in the past picked PAS over BN because the latter was affected by negative issues like the Anwar case in 1998, said Mr Ahmad.
"God willing, we can win two more seats this year. It's not as if PAS supporters have not turned to BN before," he said, while declining to elaborate on BN's strategy to woo fence-sitters.
"We have our ways. Voters have seen that the PH government failed, and it seems like many are returning to UMNO, god willing."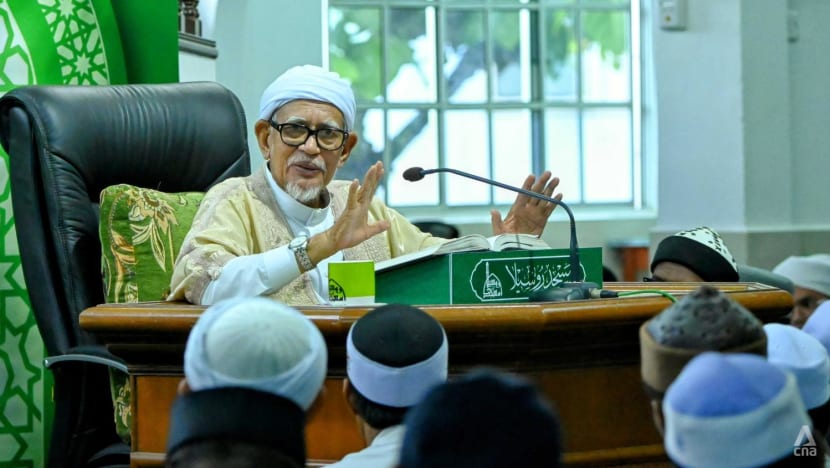 On PAS' part, its leader Mr Abdul Hadi told reporters last Friday that support on the ground for his party is "very positive".
"The one that splits the votes are the other parties, not us. We hope our standing here becomes stronger," he said at his home beside the Rusila mosque in the constituency of Marang.
"We can see that the younger voters are increasingly with us. The ones in the rural and semi-urban constituencies are influenced by their parents and friends. The ones in the cities are slightly out of reach. But we are paying more attention to social media to attract them."
GROUND SENTIMENTS SPLIT
On the ground, both PAS and BN appeared to have supporters. 
Kuala Nerus resident Mat Musa, who runs a fruit business, told CNA that PAS has delivered on its promises, like how the current PAS-majority state government has given financial help to the elderly. Terengganu's chief minister is Ahmad Samsuri Mokhtar, who is also PAS vice president.
"People are turning from UMNO to PAS because they don't think UMNO can change," the 47-year-old said. 
He said that is a perception that BN has prioritised welfare assistance for its supporters.
"UMNO's leaders are facing legal troubles. Do we want leaders like that? You wouldn't want it either."
Eatery owner Zul Jusoh, 57, talked about how the state government under BN introduced a number of projects in Terengganu, like a stadium in Kuala Nerus, to boost the region's image. However, there was an indirect cost to local residents, he said.
The stadium's roof collapsed in 2009 only about a year after it opened, he recounted, leaving the state government to foot the high maintenance costs each year at the expense of other improvement projects.
"I don't think voters will go back to BN. It's like karma for what they have done," he added, pointing out that the federal government has paid billions for warships that have not been delivered past deadline, raising further questions of mismanagement.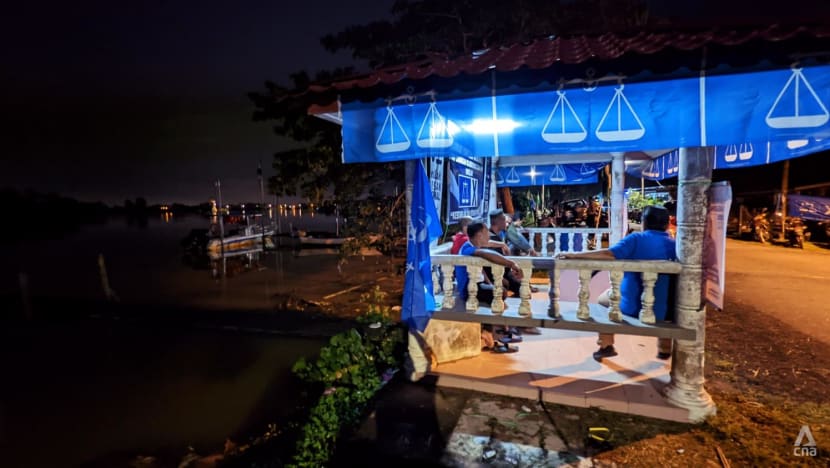 On the other hand, resident Shafiq, 29, said he would support BN as it is the only party that has helped residents in his kampung. For instance, during Malaysia's recent COVID-19 lockdowns, BN volunteers handed out basic necessities including cooked food, he said.
Mr Shafiq, who works as a grass cutter and only wanted to be known by his first name, said that BN's candidate and two-term MP for Kuala Nerus, Mohd Khairuddin Aman Razali, could turn PAS voters into BN supporters.
"He is a good person and I think people still support him," he said.
KUALA NERUS BATTLE KEENLY WATCHED
The battle for the Kuala Nerus has become a keenly watched contest due to the personalities involved.
During the 2018 polls, Mr Khairuddin defended the Kuala Nerus seat with a 8,447 vote majority under the PAS banner. 
He was expelled from PAS' central committee in January and demoted from the party's top advisory council a month later. The party did not spell out the reasons.
The former plantation industries and commodities minister left PAS in March and said he would not join UMNO or set up a new party. But earlier this month, he announced that he would contest in Kuala Nerus under a BN ticket, a rare move for former PAS stalwarts.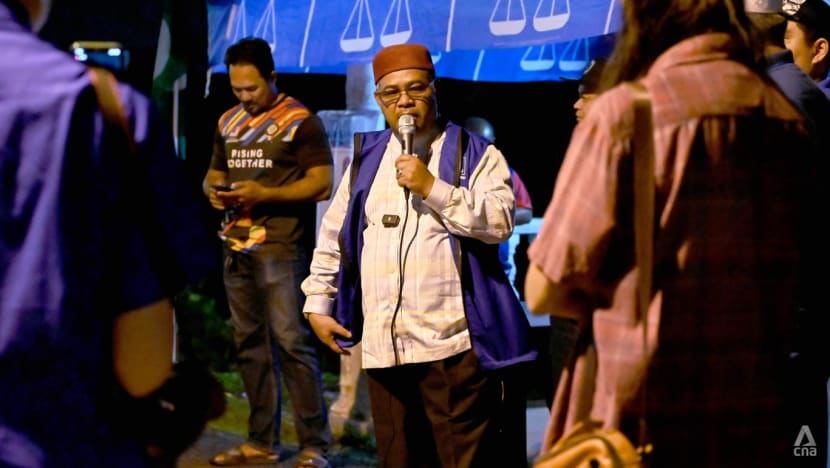 While Kuala Nerus residents told CNA that Mr Khairuddin might find it difficult to persuade staunch PAS supporters to vote for him, Mr Khairuddin believes he has a chance of doing so.
"I am confident," he told CNA, highlighting that his experience of being a former MP and minister puts him in good stead to serve the people of Kuala Nerus well.
"The people have feelings, they will be touched by service. If I have done good service, I leave it to God and God holds the key to people's hearts."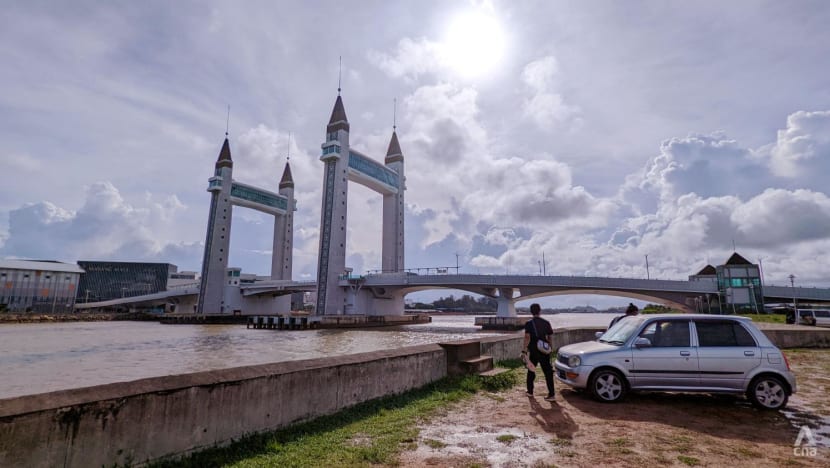 Mr Khairuddin also plans to get federal budget approval for a number of infrastructure projects, including construction of a drain to prevent flooding in a rural area, and the widening of Buluh Gading Bridge that leads to the airport.
He said BN lost control of Terengganu in 2018 due to a wave of people across the country voting against the coalition amid the fallout of the 1MDB scandal.
"That wave has passed and the people are returning to BN. That can be seen in BN's victories at the (recent) Melaka and Johor state elections," he said.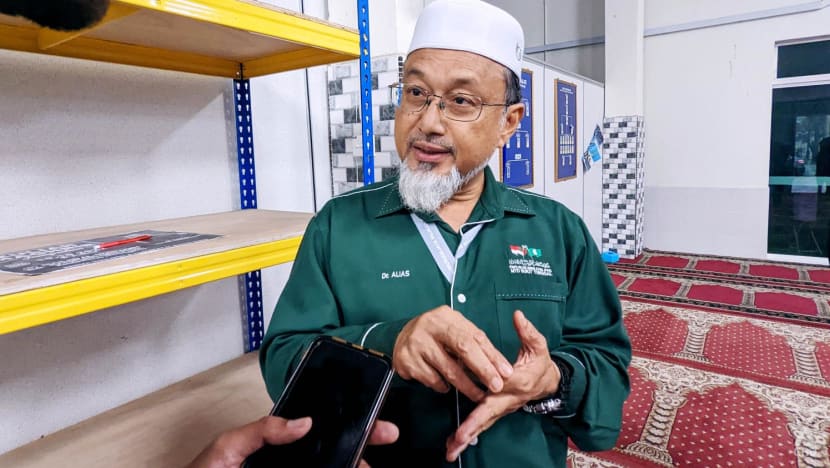 Dr Alias Razak, the PAS candidate for Kuala Nerus, also expressed confidence about his own chances.
The four-term state assemblyman for Bukit Tunggal wants to build more homes in semi-urban areas, improve sanitation at a fast-filling landfill in the western part of Kuala Nerus, as well as ease congestion on the main bridge that connects the constituency to the main urban centre of Kuala Terengganu.
"I have spoken to our voters and PAS volunteers. They said he (Mr Khairuddin) is scared and has run to BN, so let him run. They also said that they are loyal to PAS; we vote not for the candidate but for the banner of PAS and PN," he said.
"We have a mission to take our leadership to the next level - a leadership that is clean with stable governance. Look at Kelantan, there are no problems there. Nobody is fighting to become chief minister, executive councillor or over projects."
Terengganu saw some political turbulence between 2015 and 2016 when the BN-majority state government was plagued by infighting between then-chief minister Mr Ahmad and his successor Ahmad Razif Abdul Rahman.
Dr Alias is confident that PAS can win all of Terengganu's eight seats at the Nov 19 polls, a target that was indicated by the party's candidate for Kuala Terengganu Ahmad Amzad Hashim in a recent interview with CNA.
Dr Alias said that PAS has fielded mostly familiar faces, including incumbent MPs, with strong support in Terengganu. 
"With the help of God, we can win all eight seats and hopefully with an even greater vote majority," Dr Alias added.
The other candidates in Kuala Nerus are PH's Suhaimi Hashim and Azaha Wahid from Gerakan Tanah Air.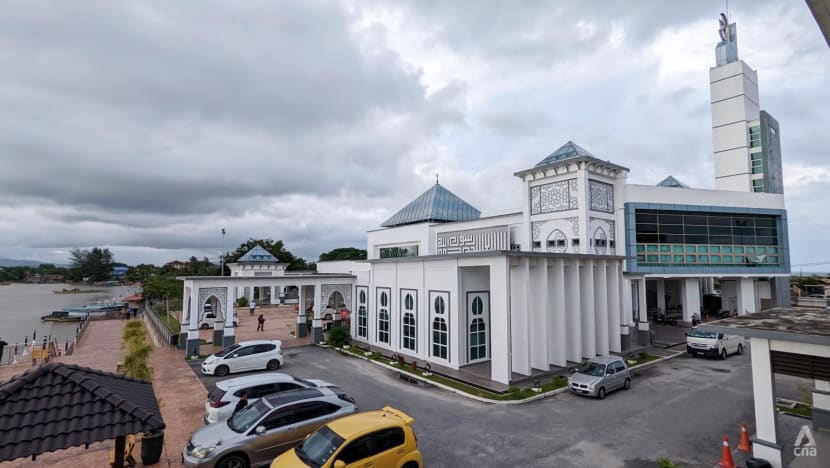 ILHAM Centre's Dr Yusri feels Mr Khairuddin could put up a tough fight in Kuala Nerus if he manages to work well with the BN party machinery there to convince the coalition's supporters to vote for him.
"Khairuddin passed an early test on Nomination Day when quite a large number of BN's supporters accompanied him to the nomination centre," Dr Yusri said.
"The second strategy is to use his personal influence to appeal to those who supported him at the last election and gain as many sympathy votes as possible."