'Substantially more capable': A closer look at Malaysia's upcoming South Korean-made fighter jets
Malaysia's purchase of 18 FA-50 light fighter jets is a significant upgrade on its current fleet, but the investment should not stop there, defence analysts say.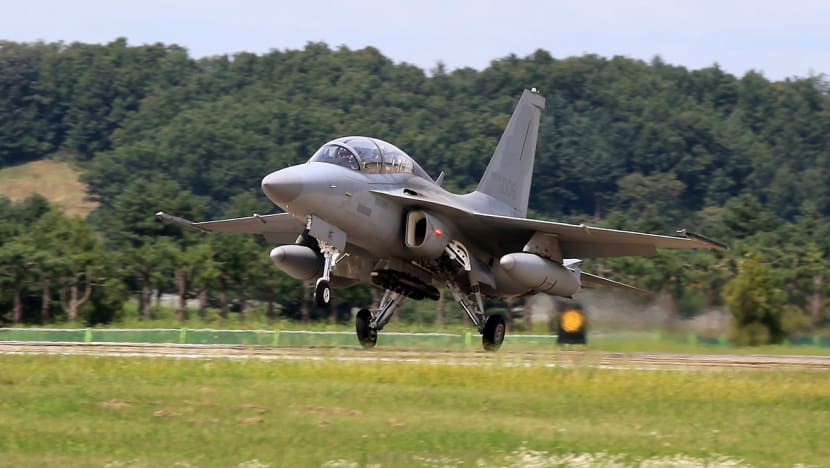 LANGKAWI: The blazing Langkawi sun did little to deter the crowds that had gathered on the tarmac to catch a glimpse of the ear-busting action unfolding above them at the Mahsuri International Exhibition Centre, right beside the island's airport.
This was the aerobatics segment on the first day of the Langkawi International Maritime and Aerospace (LIMA) exhibition, held from May 23 to May 27. The biennial exhibition is in its 16th edition, the first to be held since 2019 after the pandemic forced the 2021 edition to be cancelled.
But the long-awaited return was not the only thing special about this year's LIMA exhibition. Malaysia was getting a first up-close-and-personal look at the South Korean-made fighter jets it had recently agreed to purchase.
The spectators craned their necks as a pair of black-and-yellow jets cruised through the sky. Then, against a backdrop of pulsating music, the jets separated before a third fighter charged through, leaving a trail of red smoke and triggering cheers from those below.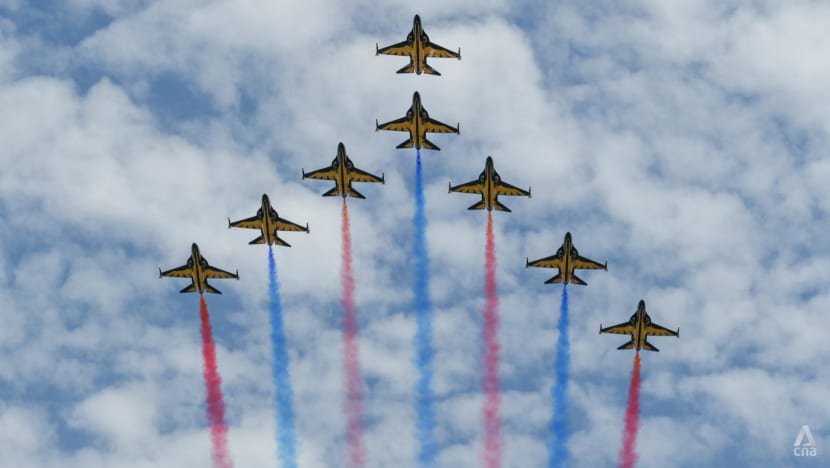 These T-50 jets are from the Black Eagles, the Republic of Korea Air Force (ROKAF) aerobatics team. Malaysia will buy the FA-50, a weaponised version of the T-50 jets.
After introducing the pilots involved in the performance, a ROKAF commentator addressed the crowds: "Welcome to the same family."
WHAT CAN THE FA-50 DO
In February, the Korea Aerospace Industries (KAI), which builds the FA-50, announced that Malaysia had ordered 18 of these jets at a cost of US$919.7 million. Delivery is expected from 2026.
The purchase is part of the Royal Malaysian Air Force's (RMAF) Fighter Lead-in Trainer - Light Combat Aircraft (FLIT-LCA) programme, which seeks to replace its ageing BAE Hawk 108/208 in the trainer and light fighter roles as well as its Aermacchi MB-339 trainer aircraft.
FLITs help fighter pilots transition from basic training to more advanced aircraft and missions, while LCAs can perform ground attack and combat air support missions, including air patrols and interceptions.
The FA-50 can perform both the FLIT and LCA roles effectively, its manufacturer and defence analysts said, one of the biggest factors that make it an attractive option for countries that operate smaller air forces.
LCAs, or light fighters, are usually cheaper to buy and operate than heavy fighters. The heavy fighters, however, are able to carry more weapons and fly farther without refuelling to hit both aerial and surface targets in more complex missions.
Nevertheless, analysts believe the FA-50 will still be a significant upgrade on Malaysia's current fleet.
It comes as Malaysia has struggled with aircraft availability and an extended grounding of its MB-339s, Dzaky Naradichiantama of the International Institute for Strategic Studies (IISS) wrote in a blog for the think-tank.
In 2018, then-defence minister Mohamad Sabu revealed that only four out of RMAF's 28 Russian-made fighter jets were able to fly, adding that it then had 18 Sukhoi Su-30MKM and 10 MiG-29 fighter jets.
The MB-339s have also been grounded since 2018 due to engine issues, Shephard Media reported.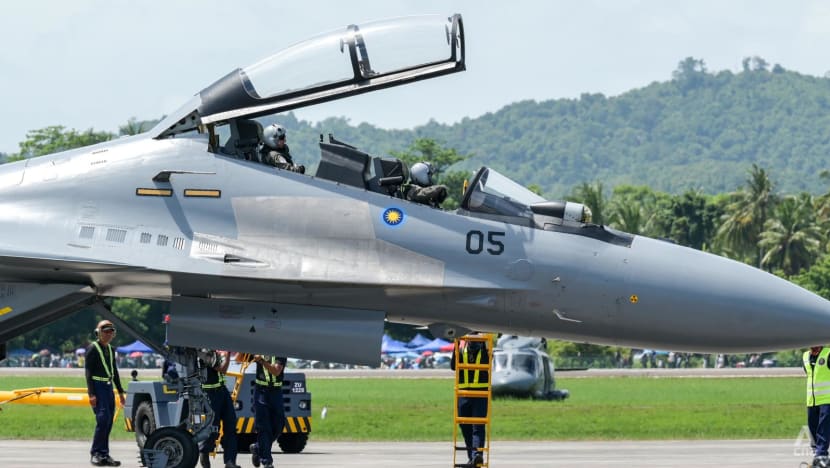 "Malaysia will be getting an improved combat capability that can even take over some of the missions and even surpass that of the retired MiG-29s," Mike Yeo, Asia correspondent for US-based defence publication Defense News, told CNA.
"Having sufficient numbers of FA-50s will mean the RMAF's air policing capabilities in safeguarding Malaysia's airspace will be enhanced."
Naradichiantama told CNA that the FA-50's ability to fly at supersonic speeds - not typical for FLIT-LCA aircraft - helps it "stand apart" from jets used in similar roles by other countries in the region.
This includes Vietnam's Yakovlev Yak-130, Indonesia's Embraer EMB-314 and Singapore's Aermacchi M-346.
"The FA-50 is a substantially more capable platform than the types it is replacing," he wrote in the IISS blog.
WHY THE FA-50 WAS SELECTED
When CNA asked Malaysia Defence Minister Mohamad Hasan why the country chose the FA-50, he replied that its "number one" consideration was the jet's service record, echoing a response he gave to parliament on Mar 16.
"We cannot take the risk and acquire assets that are still at the prototype stage. Our personnel will use this jet, so safety is in our criteria," Mohamad told a press conference on May 22 previewing the LIMA exhibition.
Naradichiantama pointed out that of the known crashes of the T-50, none were attributed to mechanical failures but rather human error.
The analyst also highlighted that the FA-50 has combat experience with the Philippines Air Force, most notably in 2017 during the Siege of Marawi where it provided combat air support with other aerial assets.
The Siege of Marawi was an armed conflict between security forces from the Philippine government and militants affiliated with the Islamic State. 
"Barring two reported friendly-fire incidents, the result of the dense and tightly packed urban battlefield, the FA-50 has been lauded by senior officers involved in the siege," Naradichiantama said.
Beyond operational results, Naradichiantama attributed the jet's appeal to its price relative to its capabilities and significant support provisions, noting that it can accommodate "a range of pods and weaponry".
The FA-50 is fitted with a Gatling gun and can carry short range air-to-air missiles as well as precision air-to-ground missiles and bombs. The current Block 20 version, which Malaysia is acquiring, is equipped with a modern radar system.
Malaysia reportedly chose the FA-50 over India's Tejas light fighter in its final shortlist, with IISS analyst Ben Ho noting in his blog that the FA-50 has a price tag of about US$28 million each, compared with the US$30 million Tejas.
Yoo Chan-seok, international business development manager for Asia at KAI, told CNA that the FA-50's competitors for Malaysia's defence programme were the Tejas and Italy's Aermacchi M-346.
"The RMAF thinks that maybe the Tejas has no record for exporting, (plus the FA-50) is already proven in combat," he said, citing the FA-50's supersonic capability as a deal maker.
The fighter jet can fly up to a speed of Mach 1.5, or more than 1,800kmh.
Yoo said Malaysia's FA-50 contract includes training and potentially carrying out final assembly and maintenance of the aircraft in Malaysia. As for the weapons package, Yoo said this will depend on the RMAF under a foreign military sales agreement.
The FA-50 is operated by several countries in the region, including Indonesia and Thailand, and Yoo said KAI is hoping to sell the jet to more countries in Asia. Other users include Iraq and Poland, which recently penned two contracts for 48 of the jets.
KAI plans to add more capabilities to the FA-50 in its next upgrade, including a more effective aerial refuelling system and the ability to carry munitions that can hit targets beyond visual range, Yoo added.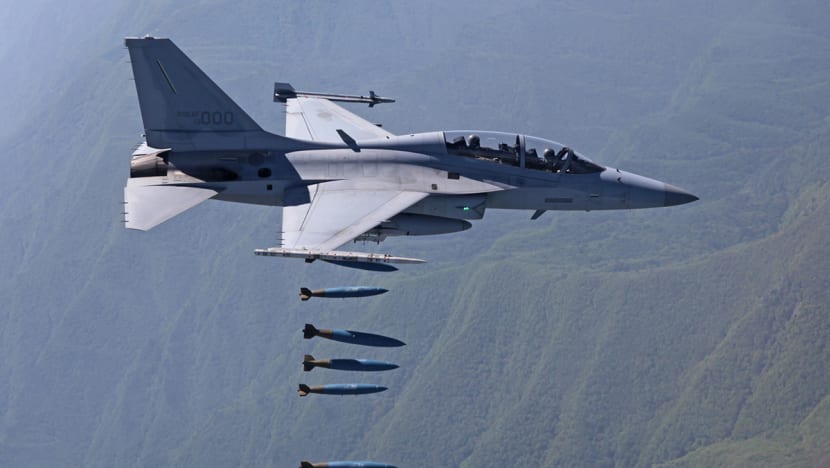 "The feedback from users has been positive, and more importantly, having such a user base in the region means it will be easier for a common logistics and maintenance setup (to be) established, something which KAI has floated," Defense News' Yeo said.
"It also means that the company will continue to have a stable base to continue development of the jet's capabilities, with the recent introduction of the active electronically scanned array radar being a good example of this."
WHAT'S NEXT FOR MALAYSIA
Despite that, analysts feel Malaysia should still proceed with plans to acquire multi-role combat aircraft (MRCA), which are usually heavy fighters that can execute various functions like tactical strikes, air defence, electronic warfare and maritime roles.
Malaysia's FLIT-LCA programme was part of its 2020 defence White Paper, which also included an MRCA requirement to provide two squadrons' worth of aircraft to replace the RMAF's MiG-29s.
However, funding constraints have delayed this project, Naradichiantama wrote, while Yeo said he understands that the MRCA programme has been pushed back to 2030.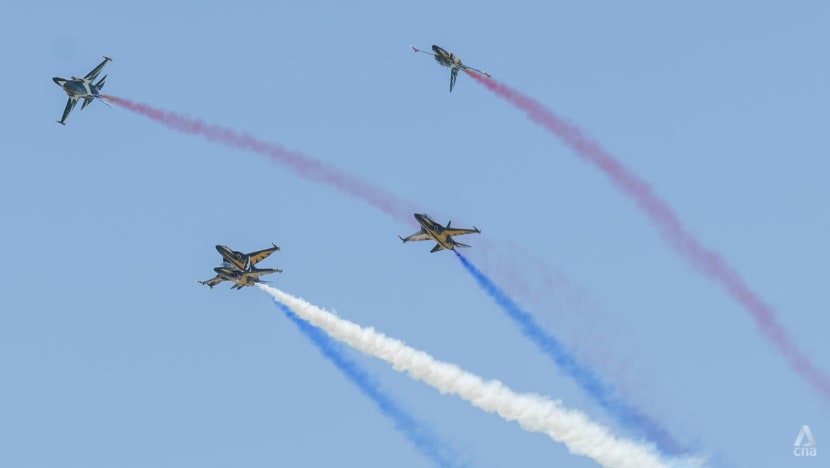 Naradichiantama told CNA that the FA-50 will likely support Malaysia's future MRCAs in other mission roles, stressing that "countries' combat aircraft inventories are never solely centred around the FA-50".
"Despite its capabilites, the FA-50 still has some limitations in terms of performance, such as not being capable of flying at higher supersonic speeds. There is still a need for Malaysia to continue with its MRCA program," Yeo said.
In March, the defence minister Mohamad Hasan told parliament that Malaysia's application to buy Kuwait's used F/A-18C/D Hornet fighter jets for its MRCA programme had yet to receive a positive answer from the Middle Eastern nation.
Mohamad said the refurbished fighter jets were in good condition with relatively low flight hours, according to local media reports.
"The used Kuwaiti Hornets will be a great acquisition, given it will increase Malaysia's relatively small fleet and improve capabilites and economies of scale. However that plan does not seem to have much momentum," Yeo said.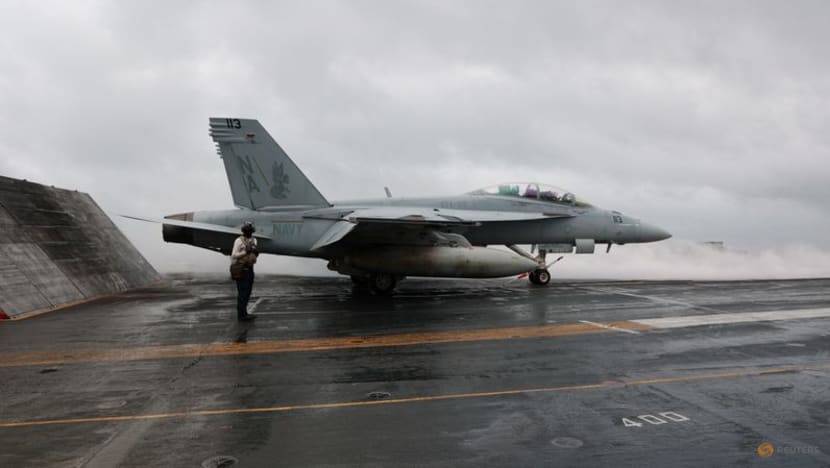 In an update at the May 22 press conference, Mohamad said while Kuwait had taken note of Malaysia's interest, it said it was "not in a hurry" to replace its current fleet.
"Because, delivery from the US for the new fleet also has some delays," Mohamad said.
In 2016, Kuwait signed a potentially US$10 billion contract with the US to buy 28 of the Boeing-built Super Hornets. However, pandemic-induced delays have pushed delivery and operationalisation a year back from 2022 to 2023, Breaking Defense reported.
Alternatively, Yeo said Malaysia could consider options like South Korea's KF-21 or the US' F-35. These are 4.5- or 5th-generation fighters with more advanced features like stealth.
"With the used jets, there are (few) options other than the Kuwaiti Hornets as there are no other jets available that offer so much in terms of commonality with Malaysia's current fleet," he said. 
Countries could turn to buying used jets if they lack the budget to buy new aircraft, have an urgent requirement for more aircraft, or have an existing fleet of the same aircraft that makes it easier to introduce additional units, Yeo explained.
"In Malaysia's case with the Kuwaiti Hornets, they tick all three boxes," he added.