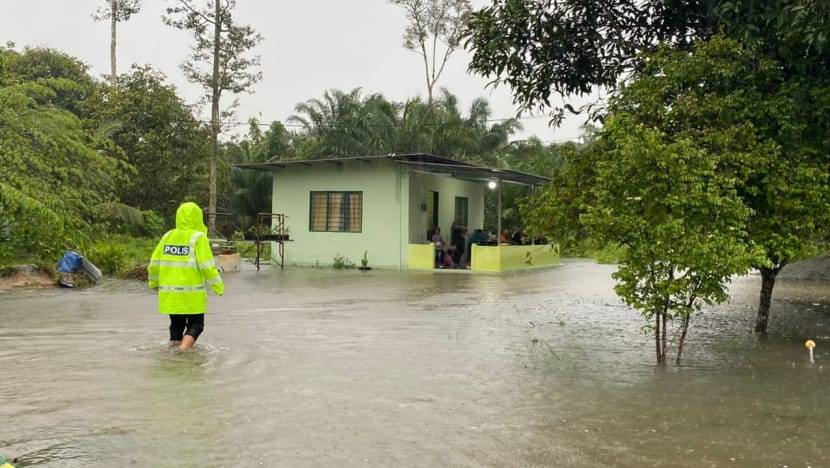 KUALA LUMPUR: Continuous heavy rain is forecasted to fall over Johor and the Malaysian eastern states of Kelantan, Terengganu and Pahang from Friday (Jan 27) until next Monday. 
Malaysia's Meteorological Department (MetMalaysia) issued an alert at 9am on Friday that continuous rain at an alert category is expected to hit parts of Johor, namely Segamat, Kluang, Mersing, Kulai, Kota Tinggi and Johor Bahru. 
Other areas forecasted to see continuous rain in the alert category are parts of Kelantan - Jeli, Kuala Krai and Gua Musang - as well as several districts in Pahang - Jerantut, Maran, Kuantan, Pekan and Rompin. 
MetMalaysia had also forecast harsher rain conditions at a severe category in Terengganu and several districts of Kelantan, namely Tumpat, Pasir Mas, Kota Bharu, Tanah Merah, Bachok, Machang and Pasir Puteh. 
According to the National Disaster Management Agency (NADMA), the number of flood victims has decreased in Johor, with 4,532 evacuees recorded as of 12pm on Friday. Just 24 hours before, 5,528 flood victims were recorded in the state.
Meanwhile, Pahang, Terengganu, and Sarawak have recorded 327, 20 and 282 flood victims respectively. 
Sabah remains the worst-hit state with 7,162 evacuees, according to the agency. 
According to Bernama, NADMA on Thursday ordered the disaster management committees at both state and district levels to be activated. 
The agency also requested for the level of preparedness to be increased to face possible disasters, especially in high-risk areas, adding that it will continue monitoring the situation through its cooperation with various agencies. 
Over the past few days, heavy floods in several parts of Malaysia have forced thousands to evacuate and flee their homes. 
Floods are an annual phenomenon in the country due to the northeast monsoon that brings heavy rain from November to March.