'We are getting sick of this': Anguish among Johor villagers amid recurring floods
After experiencing their second major flood in three years, some residents of Kampung Contoh have grown weary.
KLUANG, Johor: Standing knee-deep in swirling flood water, Mr Jamaluddin Kamal sighed wearily as he peered through the window of his partially submerged home.
"This time, it is not so bad, the (water) level is only around my waist," the 45-year-old told CNA on Thursday (Jan 26).
"Two years ago, the water level was at my neck and I could barely stand," added the resident of Kampung Contoh, a village near the Kluang District in central Johor. 
Kampung Contoh was among the dozens of villages that have been hit by the recent floods in the southern state. 
Yet, Mr Jamaluddin said that floods were not a new phenomenon for the residents of kampung. He moved there in 1995 and noted that the frequency of floods has intensified over the last decade.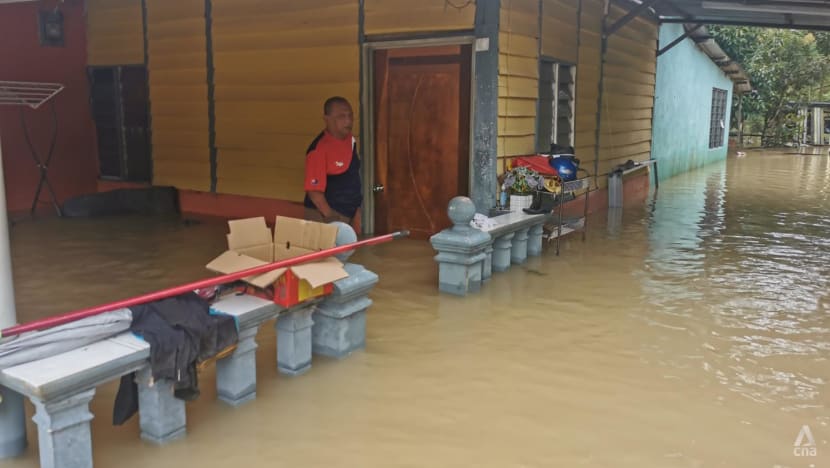 "Over the last five years especially, it has happened almost every year. And it is getting bad.
"Every time it floods, I get scared. Will this be the time I lose my home or my expensive items like the washing machine and fridge?" said Mr Jamaluddin. 
"Will I or any of my family members lose our lives? Sometimes I wonder how long more we can endure this," he added. 
Heavy rain in Johor across the last two days has triggered floods, displacing more than 5,500 people. 
Bernama reported that 55 relief centres have been opened in Johor as of 8am on Thursday to house the flood evacuees. Segamat was the most affected district in Johor, followed by Kluang and Mersing, according to the state disaster management committee on Wednesday.
In Sabah state, close to 6,500 people have been evacuated.
Yet for residents in Kampung Contoh, what is most concerning is the increasing frequency of the floods. 
Student Nurul Husnina Kamaluddin, another Kampung Contoh resident, told CNA that this was the second time in three years her family was forced to evacuate their home due to floods. 
"I still remember how in end-2021, the floods were so bad, we had to be moved to the relief shelter on boats," the 16-year-old recounted.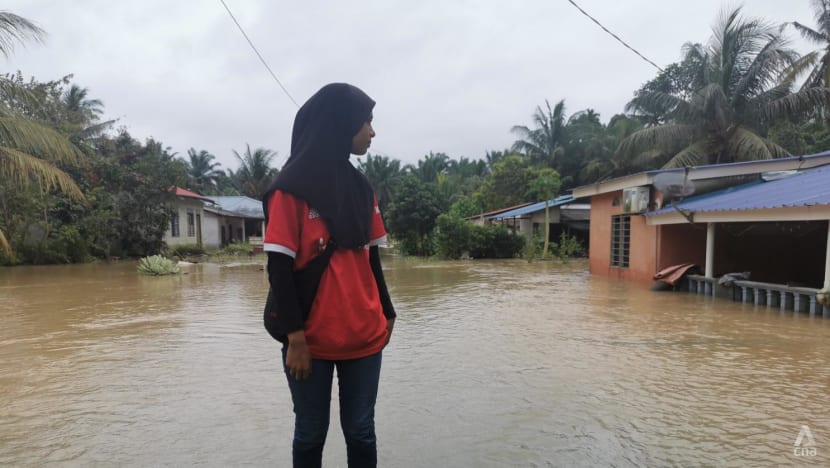 Kampong Contoh was among the villages affected in December 2021, when torrential downpour over two days led to one of the country's worst flood events in recent times. It was dubbed by the government and weather experts as a "once in a hundred years" event. 
The floods, which impacted residents across nine states, displaced more than 70,000 people and left 54 dead at that time.
During the floods over the last week, Ms Nurul Husnina said that the family evacuated on foot after noticing that the water level was rising. 
"We have become so used to it now. When it rains heavily over many hours, we start to make the necessary preparations," said Ms Nurul Husnina. 
"But we are getting sick of this. When we needed to evacuate on Tuesday, what I thought in my head was 'Not again'," she said. 
Ms Nurul Husnina said that she and her family will have to do it all again - live in relief centres until the water level recedes, clean up the debris in their homes and then make preparations for when it may flood again. 
"In a few months, we might go through all this again. It's tiring," she added. 
Kampung Contoh is located near the Kahang River. Residents told CNA that the village is flood-prone because the river tends to overflow when it rains heavily.
On Wednesday, Johor chief of police Kamarul Zaman Mahmat told reporters that more than 2,000 residents in Kahang, including farmers and orang asli, were stranded as the roads from their villages had high water levels.
He added that help would be given on Thursday morning to the affected residents. 
When CNA visited Kahang on Thursday, the local roads remained closed. Police officers on duty stopped visitors from entering the area and declined to comment if the affected villages had received help. 
VILLAGERS SUPPORTING EACH OTHER
At Kampung Contoh, visitors were able to access the village after wading through cold floodwaters that were knee-high. Residents had mostly been evacuated to a nearby secondary school, which served as a relief centre.
 
Many homes were still partially submerged even though the rain had stopped. Inside the homes, furniture and other household items like rugs could be seen floating.
However, due to the recurring nature of the floods, residents were experienced enough to act quickly. 
Muhammad Hakimi Rosli recalled how he and his siblings were tasked to lift the refrigerator and washing machine onto a platform above ground on Monday when it rained heavily, to minimise the chances of them getting damaged.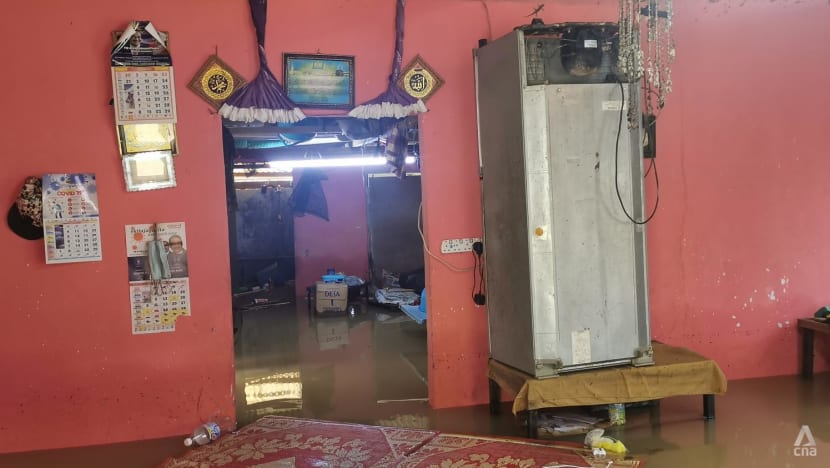 "In the previous major flood in 2021, we lost many items including our fridge. We did not want to make the same mistake," said the 19-year-old.
"Ideally we don't want to keep doing this, but until it stops flooding, we have to be prepared," he added. 
Mr Muhammad Hakimi added that the villagers also had a support system to help one another when a flood is imminent. 
He said that on Monday evening, when it became clear that the water level was rising, many of his neighbours living on the higher ground offered their homes as storage areas for expensive items like television sets, washing machines and refrigerators.
"We only have each other and it's great that in times of need, we can rely on our neighbours for help," he added.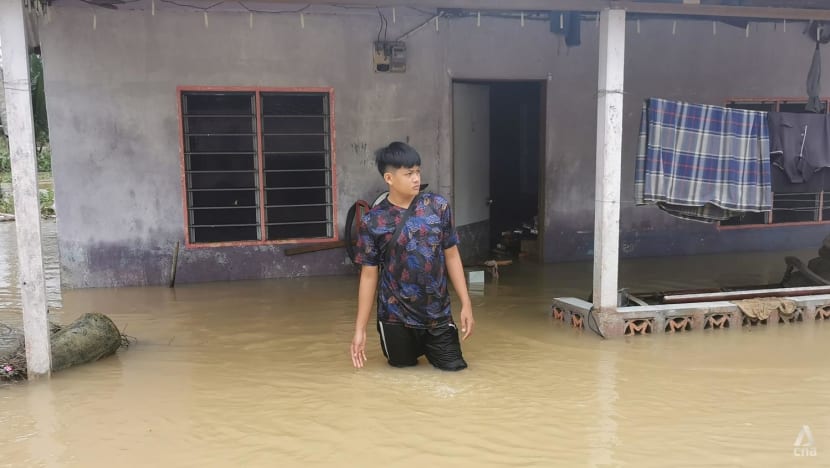 Mr Jamaluddin, who lost a motorcycle during the recent flood, added that he was also thankful to some of his neighbours for storing his television and other electronic items. 
When the water level rose, he carried the items up a nearby hill and stored them inside a neighbour's garage. 
"Thank God that we have one another. Otherwise, we would have to fork out money to buy new items every time it floods," he added.
Read this story in Bahasa Melayu here.