Malaysian Muslims mark resumption of international travel with Umrah pilgrimage to Saudi Arabia
Countries in the region are taking careful steps to reopen borders for both inbound and outbound tourism. In the first part of a series, CNA looks at how Malaysians are taking their long-awaited Umrah pilgrimages.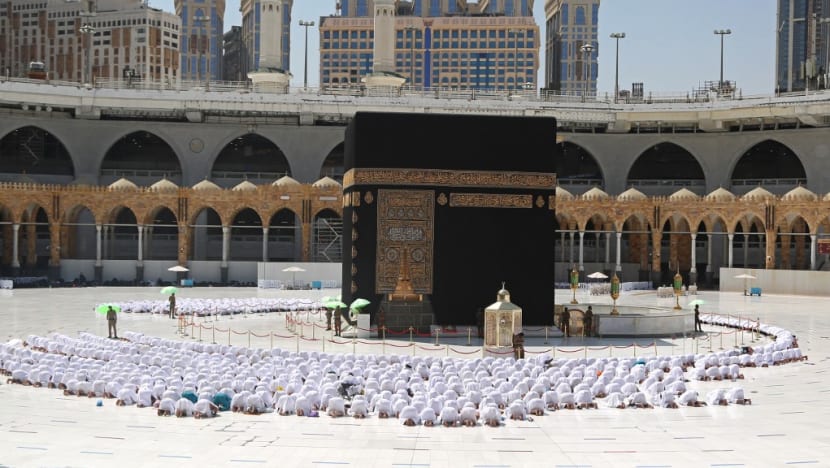 KUALA LUMPUR: Halimah Norhan's planned trip to the Muslim holy cities of Mecca and Madinah has been long overdue.
The 47-year-old booked with a travel agency to perform Umrah, the minor pilgrimage which can be performed all year round, in June 2020.
However, due to the COVID-19 pandemic halting overseas travel in many countries across the world, she was forced to postpone her trip after having paid a deposit of around RM2,000 (US$481.85).
Earlier this month, Putrajaya announced that Malaysians who are fully vaccinated are allowed to perform Umrah from Oct 18.
The announcement came after Prime Minister Ismail Sabri Yaakob said that Malaysian citizens will be permitted to travel overseas without having to apply for permission from immigration authorities via the MyTravelPass scheme.
This has been music to the ears for Halimah and some Muslims across the country.
"It has been a huge relief and finally, after a long wait, we can now make the journey (to perform Umrah)," said Halimah, who will be travelling with her husband.
"God willing, we will head there in November," she added.  
The MyTravelPass scheme was introduced to restrict outbound travel for non-essential reasons such as tourism during the pandemic. 
Now, with this curb being lifted on the back of Malaysia's vaccination rate crossing the 90 per cent mark for adults, Malaysian citizens are free to travel overseas for leisure.
Yet, this is also subject to various factors, such as whether foreign countries are willing to accept visitors from Malaysia on a tourist visa.
As the Malaysia government has not established any travel bubble or vaccinated travel lane, those who are keen to travel for leisure are limited to countries that are willing to let visitors in without quarantine, such as Canada, the United Kingdom, France, United Arab Emirates, Turkey and Saudi Arabia.
Travel industry players interviewed by CNA said that the highest demand for overseas travel presently seems to be for packages to perform Umrah in Saudi Arabia.
Abu Fadzil, head of operations and customer service at travel agency Asian Trails, told CNA: "Many Malaysians are Muslims, so an important factor that would encourage them most to travel is religion. Generally, that's one of the key priorities for Malaysians when deciding to travel."
Tourism expert, Professor Kashif Hussain of Taylor's University in Malaysia, concurred.
He said that more than 60 per cent of Malaysians are Muslims, and that performing Umrah would be a key priority for them now that leisure travel is permitted.
"People are mentally tired from the endless lockdowns, and are keen to go to Mecca and Madinah for relaxation (and for the sake) of their mental health and spiritual health," said Kashif, who was based in Saudi Arabia for 25 years.
"They want to thank God that they are alive and well, and countries like Saudi Arabia have garnered confidence that they are able to accommodate visitors safely," he added.   
Halimah, who will be making her long-awaited trip in mid-November, said that other leisure travel will have to wait for now.
"Amid the pandemic and these tough times, I think it's actually more important to perform Umrah, to thank God for giving me and my family health, and to pray that mankind overcomes this pandemic soon," she said.
ENCOURAGING RECEPTION FOR UMRAH PACKAGES
Since the Malaysian government's announcement that travel for Umrah has been permitted, some Muslims have left for their pilgrimage with the travel agencies.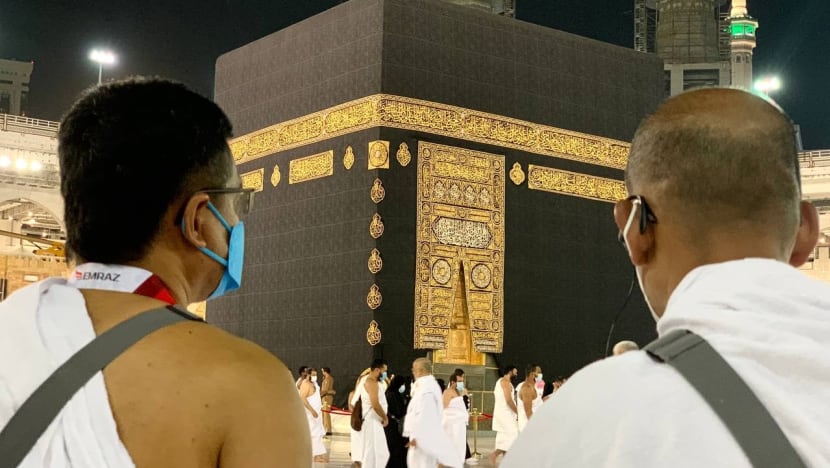 According to its Facebook page, Emraz Travel and Tours has brought two groups of travellers to Saudi Arabia so far. The first trip comprised 11 travellers, including actor Ashraf Muslim, while another group comprising 25 travellers departed on Monday (Oct 25) morning.
The Association for Travel Agencies for Umrah and Haji Malaysia (PAPUH) has also noted an increase in enquiries and bookings, which is welcome news after months of stagnation in the travel industry.
PAPUH's vice president (industry) Helmi Daud told CNA that early signs were good, but he acknowledged that travel agencies would only be able to resume the same volume of operations pre-COVID-19 in December.
"We are a bit shocked as an industry. The permission given by the government to do Umrah was quite sudden. We were anticipating earliest some time in November and we were planning based on those dates," said Helmi.
Another agency that specialises in Umrah packages, Qasswa Travel, has also expressed relief that it is able to resume operations.
Its marketing and sales executive Hafilah Mohd Salleh told CNA that the agency had pivoted to selling healthcare and sanitation goods since the pandemic had halted leisure travel, and that it was "refreshing" to be able to resume its tour packages.
"We are planning for three different packages in December and the reception has been very encouraging and these slots are selling fast," said Hafilah. 
She added that some of the agency's clients who had previously placed bookings but were unable to travel due to COVID-19 travel restrictions have now decided to grab the first opportunity to make the trip.
"Half of them (who made prior bookings with Qasswa Travel) are now keen to go while the other half are choosing to wait and see," said Hafilah.
Tour agencies noted there has been a slight increase in price for the Umrah packages, but this has not impacted demand.
The Malaysia government has set the price floor for a 12-day, 10-night Umrah package at RM6,900. The Tourism, Arts and Culture Ministry said the price floor was set in line with current developments from the increase in the cost of performing Umrah due to health protocols outlined by the Saudi Arabian government. 
Hafilah noted that the new prices offered by Qasswa, which include costs for COVID-19 swab tests and insurance, are between RM8,590 and RM10,990. 
She said that these figures are "a slight increase" compared to their packages pre-COVID-19 but maintained that this has not dampened the travellers' enthusiasm. 
"In fact, the demand has been stronger for our most expensive package," said Hafilah. 
"Travellers are keen to pay the premium price to ensure that they are able to perform the Umrah rituals in peace," she added. 
Halimah, who will be travelling in November, said she and her husband are paying around RM9,000 each for their packages. The amount is around RM500 more than what she was quoted for before COVID-19, she added.  
SOME UNCERTAINTY OVER PROTOCOLS
However, Qasswa Travel's Hafilah said that some travellers are concerned over the uncertainty when it comes to the health protocols imposed by the Saudi government.
In August, Saudi Arabia announced that it would receive overseas worshippers who are fully vaccinated to perform Umrah. COVID-19 social distancing measures were later lifted in October to allow pilgrims and visitors to the Grand Mosque at full capacity, AFP reported, quoting the Saudi Press Agency.
The tour operators said worshippers still need to make bookings for prayer slots in mosques as well as to perform Umrah rituals like tawaf - circumambulating the Kaaba in the holy mosque in Mecca.
Hafilah said that travellers are unsure if they are able to easily book these slots to enjoy a safe and peaceful experience during the trip.
She noted also that some clients had taken the Sinovac vaccine. The Saudi Arabian government has mandated that Umrah pilgrims with Sinovac receive a booster jab.
However, she noted that the Malaysia government has permitted those travelling for Umrah to request for a booster jab via the MySejahtera application. 
PAPUH's Helmi said: "Performing Umrah now is a completely different experience from what it was previously. Application for slots for umrah, for prayer slots. For pilgrims who are older, they may face more difficulties in this."
"PAPUH has advised agents to remind travellers to keep social distancing as far as possible, despite the loosening of the restrictions by the Saudi government," he added. 
He also noted that some travellers may be put off by the fact that they would need to serve quarantine upon returning from Saudi Arabia.
Travellers who are fully vaccinated have to serve quarantine, although they are allowed to apply with the Ministry of Health to do so at their respective homes.
"So, we as operators, we have to explain to our customers the situation, and that any protocol taken by the authorities are for the benefit of everyone," said Helmi.
MUTED RECEPTION FOR LEISURE TRAVEL TO OTHER COUNTRIES
While there is an uptick in requests for Umrah trips, travel agencies CNA spoke to also said response for leisure travel to other countries has been muted.
Qasswa Travel's Hafilah told CNA that the agency is planning trips to Turkey and the Al-Aqsa Mosque in Jerusalem for 2022, but the take-up rates have been slow.
PAPUH's Helmi, who runs his own travel agency, told CNA that he also plans to launch packages to Turkey and other Middle Eastern countries, but logistically it would require some time to restart operations.
"We have to re-establish contacts with operators, airlines ... there are many obstacles to restarting in these countries," said Helmi.
"So now our focus is on Umrah, because there's a ready market," he added.
Kashif of Taylor's University told CNA that Malaysians are hesitant to travel to countries in Europe, such as the United Kingdom and France, because those countries are in a different stage of living with the coronavirus. 
He noted that many countries in Europe are no longer making it compulsory for people to wear masks in public and many Malaysian travellers may be uncomfortable with this idea. 
"It's risky because you might stand a higher chance of getting COVID-19 from a holiday. Many Malaysians are not keen for this to happen," said Kashif.  
More Malaysians might be willing to travel overseas if there is a two-way, quarantine-free travel bubble, experts said. 
Tourism researcher Irhanida Abdul Kadir, who is senior lecturer at UOW Malaysia KDU Penang University College, outlined that implementing a travel bubble with proper COVID-19 swab protocols and vaccine requirements would encourage more Malaysians to travel overseas. At the same time, more visitors will come in and spend tourism dollars, she said. 
Irhanida proposed a potential travel bubble with the United Arab Emirates as many Malaysians favour travelling to cities like Dubai and Abu Dhabi for tourism, and that many Malaysians have family members who work in the Gulf and they would like to visit them.
"This could help both countries' flagging tourism industries. But of course, this requires a certain amount of faith and trust in partner countries, and an effective and efficient system to avoid the virus from spreading," she said.