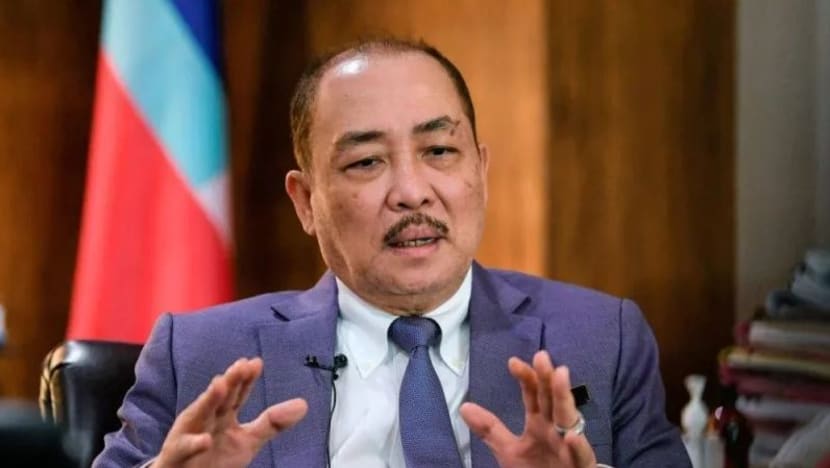 SINGAPORE: Amid a fractious political situation in Sabah, the state government led by the Gabungan Rakyat Sabah (GRS) coalition collapsed on Friday night (Jan 6) after Barisan Nasional (BN) withdrew its support for the chief minister.
Sabah's United Malays National Organisation (UMNO) chief Bung Moktar Radin announced that he had pulled the party's state assemblymen from the 27-month-old coalition government. UMNO is the lynchpin party of BN.
Mr Bung Moktar was also quoted as saying by Bernama that the decision to withdraw support was made due to a loss of confidence in the leadership of chief minister Hajiji Noor.
Since then, the embattled Mr Hajiji has insisted that he has the support of 44 out of 79 assemblymen, giving him enough seats to continue as chief minister.
However, Mr Bung Moktar was quoted as saying by Malay Mail during the weekend that he has not conceded defeat in the race to form a new state government.
CNA looks at the political impasse in the Borneo state and its implications for the federal government.
BALANCE OF POWER IN STATE ASSEMBLY
Before the political shake-up, Sabah was led by a GRS-BN alliance. The bloc had 46 lawmakers – 29 from GRS and 17 from BN. The coalition was also backed by 14 other assembly members, including those from Pakatan Harapan (PH) and other smaller parties.
A minimum of 40 seats is needed for any party or coalition to obtain a simple majority in order to form the state government.
The 29 lawmakers from GRS include 15 who were previously with Parti Pribumi Bersatu Malaysia (Bersatu). The remaining 14 assemblymen are from Parti Bersatu Sabah (seven), Sabah STAR (six) and Sabah Progressive Party (one).
PH, with its seven assemblymen, has expressed its support for Mr Hajiji. Malay Mail reported on Saturday that the seven state assemblymen from the party said that they were against the attempt to topple the Sabah government.
With the political fallout, BN is expected to team up with the state's main opposition party – Parti Warisan Sabah led by Mr Shafie Apdal which occupies 19 seats – and other smaller parties to form the next state government.
At the same time, five BN assemblymen have broken ranks and publicly announced their support for Mr Hajiji.
Free Malaysia Today on Sunday reported that the five have signed statutory declarations extending support to Mr Hajiji as the chief minister.
WHY THE POLITICAL CRISIS?
Mr Bung Mokhtar, who is also the state's deputy chief minister, stated that BN pulled its support for Mr Hajiji due to a loss of confidence in his leadership.
He was quoted as saying by Bernama that Mr Hajiji had breached an agreement between BN and Perikatan Nasional (PN).
He noted that BN and PN had implemented an agreement to form the state government following the Sabah state elections in 2020. However, Mr Hajiji and other leaders of Sabah's Bersatu – which is a component of PN – later left the party.
This, Mr Bung Mokhtar argued, caused the state government to lose its legitimacy.
He said: "Hajiji also threatened us with a Cabinet reshuffle without any discussion. We have also lost confidence after Hajiji lost his locus standi and qualifications to be selected as Sabah Chief Minister.
"According to the Sabah state constitution, the chief minister must be chosen from a party with the majority. He (Hajiji) is without a party, his standing is under GRS, which is a grand coalition party."
Mr Hajiji was one of 15 Sabah Bersatu state assemblymen who left the party led by former prime minister Muhyiddin Yassin. The move came after the formation of the unity government at the federal level by Prime Minister Anwar Ibrahim last year.
Following an official trip to Jakarta, Mr Anwar is expected to fly to Sabah on Monday evening to broker a peace deal among the parties.
WHO IS IN THE RUNNING TO BECOME CHIEF MINISTER?
Political analyst Oh Ei Sun told CNA that there are currently three main players vying for the post of Sabah chief minister – GRS' Mr Hajiji, BN's Mr Bung Moktar as well as Warisan's Mr Shafie.
Mr Shafie was previously Sabah's chief minister from May 2018 to September 2020.
Dr Oh said that Mr Bung Moktar "had long wanted to be the chief minister".
"In the last state election, then-prime minister Muhyiddin Yassin pushed for Hajiji to be the chief minister at the expense of Bung. But now that Hajiji has abandoned Muhyiddin and Bersatu, I think Bung saw an opening (to be chief minister) and pulled out from the state ruling coalition," said the senior fellow at the Singapore Institute of International Affairs.
However, Dr Oh noted that if Mr Hajiji is ousted, Mr Bung Moktar and Mr Shafie would have to work together to form a new state government.
"At the moment, it doesn't look like they have enough numbers."
On the other hand, Mr Hajiji has claimed that he has the support of 44 assemblymen, giving him enough seats to continue as Sabah's chief minister.
Malaysian media reported that out of the 44 assemblymen in support of Mr Hajiji, 29 are GRS members, seven are from PH, five from BN, one from the Malaysian Islamic Party (PAS), one from Parti Harapan Rakyat Sabah and one from the independent bloc.
Responding to Mr Hajiji's claims that he has the support of five assemblymen from BN, Mr Bung Moktar told the media that the "ball is in play" and dismissed Mr Hajiji's majority as "corrupted".
Also commenting on Mr Hajiji's claims that he continues to command a majority in the state legislature, political analyst Associate Professor Ahmad Martadha Mohamed from Universiti Utara Malaysia said: "This is enough for the current government to continue. 
"As such, if the support stands, there should be no change as to who is going to be Sabah's chief minister."
He added that a point of contention raised by Mr Bung was that Mr Hajiji currently belongs to no political party.
"There was a decision in the High Court before, during the time of (former chief minister) Musa Aman, where the court ruled that a person who showed that he has the majority support will be the chief minister.
"So Hajiji may be using that precedent - to become chief minister by the simple virtue that he has the simple majority," said Assoc Prof Ahmad Martadha.
Dr Oh, however, said that the situation remains fluid and that things may change quickly.
"I simply cannot give a definitive answer on who might be the next chief minister because the numbers are changing by the hour, if not minutes," said Dr Oh.
IMPLICATIONS FOR THE FEDERAL GOVERNMENT
Dr Oh noted that the factions involved in the political impasse in Sabah are all component parties of the federal ruling coalition under Mr Anwar's leadership.
The federal unity government comprises PH, BN, Gabungan Parti Sarawak (GPS), GRS and Warisan.
Dr Oh opined that Mr Anwar faces a tall order to resolve the Sabah political crisis.
"If Anwar were to side with Bung and Shafie, then Hajiji would be upset and might pull GRS' support (for the federal government). That's six seats.
"Anwar could of course survive the pull-out of these six seats (at the federal level) but his coalition government is also not very stable and he would like to (keep) as many seats as possible as well," said Dr Oh.
At the same time, Dr Oh said if Mr Anwar and Deputy Prime Minister Ahmad Zahid Hamidi were to side with Mr Hajiji instead of Mr Bung Moktar, the situation may be dire for the UMNO president.
"Sabah UMNO has the largest delegation among all the delegations in the UMNO general assembly. Bung may then join with other UMNO people who are not happy with (Ahmad) Zahid to topple him. Either way they handle it, they are going to face a dilemma," said Dr Oh.
UMNO leadership polls are expected to be held before the middle of this year, following the party's request to the Registrar of Societies (ROS) last year to hold the polls only after the 15th General Election (GE15).
There have been calls from certain quarters within UMNO for the two top posts to be open for contest after the party's and BN's poor showing in GE15.
BN finished a distant third with a mere 30 seats, down from the 79 it won in the 2018 general election. This led to calls for Ahmad Zahid to step down as UMNO president and BN chairman.
There were also reports about disagreements within BN with Ahmad Zahid's decision to strike a deal with PH in forming a unity government led by Mr Anwar.
When asked if there is a "safer" option for Mr Anwar to deal with the Sabah political situation, Dr Oh said that there was no such recourse.
"You just have to deal with the fallout, because all three factions are components of the federal unity government", Dr Oh said.