Overseas Malaysians rush to send ballots home, call for postal voting overhaul
Volunteer groups are helping overseas Malaysians get their ballots in time to their voting districts, but are calling for an overhaul of the postal voting system following complaints of delays.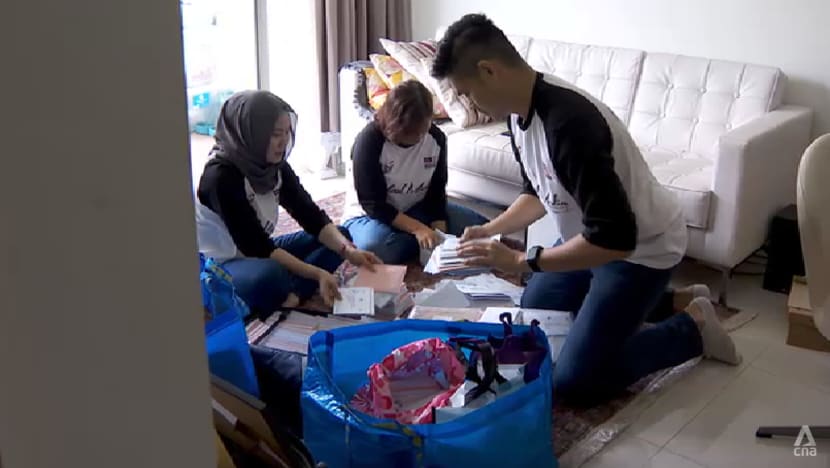 SINGAPORE: Malaysian Calvin Ong, who has been working in Singapore for more than seven years, is enthusiastic about making his voice heard in his country's upcoming general election on Saturday (Nov 19).  
However, the project manager will not be going back to his hometown of Perak to cast his vote, due to the distance and time constraints.  
Instead, Mr Ong will be using a postal ballot, just like many others in the Malaysian diaspora who are unable to return home to vote.  
Volunteer groups have stepped up to help these overseas Malaysians get their ballots safely to their voting districts, but are calling for an overhaul of the postal voting system following complaints of delays.  
CALLS TO IMPROVE POSTAL VOTING  
Malaysian media reported this week that some voters living abroad - including in India, Taiwan, Britain, the United States and Saudi Arabia - said they have yet to receive their ballot slips, with several notified that their papers will only arrive on, or after, polling day.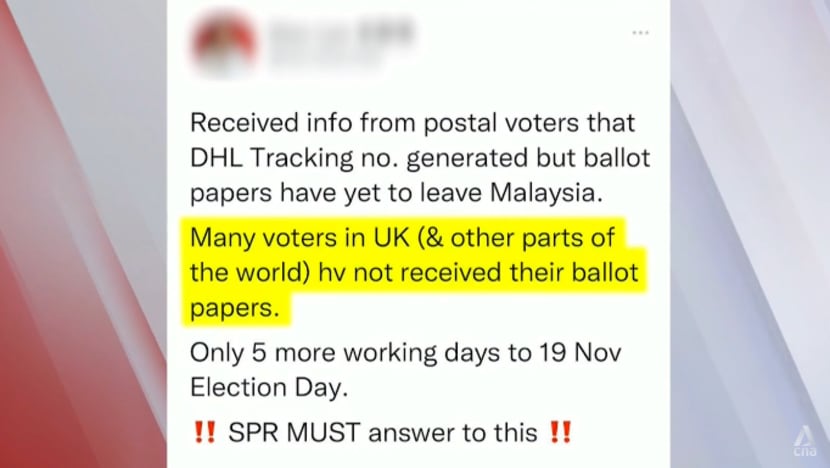 This means that most of these voters will not have a chance to have their say in this election, volunteer groups say.    
Undi18, a youth movement that brought about the lowering of the voting age in Malaysia from 21 to 18, is one such group facilitating postal voting from overseas Malaysians.  
Its co-founder and advocacy director Tharma Pillai called the current postal voting system "extremely inefficient" as it is slow, confusing and costly.  
"It's time to reform the system. Fix it," he said.  
The campaigning period of two weeks following nomination day is too short to complete the process of postal voting, Mr Tharma said.  
It is a "mission impossible" timeframe for the Election Commission to print the postal ballots, send them to the large number of overseas voters, and have the voters send them back by post before polls close, he said.  
However, there are solutions to improve the system, Mr Tharma said, adding that Undi18 has been advocating for advance voting in countries with a significant population of Malaysians, such as Singapore.  
Mr Tharma suggested using diplomatic sites such as Malaysian embassies or high commissions to facilitate advance or postal voting.  
"We can use (those sites) to collect votes to coordinate a postal voting, or have an advanced voting process, so that when the votes are done overseas, they can then be sent back in a more efficient, effective manner," he said.  
Another solution could be to wait before announcing results in contests that are too close to call, and count every vote from postal ballots, no matter how long they take to arrive, he said.  
"In a democracy, every vote counts and governments must work based on that principle that you have to make voting more accessible, to make democracy more understandable, in order to engage more voters in the process," Mr Tharma said.  
BRINGING VOTES BACK HOME  
Close to two million Malaysians are currently residing overseas, according to a report by Kuala Lumpur-based independent think tank EMIR Research.  
Many of them are unable to travel back home to vote due to time, budget, or other constraints.
These postal voters are a major focal point for Undi18, Mr Tharma said, as the Malaysian diaspora is a significant demographic, with many students abroad being first time voters.  
The group provides guidance to these voters on how to take part in postal voting and works with partners in some countries to bring the ballots back to Malaysia.    
It launched the Vote Malaysia initiative, after a smaller but successful trial run during the Johor state elections earlier this year.  
It said it expanded the initiative to cover all 222 constituencies in Malaysia for this election, with an aim to reach as many Malaysians living in as many countries as possible.  
"It's imperative that their vote counts, and their voice matters," said Mr Tharma.  
Despite living abroad, many Malaysians have a sense of national identity and pride, and an interest in ensuring good leadership and policies at home, he noted.    
"These overseas Malaysians not only have families (back home), they have investments and properties, they have savings and stocks, they send remittance back home to add to our GDP," he said.    
NGO IN SINGAPORE BRINGS BALLOTS TO MALAYSIA  
Singapore, which plays host to Malaysia's largest overseas community, is of particular importance to the initiative due to the sheer number of Malaysians residing in the city state, said Mr Tharma.  
Undi18's Singapore partner, non-government organisation (NGO) 1ThirdMedia Movement, set up about 20 collection points around Singapore in the past week.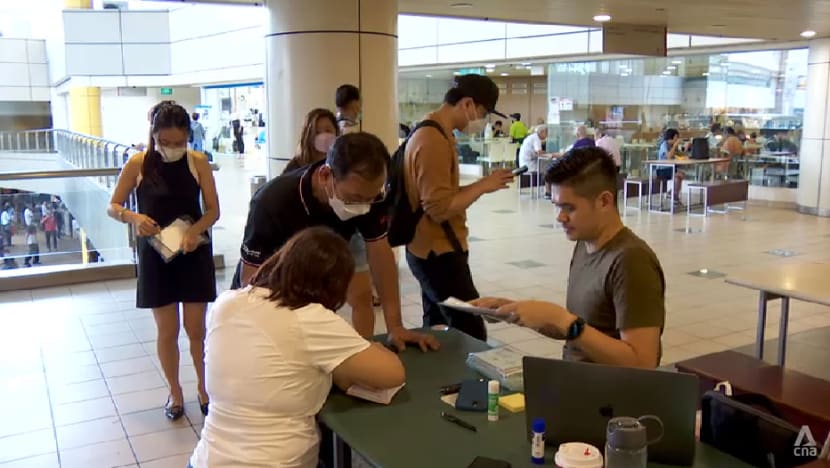 Malaysian voters had about seven days to pass marked and sealed ballots to Malaysian volunteers. The envelopes are tamper-proof after sealing, and impossible to open without tearing the ballots inside, the volunteers said.  
Collection closed on Thursday, and about 8,700 ballots were sent to Kuala Lumpur International Airport via a Malaysian Airlines sponsored flight on Friday, where Undi18 volunteers took over and transferred the slips to a collection site for sorting.
The postal ballots will be dispatched to their respective constituencies and voting districts before the polls close on Saturday.  
Mr Ong, who volunteers with the NGO, said that helping fellow Malaysians with the voting process is his way of playing his part in the election.  
"It is very important for me because my family, everyone, is still back home. So this is just a very small thing that, I think, can help to improve the situation back home. And I think we shouldn't be selfish and try our best to contribute," he said. 
Zi Ying, another volunteer, said she had actively helped out in previous Malaysian elections. She moved to Singapore last year after marrying a Singaporean, but wanted to continue to contribute even while living outside of her country.  
"As a Malaysian, we should play our part. When I came to Singapore, I knew that we had a chance to do postal votes so I volunteered to help out. It is important because every vote counts," she said.  
She added: "If you are a Malaysian, even though you are not in Malaysia, you should still make your voice heard. We need to ensure that we have a government that is what we choose for, and not chosen by others."  
When asked what outcome she hopes to see from Sunday's election, she replied: "A better Malaysia."