In Malaysia's East Coast states, PAS expected to see a strong showing in upcoming elections
During the 15th general elections, PAS won all 23 parliamentary seats contested in the states of Kelantan and Terengganu.   
KOTA BHARU, Kelantan: In the heart of Kota Bharu, the Sultan Muhammad IV stadium is synonymous with Kelantan's football team, also known as the Red Warriors.   
But on the night of July 21, the field was packed with men, women, teenagers and even toddlers waving the distinctive green flags of the Parti Islam Se-Malaysia (PAS).
The main agenda that night was to rally the people of Kelantan ahead of the upcoming state elections on Aug 12, with ex-prime minister Dr Mahathir Mohamad sharing the stage with the Islamist party for the first time in his 80-year political career. 
The rally started with prayers, which included mention of the hope that PAS and Perikatan Nasional - the coalition that PAS is in - will keep hold of the states of Kelantan, Terengganu, and Kedah as well winning a victory in Selangor, Penang, and Negeri Sembilan. 
They also prayed for a change in the federal government to happen soon.
Zarila Mat Noh, 51, who is from Bachok, Kelantan was at the event to support PAS and to hear the leaders of the party and coalition speak.
"I will always be there for big programs like this," the contractor, who attended the rally with one of his sons, told CNA.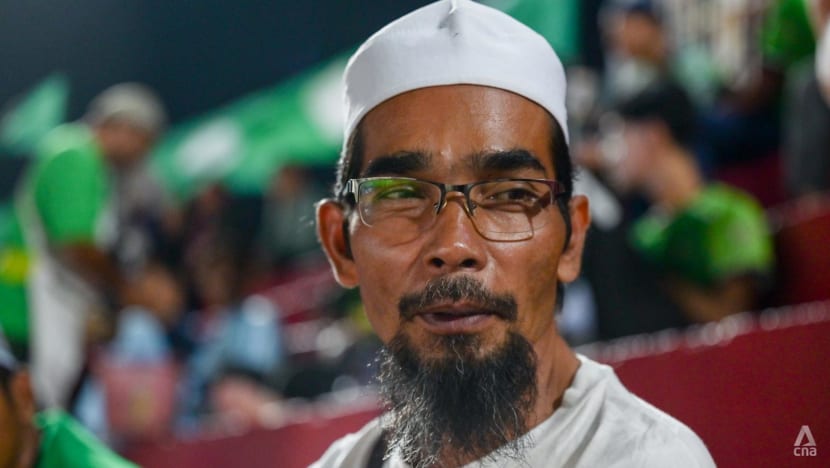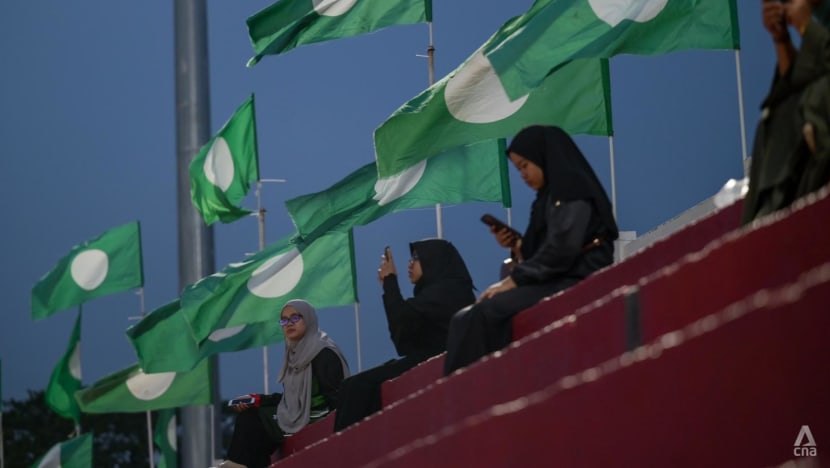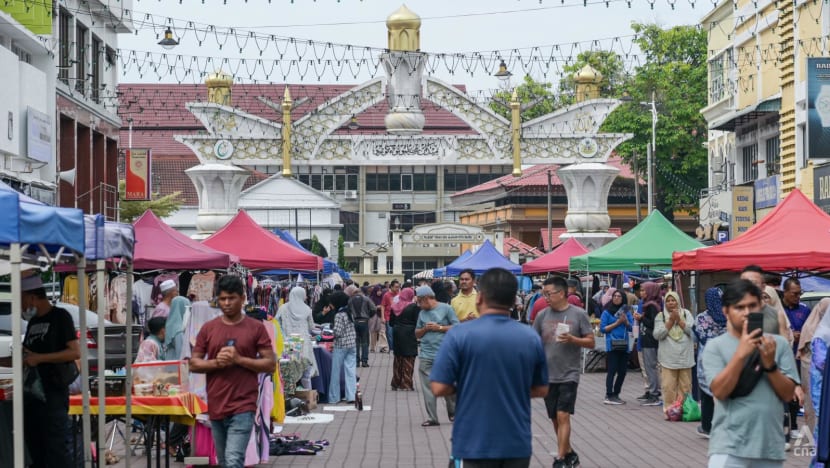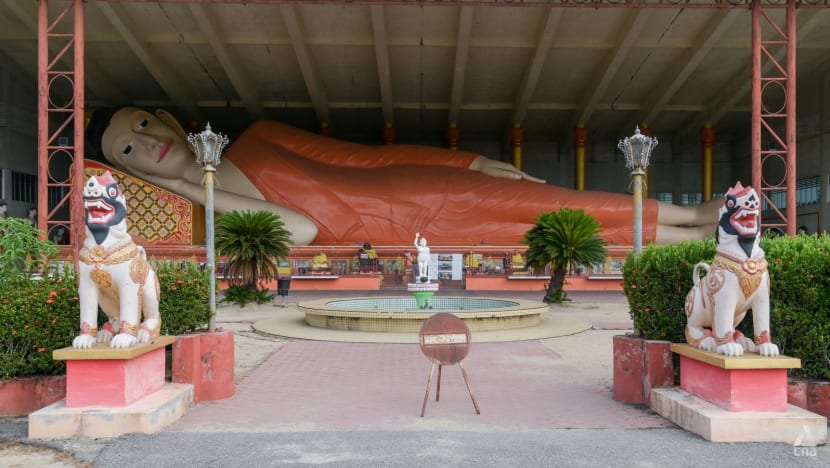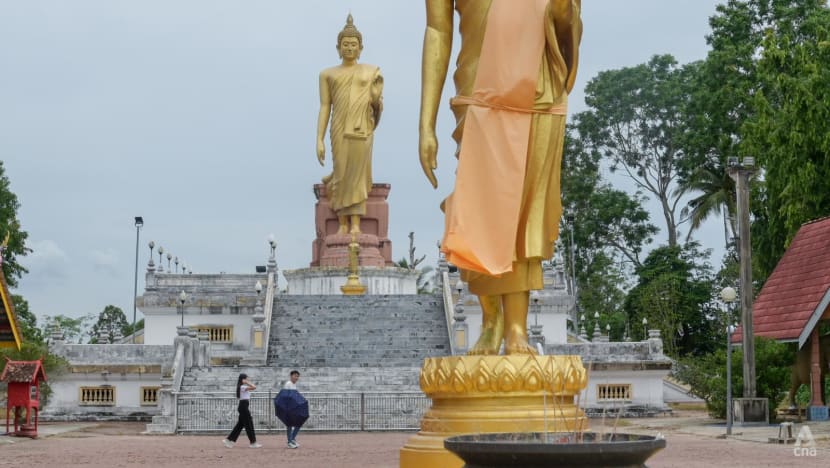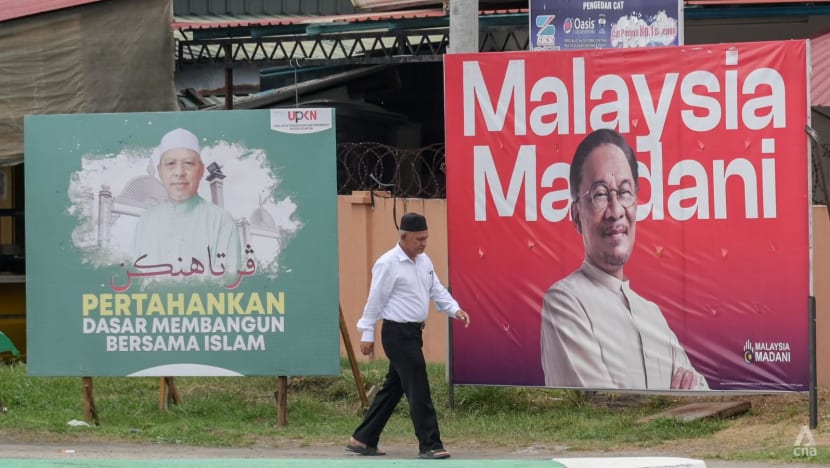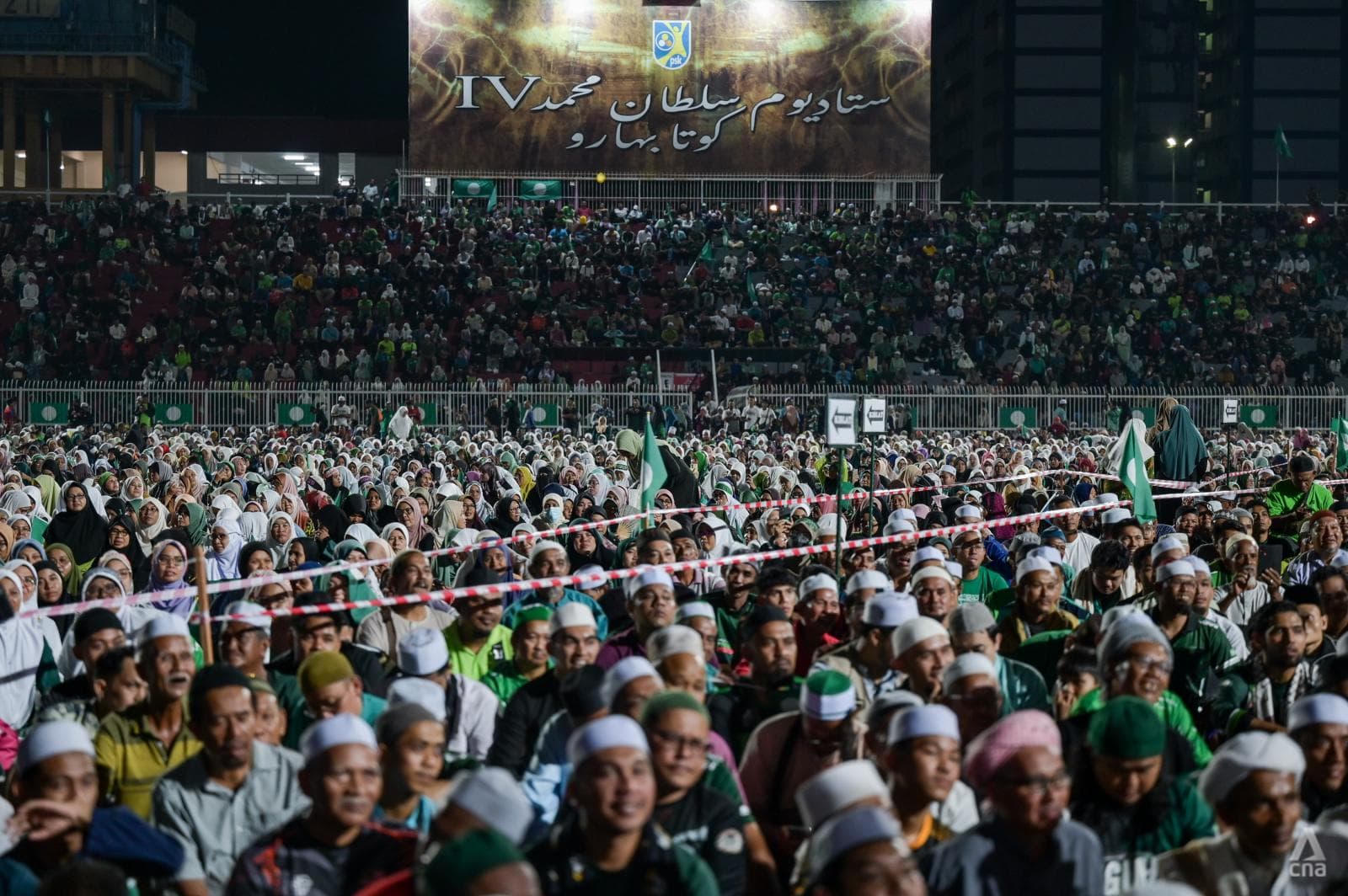 POLITICS INTERTWINED WITH FAITH
For Mr Zarila, his perspective on everything from the economy to politics is centred on the teachings of the Islamic faith.  
"There will be leaders who are not perfect, but PAS's policies are Islamic," he said about PAS.  
Teacher Fakhrul Rozi, 28, who was also at the event, also said he would back PAS because it is a party that is based on Islam.
"Some people may say that PAS rides on religion, but you cannot separate lives from religion including in administration. For me, voting for PAS … leads you to the correct teachings," he said. 
Such views have helped keep the state, also known as the "Verandah of Mecca", in the hands of PAS for the past 33 years. 
However, Kelantan is one of the poorest states in the country, contributing only 1.8 per cent to the country's Gross Domestic Product (GDP) in 2022. Generally, the state's economic challenges are blamed on the federal government.   
Kelantan's deputy chief minister Mohd Amar Abdullah said that the Kelantanese people vote for PAS because of its religious priorities and its good governance. 
"In the context of Kelantan and generally, it is because of our policies as the majority who support PAS are Muslims. 
"The Muslims who are committed to the religion consider PAS (as fighting) for their religious beliefs," he told CNA after delivering a lecture at the Medan Ilmu (Knowledge square) in the heart of Kota Bharu before Friday prayers on Jul 21.  
During the 15th general elections, PAS won all 23 parliamentary seats contested in the states of Kelantan and Terengganu.   
PAS AIM FOR KELANTAN CLEAN SWEEP
Mr Mohd Amar said that they are confident of retaining Kelantan, Terengganu, and Kedah which are all under PAS control. He also said they were aiming for a clean sweep of all 45 seats in the Kelantan legislative assembly.  
"It is within reach. It depends on the voters who will make the final decision. We base our target based on the response from the voters," he told CNA.   
When asked about claims that PAS has not done enough to develop the state, Mr Mohd Amar said this fell under the jurisdiction of the federal government.    
"If Kelantan lags in terms of infrastructure, it is the fault of the federal government," he said, adding that requests to build highways, ports, and airports among other things in the state were not approved by the federal government.
Mr Zarila, the contractor, believed that some of the criticism on social media about development and water problems has been exaggerated. 
"The state might be poor, but the people of Kelantan are rich. They live in bungalows and their own houses. Of course, there are poor people, but everyone has food to eat. In any case, even the USA has poor people," he said.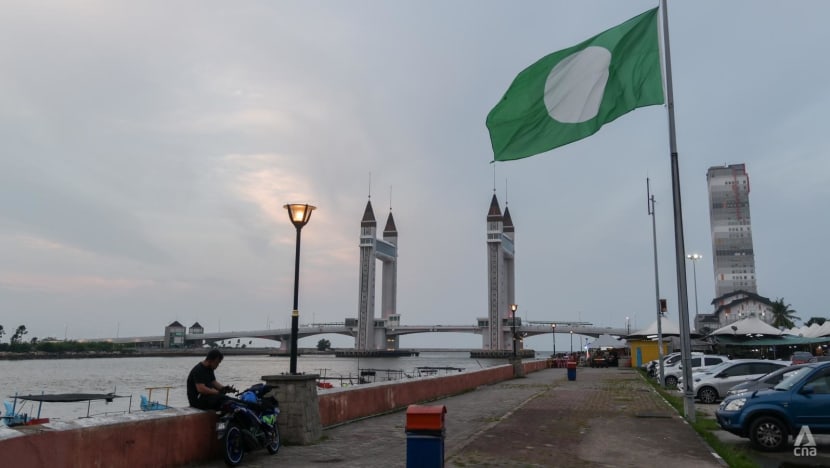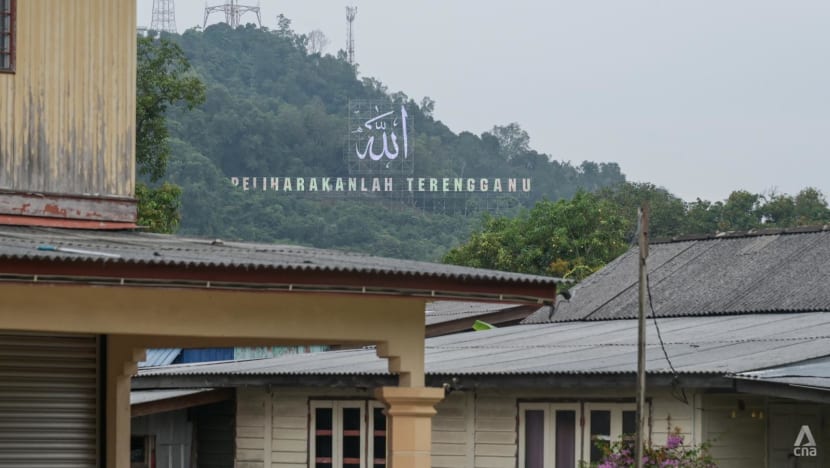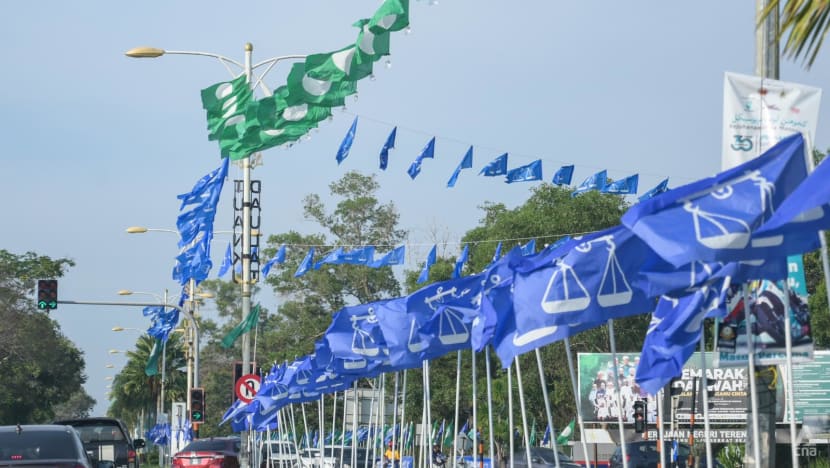 PAS CONFIDENT IN TERENGGANU
The dynamics in Terengganu differ from Kelantan as it is a swing state that has switched several times between PAS and Barisan Nasional in the past few years.
In the 2018 state elections, PAS won 22 seats while BN won 10 seats.   
PN election director Ariffin Deraman is optimistic about their chances to hold on to the state following their big win during the 15th general election.
"We won all eight seats with big majorities, from 16,000 votes to 41,000 in Marang. This is a very big number, never achieved in our history…Until now, there is no sign of a decline in momentum. In fact it is better," he told CNA.
He said that the "green wave" seen during the last election will continue because of the unity government's weaknesses and the fact that BN is working with PH.
"We don't deny UMNO's strength but when they are working with PH, people won't support them. Maybe the partnership will work elsewhere, but not in Terengganu," he said.  
After the last general election resulted in a hung parliament, BN became part of the unity government, together with PH, Gabungan Parti Sarawak (GPS), Gabungan Rakyat Sabah (GRS) and Parti Warisan.
Restaurant worker Wan Zihan, 54, who is from Setiu, has previously voted for BN, but has decided not to this time around because its president Ahmad Zahid Hamidi is working with PH and Malaysia's prime minister Anwar Ibrahim. 
"Many UMNO people that I know of are switching their votes to PN. I can vote for UMNO when Zahid is no longer the leader," he said.  
UMNO, the mainstay of Barisan Nasional, will be leading the charge against PAS in both states.
It will be working together with unity government partners Pakatan Harapan (PH), which does not have much support in the east coast.
The opposition is framing its messaging in the state elections by saying there is a need for both the federal and state to be aligned to facilitate more economic development.
UMNO Kelantan communication chief Zawawi Othman told CNA that the state had lagged in terms of development because of PAS' 33-year rule, with youngsters migrating to other states because of a lack of jobs. 
"The people need to realise that there is a need for the state to be aligned with the federal government for progress and development. There is a need for investors to come into the state and create more industries," he said, adding that PAS could not solve the water woes in the state.
Kelantan PH chairman Muhammad Hussain acknowledged that they would have a huge challenge to defeat PAS, although there could be a new wave of support because of the cooperation between BN and PH. 
"It will be a big challenge for PN and they won't win easily. There is a chance (for us) to add on to the eight seats UMNO won last time," the former PAS lawmaker told CNA.
He also claimed that the 15th general election could not be used as a yardstick for how the upcoming elections would unfold.   
There is expected to be a closer contest in Terengganu, with the state's UMNO chairman Ahmad Said optimistic that they can win.  
"PAS didn't win (in 2018) because of their strength but because of internal problems in UMNO. 
"Terengganu is fragile politically and whatever happens at the federal level will have a big impact on the elections," said Mr Ahmad Said who is former chief minister of the state.    
He pointed out that UMNO lost badly in 1999, winning only four seats but then managed to win the next three elections in 2004, 2008, and 2013 before the state fell back to PAS' hands in 2018. 
"Although there were big issues, we still managed to defend 10 seats (in 2018). Even then, there were mistakes with the choice of candidates. And we lost some seats by marginal majorities. That's why we are confident of wresting back Terengganu," he said, claiming that BN has a good track record in the state.  
ANALYSTS: PAS LIKELY TO HOLD ON IN EAST COAST 
Bridget Welsh, an Honorary Research Associate with the University of Nottingham Asia Research Institute Malaysia (UoNARI-M), said that Kelantan and Terengganu have now become long-standing safe states for PAS which has used issues of religious identity in an effective way to meld in with the states' identities.
"In neither state is there a real meaningful challenge to PAS. There are however questions about UMNO's fortunes in these two places. They are facing erosion in support from the Malay community. 
"They have the most seats in these two states compared to other states (in 2018). This will be a test if UMNO will still have a presence in the east coast," the political analyst told CNA. 
Mrs Welsh said that one of the challenges UMNO faces is that its leaders, including Mr Ahmad Said in Terengganu, are seen as somewhat old-school.
"How much his appeal will extend is a real question but we see considerable fight among UMNO at least in Terengganu. In Kelantan, the battle is a little less heated because they know the chances are less," she said.
She said that current caretaker Terengganu chief minister Ahmad Samsuri Mokhtar has been seen to have delivered on policy commitments such as free motorcycle licenses for youngsters and new housing projects.
"There are concrete deliverables in Terengganu that people can recognise from the state government," she said.
Political analyst Dr Azizuddin Sani of Universiti Utara Malaysia (UUM) said that while PAS was likely to retain hold of Kelantan, it was a different situation in Terengganu. 
"Terengganu is a swing state and things can change quickly there. I believe BN has an advantage because of the advantage of the machinery and the funding that will come in," he said, adding that PAS will come under attack for its management of the state.     
He also said that the people of Terengganu would vote depending on what is offered to them by the federal government. 
As for Kelantan, Dr Azizuddin said that it would likely remain a stronghold of PAS despite the best efforts of the opposition in the state.    
"I believe that has to do with the culture of the Kelantanese people who don't trust the federal government and don't trust outsiders. 
"Even though there is underdevelopment there, they believe that only PAS can secure them in terms of Islam. They are unique and want to protect their identity of being a fortress of Islam in Malaysia," he said. 
Additional reporting by Afifah Ariffin