Analysis: Thaksin could walk free sooner than expected, but his future is likely as a backseat driver in Thai politics
Thaksin Shinawatra's popularity may not help Pheu Thai win the next election as Thailand is no longer the same as the one he fled from 15 years ago, say analysts.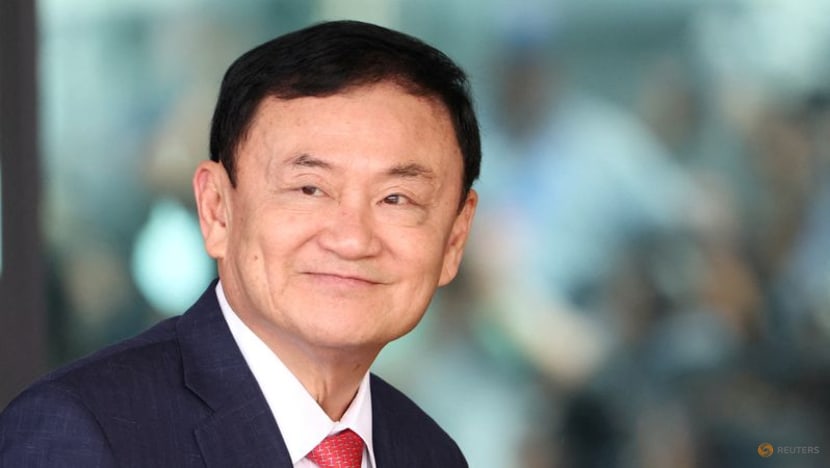 BANGKOK: It may not be long before convicted ex-prime minister Thaksin Shinawatra returns to his seat of power in Thai politics after his prison sentences were swiftly – and significantly – commuted by the king. 
Observers say this means Thaksin may soon be released on parole, considering his advanced age, short remaining prison term, and how fast his initial sentences were cut down from eight years to just one last week.
But the political future for the 74-year-old billionaire, now serving time in a hospital suite in downtown Bangkok, is likely at most that of a back-seat driver who navigates the ruling Pheu Thai party through a new political landscape.
It is not just because his status as a former convict would disqualify him from taking up political office under current Thai laws, but also because of the challenges he would face in commanding public support, given how Thailand has changed markedly compared to the one he fled from 15 years ago, say observers.
Dr Yuttaporn Issarachai, a political scientist from Sukhothai Thammathirat Open University, said Mr Thaksin is likely to be a behind-the-scenes player who helps his party Pheu Thai strengthen its political future.
"He definitely won't re-enter politics; his time has already passed. But of course, he's more likely to play an informal role and stay in the background, strategising," he told CNA.
A BEHIND-THE-SCENES PLAYER
From the moment his plane touched down at Bangkok's private jet terminal on Aug 22, Thaksin's life changed dramatically, and quickly.
He was sentenced to eight years in jail for various convictions in absentia, involving malfeasance, abuse of power and illegal share-holding through nominees, and sent to Bangkok Remand Prison, where he was kept alone in the medical wing – for less than a day.
Citing health conditions, the authorities moved him in the middle of the night to a hospital in the city centre, where he has been warded in a VIP room overlooking one of Bangkok's most prestigious golf courses.
Then, eight days later, his prison term was reduced to one year.
Analysts believe the former premier could soon be allowed to walk free on parole and proceed to wield political influence.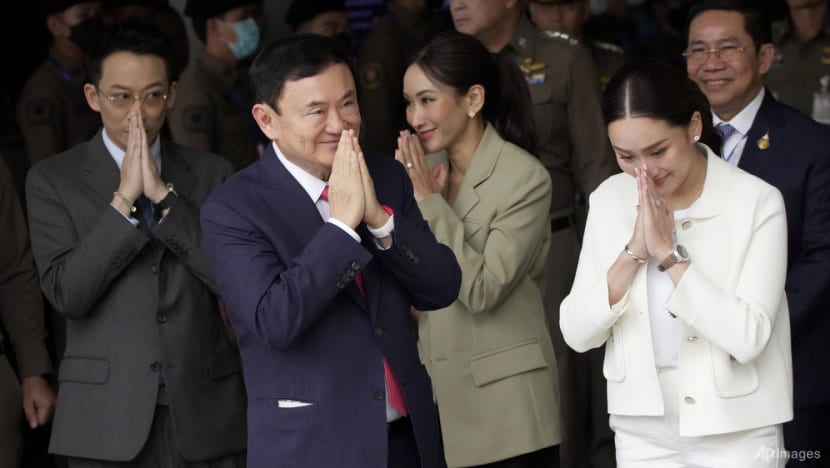 Thaksin has long been a powerful political figure in Thai society. He served as prime minister between 2001 and 2006, before being toppled in a military coup.
The political veteran is known for populist policies that have provided Thais with universal healthcare and aimed to reduce rural poverty. Despite nearly 17 years in exile, his stature remains powerful among supporters.
Noting his close ties with Pheu Thai – a reincarnation of his old political group Thai Rak Thai – Dr Yuttaporn said Mr Thaksin could help the party regain public confidence and trust, lost in its quest for power.
"He will boost the confidence and help steer the party forward with a clear strategy," he added.
A REDUCED SENTENCE AND A BETTER RAPPORT
Following the election in May, Pheu Thai broke off an alliance with the progressive electoral winner Move Forward. 
It subsequently joined forces with the pro-establishment factions and managed to secure the premiership for its candidate Srettha Thavisin and form the government.
The move infuriated pro-democracy supporters, many of whom had voted for the party. But for conservative Thais, Pheu Thai's alliance with the old power camp has favourably relegated the reformist Move Forward to the opposition.
To many observers, Thaksin's reduced sentence reflects an improved relationship between his family and Thailand's old establishment, following years of tension marked by military coups and judicial activism.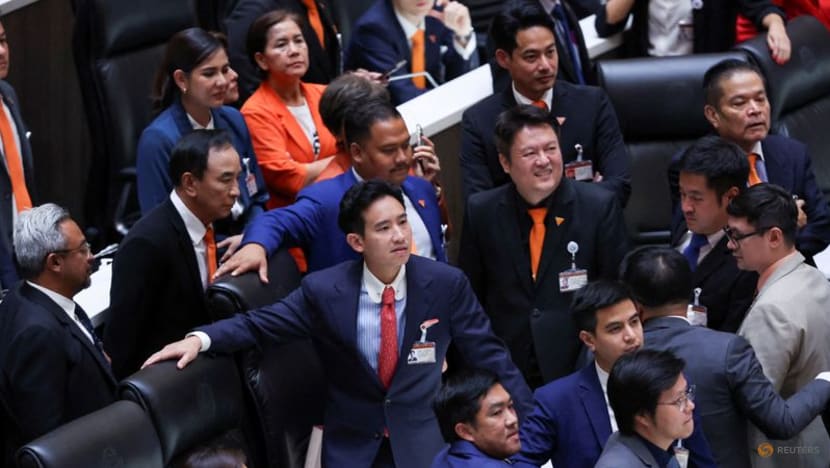 With Pheu Thai leading the government, analysts say the time is perfect for Thaksin to be back in Thailand as his political allies can guarantee his safety.
"He has more security. Nobody would throw him in jail or block his process of seeking pardon," said Dr Punchada Sirivunnabood, a lecturer at the Faculty of Social Sciences and Humanities, Mahidol University.
"If he hadn't returned this time around, he might not have that chance ever again because it would be extremely difficult for Pheu Thai to win the next election," she added.
THAKSIN IN A DIFFERENT THAILAND
Pheu Thai's political manoeuvres to win power after the election have badly damaged its image as a democratic champion who had long fought against dictatorship.
Many Thais now view Pheu Thai as the Shinawatras' family business and a new face of the conservative camp. Even though Thaksin may soon be free to help the party strategise, analysts doubt he can do much to sway young voters when Thailand holds its next election.
"For Thais in general, I don't think he is as influential as he was before because he had been absent for a long time," said Dr Punchada.
According to the analyst, Pheu Thai's key political rival now is the old ally it ditched – Move Forward – whose progressive policies, such as amending the royal defamation law and reforming the military, helped it sweep to victory in the May election.
Although Thaksin remains popular among the older generation, Dr Punchada said the group is shrinking and gradually being replaced by new voters who do not feel attached to his political achievements in the past.
"The middle class that grew up during his absence don't really care about him," she added. "The elite and conglomerates don't rely on him like before because there are new mechanisms in place."