Nearly two-thirds of people with disabilities in India unemployed; hesitancy among firms to blame
To address the under-employment, some social organisations are offering work and education opportunities to help such individuals realise their potential.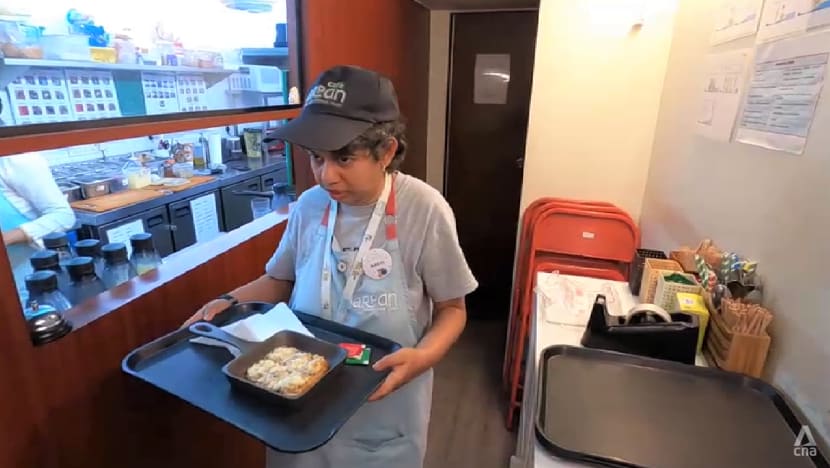 MUMBAI: Nearly two-thirds - or 64 per cent - of people with disabilities in India do not have jobs, with many observers blaming cultural attitudes and hesitancy among some businesses to hire these people for the current situation.
There are about 26.9 million Indians who have disabilities, according to government data.
Far fewer disabled women have jobs than men. Nearly half, or 47 per cent, of men with disabilities have work, while only about a quarter, or 23 per cent, of disabled women are employed. 
Experts stressed that there are not enough employment opportunities available in the country. 
To address the under-employment, some social organisations are offering work and education opportunities to help such individuals realise their potential.
MANY FIRMS NOT FORTHCOMING WITH HIRING PEOPLE WITH DISABILITIES
At Café Arpan, for instance, all its employees have disabilities. It was opened in 2018 by a non-governmental organisation. 
The café's co-founder Ashaita Mahajan said companies are often reluctant to hire people with intellectual and developmental disabilities, partly because of a lack of awareness and understanding.
Individuals with disabilities such as autism, Down's syndrome or cerebral palsy deserve opportunities in normal society, said Ms Ashaita, managing trustee at Yash Charitable Trust. 
"They deserve to be able to work. They deserve to be able to have a social life."
Among the workers at Café Arpan, which means "offering" in Hindi, is greeter and server Aarti Nagarkar, who has autism. 
The condition affects her speech and motor skills, but she is still able to carry out her role and loves meeting people through her work. 
For her, work has become part of her routine. 
"I do 'namaste' to people," she said, referring to the greeting. "And I greet, and I say, 'Welcome to Café Arpan'."
Ms Aarti's family said being able to work has given her a new lease on life.
However, many companies are still not forthcoming in hiring people with disabilities, said activists. 
For individuals who are also poor, this makes it difficult for them to rise out of poverty, they added.
NOT GIVEN A CHANCE
Indian non-profit organisation ADAPT (Able Disabled All People Together) chief executive officer Bhavana Mukherjee said: "They are not very open to employing them, employing people with disabilities, which is rather sad. 
"It's a sad comment on how in India still, people are so given to their prejudices and their biases. Unfortunately, for a person with a disability to just walk into a corporation and to give an interview is an extremely difficult thing, for very many reasons."
Government efforts in place aimed at improving the situation. 
By law, 4 per cent of government jobs are reserved for individuals with disabilities.
The law also noted that state governments should provide incentives to the private sector for employment of people with disabilities, and that they should aim for them to make up 5 per cent of their labour force.
However, various estimates suggest that those with disabilities account for only 0.5 per cent of employees at India's top firms.
Activists fighting for the rights of people with disabilities in the country said there are many who have never been given such a chance.
Ms Bhavana said: "These policies are there on paper, in files, but are they being implemented in totality? No, they are not being implemented in totality."