Commentary: What tit-for-tat over travel restrictions says about China's foreign affairs
How countries have reacted to China's COVID-19 wave speaks to their different perceptions of risk and their willingness to annoy Beijing, says Christian Le Miere.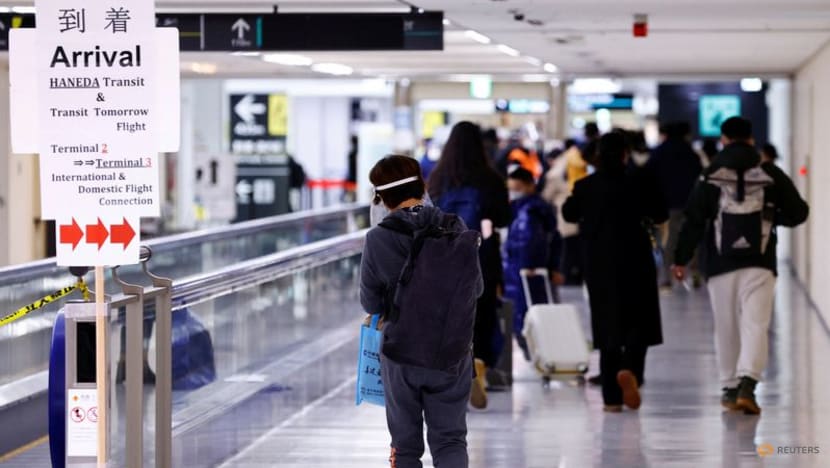 LONDON: The scale and rapidity of the spread of COVID-19 through the Chinese population is breathtaking.
In less than two months, the virus has ripped through the country with the world's largest population of 1.4 billion people. Although official data on COVID-19 infections is no longer available, Peking University said on Jan 11 that around 900 million people, or 64 per cent of the population, had contracted the virus.
The spread will only continue - the Chinese New Year holiday, when hundreds of millions of Chinese citizens travel across the country to visit family, often moving from cities to the countryside, will begin in earnest on Saturday (Jan 21).
At the same time, the government has greatly reduced or removed restrictions on international travel to and from China for the first time in three years. Suddenly, a highly virulent population numbering in the hundreds of millions has been let loose upon the world.
Unsurprisingly, some countries on the receiving end of new Chinese visitors reacted with alarm. Limits on flights coming from China have been instituted by some countries, visa issuance has been halted and mandatory testing and quarantine have also been brought in.
Beijing, meanwhile, has reacted with anger at some of these newfound restrictions, reciprocating with its own visa issuance pause.
These restrictions and responses, though, have not been uniform. Digging into the whys and wherefores of which country has done what, and how China has responded, provides a revealing snapshot of China's relations with the outside world.
RESTRICTIONS AND RESPONSES
For three years, as other countries desperately tried to ease their way out of lockdowns and COVID-19 restrictions, sometimes with disastrous results as the virus resurged, China has maintained a much stricter regime.
Its zero-COVID policy was effective at keeping a lid on the virus, but at great cost to personal freedom, economic activity and international travel. Few visitors were willing to go through a two-week quarantine regime, while Chinese citizens were discouraged from travelling for exactly the same reason on their return.
No wonder that the lifting of these restrictions led to an immediate and jubilant return to travel for many Chinese people. But the resumption of Chinese tourism came as COVID-19 cases soared, meaning a high proportion of travellers are infected and pose a risk of further transmission in countries that had undergone painful reopening processes themselves.
South Korea reported in early January that more than 20 per cent of passengers arriving from China tested positive for COVID-19.
As the scale of the number of infected among Chinese visitors became clear to receiving countries, their response was naturally to try and limit their own exposure. Morocco went the furthest, banning all arrivals from China from Jan 3.
South Korea and Japan also introduced stringent restrictions, with Seoul limiting the number of short-term visas issued to Chinese citizens and Japan limiting the destinations of Chinese-origin flights to four cities. Both countries also require a negative test prior to departure and mandatory quarantine for those testing positive on arrival.
Other countries, such as the United States, Canada, India, United Kingdom and some European Union states, introduced mandatory negative tests before flying for Chinese travellers.
However, other countries such as New Zealand decided not to introduce any new measures for Chinese travellers at all. Thailand even went the other way, dropping a requirement for foreign visitors to show proof of vaccination before arrival.
THE NEED FOR CHINESE TOURISM
The variety of new policies introduced by these countries points to differing health assessments and numbers of Chinese travellers, but also the difference in each country's need to welcome Chinese tourism dollars.
Japan and South Korea both regularly list in the top five destinations for overseas trips from China, and thus are acutely aware of the dangers an influx of infected Chinese citizens could hold. However, they also both have developed economies where Chinese tourism is a small part of activity.
Thailand, however, is also one of the most popular destinations for Chinese tourists. But it has an economy far more dependent on tourism and is thus willing to take more risks with COVID-19 policies to boost arrival numbers.
Other Indo-Pacific states, wary of angering China or missing out on a boost in tourism, have also avoided stringent measures. The Philippines noted a need for greater monitoring but has not changed its policies; Singapore similarly has not, given relatively low arrival numbers from China and effective monitoring already in place.
CAPRICIOUS CHINA
Just as different countries have implemented different policies, so too has Beijing's response varied. Only South Korea and Japan have received backlash from China, with short-term visa issuance paused.
The reason for targeting those two countries, besides a desire to push back against the perceived unfairness of the measures, is likely owing to a difficult history with them and the fact that both comprise the closest US allies in the region.
Caprice is not unusual in Chinese foreign affairs, with Beijing often singling out countries to try and affect their policies. But the recent COVID-19 responses belie differing perceptions of risk among countries, as well as their willingness to irk Beijing.
In return, China has demonstrated its willingness to cause a small fracas with its two largest neighbours, often the targets of Chinese displeasure anyway, but it avoided censuring other countries with even more stringent measures, such as Morocco.
The lesson of this may simply be that China's foreign policy tactics endure, with targeted bouts of performative anger and punitive policies designed to persuade other states to change their ways.
LISTEN - CNA Correspondent: The world watches cautiously as China reopens
Christian Le Miere is a foreign policy adviser and the founder and manging director of Arcipel, a strategic advisory firm based in London.