Commentary: Why tropical Singapore sent an expedition to icy Antarctica
Melting Antarctic ice could have catastrophic consequences for coastal cities. Seeing the massive ice shelves with his own eyes helped him grasp the scale of the problem, says NTU Earth Observatory of Singapore's Professor Benjamin P Horton.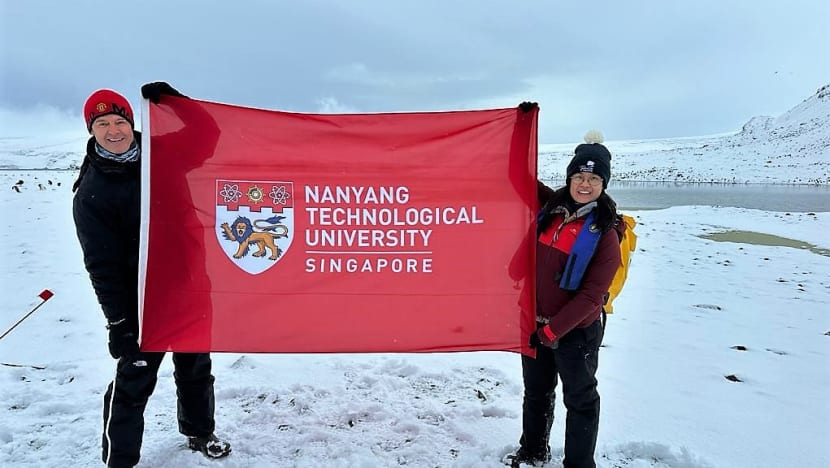 SINGAPORE: It took our team more than 60 hours to reach Antarctica from Singapore, but the journey was 25 years in the making for me as a climate scientist.
In February, the Earth Observatory of Singapore (EOS) at Nanyang Technological University led an expedition to Antarctica - the first scientific mission from Singapore. Antarctica had always been a place I desperately wanted to travel to, as one of the main topics in my research and a site of great importance for those trying to fight the climate crisis.
Research based on satellite data indicates that between 2002 and 2020, Antarctica shed an average of 149 billion metric tonnes of ice per year - but I could never truly grasp the scale of the ice sheet until I saw it with my own eyes.
Antarctic ice accounts for 70 per cent of Earth's fresh water. If all that ice melted, the world's oceans would rise by almost 60m, enough to inundate Singapore, Tokyo, New York City, Shanghai and other coastal cities.
So though Antarctica feels like half a world away from tropical Singapore, what happens there will have a devastating impact here.
MELTING ICE AND RISING SEA LEVELS
The EOS expedition went to observe West Antarctica's massive ice shelves. Melting ice is a major focus of our research - where, when, how quickly - and loss from the West Antarctic Ice Sheet is one of the largest contributors to global sea level rise.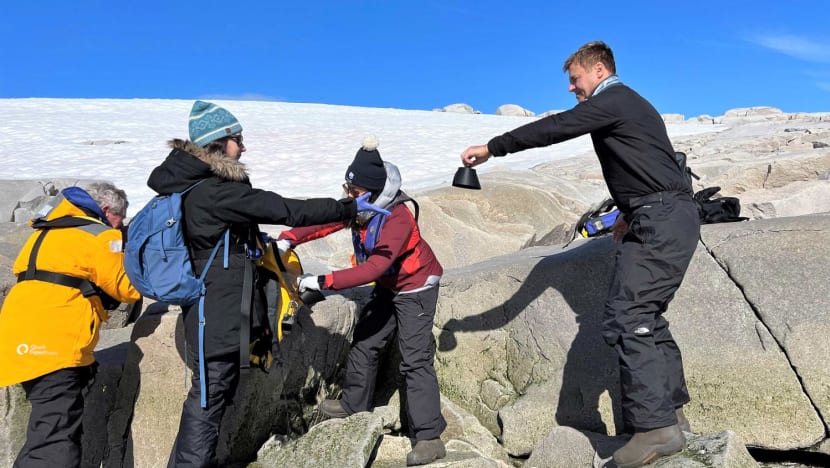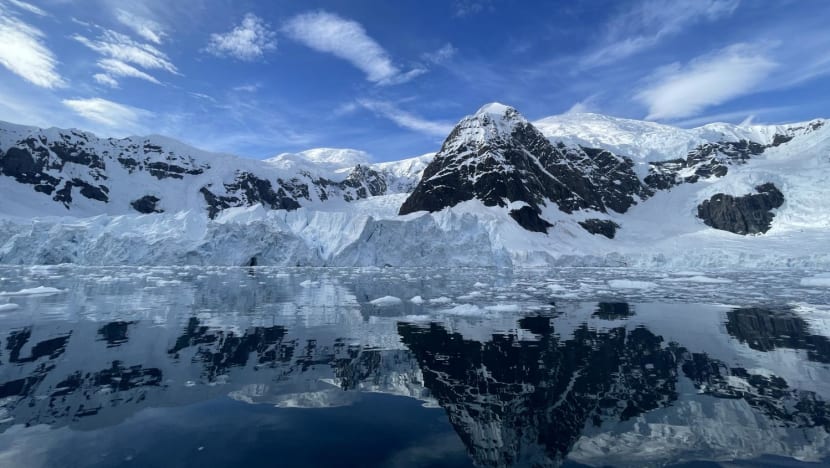 An EOS study found that the global mean sea level rise could exceed 1m by 2100 and 5m by 2300 if global targets on carbon dioxide emissions are not achieved.
The climate has already warmed by 1 degree Celsius since the late 1800s. In a scenario where global warming is limited to 2 degrees Celsius above pre-industrial levels, we estimated a rise of 0.5m by 2100 and up to 2m by 2300 in sea levels.
If the Earth's temperature were to rise to 4 degrees Celsius above pre-industrial levels, about 500,000 sq km of ice shelves - an area seven hundred times the size of Singapore - could collapse.
THE "DOOMSDAY GLACIER"
But importantly, ice shelves jutting out of the coastline hold back the enormous amount of land-based ice that flows to the coast within glaciers. The accelerating retreat of the many large glaciers that drain the West Antarctic Ice Sheet is known as "dynamic ice loss". It stubbornly remains the largest single source of uncertainty around projections of future sea level rise.
One cause for concern is that continued global warming may cause some glaciers to cross a tipping point known as the marine ice sheet instability. Being able to determine if and when this might happen is crucial for climate projections because the resultant change is effectively irreversible.
Of particular concern is the potential fate of Thwaites Glacier, also called the "doomsday" glacier because its collapse could have catastrophic repercussions.
Thwaites Glacier alone is currently responsible for around 4 per cent of annual sea level rise. Collapse could lead to a more than 0.5m increase in global sea level and could also destabilise neighbouring glaciers that account for a further 3m of future sea level rise.
And its changes have accelerated over the past 20 years. Recent glacial retreat has varied from 0.6km to 1.2km per year while the ice is estimated to be thinning on average between 25m and 45m per decade.
STUDYING ANTARCTIC AIR AND RAIN
More rain could also cause big problems in Antarctica, where even the continent's rainiest region - the north-western peninsula - counts less than 50 days of rain each year. It could lead to faster ice melt, especially when the insulating layer of snow melts and makes the ice more vulnerable.
The science suggests rainfall could increase 240 per cent by the turn of the century and storms could get more intense. We experienced both during our trip: More than 15cm of snow overnight shut down the local military airport and swells in the oceans over 3m meant we were unable to leave the research boat for excursions on smaller zodiac boats.
We sampled the air in Antarctica and will analyse the samples in collaboration with NTU's Singapore Centre for Environmental Life Sciences Engineering to understand the microbes that are suspended in air.
Air was considered one of the least hospitable environments for microbes because it holds fewer nutrients and thus supports fewer organisms compared to water or soil. But airborne microorganisms may play a key role in the global climate system, as they get transported attached to dust particles that were kicked up into the atmosphere by dust storms.
IMPACT ON TROPICAL MANGROVES
The warming of the Antarctic Peninsula is causing changes to the physical and living environment: The distribution of penguin colonies has changed as the sea ice conditions alter. Melting of perennial snow and ice covers has resulted in increased colonisation by plants.
Melting ice also changes the composition of the ocean itself. Research suggests that when warmer meltwater rises to the top, it can make it harder for sea ice to form, causing areas of open water.
Non-polar ecosystems, even tropical mangrove forests in Singapore, could be devastated. While mangroves are resilient to sea level rise and regarded as a nature-based solution for coastal protection against climate change, they can only adapt so much.
EOS predicted that mangroves will not be able to survive the rising sea level rates reached by 2050, if emissions are not reduced. When rates of sea level rise exceed 6mm per year, when Antarctic ice shelves begin to collapse, we found that mangroves will very likely stop keeping pace.
A GLOBAL, NOT REGIONAL, ISSUE
Much has changed since the early days of Antarctic research. Today, national Antarctic research bases, ships or stations are scattered across the continent, with around 30 different countries working in Antarctica. Singapore is now part of this group with this latest research expedition by EOS.
The fate of Antarctica is a global issue that will impact all of humanity. So diversity, equity, and inclusion must be key considerations when designing and executing mitigation plans.
People from all backgrounds and sectors of society must be engaged in developing solutions, including those from a tropical country such as Singapore. Scientists of all nationalities must collaborate, share resources and data to achieve the best possible research outcomes for all nations.
At EOS, we have started developing collaborations with scientists studying the polar regions to better assess their impacts on sea level rise in Southeast Asia.
Singapore has set out the Green Plan 2030, which includes initiatives to protect our coasts against rising seas. Our strong focus on innovation and commitment to climate action also means that Singapore can lead the development of new technologies like underwater robots and ground-penetrating radar, which can give Antarctic climate scientists unprecedented access to the most remote places on Earth without even leaving the office.
This expedition only reinforced my drive to do everything I can to prevent the ice sheets from melting, which includes not just studying them but also training the next generation of scientists - such as my doctoral student Fangyi Tan, who as far as we know, is the first Singaporean to set foot on Antarctica for science.
It is still unclear how fast Antarctica's ice sheets will melt. But monitoring what goes on in Antarctica will be crucial for developing the appropriate adaptation strategies, even all the way here at the equator.
Professor Benjamin Horton is Director of the Earth Observatory of Singapore and a professor at the Asian School of the Environment at Nanyang Technological University.