Commentary: Violence has no place on the football pitch in Singapore
Disorderly conduct at football matches in Singapore echoes a recent spate of pitch invasions in England. Passion for the game and one's team is admirable, but violence cannot be condoned, says John Duerden.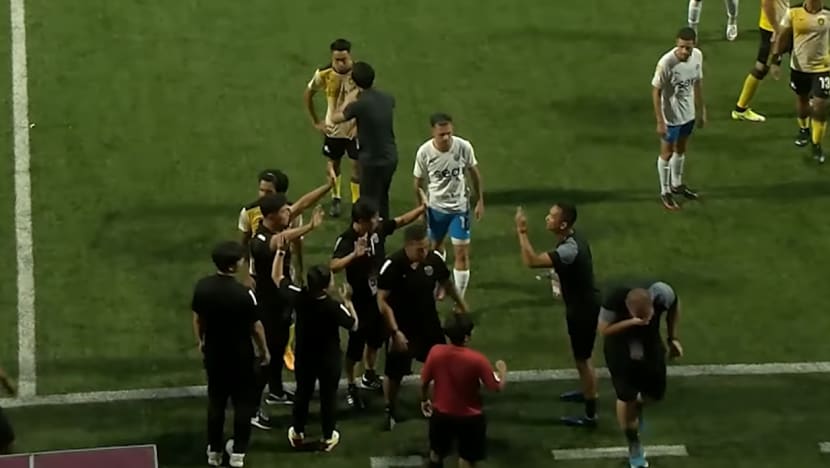 SINGAPORE: On Jul 15, two men invaded the pitch at the National Stadium after Liverpool had played Crystal Palace.
Just over a week later there was an altercation at the end of a Singapore Premier League game between Lion City Sailors head coach Kim Do-hoon and Tampines Rovers assistant coach Mustafic Fahrudin in which Kim appeared to headbutt his rival.
Lion City Sailors CEO Chew Chun-Liang said the scenes were "unsavoury". The club announced on Thursday (Aug 11) that Kim had left his role as Lion City Sailors head coach after a mutual agreement to part ways.
Taken in isolation, neither incident looks especially serious when compared to what can happen in Europe. That is where football hooliganism had its dark days, such as the 70s and 80s when thuggish behaviour and even rioting took place, and where it is observed up until today, when fans hurl racist slurs at players of opposing teams.
While passion for the game and one's team is admirable, any form of violence cannot be condoned as they risk emboldening others to do the same.
PITCH INVASIONS IN ENGLAND
At the end of last season in England, there was a series of pitch invasions, with opposing players and coaches coming to blows in some cases.
A Nottingham Forest fan ran on to the pitch and headbutted assistant manager of Sheffield United Billy Sharp. Fans of Manchester City attacked Aston Villa goalkeeper Robin Olsen while celebrating their English Premier League win. Crystal Palace boss Patrick Vieira got into an altercation with an Everton fan who invaded the pitch at full-time.
Pitch invasions are a criminal offence in the UK. Even if fans enter the pitch not intending to cause harm, they can inspire other rowdier fans to join in. A peaceful situation can escalate into conflict.
Besides disruption and potential violence, pitch invasions inflict outsized reputational damage. On Jun 11, England played a Nations League match against Italy behind closed doors, as part of a UEFA punishment for crowd trouble at the Euro 2020 final at Wembley.
That England played a game on home ground without any fans in attendance is an "embarrassment", said England football manager Gareth Southgate.
"How do we want to be viewed as a country because that's manifesting itself in football at the moment, and that's not a good look," he said.
Southgate added recent fan disorder is a "reflection of where we are as a country at the moment", hinting that economic malaise and deepening divisions in the UK are fuelling such hooliganism.
Football authorities have reacted although it remains to be seen if it is enough. Under new rules, any fan that enters the pitch will be hit with an immediate ban from all stadiums in the country. There has been talk of stadiums being closed in the future and even of teams having points deducted. 
These measures signal to fans that pitch invasions are unacceptable and cannot become a regular part of the match-going experience.
STAMPING OUT HOOLIGANISM BEFORE IT TAKES ROOT
Singapore has a long love affair with English football and follows events in the Premier League closely. The huge amount of passion English football fans have is impressive, and if replicated in Singapore, would greatly energise the local football community.
Whether that is possible or not, it is vital that the less attractive elements of the game are stamped out before they take root in Singapore. 
Kim and Fahrudin have been sanctioned by the Football Association of Singapore for violent conduct. Both received a three-match suspension, and Kim was fined S$2,000 while Fahrudin was fined S$3,000.
The two individuals who invaded the pitch after the Liverpool-Crystal Palace match have been assisting police investigations for the offence of wilful trespass.
In dealing with these situations, authorities need to keep in mind events in England. Hooliganism not only threatens the safety of players, officials, coaches and spectators, but will also repel new fans from engaging with the local football scene.
John Duerden has lived in Asia for more than 20 years and covers the region's sporting scene. He is the author of three books including Lions & Tigers - The History of Football in Singapore and Malaysia (2017).