Commentary: Parents' concerns over full subject-based banding reflect how sticky old labels are
Parents may worry if their children will be distracted by disruptive classmates when full subject-based banding and mixed form classes take effect. But this reaction is stereotyping at work, says June Yong.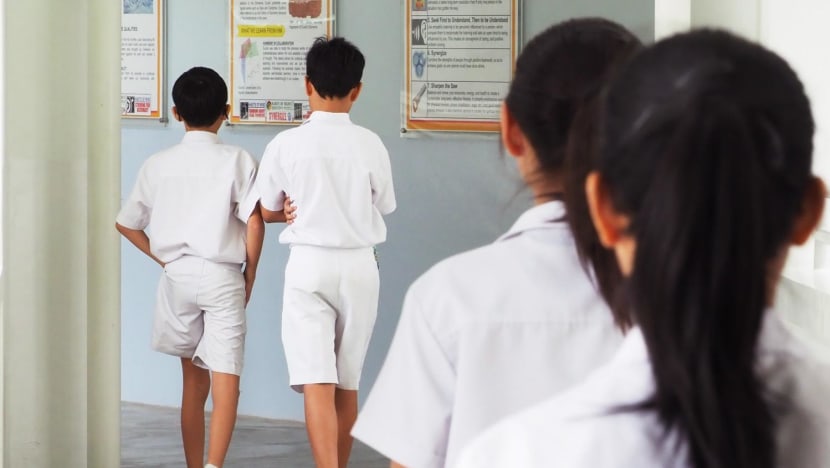 SINGAPORE: The full subject-based banding (SBB) system that will kick in nationwide for secondary school students in 2024 promises to usher in a new era of a strength-based approach to learning.
Along with it, the old labels of Express, Normal (Academic) and Normal (Technical) will no longer be used to build walls around groups of students.
But the question is, will these walls remain in our minds?
HOW FULL SUBJECT-BASED BANDING WORKS
Students entering secondary schools next year will no longer be sorted into Express and Normal streams. Instead, each student will take most subjects at either the G3, G2 or G1 level, which is mapped from today's Express, N(A) and N(T) standards, depending on their performance in the subject.
They will take certain subjects together with their form class, such as physical education, art and character and citizenship education. But when it comes to mathematics, science and languages, the students will be split according to the subject level they are taking.
I admit that my own first reaction to full SBB was, "Wouldn't it be mayhem to lump the different students together in one class? How would the teachers teach?"
I had to call myself out for automatically assuming that the students who would take most of their subjects at the G1 or G2 levels would be the naughtier ones.
Mr Tan, a teacher whose school has been piloting SBB for the past three years, shared that very often when teachers walk into a new class, they cannot tell the difference between the students in the Express stream and those in the Normal streams.
Over time, certain differences may emerge - for example, Express-stream students may be more concerned about their academic performance, while their N(A) and N(T) counterparts may be less interested in their studies or may not follow instructions as readily, he described.
But he added a caveat that this could also be stereotyping at work, admitting that both groups of students are more similar than we think. For example, he once met a student who was very well behaved and polite, and later found out that this student was from the N(T) stream. Such experiences have helped him realise that these categories really do not matter.
THE BEAUTY OF FULL SUBJECT-BASED BANDING
When it comes to understanding the whys behind this new system, no one can fault its aim to remove the stigma of unhelpful labels that have resulted in a division between "haves" and "have-nots" at such a formative age.
Full SBB treats every student as an individual, and seeks to maximise each person's potential.
At the same time, I have heard many parents voice their worry about whether their children will end up being inadvertently taxed in this new system. One common concern is that they may end up being distracted by their naughtier classmates.
But is this phenomenon of having disruptive classmates new? Would it be caused solely by the full SBB system itself?
That we seem to fall back on the trope that lower-ability students behave poorly may be reflective of how sticky the old labels are and how much persistence is required to scrub them off.
To prod us along, we may need to revisit the benefits of heterogeneous classrooms.
Diversity in a mixed classroom allows students to learn from one another's differences. In such a setting, there is also the potential for role modelling to take place, as weaker students learn from positive behaviours in class.
According to Mr Tan's observations of his mixed form classes, the children actually get along with one other. "It doesn't take long for the students themselves to realise that different people have different gifts. Whereas in the old system, they're always made to believe that the one is better, and the other, worse."
"If they can co-exist in this space, it will help them later on when they enter the workplace. They can hang out with anyone," he said.
LISTEN - Heart of the Matter: ACS move: The start of dismantling closed circles?
RISING TO THE CHALLENGE OF MIXED FORM CLASSES
But friendships aside, it will remain to be seen as to whether the classroom setting will truly be more egalitarian and stigma-free. And this is where the skill level of educators comes in.
In one research study, Stanford University researchers Elizabeth Cohen and Rachel Lotan hypothesised that teachers could affect students' perceptions of status in a heterogeneous classroom by altering the expectations of competence that students hold for themselves and for one another. They proposed two interventions: The multiple ability intervention and assigning competence to low-status students.
The former entails discussing the many different intellectual abilities required by collective tasks, such as reasoning or problem-solving. The latter involves the teacher, after having observed instances of low-status students performing well on abilities relevant to the task, providing the student with specific, positive and public evaluations.
The researchers found that the interventions were effective in promoting equal-status behaviour in the classroom, and clocked significant gains in participation and achievement of low-status students.
This study shows that the role of the educator is particularly important in ensuring that classrooms are safe and effective learning spaces for all.
While there may no longer be different streams, teachers are the first ones who have to fully embrace full SBB and take intentional steps to ensure that lower-ability learners in their form classes are valued for their strengths.
And because it might be more difficult to engage everyone equally, it may also mean that form teachers will need to give themselves time to understand their students better and to adjust their teaching methods accordingly.
HELPING EVERY STUDENT FIND THEIR PLACE
In the new system, everyone has a part to play.
"Being a form teacher of a mixed class has made me realise that many of the kids are talented in different areas," explained Mr Tan. "Some of the lower-ability students have very strong leadership traits. Some of them are showmen who are not afraid of going on stage and expressing themselves. They end up being the cheerleaders in class."
While it is easy to reach for labels to help explain the different behaviours we may come across in class, it may be even better to focus on each student as an individual with different strengths, weaknesses and needs.
"It has also made me realise that categorising them is really my problem. We need to shift gears and help them find the thing they're good at," he added.
June Yong is the Lead of Insights at Focus on the Family Singapore.