Commentary: Viktor Axelsen and Loh Kean Yew's bromance is reshaping badminton
Denmark's Viktor Axelsen may have dominated the BWF World Championships and dethroned Singapore's Loh Kean Yew, but the pair of best buddies is boldly changing their sport for the better, observes Jan Lin Lee. 
SAN FRANCISCO: With the retirement of China's Lin Dan and Malaysia's Lee Chong Wei, curtains fell on badminton's famous "Lin-Lee rivalry", which defined the sport for well over a decade since the mid-2000s and took it to new heights.
It was hard to imagine there could be another pair of opponents who would capture the imagination of fans with as much fervour - until Denmark's Viktor Axelsen and Singapore's Loh Kean Yew came along.
In August, Axelsen won the World Championships, while defending champion Loh crashed out in the quarterfinals. Loh lost 12-21, 21-17, 8-21 to eventual runner-up Kunlavut Vitidsarn.
In the 2021 edition, 25-year-old Loh upset Axelsen in three games in the first round enroute to capturing the historic crown for Singapore.
THE UTTERLY DOMINANT VIKTOR AXELSON
28-year-old Viktor Axelsen has always stood head and shoulders above his peers, since he caught the badminton world's attention for becoming the first European to become the World Junior Champion in 2010 at just 16 years old.
Since then, he has cemented his top spot becoming the world champion and world number 1 in 2017. He made a roaring comeback after injuries to bag the 2020 Olympic title in Tokyo, without dropping a game. He won the world title last week in an identical dominant fashion.
Japan's 2018 and 2019 World Champion Kento Momota had been the closest to establishing a long-term formidable rivalry with Axelsen. But the 27-year-old is still struggling to regain top form since early-2021.
In their most recent encounter at the Petronas Malaysia Open's final in July, Axelsen defeated Momota 21-4 21-7 in just 34 minutes. At the World Championships on his home turf, Momota fell to the unseeded Prannoy H S in the round of 32.
ALONG CAME "UNCLE LOH"
Enter 25-year-old Loh Kean Yew. After Loh won the historic World Championships title in 2021, his connection to Axelsen as a training partner was immediately picked up on.
Affectionately known as "Uncle Loh" by Axelsen's daughter, it is apparent that the relationship between Axelsen and Loh goes beyond training partners to actually being buddies, often exchanging witty banter on social media.
Loh and Axelsen's "bromance" brought a fresh wave of intrigue to both badminton fans and media. Can sporting rivals really be best buddies?
It is certainly rare. Or perhaps it's a Danish thing.
Danish tennis star Carolina Wozniacki's "sisterhood" with Serena Williams is as prominent as their on-court rivalry. Williams, known to be fiercely competitive, was even the Dane's bridesmaid when Wozniacki tied the knot in 2019.
The pair is also famously known to have caught Mariah Carey's concert in Singapore together the night before their intense semi-final showdown at the 2014 WTA Finals.
Such intimate friendships between sporting rivals would otherwise tend to only blossom post-retirement, such as in the case of NBA superstars Larry Bird and Magic Johnson.
In badminton, the iconic Lin-Lee pairing was built on the longevity and consistency of their feud, as they went head-to-head 40 times throughout their careers.
Off the court, Lin Dan and Lee Chong Wei are respectful and friendly towards each other, but they met only to battle it out on the court – not train together as Loh and Axelsen do.
DISRUPTING BADMINTON'S STATUS QUO
Loh and Axelsen's relationship as both competitors and training partners stands out in a sport like badminton, where success is historically structured and nurtured deep within national lines.
The disruption started in 2021, when Axelsen announced he was leaving the Danish badminton team's training base to train independently in Dubai. It was an unprecedented – even controversial – move that drew mixed reactions in Denmark.
It was once unthinkable for a player to succeed without the winning formulae prescribed by their national teams. Players are scouted as teenagers, and receive a long-term employment contract-equivalent, access to high quality training facilities, sports scientists, coaches, sponsors and a good supply of sparring partners.
Most stay in this national set-up until they retire. This is unlike professional individual sports like tennis and golf where athletes are left to their own devices to achieve success.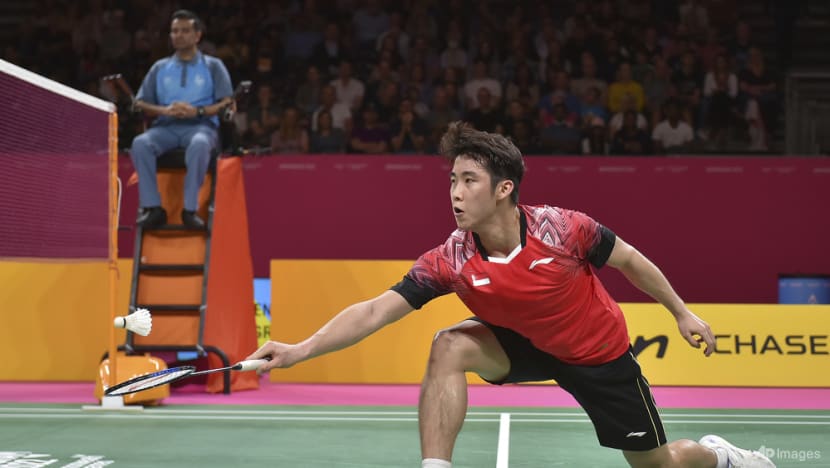 The absence of sparring partners in Dubai was why Axelsen got creative with his own globalised "team". The Dane invited folks based mostly on their "vibe", for a good time and a good challenge.
Loh was amongst the first to receive and accept his invitation, with blessings from the Singapore Badminton Association.
It was an equally bold move on Loh's part to leave the security and comforts of a very familiar training set-up to join what Axelsen calls an "experiment" in pioneering a new way forward for themselves and the sport.
MALAYSIA ALSO BOLEH
Inspired by Axelsen and Loh's friendship and success, top Malaysian men's singles player Lee Zii Jia stirred up a storm when he resigned from the national team to establish his own training set-up in January.
This move also meant Lee would now be independently responsible for all of his tournament travel logistics, managing his own sponsorships, on top of ensuring his training needs are met.
The Badminton Association of Malaysia responded with a harsh two-year tournament ban for breaking his employment contract, but eventually rescinded the ban as public support for Lee grew, which included Axelsen.
This is a big administrative power shift for badminton and an important step for badminton's continued growth as a professional sport. And it has held neither Lee nor Team Malaysia back.
Lee ended a year-long title drought to win the Asian Championships and Thailand Open titles this May. Malaysian national players successfully reclaimed the Mixed Team Commonwealth Games title and just snagged the World Championships men's doubles title.
No Malaysian has ever won a World title in badminton until the pair of Aaron Chia and Soh Wooi Yik wrote history last week.
And this may just bring a fresh wave of dilemma for Lee. Malaysian players who had left the national team have rarely found success at the highest level. Lee would have to also keep pace with Axelsen's transformative charge in the men's singles.
A NEW CHAPTER FOR BADMINTON?
Axelsen, who was born in Odense, the same city as Danish fairytale author Hans Christian Andersen, is undoubtedly authoring and leading a bold new chapter for his sport.
It may not pit two arch nemeses or nations against each other, like Lin Dan and Lee Chong Wei in its previous chapter.
Instead, it thrives on uniting a global band of brothers, with Axelsen and Loh's friendship shaping the way while the rest of the world reimagines their place.
A film producer based in California, Jan has fond memories working on the professional badminton circuit and for the Olympics as a sports administrator and media professional.