Commentary: Knock-down sale of Iskandar Malaysia Studios puts GLC reform on front burner for PM Anwar
There is widespread scepticism that Malaysia Prime Minister Anwar Ibrahim's new coalition government will be able to bring reform to the country's smorgasbord of government-linked companies that have become central to Malaysia's highly politicised economy, says CNA's Leslie Lopez.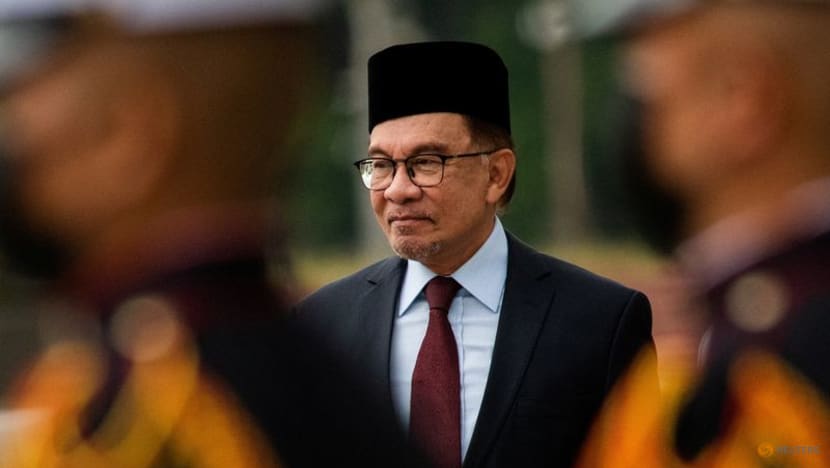 KUALA LUMPUR: The stunning loss suffered by sovereign fund Khazanah Nasional following its recent disposal of a high-end integrated film and television facility in the southern Johor state has brought into focus what is easily the biggest drag on Malaysia - the serious management troubles plaguing the country's government-linked companies (GLCs) and the urgency for sweeping overhaul in these entities that dominate the economy.
But there is widespread scepticism that Prime Minister Anwar Ibrahim's new coalition government will be able to bring reform to the country's smorgasbord of GLCs, government-linked investment corporations and state-owned entities that have become central to Malaysia's highly politicised economy.
Here is why. Despite the broad consensus in Anwar's largely multiracial Pakatan Harapan (PH) coalition government that the revitalisation of the GLC ecosystem will help jumpstart the Malaysian economy, the potent dimension of race politics is likely to push GLC reform off the government's immediate list of priorities. 
At a recent political huddle, several PH lawmakers suggested a review in the allocation of contracts by national oil corporation Petroliam Nasional Bhd (Petronas) that had long been on the agenda before Anwar came to power, but they quickly cautioned that Anwar had to tread cautiously because of the "Malay agenda". "It is a political minefield," said one participant at the internal PH strategy session referring to GLCs. 
The PH coalition, which has pledged to do away with practices by previous government to reward party members and political warlords to plum executive and board positions in GLCs and state-owned entities, is now under pressure from its partner in the coalition government, the United Malays National Organisation (UMNO), which is insisting on packing the state-controlled entities with acolytes.
GLC ROLE IN ECONOMIC DEVELOPMENT
GLCs have been central to Malaysia's decades-old social engineering programme called the New Economic Policy (NEP) that is aimed at elevating the economic status of the country's politically dominant ethnic Malay community and other indigenous groups collective referred to as bumiputras, through positive discrimination ranging from university admissions, employment in the civil service and the award of government contracts.
Khazanah has long been seen as the government's cornerstone entity that embodies the NEP, an ambitious 20-year agenda that expired in 1990 but remains central to national policy. Conservative estimates by think tanks and agencies, such as the Asian Development Bank, suggest that Khazanah and other GLCs control more than 30 per cent of the market capitalisation of companies listed on the Malaysia stock exchange and employ close to 5 per cent of the national workforce.
Incorporated in 1994, Khazanah controls commanding equity stakes in companies that dominate key sectors of the economy, such as CIMB Group, a prominent player in regional finance, national communications giant Telekom Malaysia, regional healthcare powerhouse IHH Group and national power utility Tenaga Nasional. 
There are also some dead weights in its stable, such as loss-making national carrier Malaysia Airlines and its lead role in the development of Iskandar Malaysia in Johor where the integrated film and television facility is located. 
FIRE SALE
Khazanah announced last week that it had sold Iskandar Malaysia Studios for roughly US$7.3 million (RM32 million), a disposal that resulted in a huge book loss for a project that cost more than US$150 million to build. The fund has come up to defend the sale, noting in a statement that the disposal to Singapore-based GHY Culture & Media would "contribute to higher utilisation of the studio by regional and global players". 
But there has been general derision for Khazanah over the deal. 
Private economists and bankers argue that the failed studio venture illustrates the flaws in the sovereign fund's business model, which allows it to venture away from playing the role of a strategic investor and take on direct roles as business developer and manager and operator. 
The studio venture was announced in 2009 in collaboration with Britain's studio group Pinewood and began operations five years later with facilities, including 100,000 sq ft of film studio space, television studios, and production facilities. The grand plan was to establish Malaysia as a production hub and subsequently build a local industry organically.  
But like Khazanah's other ventures in the development of the Iskandar region, troubles began to surface in 2019 when Pinewood pulled out of the venture. 
Why Khazanah decided to completely exit from Iskandar Malaysia Studios is unclear. But the deal has raised governance issues for the Anwar's administration. As prime minister, Anwar holds the position of chairman of Khazanah and it is unclear whether his government was advised about the studio disposal.
Most Malaysians accept that the strong mix of politics and business in the GLC ecosystem is likely to remain a feature in the national economy for a long time.  
But the government could introduce reforms by forcing GLCs to sharpen their respective mandates and divest businesses rather than compete with the private sector. The current GLC model also lacks punishment on senior executives of GLCs for pushing ahead with poorly conceived business ideas and management pitfalls that result in ventures performing badly. 
Leslie Lopez is a senior correspondent at CNA Digital who reports on political and economic affairs in the region.