Commentary: Deepening cracks over Najib pardon roil Malaysia's political waters
A campaign by a pro-Najib faction in UMNO for a royal pardon is unlikely to get anywhere, but it is deepening strains among partners in the ruling coalition and is presenting Prime Minister Anwar with an unnecessary political headache, says CNA's Leslie Lopez.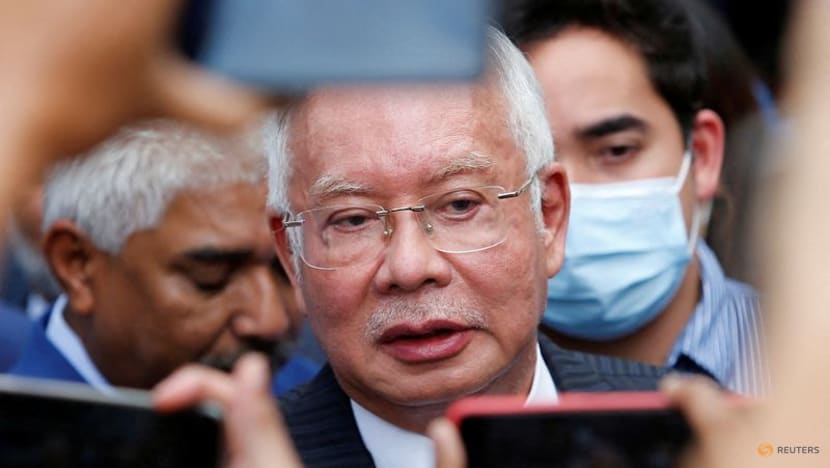 KUALA LUMPUR: Jailed former premier Najib Razak is presenting Malaysia Prime Minister Anwar Ibrahim with a complex political problem.
In recent weeks, factions aligned to the former prime minister in the United Malays National Organisation (UMNO) have campaigned publicly to pressure Anwar's government to back a petition the party had presented in early April to Malaysia's king to grant a royal pardon to Najib.
The aggressive push by UMNO, a member of Anwar's Pakatan Harapan (PH) coalition government, to seek an early release for their former party president has triggered debate among ordinary Malaysians and politicians on both sides of the divide.  
SPAT OVER NAJIB PARDON
In July 2020, Najib was sentenced to 12 years in jail and a fine of RM210 million (US$47 million) over corruption charges in the 1Malaysia Development Berhad (1MDB) debacle.
UMNO leaders have taken particular objection to statements from junior PH coalition members Parti Amanah Negara (Amanah) and the Malaysian United Democratic Alliance (MUDA) over their opposition to any speedy pardon for Najib.
UMNO officials have been more reticent over the position of the Democratic Action Party (DAP) - the second-most senior member in PH - which publicly declared this week that it was ready to make compromises for the coalition but any move to expedite a pardon would mark a flashpoint in the already testy ties in the ruling coalition.
"To me, for DAP's grassroots and maybe its leaders, the red line is Najib's freedom," said DAP's Ong Kian Meng, who is widely viewed as expressing the thinking of the party leadership.
Leaders of Anwar's own Parti Keadilan Rakyat (PKR) have shied away from commenting on the brewing controversy to avoid further roiling the political waters in the PH coalition, while the prime minister has taken a neutral stance, noting this week that the issue of a royal pardon would be considered on "a compassionate basis, professionally and without prejudice".
"At the last meeting with Agong (Malaysia's king), we did not discuss whether he should be freed or not," Anwar told reporters this week with reference to the last meeting of the Pardons Board on Apr 28.
Nur Jazlan Mohamed, a senior member of UMNO's policy-making supreme council, told me in phone call that the party appreciates this. "Anwar's stand that he will make sure there is due process is something UMNO appreciates," he said.
WILL THE UNITY GOVERNMENT SURVIVE?
At this point, few political analysts and government politicians expect the issue of Najib's pardon to bring down the government.
But the brewing tensions over a Najib royal pardon campaign point to the sporadic public concerns in Malaysia over the longevity of the PH-led unity government that was formed at the prodding of Malaysia's King Al-Sultan Abdullah Ri'ayatuddin Al-Mustafa Billah Shah and his brother rulers following the inconclusive outcome of the November general election.
The PH-led coalition emerged with the largest block of seats in the country's 222-member lower house, but it only managed to form a government after UMNO decided to throw its support behind Anwar, a move that paved the way for the other powerful regional political entities from the Sabah and Sarawak states to join the fray.
The pardons process in Malaysia is far from straightforward. 
While Malaysia's king has the sole discretion to grant a pardon to a convicted Malaysian citizen, the entire process is lengthy. A convicted person is only eligible to go before the Pardons Board after serving out what is considered to be a reasonable period of time commensurate to his jail sentence, and in Najib's case, several lawyers have privately suggested that it could mean between two to three years.
Najib, the first Malaysian prime minister to be imprisoned, began serving his jail term in August last year.
Lawyers also noted that the optics of granting a pardon so quickly to Najib, who is facing other corruption charges in separate cases linked to 1MDB, would hurt investor confidence in Malaysia's judicial system.
Senior UMNO leaders privately acknowledge that any pardon for Najib is premature. But they note that the pressures from the pro-Najib faction in UMNO reflect the party's unsettled and restive internal dynamics. 
While UMNO president Ahmad Zahid Hamidi, who is also deputy premier in Anwar's Cabinet, has consolidated his position following the party's recent congress in March, Najib's influence among the party's rank-and-file and its political warlords cannot be underestimated. 
Several senior UMNO officials suggest that the pro-Najib forces make up at least 40 per cent of the party's supreme council and these factions argue that Najib's release would help the party renew its appeal among voters, particularly the dominant ethnic Malay community that make up more than 60 per cent of the population.
It is a weak argument, but it spotlights how Najib remains a divisive figure in Malaysian politics.
Leslie Lopez is a senior correspondent at CNA Digital who reports on political and economic affairs in the region.