Commentary: Intense politicking persists beneath truce between Malaysia's ruling coalition and opposition
The Memorandum of Understanding offers short-term stability to Malaysian politics but prime minister Ismail Sabri still has to contend with UMNO factions demanding more, says RSIS researcher Nawaljeet Singh Rayar.
SINGAPORE: The Memorandum of Understanding (MOU) signed between Prime Minister Ismail Sabri Yaakob's government and opposition coalition Pakatan Harapan (PH) has been hailed as an agreement ushering in a new era of bipartisan cooperation and ground-breaking reforms. But its success remains unclear.
There's little doubt it only passed because it conveniently serves the immediate political interests of both sides. Crucially, it paves the way for Ismail Sabri to remain in power until Jul 31, 2022.
But at least it grants Malaysia reprieve from the months of political uncertainty and acrimony, which distracted the country from much needed national efforts to combat COVID-19.  
Coronavirus cases are surging in the country, with over 17,500 infections on Friday (Sep 17) and a seven-day moving average of 107 deaths.
FULFILLING OPPOSITION INTERESTS
There is a higher chance critical bills like the forthcoming government budget will pass and the ruling coalition can concentrate on governing, seeing that PH has agreed to support or at least abstain from these.
Failure to pass would have been construed as a vote of no confidence in Ismail. But this still requires PH to be consulted beforehand so they are satisfied with proposed laws.
The opposition supported the MOU because it contains some of their demands. More than a year ago, the Democratic Action Party's (DAP) organising secretary Anthony Loke had proposed a confidence-and supply agreement to then embattled prime minister Muhyiddin Yassin.
He had offered the opposition's support in exchange for reforms including the strengthening of the parliamentary system, bipartisan consultation on matters related to budget and other laws, and equal funding for opposition and government members of parliament, but Muhyiddin did not take up the proposal.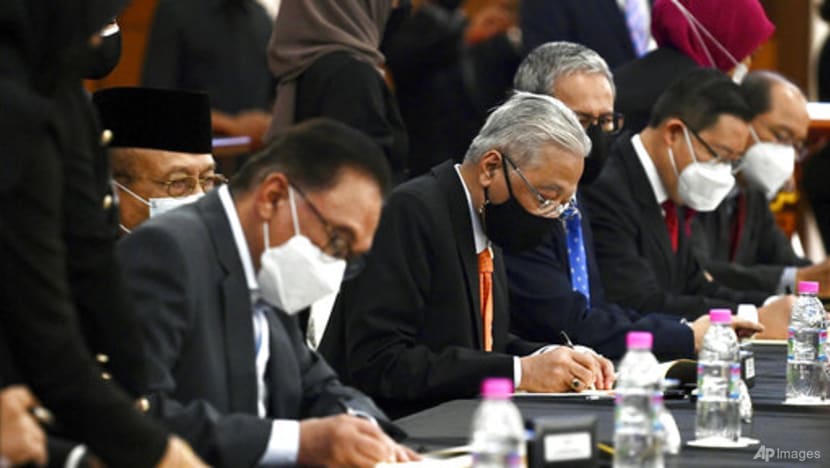 PH recognises the probability of the MOU coming up short or falling through, but it has also repeatedly failed in its public attempts to regain power with Anwar Ibrahim as its candidate for the top job. Supporting Ismail could give PH the strategic advantage and is not a high cost to pay meanwhile.
PH also recognises the MOU as a vehicle through which it can advance its reform agenda that forms part of its 2018 election manifesto and hopes to chalk up progress on this front as achievements in the next General Election.
Some DAP members have also argued publicly that the MOU strengthens Ismail Sabri's position to block "any threats or demands by (the) UMNO court cluster" led by former prime minister Najib Razak and UMNO president Zahid Hamidi.
ISMAIL'S FOCUS ON SHORING UP POSITION WITHIN UMNO
With some breathing space from the opposition bloc, Ismail Sabri can now focus more attention on managing his own party's interests and keeping the warlords sufficiently vested in his continued role as prime minister. 
Crucially, he has to find a solution to placate Zahid and Najib. Both would presumably expect concessions from Ismail and hope to retain control of the party and return to government.
UMNO party elections are to be held by December 2022. 
Ismail is expected to contest for the presidency as his prospects as prime minister depend on it.  But this could pit him against not just Najib and Zahid, but also UMNO Deputy President Mohamad Hasan and Defence Minister Hishammuddin Hussein. To succeed, he would have to win over or neutralise most of his rivals.
While the MOU gives Ismail Sabri leverage against the potential withdrawal of support from those in UMNO or Bersatu toppling the government, he will have to manage his coalition's views on the MOU.
He must consider how far he can go in fulfilling the terms of the MOU without being accused of undermining the interests of UMNO and its Malay-Muslim base.
Ismail Sabri has also meanwhile given concessions to his coalition partner Bersatu, which has reiterated its stance against government appointments of members of parliament (MPs) with graft charges. Notably, there is no movement on the appointment of Ahmad Maslan, a Najib ally and MP facing money-laundering charges, as Deputy Speaker of Parliament, nor has Ismail Sabri appointed Najib as economic advisor.
He has also shored up his position with PAS, in appointing PAS senator Idris Ahmad religious affairs minister and announcing in Parliament last week that his government was currently drafting amendments to the Syariah Courts (Criminal Jurisdiction) Act (Act 355) to increase the power of the Syariah Court.
Are the political dynamics simply part of Malaysia's journey towards becoming a "normal democracy"? Listen to experts the challenges facing PM Ismail Sabri on CNA's Heart of the Matter:
MALAYSIA IN STRONGER POSITION TO TACKLE COVID-19, BIG REFORMS IN THE WORKS
Regardless of the behind-the-scenes politicking, the MOU is expected to deliver on some items in the immediate term given the bipartisan support.
These are also what matters to most Malaysians: A fiscal injection of RM45 billion (US$10.8 billion) to boost COVID-19 efforts, which includes cash assistance of RM10 billion for 11 million recipients and support for small- and medium-sized enterprises, should see strong public support. 
The wheels of the government apparatus are already turning to put this money into people's pockets. Finance Minister Tengku Zafrul Aziz on Tuesday (Sep 14) announced the government would seek parliamentary approval to fund COVID-19 support measures and raise the statutory debt ceiling to accommodate a stronger, expansionary fiscal position.
However, the larger question is whether the Malaysian government will move on the sweeping political reforms proposed within.
These include constitutional amendments setting term limits on the prime minister, the lowering of the voting age ahead of the next election, the granting of more autonomy to East Malaysia under the Malaysia 1963 Agreement, and a bill banning political defections.
A TEST AND AN EXPERIMENT
In the absence of any stable coalition with a clear and secure majority in Parliament, the MOU is a political ceasefire and confers immediate political benefits for its signatories.
UMNO and Ismail Sabri retain their position at the helm of government, PH can say it is dutifully pursuing its manifesto and working with the government constructively to advance Malaysians' interests, while both sides are seen setting aside their differences for the country's good.     
Yet, the proof will be in the proverbial pudding. The Ismail Sabri government now has to deliver on the MOU – at least on most of it to keep the opposition onside – while managing the underlying political dynamics. 
Nawaljeet Singh Rayar is a Senior Analyst with the Malaysia Programme, S. Rajaratnam School of International Studies (RSIS), Nanyang Technological University (NTU), Singapore.