Commentary: Clock is ticking on Myanmar as Indonesia takes over as ASEAN Chair
Southeast Asians are looking to Indonesia to take the lead to resolve the political crisis in Myanmar. But Jakarta's first steps as ASEAN Chair have left something to be desired, say these writers.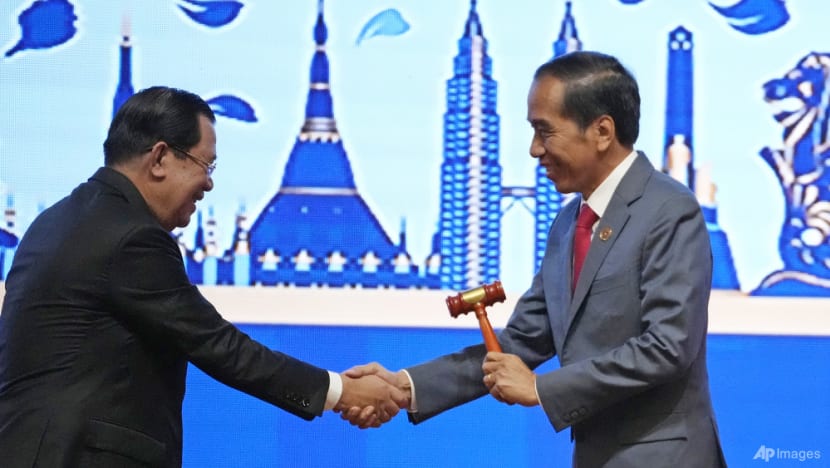 SINGAPORE: Hopes are high that Jakarta - which had steered the Association of Southeast Asian Nations (ASEAN) expertly when it had last chaired the grouping - would pull its weight and rally its ASEAN colleagues to muster up a creditable response to the Myanmar crisis.
There are high expectations about how Indonesia would propose to implement the 2022 ASEAN Summit's "Review and Decision" on the 2021 Five-Point Consensus (5PC) on Myanmar.          
On Feb 4, Indonesia kicked off the year as ASEAN Chair with the ASEAN Foreign Ministers' Retreat. The retreat gives the Chair the opportunity to discuss and set ASEAN's agenda for the year, including strategies to implement ASEAN Summit directives.
The Chair's statement coming out of the meeting, however, was underwhelming. Taken together, current ASEAN efforts towards Myanmar are indeed underwhelming: Several cooks have tossed in different ingredients, but still, it is a bland Burmese broth.
SPECIAL ENVOYS
Granted, all key actors, old and new, were present at the retreat: All ASEAN foreign ministers, save the one from Myanmar (Indonesia upheld the non-political representative criteria for the State Administration Council; predictably, the State Administration Council refused to send a representative, leaving the Myanmar seat empty). Prospective member Timor-Leste attended the retreat as an observer.
As part of the 5PC's call to "meet with all parties concerned", Indonesia now proposes a more nuanced approach to engaging the State Administration Council and other Myanmar stakeholders.
In January, Indonesia's Foreign Ministry announced plans to set up an Office of the Special Envoy on Myanmar led by Foreign Minister Retno Marsudi. Ideally, this Office will help to entrench the engagement process beyond annual rotations of chairmanship - an idea that Japan's special envoy for Myanmar's national reconciliation Yohei Sasakawa has also suggested - that ASEAN establish an office in Myanmar to advance working-level talks.
Indonesia's President Joko Widodo has also announced his intention to send a high-ranking general to Naypyidaw to share Indonesia's democratic transition experience, with speculation about Coordinating Minister for Maritime and Economic Affairs Luhut Panjaitan as a potential candidate.
Conjectures also abound about whether former foreign minister Hassan Wirajuda, or Retno (following past ASEAN Chairs' precedent) may emerge as the ASEAN Chair's Special Envoy for this year.
DIVERGENT VIEWS AMONG ASEAN MEMBER STATES
The readout from the retreat did not divulge details on any of the above. Instead, the meeting's key emphasis was on the need for a united approach to Myanmar - underscoring the divergent views among ASEAN member states on what constitutes constructive approaches to the crisis in Myanmar.
To muddy the waters, Thailand failed to take the opportunity at the retreat to brief counterparts on what transpired at the "regional talks" that Bangkok hosted in December 2022. That did not happen, leaving maritime ASEAN member states none the wiser about what the talks discussed.
Thailand's idea of convening a Track 1.5 meeting to "jump-start political dialogue" appears to be bereft of content and context. Thailand's proposal does not seem to have been discussed or consulted with the ASEAN Chair.
During his official visit to Thailand on Feb 10, Malaysian Prime Minister Anwar Ibrahim suggested that Thailand could do more, and that ASEAN "carve Myanmar out" for now, seemingly suggesting suspension short of expulsion. But Malaysia's Foreign Minister subsequently clarified that Anwar's comment was in the context of not distracting ASEAN from pursuing stronger collaboration for regional community-building.
MIXED VIEWS ON FIVE-POINT CONSENSUS
After two years, ASEAN's approach - the 5PC - continues to draw mixed views. The latest State of Southeast Asia Survey reveals that 31.5 per cent of regional respondents are neutral about the 5PC.
The greatest levels of neutrality come from incoming or past ASEAN Chair countries: Laos (61.7 per cent), Cambodia (56.0 per cent) and Brunei (48.3 per cent). The second-ranked view was that the 5PC will not work with the intransigence of the SAC (21.7 per cent). Coming in at a close third was the perception that the 5PC is fundamentally flawed in addressing complex issues (19.6 per cent).
Singaporean respondents were the most cynical; 41.8 per cent blamed the State Administration Council's intransigence, more than double the regional average. Myanmar respondents (35.7 per cent), however, tended to view the 5PC itself, and not the actors involved (including the State Administration Council), as fundamentally flawed.
On next steps, 38.1 per cent of respondents prefer that ASEAN engages in independent dialogue with all key stakeholders (as per the 5PC), including with the National Unity Government, to build trust. A majority of support came from Indonesian respondents, in line with the Indonesian government's move to open communications with several Myanmar stakeholders.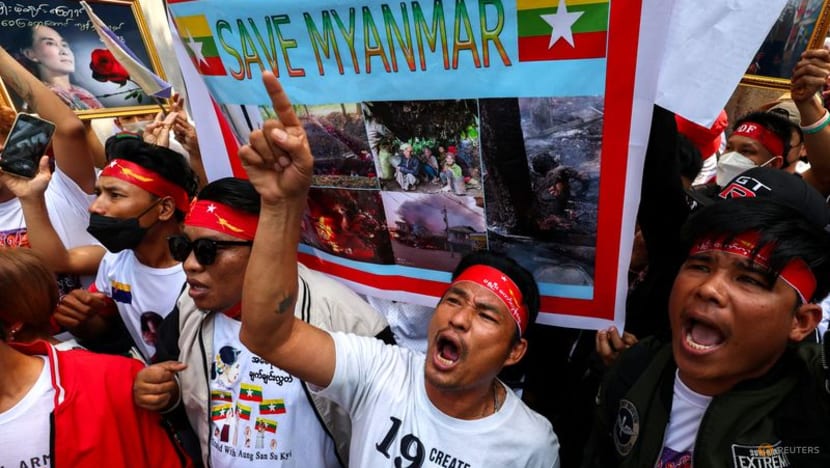 Southeast Asians do not seem as optimistic as in 2022 regarding a coordinated and unified approach with international partners. This year saw a decline from 24.4 per cent in 2022 to only 15.1 per cent of respondents who view this as the best way forward.
This may be due to the reality that the European Union and other concerned parties are now preoccupied with the war in Ukraine.
ASEAN WAY DOESN'T SEEM TO BE WORKING
Indonesia has its work cut out for it. The State Administration Council, having extended its term for another six months, is determined to push ahead with its election plans at a date yet to be announced. The State Administration Council's election plans add a not entirely unexpected variable to ASEAN's approach.
Indonesia will need to come up with an implementation plan for the 5PC, with measurable indicators and a specific timeline. It is imperative that ASEAN collectively decides on a united response to the State Administration Council's moves, including whether ASEAN can take a proactive role to ensure that any elections in Myanmar are free and fair, and most importantly, satisfy the will of the Myanmar people. 
The elections will be scrutinised by the international community. At the very least, amidst heightened expectations and scrutiny, ASEAN cannot afford to be seen as complicit in "whitewashing" polls that exclude key political actors or ignore popular sentiment.
But a united approach is easier called for than achieved. As Anwar reminds: "Constructive engagement or the ASEAN way needs to be revised when it comes to Myanmar because it doesn't seem to be working".
Indonesia is riding on a lot of goodwill, but the clock is ticking. The goodwill may well erode unless something that ASEAN members and partners can rally around is produced soon.
Sharon Seah is Senior Fellow and Coordinator at the ASEAN Studies Centre, ISEAS – Yusof Ishak Institute. Moe Thuzar is Fellow and Acting Coordinator of the Myanmar Studies Programme, ISEAS – Yusof Ishak Institute. This commentary first appeared on the Institute's blog Fulcrum.