Commentary: Having access to earned wages can help lower-wage workers from financial troubles
Bank loans are often not an option for lower-wage workers and may push some toward unlicensed moneylenders. Earned Wage Access may be one way to help them tide over financial emergencies, says NUS Business School's Sriram Iyer.
SINGAPORE: It's no secret that the COVID-19 pandemic has had a considerable financial fallout.
In Singapore, nearly half of those polled in a recent Prudential study said that their financial well-being had worsened since the start of the pandemic. A study on the 2020 circuit breaker measures by the S Rajaratnam School of International Studies indicated that 40 per cent of respondents reported disruptions to their income - some lost jobs, were placed on unpaid leave or had their hours reduced. Almost 70 per cent were concerned about their ability to pay bills.
Financial troubles may push some of them towards unlicensed moneylenders, which continues to be a serious problem in Singapore. And it's not limited to the low-income. Recently, a financial consultant made the headlines when he was jailed for cheating clients after racking up sizeable debts with loan sharks. 
But unlicensed moneylenders may sometimes appear to be the only recourse for low-income workers when they run into genuine emergencies, and this could trap them in a never-ending spiral of high interest loans and cash flow problems.
Bank loans are seldom a viable option. Banks have a minimum annual income requirement for loans or may insist borrowers post collaterals before securing a loan.
They may even restrict the loan-to-value (LTV) ratio and lower-wage workers tend to get a low credit score. It might be simply a question of time when loan applications can take a few days, but cash is urgently needed.
As part of COVID-19 relief measures, the Monetary Authority of Singapore (MAS) had rolled out temporary provisions in 2020 and 2021 to defer principal and interest payments on certain types of loans and give more time to workers who have lost their jobs or have had a pay cut.
But these might not be sufficient as lower-wage workers may come under increasing pressure to make ends meet with rising inflation and higher prices everywhere.
TIME TO REVAMP TRADITIONAL PAYROLL FORMAT?
It may not be enough to continually crack down on loan shark operations on one hand and promote financial literacy and management on the other. There is a real space for the private sector to play a part in addressing the situation.
One important solution could be to revamp the traditional and outdated payroll structure where employees must wait until the end of the month to receive their salary.
The gap between the time taken to earn money and get paid is a key contributor to financial stress. Many of them could be driven to helplessness if an unexpected money-related emergency occurs before payday and they've not been able to put aside sufficient savings.
Earned Wage Access (EWA) allows employees to access wages they have earned but not yet received. Think of it as a paycheck available at the end of the day or week, rather than at the end of the month.
Some organisations globally are taking measures to improve their employees' financial stability by providing Earned Wage Access (EWA) facilities. 
Across OECD countries alone, a total of approximately US$1 trillion (S$1.38 trillion) is accrued in employer payroll accounts on any given day. This is liquidity that is otherwise out of reach for individuals until their contracted payday, which when made available to employees can make a huge difference for their financial wellness.
This is where leveraging technology may help. The access to wages can be done through the employer's payroll service provider or in partnership with a third-party EWA vendor that can track the total workdays of employees and know the amount they are eligible to withdraw. 
Could enabling access to their earned wages help prevent some lower-wage workers from taking their chances with predatory lenders? Possible, since feedback from lower-wage workers suggest that borrowings from loan sharks are often amounts that are lower than their monthly income.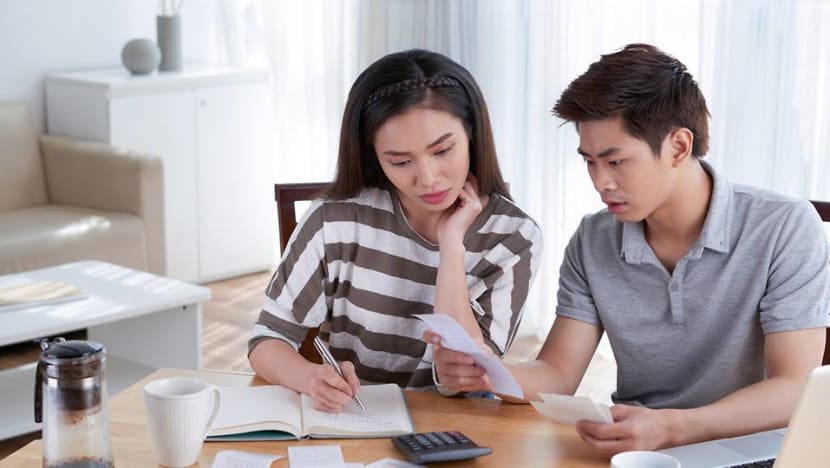 IMPROVING EMPLOYEES' FINANCIAL STABILITY
On-demand access to wages can help all employees, not just lower-wage workers. It helps ensure a consistent cash flow throughout the month – and goes some way in helping them avoid a financial shortfall before payday. 
For employers, it is a question of goodwill – employees will feel their company is invested in their financial well-being and that can contribute to increasing workplace satisfaction levels and productivity. 
EWA can also increase attractiveness in a competitive job market. New technology-led initiatives such as on-demand pay can help Singapore organisations not just attract the Non-Professionals, Managers, Executives & Technicians (Non-PMETs) talent, but even retain them.
Offering financial stability through such initiatives will help employers attract talent, eventually translating into improved business outcomes.   
Hence, it does not come as a surprise that leading global giants in the Retail and F&B industry segments in the United States have adopted EWA solutions to offer their staff access to their earned wages instantly.
Globally, investor money worth billions of dollars has flowed into EWA startups, as it is the cusp of Fintech and HRTech innovation. According to hrtech.sg research, EWA start-ups globally raised about US$1.18 billion in total funding in 2021 and another US$108 million already in the first three months of 2022.
It has yet to attract the eyeballs of employers here in Singapore in particular and in Southeast Asia. After recent fundraising rounds by EWA startups such as Payd, GetPaid and Wagely in Southeast Asia, employers have been enquiring about this new trend that has the potential to drive transformative benefits.
How will people be impacted by the GST hike, and will offsets like GST vouchers sufficiently aid low-income families? CNA's Heart of the Matter takes a closer look:
DOWNSIDES NEED ATTENTION
This is not to say the technology or the idea is foolproof. Facilitating on-demand pay access should be accompanied by measures to ensure that employees do not get themselves into financial trouble by withdrawing and spending the eligible salary recklessly. 
What might become critical to the widespread adoption of EWA is how providers' revenue models are going to be structured.
While some EWA providers charge employers or employees with a transaction fee (depending on the agreement with the employers), still some other EWA providers might earn from merchant interchange fees incurred when employees use debit cards issued under the programs.
The jury is out whether regulators across the globe will bring additional measures to restrict the operations of EWA providers even as the concept gains steam and attracts widespread usage across global markets.
EWA will not solve all the financial problems faced by lower-wage workers. But it could be additional ammunition to help this segment stay out of unnecessary problems, like the iron grip of unlicensed moneylenders.
Any new innovation or concept will have its downsides and a set of naysayers. Even a few years back, there were a lot of concerns raised around the concept of microcredit, a handy financial instrument for economists to get people out of poverty in developing countries.
Now, there is mounting evidence that microcredit or microlending has played an immensely valuable role in improving the lives of people in need. 
Whatever the financial tool may be, our focus should be on creating a financially stable workforce and an inclusive system where lower-wage workers don't feel backed into a corner when faced with money problems. 
Sriram Iyer is an Adjunct Senior Lecturer in the Department of Management & Organisation at the National University of Singapore (NUS) Business School. The opinions expressed are those of the writer and do not represent the views and opinions of NUS.