Commentary: PSLE stress – a question of not too much, not too little
For some kids, stress over the Primary School Leaving Examination can have counterproductive effects on learning and results. Parents need also to work on their own expectations, says second-time PSLE parent June Yong.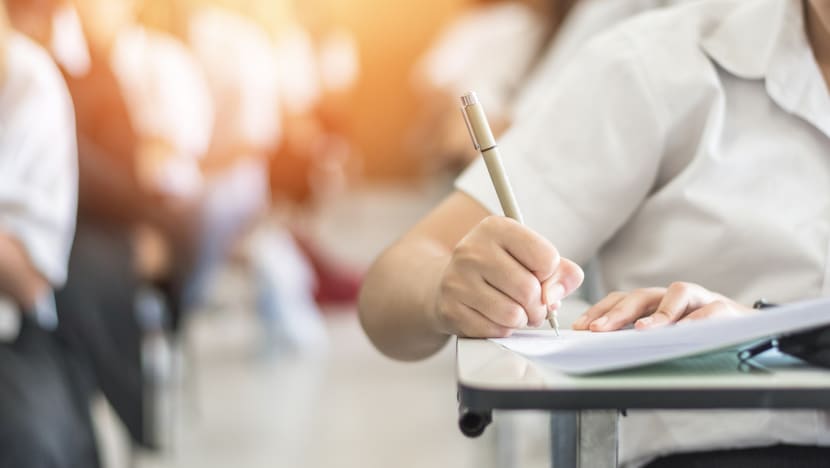 SINGAPORE: There are exactly 12 days to go till my son sits for his first Primary School Leaving Examination (PSLE) written paper.
With anxiety rising in the lead-up to the English paper on Sep 28, it might be tempting to give our children one last push - one more chapter to revise, one more past year paper to do - and end up piling on the stress.
Take it from this second-time PSLE parent, stress is both a friend and an enemy. It follows that aptly named and easily understood Goldilocks principle - not too much, not too little, but just the right amount.
Stress can help when it puts on sufficient pressure to get us working towards our goals. Too little and it might encourage complacency; too much and it becomes unhealthy.
In this last stretch, how can parents ensure we help our children find that balance and not add to the weight of anxiety and stress?
UNDERSTAND THE WAY STRESS WORKS
Unhealthy stress can derail the efforts of well-prepared children, like my eldest child two years ago. All her revision efforts seemed to be working against her due to the high expectations she placed on herself.
Instead of focusing her energies on revising for her Chinese oral exam, she was constantly asking "what if". "What if I get stuck while reading the passage?"
In her book Under Pressure, clinical psychologist Lisa Damour writes, "Stress becomes unhealthy when it exceeds what a person can absorb or benefit from."
High levels of test anxiety, mixed with high expectations of what they should achieve, can lead to loss of motivation, fear of failure or even feelings of helplessness. This can look like disengagement from school, crying over doing revision papers and procrastination.
Unhealthy stress can end up being a self-fulfilling prophecy. It can bring on thoughts that intrude on the task-related activity and reduce the quality and level of performance, according to the theory of cognitive interference.
For example, a child worrying about failing while in the middle of a maths exam uses the mental resources that could have been directed more productively toward solving the maths problems.
RIGHT-SIZING THE PSLE MONSTER
Fast forward two years, and I am now on another PSLE journey with my second child who is generally more anxiety-prone.
But there was a difference in the way my children processed and perceived the PSLE: The eldest initially saw it as the ultimate definition of success and acted like her very life depended on it. The second one does not see the exam as a do-or-die situation.
This has made our current PSLE journey easier to manage as we focus our energies on chunking - the process of breaking down big, unwieldy topics into bite-size revisions.
How did we manage to right-size the gigantic worry my eldest child had of PSLE?
We worked to reduce the power of the exam, explaining that while it was an important checkpoint that would influence her options for secondary school, it would not single-handedly determine her future, her dreams or her life.
It took us months but she gradually learnt to see the exam differently and the stress came in more manageable doses that could be directed to building her resilience, with support from adults.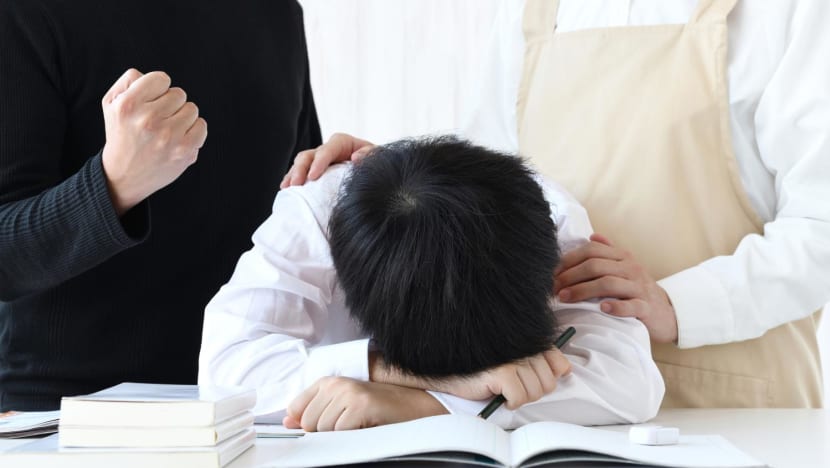 RIGHT-SIZING OUR OWN WORRIES
More often than not, the anxieties surrounding PSLE can come from parents ourselves, and the meaning and importance we attach to it.  
We simply want the best for our children, and sometimes that little voice at the back of our heads can be pretty convincing to make us revert to the old ways of seeing PSLE as the defining moment of their future.
There may be a need for us to step back and first right-size our worries about the exam. One critical hurdle is to be aware of our own negative thoughts, and then work to actively challenge them.
Would not getting into one particular "good school" really make their life go down the drain? Are we really more concerned about how we are perceived as parents if our children attend another "lesser school"? Are our goals in the driver's seat, or our child's?
When our expectations far exceed our child's ability to realise them and to cope, it can result in negative consequences, such as a loss of motivation and self-esteem, or even depression.
These can have far worse repercussions than a PSLE score on a young person's life.
WHAT WE CAN DO AS CARING ADULTS
One single exam cannot possibly measure the entire value of a person, but this might not be evident from where the children are standing. It's up to parents to put the weight of exams into perspective for them.
This brings us back to good old Goldilocks: Not too much - grades of 12-year-olds don't often come into play when adults apply for jobs. Not too little - grades still matter insofar as they open up possibilities for the next phase of academic life.
What does just right look like? Changing the mindset of PSLE as the be-all and end-all will require a whole-system approach. Even with the new PSLE scoring taking into account the individual's achievement, regardless of how their peers performed, teachers, principals and parents can emphasise personal improvement, rather than comparison with others.
It could also entail parents modelling good self-care techniques at home, reminding children of what they can control, breaking big topics down into digestible chunks, and most importantly, reminding them they are worthy of love and capable of contributing to society, regardless of their PSLE results.
It is our child's job to be responsible for their studies, but it is our job to help them take a step back and see the big picture. There may be 12 days to go till this one exam among many, but there are so many more days to learn, explore and grow, after it.
June Yong is the Lead of Insights at Focus on the Family Singapore.