Commentary: How Rosmah Mansor became Najib Razak's Achilles' heel
Should Malaysia head to the polls this year, the opposition is likely to use the former prime minister's wife to undermine his position and smear UMNO, James Chin says.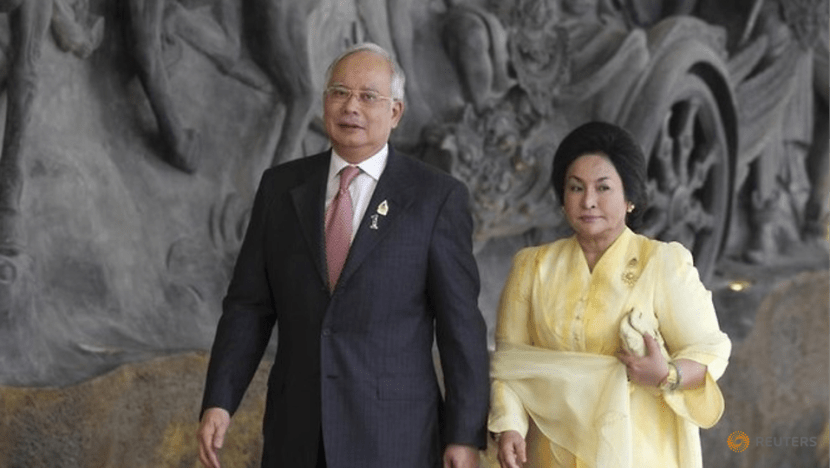 HOBART, Australia: As Malaysians celebrate the new year, the political class is increasingly feeling bleak about the state of Malaysian politics. 
Most if not all, think 2022 will be another terrible year of political uncertainty. Everybody I speak to seems to think the only way out is a quick general election (GE). 
The hope is, the GE will give one side a clear majority so that Malaysia's politics can be settled. The current administration under Ismail Sabri Yaakob, and the previous government under Muhyiddin Yassin, only had a fragile majority of fewer than three MPs more than the opposition. 
This led to constant political bickering and posturing. The opposition, along with factions within the ruling coalition, kept trying to undermine the government. 
Related to the GE is the return of Malaysia's power couple to the public spotlight: Najib Razak and his famous wife, Rosmah Mansor. Both were featured prominently in the news as 2021 drew to a close. 
Najib was in the headlines when the court of appeal upheld his conviction and earlier when UMNO won a landslide in the Melaka state elections.
CONTROVERSY OVER ROSMAH'S FIRST LADY ROLE
Rosmah too was in the news when she was cross-examined in her corruption trial over the role she was said to have played in securing a RM1.25 billion (US$300 million) project to supply electricity to rural schools in Sarawak in December 2021. 
She was charged with soliciting RM187.5 million (US$45 million) from contractor Jepak Holdings managing director Saidi Abang Samsudin in 2016 and 2017 for securing the Sarawak schools project, as well as accepting a RM6.5 million bribe from him.
Public interested peaked when she was grilled by the prosecution about her alleged status as "FLOM" - the first lady of Malaysia. 
A FLOM unit was established as a division in the prime minister's department after Najib became prime minister in 2009. There was no such unit in previous governments. 
There were grumblings that Rosmah was not entitled to use FLOM as the title rightfully belonged to the Queen, not the prime minister's wife. 
During the cross examination, Rosmah claimed she had nothing to with the establishment of the FLOM unit, nor was she consulted on the name. 
But she defended the working of the unit on the basis that she was more actively involved with public programmes like Permata, an initiative to help develop the skills of under-privileged children, and took part in public events more frequently compared to her predecessors.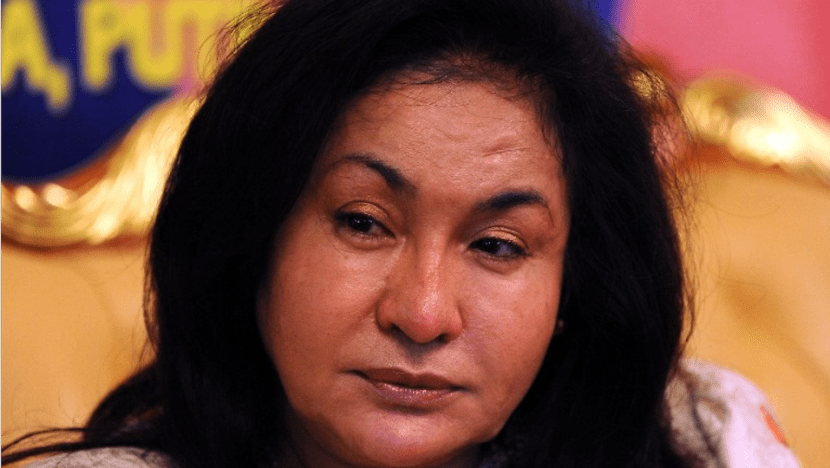 She also claimed that wives of previous Malaysian prime ministers had been referred to as the first lady, including Rahah Noah, her late monther-in-law, who was married to former prime minister Tun Abdul Razak Hussein, and the wives of Dr Mahathir Mohamad and Abdullah Badawi.
The prosecution was hoping to demonstrate that a non-elected person like Rosmah was not eligible to head a government-funded office that looked after her activities.
After all, the wives of previous prime ministers were similarly involved in charitable activities and promoted Malaysia, without the need for such a department. 
Those who dislike her probably thought she was comparing herself to the wife of the US president, who is entitled to a separate tax-funded office. But Malaysian democracy does not follow the American political system. 
In the UK Westminster system, on which the Malaysian political system is based, the wife of the prime minister is widely regarded as a non-political entity. She does not have a salary or an official office. 
UNHAPPINESS OVER ROSMAH'S EXTRAVAGRANT LIFESTYLE
It is widely accepted that besides the 1MDB scandal, voters' negative perceptions of Rosmah played a major role in the defeat of Najib and UMNO. The public's dislike of Rosmah goes a lot deeper than the superficial agony over the title of FLOM. 
When her husband was in power, there were persistent rumours that Rosmah was active in UMNO politics, promoting her husband and acting as a gatekeeper for those seeking favours from him. 
But what really irked the public were her incredibly extravagant lifestyle. 
The Wall Street Journal estimated that she spent US$6 million on luxury clothes, shoes and jewellery alone during her husband's tenure as prime minister. Combined spending with her husband totalled some US$15 million.
One report said she once spent US$400,000 on anti-ageing products including almost 1,600 bottles of growth hormone capsules.
But the one thing that turned Malaysian women against her was her lamenting of how it cost RM1,200 (US$287) to make house calls to dye her bouffant mane black in 2015.
Her rumoured obsession with diamonds and designer handbags seemed to be confirmed when a police raid on her residence netted 284 designer luxury handbags and 72 bags filled with jewellery and designer watches. 
Her over-the-top lifestyle also attracted huge attention and invited a very simple question: How did she afford it? 
She was spending almost 20 times more than what Najib earned each year - of around RM1 million (US$240,000). 
But what really took the cake was a secretly taped conversation between her and Najib in 2016, suggesting she had more power over her husband and his government than most realised.
In the five-minute conversation released by Malaysia's anti-corruption watchdog MACC, she berated her husband for not taking control of the investigation into 1MDB. 
"Apa cerita? (What's up?) Can I advise you on something?" She then said: "I don't like this. Darling, you are the prime minister. You lead."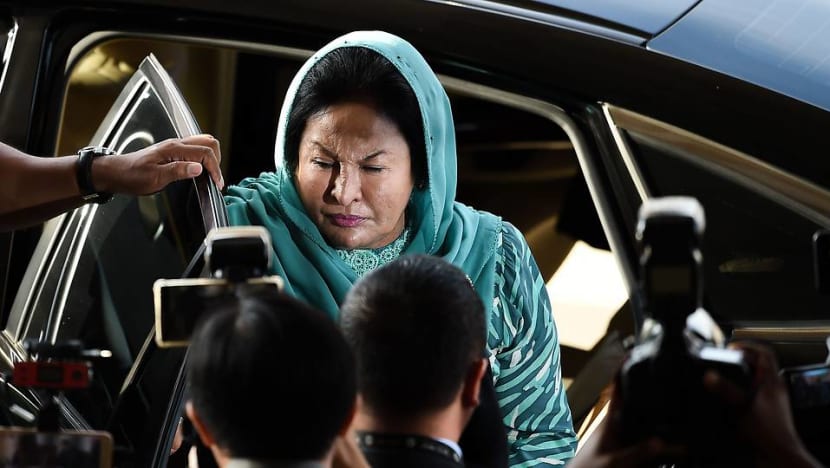 ROSMAH COULD BRING NAJIB DOWN
Since her husband's defeat in 2018, Rosmah has astutely maintained a low profile, claiming to be unwell and trying to delay her corruption trials. 
She has refrained from publicly justifying her extravagant lifestyle and avoided media interviews to remake her image.
Her only public show was her December 2021 crying on the witness stand, claiming she had been scapegoated by the people responsible for charges brought against her who cut deals with the prosecution. 
Given the amount of negative information about her floating on the Internet, there is little she can do to rehabilitate her image. 
Najib knows this. Since 2018, they have hardly appeared together in public. Najib's social media accounts, reputed to have the largest following among Malaysian politicians, mentioned her less than a dozen times for the whole of 2021. 
A likely key prong of Najib's strategy to rehabilitate his image includes creating a clear space between him and Rosmah. There are persistent rumours in Kuala Lumpur circles that they are no longer living together.
Another story making the rounds is that Team Najib will be seeding the narrative that Najib was manipulated by Rosmah and that the extravagant lifestyle was her choice, not his.
They will say Najib was born with a silver spoon and hence, was not easily seduced by luxuries, unlike Rosmah who came from a humble background. 
Whether this will work remains to be seen although the easiest way to put a distance between Najib and Rosmah is to simply divorce her. This will definitely be the last option given she knows all of Najib's deepest secrets.
If Malaysia heads to the polls this year, the opposition is likely to use Rosmah as a campaign issue. 
Can Najib overcome this? He might be able to, as a master politician who has so far defied the odds and re-emerged as a major political player. 
The other persistent rumour is that Najib will end up as an economic advisor or be given "a special envoy" role when a Cabinet reshuffle takes place. 
While Najib is doing what he can to stay out of jail, Rosmah's presence complicates his strategy to complete a makeover of his public image. Rosmah may in fact be Najib's Achilles' heel.
James Chin is Professor of Asian Studies at the University of Tasmania and Senior Fellow at the Jeffrey Cheah Institute on Southeast Asia.