Commentary: Melaka election more about Pakatan Harapan losing than Barisan Nasional winning
The state poll elevates Malaysia's newest multi-party coalition, Perikatan Nasional, from a non-contender to a third force, and will be key if no coalition gets an outright majority in the next general election, says two ISEAS-Yusof Ishak Institute researchers.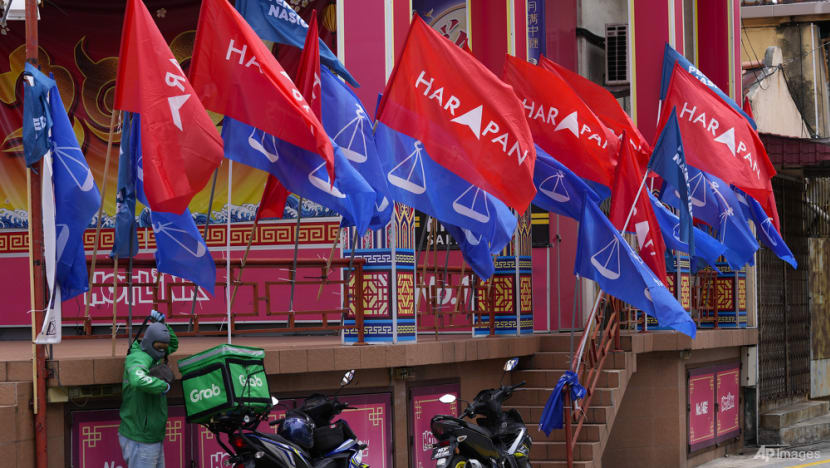 SINGAPORE: Following unexpected tumult at the beginning of October, Melaka held its state election on Nov 20.
Due to the state's demographics and income level, observers have examined the results with an eye to getting a feel for national dynamics ahead of a potential snap poll — which could be as early as July next year.
At first blush, the results from the election are stark, and largely favourable to Barisan Nasional (BN). From a low of 13 seats in the 28-seat state assembly in 2018, BN roared back to power with 21 seats.
The United Malays National Organisation (UMNO) alone secured 18 seats, and its alliance partners, the Malaysian Chinese Association and Malaysian Indian Congress, secured two and one seat respectively.
Conversely, Pakatan Harapan's (PH) 15 seats from the 14th general election tanked to a mere five. The Democratic Action Party (DAP) retained four out of its eight seats, many with thumping majorities, and Amanah retained a single seat.
Of keen embarrassment to PH's leader, Anwar Ibrahim, the Parti Keadilan Rakyat (PKR) was wiped off the map, with all three of its seats falling to Barisan Nasional.
PAKATAN HARAPAN'S LOSS
However, while BN now has the numbers to dominate the assembly and even change the state's constitution if it so desires, a closer look shows that Melaka's voters are only marginally more supportive of BN now than they were three years ago.
Indeed, initial analyses show that BN's support inched up less than one percentage point, from 37.8 per cent to 38.4 per cent, and 11 seats were secured by fewer than 1,000 votes. Indeed, one seat, Serkam, was won by a mere 79 votes — a wafer-thin margin of 0.69 per cent.
The Melaka poll is less about BN's winning it than PH losing. PH's losses were due to multiple factors: The result of a palpable lack of excitement, unexpected candidate selection and the highly controversial decision to accept two former UMNO assemblypersons who helped precipitate the elections in the first place.
Consequently, PH's vote share dropped significantly from 51.1 per cent in 2018 to 35.8 per cent last weekend. The 2018 figures include Parti Pribumi Bersatu Malaysia (Bersatu), which ran in six seats but withdrew from the coalition in 2020.
Also key was a notable decline in voter turnout, from 85 per cent in 2018 to 65.9 per cent in 2021. The stark reality is that PH's ground game consistently lags behind BN's, with the latter excelling at marshalling the troops to turn up and vote.
While BN's victory and PH's loss are attention-grabbing, there is another important dynamic at work.
PERIKATAN NASIONAL, NEWEST COALITION A THIRD FORCE TO CONTEND WITH?
Malaysia's newest multi-party coalition, Perikatan Nasional (PN) — comprising former prime minister's Muhyiddin Yassin's Bersatu, Parti Islam Se-Malaysia (PAS), and the multiracial Gerakan — secured a mere two victories despite fielding candidates in every seat.
Yet, compared with its election performance three years ago, the coalition's performance was nothing less than spectacular. That year, PAS ran in 24 seats — only to lose in all of them. In 2018, the Islamic party secured a mere 10.8 per cent of all votes.
In the 2021 polls, Bersatu was the only PN party to secure two seats. But the coalition collectively obtained 24.3 per cent of the votes cast.
This, in itself, is creditable and effectively elevates the coalition from a non-contender to a third force.
Looking at the performance of Bersatu —founded only in 2016 — it appears that in Melaka at least, Muhyiddin Yassin remains popular.
In addition, PN's tactics of attacking BN on governance and fielding a female, Mas Ermieyati Samsudin, as candidate for Mentri Besar had some traction.
While it failed to defend its seats in Paya Rumput and Telok Mas, the party wrestled Sungai Udang and Bemban from BN and PH, respectively. Of key importance for Sungai Udang was the support garnered from military personnel and their families, indicating considerable support for PN among public sector employees. 
Furthermore, in seats like Mas Ermieyati's Tanjung Bidara, as well as Ayer Limau, Telok Mas, Pantai Kundor, Ayer Molek, Rim and Sungai Rambai, the party came in a respectable (and sometimes close) second.  
Despite its securing no seats, PAS performed respectably in the eight constituencies it ran in. It bagged nearly 5,000 votes in Serkam, where it was pipped to the finish line by a mere 79 votes.
PAS also did better than expected in the relatively urbanised and ethnically-mixed seats of Kelebang and Bukit Katil.
When seen from this angle, then, PN clearly performed much better than expected, but less well than its leaders hoped.
For a coalition that has been subject to withering attacks from UMNO, PN has shown it can hold its own and contend for hearts and minds.
WHO WILL PAS PARTNER?
While Bersatu will live to fight another day, the issue is what PAS will do. Much of its grassroots and a substantial faction of its leaders have a marked preference for UMNO over Bersatu.
And, they are well aware of the meagre number of seats that PN secured. To date, PAS' president, Hadi Awang has been resolute in partnering with Bersatu and PN, and not with UMNO and BN.
There are valid strategic reasons for this, not least that the Islamic party will have far more choice and freedom when it comes to seat selection if it does not team up with UMNO.
When it comes to campaigning and protecting fiefdoms, Bersatu is a natural coalition party for PAS. Furthermore, in the likely event that there is a three-way split between BN, PN, and PH, PN would be a more amenable partner for UMNO than PH.
Given the real possibility that no coalition gets an outright parliamentary majority in the next general election, the leaders of BN and PN would be more than capable of letting water flow under the bridge in order to regain power.
In the end, Bersatu has few options and must soldier on, with or without PAS. PAS might have the luxury of choice, but does it have the discipline to be patient?
Francis E. Hutchinson and Kevin Zhang are researchers at the ISEAS-Yusof Ishak Institute. This commentary first appeared on the ISEAS-Yusof Ishak Institute blog, Fulcrum.