Commentary: South Koreans reluctant to embrace Christmas after Halloween crowd crush
In South Korea, young couples and department stores are Christmas' most enthusiastic practitioners, but celebrations in 2022 are muted, says Steven Borowiec.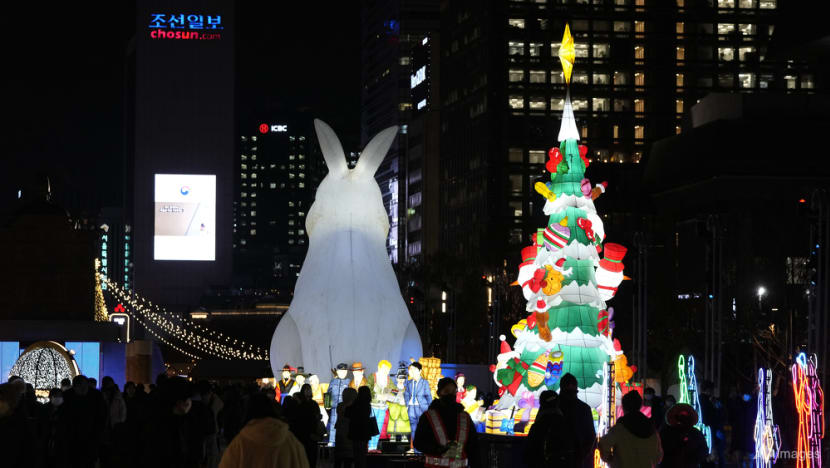 SEOUL: The Christmas spirit is apparent in South Korea's public spaces. Cold weather has set in, coffee shops and retail spaces have hung up strings of lights while playing carols. Decorated Christmas trees sit in the lobbies of many large commercial and residential buildings. 
There is ample reason to celebrate. This year is the first Christmas since 2019 to go ahead with no pandemic-related restrictions on how many people can gather in indoor spaces. Though the country still reports thousands of new COVID-19 cases per day, there is a consensus that the worst is over.
Except not everything is normal, as many are still mourning the crowd crush that occurred in Seoul's Itaewon neighborhood in late October. With a preponderance of young and innocent victims, the accident caught the nation off guard and lingers as a source of sadness and anxiety. 
The facts are these: On a night of Halloween celebrations in the popular nightlife area, large numbers of revellers got stuck on a narrow alley and 158 people died, asphyxiated when their bodies piled on top of each other as the crowd attempted to move down a hill in a confined space. 
However, the picture of that night's events is still incomplete. Daily headlines still feature news of the government's efforts to get to the bottom of how a night of partying could go so wrong, and if local officials attempted to destroy evidence that could indicate negligence of duties.
A consensus has emerged that the crowd crush was preventable. The question is therefore why police failed to institute effective crowd-control measures, a failure that echoes past tragedies like the collapse of a popular department store in 1995 and the sinking of a passenger ferry in 2014.
A TROUBLED CHRISTMAS
The ongoing grief of the Itaewon disaster made some reluctant to embrace the Christmas season as an occasion for celebration. Some retailers delayed their installations of Christmas lights and carols in a gesture of respect for victims.
Also dampening this year's Christmas cheer is the rising cost of living. Retailers who are preparing cakes and other baked goods for Christmas celebrations have complained about increasing milk prices.
If that weren't enough, the country was convulsed in recent weeks by a protracted strike by cargo truckers who are calling on the government to guarantee fair rates for their work. The government ordered the truckers to get back to work or face legal and financial penalties.
In a nod to the prevailing social atmosphere, as companies announced their Christmas plans for this year, they also pledged to work diligently to avoid safety accidents.
THE SHOW GOES ON
The Christmas show will nevertheless go on. In one sense, the high public profile of Christmas represents South Korea's religious plurality. Most of the country's people identify as having no religion; 20 per cent say they are Protestants, while 15 percent identify as Buddhists and 8 per cent as Catholics. 
With nothing close to a majority invested in the religious traditions of Christmas, it may be surprising that South Korea is the only East Asian country to have designated Christmas as a national holiday.
Christmas celebrations here can be traced to the American missionaries who began coming to the Korean peninsula in the 1800s. Those proselytising efforts continued for decades, with many South Koreans finding comfort and community in churches following the chaos of the 1950 to 1953 Korean War. 
Nowadays church membership is declining, particularly among young people, as large churches have been involved in corruption scandals that undermined trust in them as institutions.
A MOSTLY SECULAR HOLIDAY
Christmas is therefore a mostly secular holiday in South Korea and the traditions here differ from the West.
The rituals of opening presents in the morning followed by turkey dinners are generally not followed. Almost all South Koreans live in apartments that don't have chimneys; parents would have a tough time explaining to their children how Santa Claus gained access to the premises to leave gifts under the tree.
The most enthusiastic practitioners of Christmas are often young couples. Restaurants and hotels are typically fully booked on the days around Christmas as unmarried partners, most of whom still live at home with their parents, seek cosy time together. 
It is probably no coincidence that department stores and other commercial spaces embrace Christmas, as the holiday is famously associated with the buying of gifts and other forms of consumption. A cynic might contend that South Korea's famously pro-business government designated the day as a public holiday because it might spur such consumption and provide a boost to the economy.
Whatever the official intention behind Christmas, the holiday's greatest value is the day serving as an occasion to spend time with loved ones. The confluence of ills swirling South Korean society – safety accidents, a lack of leadership, economic woes – remind us of the old truth that every day, including but not limited to Christmas, is a gift. 
Steven Borowiec is a journalist based in Seoul.