Commentary: When did parenting deliverables include Taylor Swift tickets?
While it is easy to decry parents spending so much time and money on something as privileged as Taylor Swift concert tickets, when unpacked, the motivations are very typical of any parent. Mother-of-three Cherie Tseng gives her take.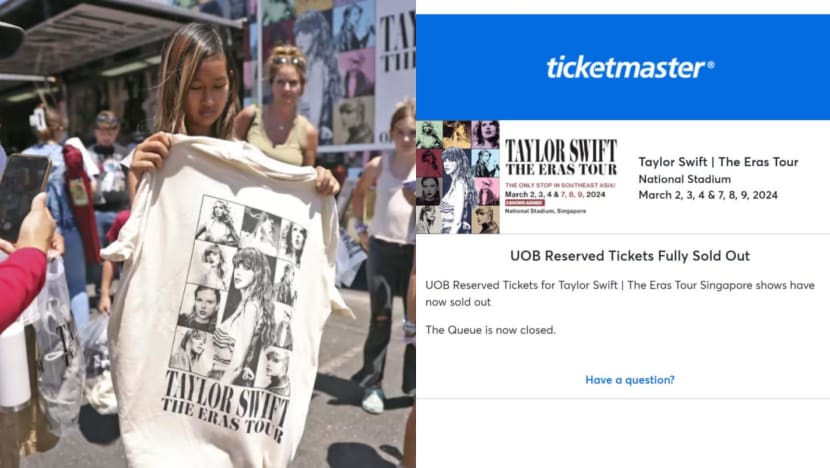 SINGAPORE: In life, we preach the virtue of honesty and simplicity. At work, we espouse the importance of collaboration and responsibility. At home, we teach our children values like being grateful, staying humble and resisting the allure of material things. 
All those principles went out the window on Jul 5 when the UOB cardholder presales for Taylor Swift shows in March 2024 opened. It became a frenzy. Everyone was out for themselves.
From a marketing perspective, UOB, as the partner bank to Taylor Swift's concert, struck gold: A fandom desperate for a chance to watch their idol after years of concert drought, parents of fans who are willing enablers in this post COVID-19 world, and superstar concerts that are pricey and elusive. 
Those who opted to battle for the tickets online posted photos of themselves commandeering multiple devices to try and get the best queue number. Others took leave or made it clear to co-workers that they might be distracted that day. 
Many were parents. All day, my feeds on Facebook, Twitter, Telegram and WhatsApp chats blew up with live updates of people trying to secure the tickets.
An acquaintance ranted about a friend who stole her promotion code to buy tickets for her Swiftie teen - clearly there's no honour amongst the desperate. Another parent on a school-wide group chat begged openly for someone, anyone - to give her a purchase code. 
Cue the songstress's hit song: Look what you made me do.
NORMAL GOES OUT THE WINDOW THE MOMENT YOU HAVE KIDS
In Australia, where Taylor Swift's Eras Tour makes only two stops, media personality and mum-of-four Amanda Blair posted a tongue-in-cheek rant to the pop star about "being hassled day and night" to pay as much as she can for a ticket. 
"Dear Taylor Swift," her post began. "The announcement of your Australian tour has put all parents under enormous pressure … Personally I've been told that if I don't secure tickets on Wednesday my child will 'DIE' by 'CRYING HERSELF TO DEATH'."
While it is fairly understandable that parents want to make their children happy - even if that means going out of their way to vie for unobtaniums - how far is too far? How much is too much? 
Since when did parenting deliverables come to include pricey, elusive concert tickets? 
LIFE IS A CHAOTIC MASTERPIECE OF MEMORIES 
In a post COVID-19 world that's still hard gripped by revenge-grade YOLOing and FOMOing, who can blame parents for seeing the ability to procure a ticket to a popular concert like Swift's as a parenting triumph. 
For many, it is the chance to take their children to see a singer they love and the chance to mint a shared memory with their offspring. 
Mark Lim, father to two teenage girls, braved a similar melee over Blackpink tickets. He said he wanted to be there for his daughters' first live concert experience. The family went the whole hog and bought light sticks, wore bright Barbie pink outfits, and made a family festival of the outing. 
"As the girls get older, there are less and less firsts to experience with them," he told me. "The tickets cost a little, but it was worth it to take them to their first live concert. We had a great time and made great memories."
Some parents stretch themselves because they themselves hold deeply etched memories of their own parents taking them to live shows.
Singaporean Kamal Shaari, a lawyer who now lives in Brunei, flew his then seven-year-old daughter out to a BTS concert in Bangkok in 2019 not just because it was a group she loved but because one of his most vivid memories of his parents was the time they spent together at a music event when he was also seven years old.
"What we shared at the concert shall forever be an archive in her psyche that would be activated upon when she listens to their songs," he told me of building memories with his daughter. "Hopefully, in the future, when she reminisces, she will say a quiet word of prayer on the memory of me." 
While it is easy to decry parents spending such time, energy and money on something as mundane -and privileged - as a concert ticket, when unpacked, the motivations are very typical of any parent.
They want to make their children happy, they want an opportunity to have a shared experience with their children, they want their children to not miss out on an experience, and they want to score a parenting win. 
The knot that we should be unpicking is not why they do it, but how. 
It is important parents set the context and intentionality of the situation to make sure they are not breeding a generation of selfish, entitled spoiled brats.  
If a parent slogs after a valued item for their children, be it a concert ticket or a branded item, because their son or daughter has a discomfort with frustration or wants something simply because others have it too, then they might have just lost the plot.
YL Chan, who managed to get Taylor Swift tickets for her 13-year-old daughter, said she had a talk with her girl about sacrifices and how things don't happen in a vacuum.
"The hefty ticket price tag," Chan told me, "comes at the cost of the mini holiday we were planning to take and it's something we have discussed." 
Situating and contextualising the out-of-usual-spec concert expenditure is something Mark Lim, too, concurs. Therein lies the difference between entitled and spoiled children who expect something because they want it or because their peers have it, and children who understand the value of a big ticket item and have an intrinsic appreciation of their access to it.  
The issue of expensive concert tickets challenges parents to take a serious look not just at the why but the how we strike a balance between providing joyous experiences and teaching valuable life lessons. 
Wanting to make your children happy, or wanting to watch a great concert is normal. But feeling like you are held captive to an ensuing meltdown from ticket-purchase failure is a whole different vibe. 
Parenting, as it were, is a dance. We must decide if we are willing to lead or, as Taylor Swift herself cautions, live dancing with our hands tied. 
Cherie Tseng is Chief Operations Officer at a local fintech company, a mother of three and editor with The Birthday Collective.