Commentary: TikTok grilling in US Congress shows tech-literate leaders are a must
Just like TikTok CEO Chew Shou Zi's recent grilling in US Congress, tech companies will continue to face scrutiny about issues like data security and misinformation. The question is whether leaders are sufficiently tech-literate to keep up, say SUSS' Chong Guan, Jiang Zhiying and Sean Lee.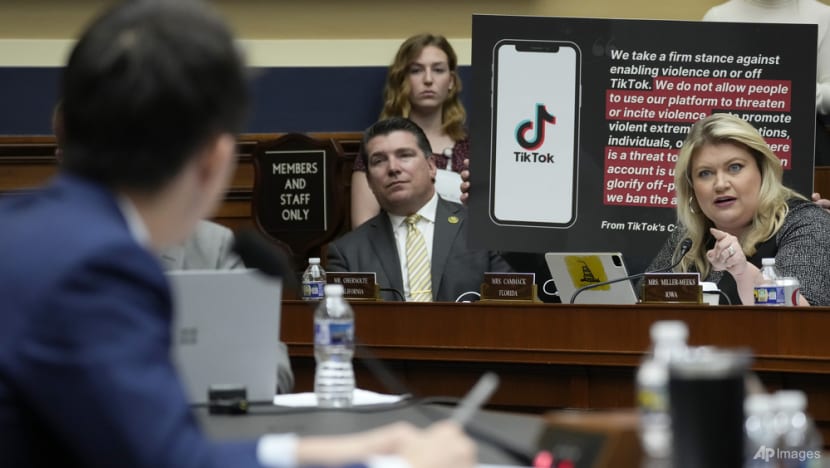 SINGAPORE: "Does TikTok access the home Wi-Fi network?" Republican lawmaker Richard Hudson's question has become one of the most viral moments from TikTok CEO Chew Shou Zi's United States congressional grilling on Mar 23.
The issues raised during the Singaporean CEO's testimony should come as no surprise. In the last five years, similar hearings were conducted with Facebook CEO Mark Zuckerberg, Google's Sundar Pichai, and former Twitter CEO Jack Dorsey.
The recent TikTok hearing will not be the last. Technology companies continue to face scrutiny on how they balance user experience, data protection, and moderation of inappropriate content or misinformation - legitimate concerns that all tech and social media companies need to grapple with and be accountable to their users for.
Yet, some members of the US Congress, who are responsible for regulating and establishing guardrails for tech firms, don't seem to be technologically literate.
During another hearing in 2018, senator Orrin Hatch asked Zuckerberg how Facebook made money when users don't pay for services, demonstrating a lack of understanding of the advertising-based business model commonly used by tech companies that he was tasked with regulating.
In a 2006 speech on net neutrality, the late senator Ted Stevens famously remarked: "The internet is a series of tubes."
Funny as these viral moments may seem, there is a frightening question about whether leaders are sufficiently tech-literate to keep up with and understand new technology, if they are to articulate risks and regulations.
REAL CONCERNS ABOUT NEW TECHNOLOGY
Top and foremost is the notion that everything one does on their device is being monitored and that data is susceptible to being hacked. According to Kantar's Global Monitor, 79 per cent of people globally agree that they are concerned about data protection and privacy.
After all, data breaches cost businesses an average of US$4.35 million in 2022, while nearly one in five internet users have their emails exposed annually, as found in a study by IBM. Many are afraid that technology makes it easy for them to fall victim to these cybercrimes.
There is also political apprehension regarding TikTok's Chinese parent company ByteDance. During the recent hearing, Chew had to field questions about the extent of the Chinese government's influence on the company, as well as concerns about the availability of user data to China. These issues have further heightened anxieties about the potential impact of technology on society.
Users today have access to an unprecedented amount of information, but not all of it can be considered factual. This proliferation of misinformation can lead to a range of problems, from hate speech and political propaganda to the perpetuation of false beliefs.
Misinformation can result in dire consequences, as demonstrated by the absurd conspiracy theory blaming 5G networks for COVID-19, which resulted in some 5G cell towers being vandalised by concerned individuals.
NO NEED TO HAVE ENCYCLOPAEDIC TECH KNOWLEDGE
According to Harvard professor Tsedal Neeley, the minimum level of digital fluency required to succeed in a digital context is 30 per cent, which was inspired by how non-native English speakers only need 30 per cent of what a native speaker has to fully contribute and participate in a global organisation.
This logic could be extended to determine precisely what leaders need to understand about the tech ecosystem to make well-informed decisions regarding data, devices, and technology's role in the larger society.
In today's rapidly evolving world, technology continues to advance at an unprecedented rate. Wise leaders need to be aware that they do not necessarily know everything. It is more important that leaders know to seek out the right experts who may have that encyclopaedic knowledge.
To resolve such issues, Israel's government established the Office of the Chief Scientist in 1965, which was then renamed the Israel Innovation Authority. In addition, many ministries have their own chief scientist, whose responsibilities include offering scientific consultation, recommending fields of national priority, overseeing an extensive team of scientists and more. No surprise that Israel is among the most technologically advanced countries in the world.
TO SUCCEED IN THE DIGITAL AGE
With the broad range of technology innovations and implications more deeply embedded in our lives and businesses, leaders who lack technological understanding are likely to fall behind and miss out on the opportunities that technology can provide.
The saga of Blockbuster and Netflix serves as the best illustration. In the 1990s, Blockbuster held a dominant position in the home video and video game rental market, with 9,000 outlets across America. The company could have acquired Netflix for US$50 million, but its CEO did not consider the possibility. His ignorance of the disruption-enabling streaming technology led to Blockbuster's downfall.
On the other hand, Microsoft-backed artificial intelligence chatbot ChatGPT has taken the world by surprise with its capability to perform high-level tasks and generate human-like text, giving the company a head start on the development of cutting-edge AI technology.  
Successful integration of a new technology often requires organisational changes. Leaders who have a better understanding of technology can shape policies and decisions to ensure collaborative work and efficient resource allocation and to use these new technologies responsibly.
Technology literacy also helps them to communicate more effectively with their various stakeholders to encourage buy-ins and to find creative solutions to complex problems. Study in primary schools shows that if the principal is well-versed in technology, the teachers under such leadership will also have higher technology literacy and are more willing to use technology in their teaching activities.  
There's no denying we are in an uncharted era of significant technological advancement, with breakthroughs in AI, quantum computing, 5G networks, blockchain technology, nanotechnology, 3D printing and more, each with significant implications for individuals, organisations and our society as a whole.
How our world will look in the future may depend on just how tech-literate government and business leaders are.
Chong Guan is associate professor and director, Centre for Continuing & Professional Education, Singapore University of Social Sciences (SUSS) and Dr Zhiying Jiang is Head, Master of Digital Marketing at the same institution. Sean Lee is senior consultant at Futures Division, Kantar Consulting, and associate faculty at SUSS.