Commentary: Biden's Ukraine visit sends a message to Russia and China
An American president going into a war zone days ahead of the first anniversary of Russia's invasion of Ukraine is of significant symbolism, says former diplomat James Carouso.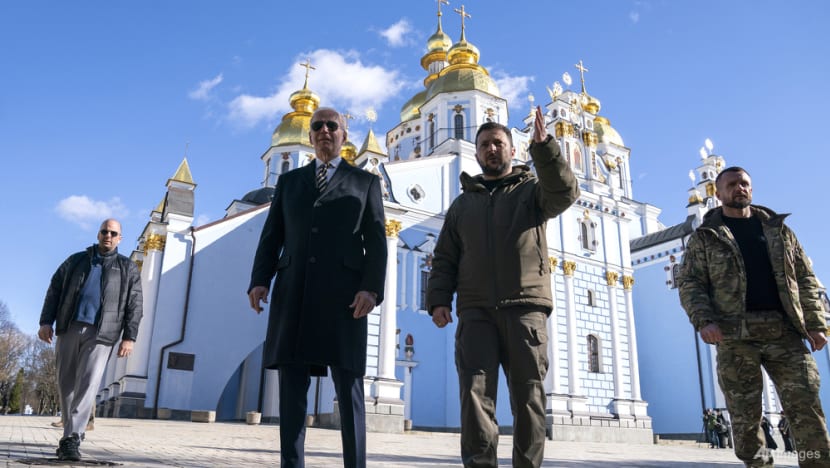 WASHINGTON DC: As Russia unleashed its invasion of Ukraine one year ago this week, Ukrainian President Volodymyr Zelenskyy's first foreign call was to United States President Joe Biden. When Biden asked that night how he could be of help, Zelenskyy's response: "Gather the leaders of the world. Ask them to support Ukraine."
Biden did just that, rallying allies and partners to impose unprecedented sanctions against Moscow. Europe slashed its reliance on Russian energy exports while historically neutral nations, such as Finland, Sweden and Switzerland, are now providing financial, diplomatic and (in varying degrees) military support to Ukraine.
On Monday (Feb 20), Biden made an unannounced visit to Kyiv. An American president is perhaps the most protected individual on earth. For him to go into a war zone sends a message.
SYMBOL OF SUPPORT AND RESOLVE
After one year of massive death and destruction, global inflation ignited by the war, and concern about the growing cost of supporting Ukraine's fight for independence, there are cracks forming in the pro-Ukraine alliance.
Russian President Vladimir Putin is counting on this war weariness and on a Russian populace that is apparently willing to accept massive casualties among its young men and economic pain from sanctions to wait out Zelenskyy.
Biden's visit was to demonstrate to Russia that US and Western support will not wane. That Putin's gambit on Western moral weakness and short-term thinking will fail this year just as it failed when the invasion began.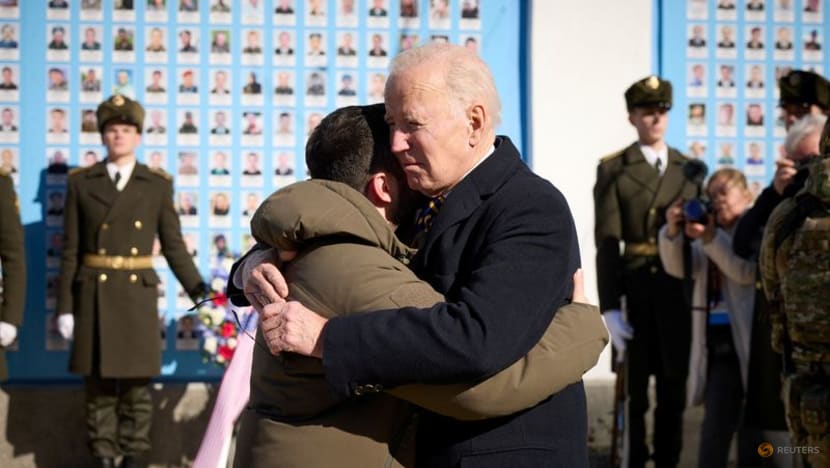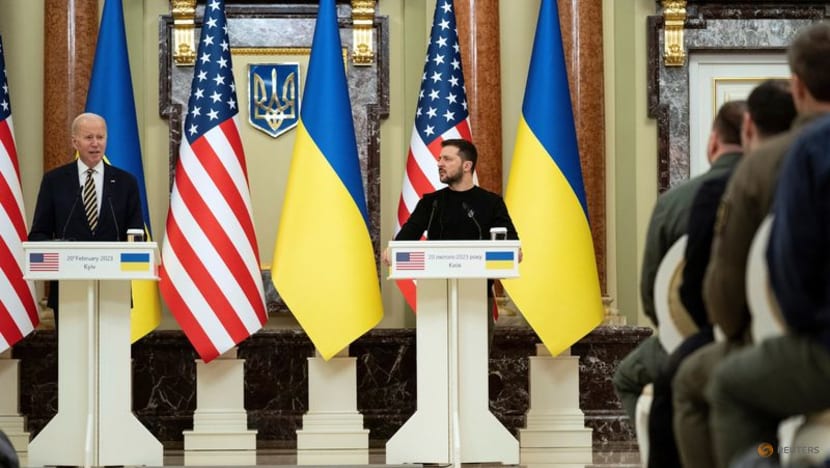 While in Kyiv, Biden repeatedly said the US will support Ukraine "for as long as it takes" - a sentiment that echoed European leaders and US Senate delegates the week before during a major security conference in Munich.
Biden also pledged US$500 million in additional military support including more ammunition for HIMARS long-range missile systems and advanced radars to better counter Russian drones and missiles. Analysts have noted that the war is now partly a contest between Russia and the West over which side can produce more ammunition and weapons systems faster in what has turned into a war of attrition in eastern Ukraine.
CHINA TIES WITH RUSSIA
While Biden was in Kyiv, Chinese State Councilor and top diplomat Wang Yi was on his way to visit Moscow.
Aware of Wang's itinerary, US Secretary of State Antony Blinken issued a very public warning to China not to sell arms to Russia to further Putin's war aims. Whether Blinken said this due to intelligence he had received or to pre-empt any such agreement between Russia and China is unclear, but the result further raised the temperature between the two nations.
Wang had also attended the Munich Security Conference, which was focused on Europe with little discussion on China and the Indo-Pacific. According to a long-time conference participant, his interventions were not well-received by the audience.
Wang claimed that Washington downed China's suspected spy balloon (which he maintained was a civilian instrument that veered off course) "to divert attention from its domestic problems" and encouraged Europe to "manifest its strategic autonomy" - its vision of greater self-sufficiency and reduced reliance on the US.
When asked to reassure that China wasn't planning imminent escalation against Taiwan, Wang demurred. "Let me assure the audience," he said instead, "that Taiwan is part of Chinese territory. It has never been a country and it will never be a country in the future".
It is therefore no surprise that NATO Secretary General Jens Stoltenberg said: "What is happening in Europe today could happen in Asia tomorrow."
A MEANINGFUL EFFORT TO END THE WAR?
In Munich, Wang announced that China would launch a peace initiative on the anniversary of the war, and had already been consulting Germany, Italy and France. He said the proposed plan would uphold the principles of sovereignty, territorial integrity and the United Nations Charter while also recognising the legitimate security interests of Russia.
It is not clear how a plan would accomplish this but, presumably, Wang will be in Moscow in part to gain Russian buy-in for the Chinese proposal.
China has played a minor role in the Ukraine war so far other than to state disapproval of Putin's threatened use of nuclear weapons and to blame the US for fomenting Russia's actions. But Chinese President Xi Jinping has also met Putin in person and raised his concerns about the war.
For a major power, UN Security Council member, and self-declared friend of Russia, continued inaction could be seen as a lack of interest, lack of imagination, lack of influence, or all three. The difference in optics with Biden in Kyiv could not be starker.
The invasion, coupled with increased Chinese aggressiveness towards Taiwan and the Philippines, has resulted in increased defence cooperation and defence spending in Japan, South Korea, Australia, Taiwan and the Philippines all directed towards China.
A meaningful Chinese effort towards ending the Ukraine war could help reset China's image in the world and give hope towards greater stability in the Indo-Pacific region.
James Carouso is a Senior Fellow and Chair of the Australia Advisory Board at the Center for Strategic and International Studies, Washington DC, and a former Acting US Ambassador to Australia.