Commentary: Why Putin told the world about Xi's 'questions and concerns' on Ukraine war
Their first meeting since the start of the Ukraine war led to Vladimir Putin's curious public acknowledgement of Xi Jinping's concerns. It shows Russia is willing to play the junior partner in the relationship, says former diplomat James Carouso.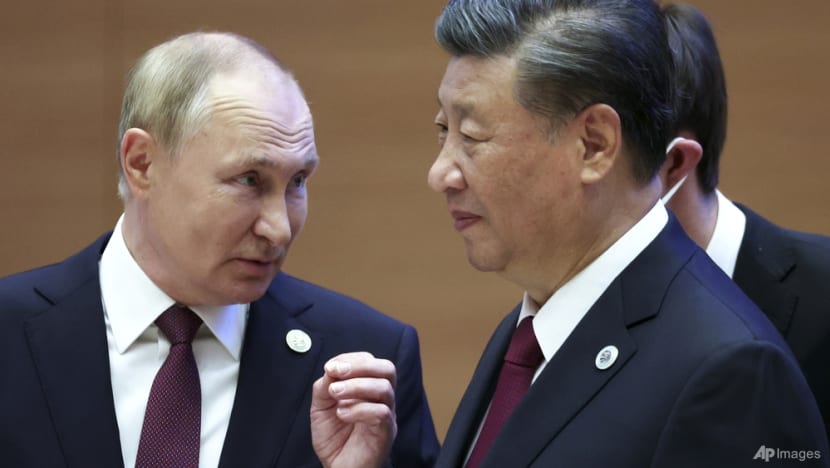 WASHINGTON DC: In their first meeting since February, Russian President Vladimir Putin and Chinese President Xi Jinping met on Sep 15 in Samarkand, Uzbekistan. Following their private discussion, Putin told the world that he had heard Xi's "questions and concerns" about the war in Ukraine.
Xi made no public mention of his questions or concerns. A Chinese government readout of the meeting made no reference to Ukraine.
A US State Department spokesperson said that while it was not surprising that China has such concerns, it is "somewhat curious that Putin would be the one to admit it so openly".
Why would Putin make public this apparent criticism from Russia's key economic lifeline in the wake of Western sanctions? It comes at a time of significant battlefield reversals in key disputed towns and Ukrainian troops pushing east.
For Xi to have done so in his first trip abroad since the pandemic also carries extra weight. China has so far refrained from condemning Russia for its action.
CHINA'S QUESTIONS AND CONCERNS ABOUT UKRAINE WAR
What questions and concerns could Xi have raised behind closed doors?
Xi cannot be happy about how long this war has been dragging out. If Russia had counted on military superiority, an unpopular Ukrainian government and Europe doing nothing more than wringing their hands in the tight grip of Russian energy, Putin would have been wrong on every count.
If Putin's next best bet is on Western support to crumble as a cold bitter winter bites and Europeans riot unwilling to suffer on behalf of a non-European Union country, it is a big gamble.
Ukrainian President Volodymyr Zelenskyy's warning to Europeans to brace for a difficult winter after Russia shut down the main gas pipeline taps into Western guilt and a collective fear of Russian expansionism. Western European governments have filled gas stores ahead of time and to cut energy use, which could be sufficient to tide them at least through the upcoming winter.
The defeat of Russia might not even be ruled out, considering recent military setbacks and continued weapons and financial support for Ukraine's efforts.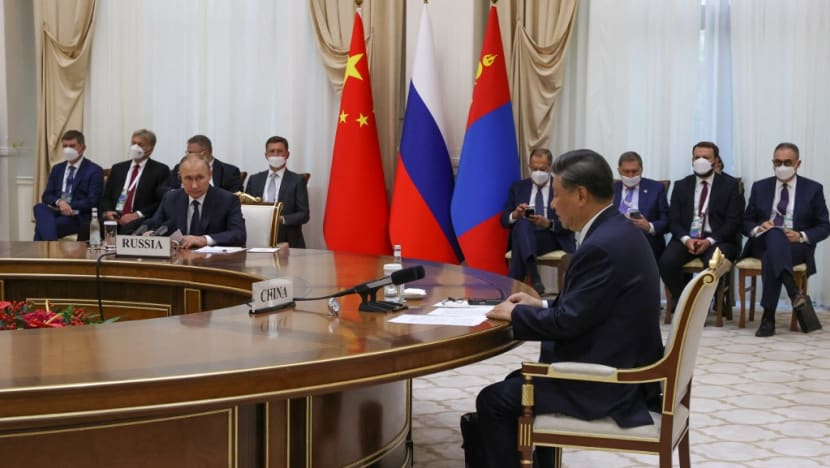 XI JINPING WEEKS AWAY FROM A THIRD TERM
It puts Xi in a tight spot, just weeks away from the 20th National Congress of the Chinese Communist Party on Oct 16.
China values stability and a shaky war effort is not it. A united West exercising global leadership doesn't help Xi paint a picture of Western decline, when China wants to reshape a new world order.
Like the rest of the world, China is also suffering from the economic pain and inflation, in part wrought by Russia's war. China's economy shrank by 2.6 per cent in the second quarter of 2022 compared to the first, and is widely expected to miss its 2022 growth target.
Though zero-COVID lockdowns may have been the bigger issue for China, at least Xi could hold up Chinese lives, given the comparatively low incidence and death, as worth the economic sacrifice.
China's debt-stricken property sector will require government bailouts, reportedly to the tune of 1 trillion yuan (US$148 billion). Export orders are drying up as foreign markets experience economic downturns.
So though Xi is widely expected to take on an unprecedented third term in power, he needs greater economic stability to push through his plans.
Then there is the complication with Taiwan. The Ukraine war might have boosted belief that the island can beat back a Chinese attack - with a record defence budget of US$19.4 billion proposed for 2023 – and re-energised America's regional alliances.
RUSSIA, THE JUNIOR PARTNER
What is happening in Ukraine makes Putin look weak. And it makes Xi also look weak by association.
It's not hard to imagine that Putin's public admission of Xi's concerns was engineered to be in both leaders' interest, with Russia playing the junior partner in the relationship and risking even more global approbation.
The message was intended for an international audience - it was not covered by Chinese state media. It allows China to showcase its international standing, to show the world Xi can speak bluntly to Putin who will "explain in detail our position" in response.
Though China is snapping up Russian oil and gas at highly discounted prices, Beijing has not lent support in ways that could trigger sanctions. Being seen to publicly "criticise" Russia could lend China more buffer to indirectly support Russia – such as recent agreements to pay for natural gas supplies in roubles and yuan.
This, in turn, allows Russia to preserve a crucial economic lifeline while it spends millions a day on the invasion. China has purchased a total of US$43.68 billion in oil, gas, coal and electricity imports from Russia so far this year, with a record US$8.3 billion in August.
How all this plays out should be closely followed until Xi and Putin meet again at the G20 summit in Bali in November.
James Carouso is a Senior Fellow and Chair of the Australia Advisory Board at the Center for Strategic and International Studies, Washington DC, and a former Acting US Ambassador to Australia.