Commentary: What would it take to snap Singapore out of its obsession with grades?
An inter-university survey found Singapore undergraduates still feel there is an "unhealthy obsession with grades" – even when employers have expanded their hiring criteria. NUS undergraduate Friedel Wong explores why and what it would take to move beyond grades.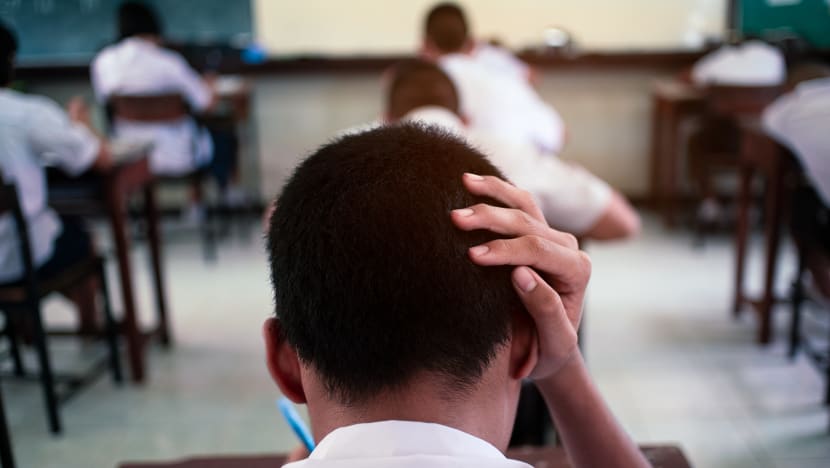 SINGAPORE: Even with growing awareness about youth mental health, students still bear the brunt of excessive academic pressure.
An inter-university survey released in June found Singapore undergraduates feel there is a "deep-seated and unhealthy obsession" with grades, and that they have to perform well to "get their foot through the door" in job applications.
Such high stakes not only create stress but a fear of failure. The 2018 Programme for International Student Assessment (PISA) study revealed 78 per cent of Singapore students agreed with this statement: "When I am failing, this makes me doubt my plans for the future," far higher than the global average of 54 per cent.
That statement would have thoroughly resonated with my 16-year-old self, as I constantly felt I had to excel in school. While I consistently fell short in mathematics and science, my friends seemed to be acing all their subjects.
Every time I received my report card, self-deprecating thoughts filled my mind: "My parents are going to be so disappointed in me. I try so hard but still I fail. How am I going to get into a good university and get a job in the future?" 
THE RELENTLESS OBSESSION WITH GRADES
Now that I'm in university, I wonder whether grades matter as much as I thought they did.
According to career coach Yvonne Kong-Ho, organisations have in recent years expanded their hiring criteria to include skills learnt outside school, internships and community involvement.
Employers are also more open to different educational pathways too. A head of recruitment of a multinational company recounted to me how a graduate from a private university approached her at a career talk.
His elevator pitch was compelling because he demonstrated resilience and a can-do attitude. The recruitment head ended up hiring him for a sales position – and he proved her right as he shone in his role. He was soon promoted to a marketing position within the same firm, a move achieved only by top performers.
Despite employers' convictions that conventional academic success isn't a prerequisite for being good at a job, our nation's meritocracy is a well-oiled system. The associated belief that doing well in school equates to doing well in life persists, particularly among teachers, parents and students themselves.
Then Education Minister Ong Ye Kung highlighted this disconnect at a 2019 forum. "Every CEO, board member, chairman I speak to will say (that they have a HR policy and hiring tools that do not just look at academic grades) but students, you still feel differently on the receiving end.
Minister Ong added he does not suggest moving away from the principle of meritocracy – but to broaden our definition of merit besides academics. Yet the emphasis on academic achievement remains, perhaps because it begins from such a young age.
Pre-schools, for instance, are now seen as a necessity rather than an option. While early childhood education can lead to better academic performance and interpersonal development later on, securing one could become an arms race where parents fork out more to afford the very best for their children.
Fast forward to when a child enters primary school, into an environment of high stress and anxiety. While the Primary School Leaving Examination scoring model has changed to reduce fine differentiation at a young age, students still need to achieve a certain grade to get into choice secondary schools.
Such a system hinders us from embracing the rhetoric that grades are no longer the only measure of a person's abilities and potential.
EVERYONE PLAYS A PART IN DESTIGMATISING FAILURE
While employers such as DBS Group Chief Executive Piyush Gupta say grades are helpful in shortlisting candidates, more are taking steps to expand their hiring criteria. DBS uses a virtual recruiter that can review candidates' CVs and responses to pre-screening questions, and conduct psychometric profiling tests.
But youths can also rewrite the narrative on success. Instead of submitting to a debilitating fear of failure, we can focus on our individual strengths.
I was never strong at mathematics and sciences, which pulled my overall grades down – but I was good at the arts and humanities.
In secondary school, my constant failings at maths and science caused me great disappointment. However, when I took up the Humanities stream in junior college, I started doing better. Delving deeper helped me discover a keen interest in human behaviour.
Today, I am a thriving Sociology undergraduate who's thoroughly enjoying my academic training. Upon graduation, I hope to utilise my skills in understanding empirical data to ask and answer complex questions surrounding social issues, thereby employing my strengths in a variety of disciplines.
Perhaps the biggest lesson that I've learnt is to reframe my personal crisis into an opportunity, and to hone my strengths instead of lamenting my weaknesses.
PARENTS CRITICAL IN THIS EQUATION
Since a mindset shift is crucial to moving beyond grades, parents need to be on board.
At a 2021 dialogue on student mental well-being moderated by Education Minister Chan Chun Sing, participants unanimously agreed parents play a critical part in supporting their children's aspirations and helping to moderate their stress levels. Their role could be as simple as listening without offering advice or judgment.
It was not without challenges that I am able to pursue my passions today. My parents used to tell me that humanities students will have limited job and income prospects. While well-intentioned, their remarks made me question and doubt my strengths.
It was with much persuasion – sharing the reasons why I was passionate about the humanities and what potential career paths there are – that they gradually accepted my aptitude for the arts and not sciences. Their support, while hard-earned, has allowed me to flourish in my major today.
The confidence parents inspire in their children can have trickle-down effects too, on other youths they may end up mentoring. Such upstream efforts could alter the attitudes of generations as they learn to embrace their individual talents.
When employers value skills over grades and youths take risks to grow with their parents' support, so much more potential can be realised. Young people can explore life to the fullest, without heavy expectations weighing on their shoulders.
Only then can our society enter a stage where education and learning are not tied to stress and anxiety but rather curiosity and excitement.
Friedel Wong is a third-year sociology student at the National University of Singapore.