Commentary: Yoon celebrates US alliance in Washington visit - but jury's out if all in South Korea agree
Securing defence commitments from the US was important for South Korea President Yoon Suk-yeol, but time will tell if they address growing concerns among South Koreans about partnering with Washington, says Ted Gover of Claremont Graduate University.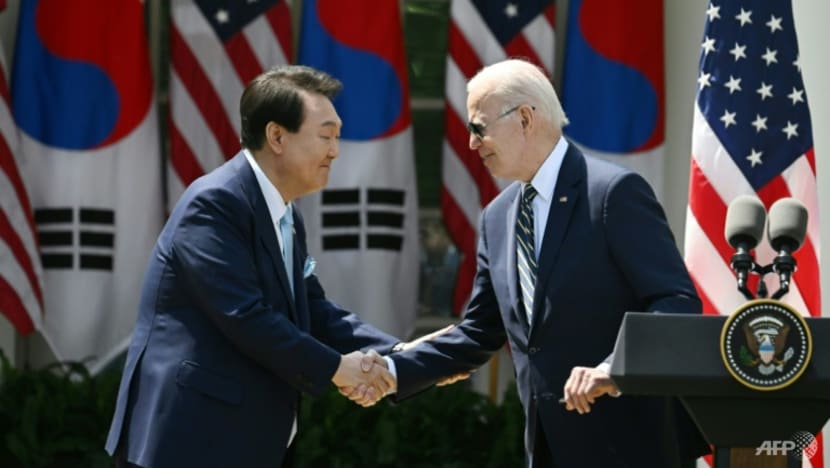 LOS ANGELES: South Korean President Yoon Suk-yeol's Apr 27 address to a joint meeting of the US Congress served as an important opportunity to mark the 70th anniversary of the United States-South Korea security alliance.
Yoon made the case for closer relations with the US, speaking to the "dire human rights situation" in the North and the need to "strengthen US extended deterrence" against North Korea's nuclear threat. He noted the benefits of both countries' economic cooperation, touting the tens of thousands of American jobs created by South Korean investment. 
Notably, President Yoon stressed America's and South Korea's shared commitment to the rules-based order in the Indo-Pacific. He urged the alliance to "fight the forces that seek to destroy democracy" and emphasised "freedom and peace are sources of creativity and innovation that bring prosperity".
US DOUBLES DOWN ON DEFENCE PROMISES, BROADENS PARTNERSHIP
President Yoon arrived on Capitol Hill fortified by his Apr 26 White House visit, during which he and President Biden signed the Washington Declaration. The declaration states the US will involve Seoul in its nuclear weapons planning in addition to deploying US nuclear-armed submarines to South Korea on a rotational basis.
As part of the agreement, South Korea pledged to not develop its own nuclear weapons programme. Yoon also received assurance from Biden that a North Korean nuclear attack against the US or its partners is unacceptable and would result in the end of the regime in Pyongyang.
Biden and Yoon also broadened the alliance to include new collaboration in non-defence areas such as semiconductor chips, cybersecurity, space and electric vehicle batteries. 
Although securing these promises was important for Yoon politically, he still faces the reality that an increasing number of South Koreans have raised doubts about America's commitment and ability to protect their country. 
Complicating matters, polls indicate that 70 per cent of South Koreans want nuclear weapons as a deterrent against North Korea and China. It remains to be seen just how many of these people will end up questioning Yoon's decision this week to forgo a nuclear weapons programme and rely ever more on Washington for defence.
US-SOUTH KOREA-JAPAN SECURITY COOPERATION
During his address, Yoon spoke of the need "to speed up" US-South Korea-Japan security cooperation. This relates to efforts by Washington, Seoul and Tokyo to deepen joint military relations for purposes of countering the threat from Pyongyang and providing a counterbalance to China's growing regional ambitions. 
The Washington-Seoul-Tokyo trilateral security initiative has been made possible by President Yoon's admirable investment of significant political capital on efforts to improve ties with Tokyo. South Korea-Japan relations have been fraught over the years because of Imperial Japanese colonialism of the peninsula and controversy over comfort women and forced wartime labour. 
Thus far, Seoul and Tokyo have begun the process of restoring trade ties in addition to joining the US military in conducting joint defence exercises.  
Yet, Yoon's rapprochement with Japan have not been without snags. Part of this relates to Yoon's efforts to resolve the forced labour issue with Japan. The deal Yoon negotiated arranges compensations for wartime labourers under Japan's colonisation of Korea to be provided by voluntary private sector donations.
The point of contention among many in South Korea is that the Japanese companies at fault are not required to pay into the fund. They believe that collecting the funds from voluntary civilian donations lets Japan off the hook. This discontent will possibly become a thorn in the side of South Korea-Japan relations and could come to a boil after Yoon leaves office.
BACKLASH FROM BEIJING AND MOSCOW
And then there is Beijing. China's reaction to the Washington Declaration was scathing. A Foreign Ministry spokesperson derided the agreement as reflecting a Cold War mentality, undermining the Treaty on the Nonproliferation of Nuclear Weapons and upending regional peace. 
This has left some in Seoul worried that Yoon's pro-US tilt may alienate China, its largest trading partner. 
On April 24 South Korean opposition leader Lee Jae-myung called for Seoul to adopt a more balanced approach towards relations with Beijing and Washington. Worried that Seoul has become too dependent on the US, Lee described President Yoon's approach as "self-destructive". 
There is little doubt that Lee also disapproved of President Yoon's recent statement to Reuters that a human rights crisis in Ukraine may induce South Korea to provide weapons to Kyiv. During the interview, Yoon also communicated his opposition to changing the status quo on Taiwan through the unilateral use of force.
This bold talk by Yoon - uncharacteristic of the often cautious and measured diplomacy that South Korea is known for - drew condemnation from Moscow and Beijing. 
Time will tell whether President Yoon feels secure enough politically to continue with his forward-leaning approach towards foreign relations. If so, Yoon may accede to Biden's request to provide Ukraine with the lethal aid it has been requesting.
Part of it will depend on how the South Korean public views Yoon's deliverables from last week's state visit to Washington.
Ted Gover, PhD, is Associate Clinical Professor at Claremont Graduate University in Los Angeles.