Commentary: For South Korea, rapprochement with Japan is a sensible but unpopular move
South Korean President Yoon Suk-yeol sees the strategic logic for closer ties with Japan, but his political opposition does not and Tokyo can afford to play hard to get, says international relations professor Robert Kelly of Pusan National University.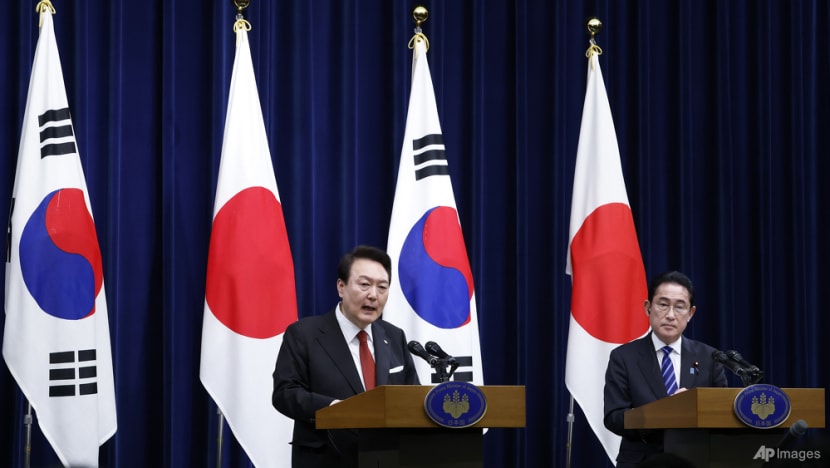 BUSAN: The president of South Korea, Yoon Suk-yeol, travelled to Tokyo on Mar 16 to meet Japanese Prime Minister Kishida Fumio.
The meeting has been hailed, particularly in the Western media, as a breakthrough. Japan and South Korea have long been estranged despite their similarities. Both are liberal democracies allied with the United States. Both fear the rise of an authoritarian China and the spiralling nuclear and missile programmes of North Korea.
But persistent disagreements on Japan's imperial domination of Korea, from 1910 to 1945, have separated the two. South Korean nationalism is deeply anti-Japanese. Japanese imperial behaviour was harsh, and South Korea has sought apologies and contrition for decades.
Japanese elites have long danced around a full admission of wartime behaviour. The result has been geopolitical distance between the two despite shared strategic concerns.
RAPPROCHEMENT IS THE RIGHT STRATEGIC MOVE
Yoon appears to be reevaluating that distance. It is he who proposed the current deal, which led to the recent trip. Yoon has yet to make a major address about the rapprochement, but it appears that he and his conservative administration believe China and North Korea are now so threatening that South Korea should concede on historical issues in the interest of strategic cooperation with Japan.
This will be unpopular with South Korean voters, but it is the right move geopolitically. Chinese President Xi Jinping has just installed himself for an unprecedented third term. He has pursued a belligerent regional policy, bullying smaller states along China's perimeter (including South Korea), making expansive territorial claims in the South China Sea, and obfuscating about COVID-19.
This "wolf warrior diplomacy" is driving east Asian states together for fear of Chinese ambitions. The recent upgrade of the AUKUS grouping - Australia, the US, United Kingdom - similarly reflects anxiety about China.
North Korea too is a major threat to South Korea, as it is now very clear that Pyongyang will never denuclearise. Previous South Korean president Moon Jae-In made an extraordinary effort to solicit North Korean leader Kim Jong Un for a settlement of peninsular issues.
Moon even convinced then-US president Donald Trump to try diplomacy with North Korea, a huge breakthrough for the reclusive regime. Yet Kim offered nothing substantive to Moon and a very unbalanced deal to Trump in their one serious negotiation in Hanoi in 2019.
In the wake of the Moon-Trump failure - or rather, Kim's stubborn unwillingness to make genuine concessions - the US, South Korea, and Japan must now adapt to a permanently nuclear North Korea. Coordination between the three countries to contain and sanction North Korea is more important than ever.
Yoon, Kishida, and US President Joe Biden all know this. The US has sought for years to foster a South Korea-Japan reconciliation to address these regional strategic issues. Yoon likely agreed to move on Japanese historical issues because the region's strategic problems are worsening, not improving.
CAN YOON SELL RAPPROCHEMENT TO SOUTH KOREAN PUBLIC?
If the external logic is clear, the domestic logic for Yoon is much tougher. The current deal resolves South Korean demands for compensation for Korean labour impressed by the Japanese Empire. Japan has steadfastly refused these claims, and Yoon basically accepted that refusal, seeking to compensate labourer descendants in other ways.
This arrangement was immediately attacked by the South Korean opposition as a massive betrayal. Yoon is a conservative and hawkish on North Korea and China. The South Korean right has long sought to move the South Korean strategic conversation away from Japanese historical recrimination.
But the South Korean left is deeply committed to regular statements of Japanese contrition. It is also dovish on North Korea. It has long sought an inter-Korean breakthrough so that the two Koreas might focus their ire on Japan.
This has eluded South Korea's progressive presidents, but South Korean nationalism remains focused on the imperial period. Only 40 per cent of South Koreans - conservative base of Yoon's coalition - support Yoon's imperial labour deal. This suggests that whenever progressives retake the presidency, they will undo the current rapprochement.
Indeed, this has happened before in 2015, when South Korean conservative president Park Geun-Hye struck a reparation deal for South Korean women forced to work in Japanese military brothels. This is a deeply emotional issue in South Korea and progressives bitterly attacked the deal. When progressive President Moon took the presidency in 2017, he abandoned Park's deal.
This is the threat Yoon faces. He must sell his deal not only to his own voters, but to centrists and leftists who want more movement from Japan on historical issues. Yoon needs to make a major effort to convince sceptics through speeches, television appearances and national strategy reevaluations. If not, this labourer deal will fall apart as the 2015 deal did.
JAPAN CAN AFFORD TO WAIT
South Korea's problem is that it needs a deal with Japan more than vice versa, because it is both smaller than Japan and more vulnerable to Chinese and North Korean pressure.
The US relationship with Japan is the anchor of the American alliance network in East Asia. By contrast, Trump, a leading Republican candidate for the 2024 presidential election, wanted to withdraw US troops from South Korea.
So Yoon is in a tight spot. He sees the strategic logic for a rapprochement, but his political opposition does not and Japan can afford to play hard to get. He needs to push this deal hard before the South Korean public if it is to stick, and even if he does, it is unclear if it will hold.
Robert Kelly (@Robert_E_Kelly) is a professor of international relations in the Department of Political Science at Pusan National University.