Commentary: Mental health education - what more can we do for our children?
With suicides in Singapore rising to their highest level in more than 20 years, it's timely to look at how schools can help with mental health education, says former NMP Anthea Ong.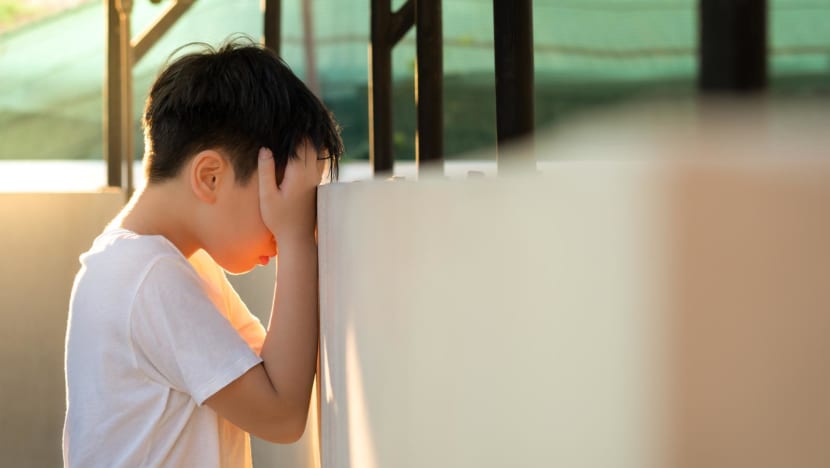 SINGAPORE: Suicides in Singapore rose by 26 per cent last year to their highest level in more than 20 years. Of the 476 suicide deaths last year, 34 were youths aged 10 to 19, according to latest data from the Samaritans of Singapore (SOS) on Saturday (Jul 1).
A friend who teaches at a secondary school sadly had to deal with a second suicide from his upper secondary class earlier this year. 
Amid growing concern over youth mental health, schools have been taking steps to increase awareness and support.
Mental health lessons were introduced as part of a refreshed Character and Citizenship Education (CCE) curriculum to all lower secondary students in 2021. This is being progressively rolled out to the rest of the primary, secondary and pre-university levels this year. 
All schools have also established peer support structures since 2022, according to the Ministry of Education (MOE).
As much as I am heartened by this systemic policy shift having urged strongly in Parliament as well as in a TODAY commentary in 2019 for mandatory mental health education, I am also concerned that we are merely playing catch-up with these initiatives. The COVID-19 pandemic and an increasingly uncertain world have magnified pre-existing mental health issues and introduced new ones.
A study by the National University of Singapore (NUS) released in April found that one in three adolescents between the ages of 10 to 18 reported internalised mental health symptoms such as depression, anxiety and loneliness.
At least one in 10 respondents also met the full diagnostic criteria for having at least one current mental health disorder, according to the Singapore Youth Epidemiology and Resilience Study, which collected data from 3,336 adolescents during the 2020 to 2022 pandemic years. 
Simply put, this means that in a class of 40 students, 12 or more of them are struggling with mental health challenges, with four of them likely living with one or more mental health disorders - whether they have sought clinical help or not. 
Take a moment to imagine the mental load on the teacher as well as the challenging emotional dynamics of the class that would clearly affect all students. 
Will these new statistics, perhaps, restart the conversation for smaller class sizes in public schools? What more can we do in school-based mental health education? 
MENTAL FITNESS: WE BECOME WHAT WE PRACTISE
According to MOE, the refreshed CCE lessons aim to help students learn about healthy mindsets, habits and skills to strengthen their mental well-being and how they can identify signs of distress and mental illness, and where to seek appropriate help.
Aside from mental health, the CCE curriculum covers multiple content areas such as national education, sexuality education, education and career guidance, cyber wellness, and family education.
Understandably, the two or three periods per week of CCE to cover all these topics would not allow mental health education to be a weekly priority or discussed in great depth. 
In addition, learning about mental health as part of CCE is not the same as practising skills regularly to improve mental fitness. 
In physical education (PE), for example, we learn about exercise by actually working out. Similarly, we learn about dental hygiene by practising brushing our teeth (those of us who are older will have fond memories squatting by the school drain with our classmates to brush our teeth). 
I do not think I would have recovered from my own personal brush with depression 16 years ago if I did not, amongst other things, practise meditation every morning. 
We become what we practise. So is there an argument to be made for schools to provide regular opportunities like PE to practise mental hygiene and fitness? Can schools integrate mental health into current PE lessons, and rebrand it as total health education? 
For example, students are taught CPR during PE classes. Is it possible then to introduce somatic exercises during PE lessons for students to practise focusing on how their body feels as they make certain slow and deliberate movements?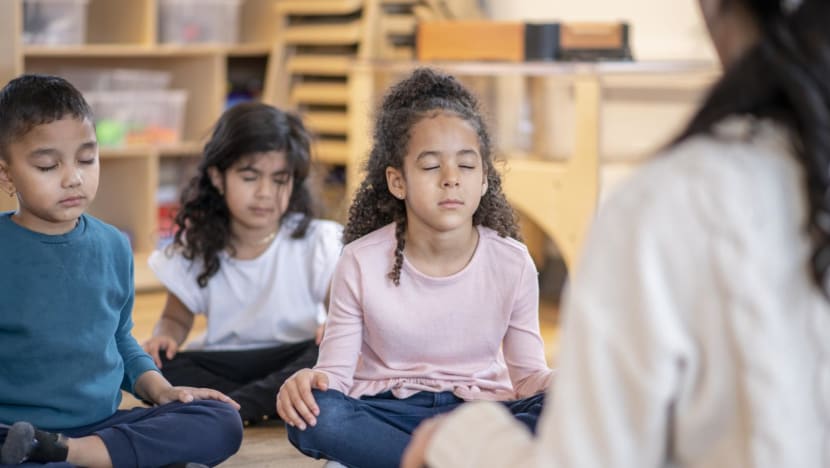 The students would learn to be self-disciplined as they have to be aware of their body, how, why and where it is moving. This also makes them feel organised and brings about a calm and stable mindset.
Meanwhile, consider if it might also be beneficial to move to a more proactive narrative of mental fitness and bring it to parity with physical fitness. For example, what would the mental fitness equivalent of the National Physical Fitness Award (NAPFA) test - a mandatory requirement but without academic consequences, look like? 
CALM SCHOOLS, CALM ROOMS FOR CALM MINDS 
Students face a range of stressors daily. It might be beneficial for schools to help students prepare themselves mentally for the day ahead with deep breathing exercises during assembly. Teachers too could start each class with three deep breaths to help reset students' focus and re-centre themselves amidst the intensity of teaching. 
In a California school district, an experiment with "calm rooms" called "wellness centres" that provide students a safe space to address their social and emotional needs has shown to have improved their mental health, with a lower rate of students considering suicide (11 per cent for grade 11 students in 2021 ) compared with the percentage statewide (16 per cent for students in grades 7 to 12).
Would it be possible for schools in Singapore to have "calm rooms" for students who are feeling stressed or emotionally dysregulated to go to for short periods of time?
Such rooms could have soft seating and lighting with worksheets or posters to help students identify and reflect on how they are feeling, such as "What are your emotions telling you?". This would give them a safe space to practise self-regulation so that they can return to class with minimal disruption to themselves or others.
To the extent practical, students should be involved in creating the calm rooms to encourage ownership and use.
During the pandemic two years ago, I started nudging the leaders of Cedar Girls Secondary School, at which I am Vice Chair of, for a calm room. We have finally found a special space in the school besides the garden, and are starting to put the wheels in motion with community and business partners for their expertise and support resources. 
MENTAL HEALTH EDUCATION IS NOT SCHOOL'S RESPONSIBILITY ALONE
But it cannot be the responsibility of the Ministry of Education (MOE) or schools alone to address the mental health of our youths; students go home to their family.  
The NUS youth resilience study found that only around one in 10 parents could spot clinical-level mental health symptoms in their children. The study affirmed the need for parents to be more deeply involved in understanding and identifying their children's mental health concerns. 
"Many of us don't really know our teenagers very well", said NUS' Yong Loo Lin School of Medicine Associate Professor John Wong, who led the study. 
The late Swiss psychiatrist, Carl Jung, once said that if there is anything we wish to change in the child, we should first examine it and see whether it is not something that could be better changed in ourselves. 
Through the pandemic, more than a few fellow CEOs from WorkWell Leaders asked for support regarding their children's mental health. One asked me to explain the difference between a psychiatrist, psychologist, therapist and counsellor after his teenage daughter came to him wanting to seek professional help. 
More can be done between MOE, the Ministry of Family and Social Development (MSF) and employers to support working parents with the skills and resources to better support their children's mental well-being.
Alumni and parent support groups (PSG) should also consider stepping up to make mental health literacy an explicit priority for their members and bring in community partners to provide more mental health learning opportunities for students. 
Last month, I was invited by the PSG of a neighbourhood school in Tampines to share my personal mental health journey and practices with their primary six cohort. It was heartening to see the 12-year-olds try their best to practise sitting still and breathing as I invited them to imagine "smelling your favourite flower" (inhale) and "gently blowing your birthday candle" (exhale). 
After that, one student asked anonymously if they were crazy to feel so stressed out and anxious in the preparation for PSLE. 
"No, you are not crazy - you are just human and only 12 years old", was my empathic response. 
Franklin Roosevelt famously said: "We cannot always build the future for our youth, but we can build our youth for the future". Adolescence is a unique and formative time. Building a sense of self and meaning is important for the well-being of our young people. 
Beyond peer support networks and CCE lessons, how much more and how urgently we invest in mental health education in families, schools and communities for our children speaks volume of our priorities for the future, and the kind of society we will become. 
Let's make every school a good well-being-promoting school.
Where to get help:
Samaritans of Singapore Hotline: 1767
Institute of Mental Health's Helpline: 6389 2222
Singapore Association for Mental Health Helpline: 1800 283 7019
You can also find a list of international helplines here. If someone you know is at immediate risk, call 24-hour emergency medical services.
Anthea Ong is a former Nominated Member of Parliament, professional certified coach, leadership speaker and social entrepreneur (SG Mental Health Matters, A Good Space Co-operative, Hush TeaBar). She is also Chairperson of WorkWell Leaders, a Singapore-based charity focused on mental well-being as a leadership priority.
LISTEN - Daily Cuts: Suicides in Singapore rise to 22-year high