Leadership Summit
SCHEDULE
27 October 2020
TV EPISODE 1:

Re-imagining the new normal

Tuesday, 27 October 2020, 9pm - 10pm (SIN/HK Time)
Segment 1: Fireside Chat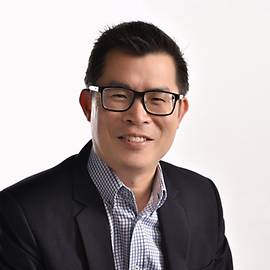 Moderator
Jaime Ho
Chief Editor, CNA Digital
Speaker
Dr Vivian Balakrishnan
Minister for Foreign Affairs and Minister-in-Charge of the Smart Nation Initiative, Singapore
The after-effects of the COVID-19 pandemic is expected to last far longer than the contagion itself. This crisis has forced more businesses to rely on digital solutions, develop a more agile workforce and spawn new waves of innovation to boost business resilience as the world transits to the new normal. From smart temperature screening systems, delivery innovation, and diverse robot usage to IOT solutions, apps, virtual learning and cloud security, how has the Smart Nation Initiative supported these changes? What are the implementation hurdles and lessons learned?
Segment 2: Innovation in a Post-Pandemic World
Speaker
James Chang
Chief Executive Officer, Lazada Singapore
The global pandemic has forced many organisations to make drastic changes to the workplace to ensure business continuity. To remain competitive in an uncertain environment, the need for bold imagination and innovation is even more critical than before. Cultivating a mindset and culture for innovative and creative thinking can lead to the emergence of disruptive enterprise solutions and new business opportunities. How can corporate innovators help organisations pivot and pursue creative ideas leveraging on technology and untapped resources as they emerge from the crisis?
28 October 2020
Webinar 1:

Building An Agile Organisation

Wednesday, 28 October 2020, 10am - 11am (SIN/HK Time)

Register your interest for Webinar 1
3 November 2020
TV EPISODE 2:

Transforming the post-pandemic organisation

Tuesday, 3 November 2020, 9pm - 10pm (SIN/HK Time)
Adam Jill
International Speaker
Segment 1: Transformation in the Post-Pandemic World
Organisations challenged by the global health crisis have been finding new ways to serve their customers and communities. To create long term resilience, business leaders will also need to reassess ways to deploy emerging digital technologies and transform their business model to pivot operations to scale up or shrink in response to changes in consumer demands. How do we re-imagine the post-pandemic organisation?
Person 2
International Speaker
Segment 2: Talent in a Post-Pandemic World
Speaker
Grace Yip
Head of HR, Southeast Asia, Accenture
The COVID-19 pandemic has fundamentally changed the way we work. A major trend across all industries, will be the increasing shift towards remote deployment, demonstrating the importance of maintaining an agile workplace culture. Building an adaptable and flexible digital-ready workforce may require new systems for talent attraction, retention, training, and leadership development to better respond to changing business needs and economic disruptions. Many now say it will be "business unusual". So what will the new normal be for the workforce?
4 November 2020
Webinar 2:

Strategic Changes From An Unexpected Crisis

Wednesday, 4 November 2020, 10am - 11am (SIN/HK Time)
Speaker
Simon Dale
Managing Director, Southeast Asia, Adobe
Register your interest for Webinar 2
Adam Jill
International Speaker
More organisations are embracing digital transformation and taking this opportunity to reinvent themselves in order to face an uncertain future. Besides implementing technologies such as IOT solutions, big data, cloud and security, what strategic approaches should business leaders adopt to create long-term value? How can they harness new opportunities and respond to other inevitable challenges in the future?
SPEAKERS
Dr Vivian Balakrishnan
Minister for Foreign Affairs and Minister-in-Charge of the Smart Nation Initiative, Singapore
Dr Vivian Balakrishnan, 59, studied Medicine at the National University of Singapore (NUS) after being awarded the President's Scholarship in 1980.

After graduation, Dr Balakrishnan specialised in Ophthalmology. He was appointed Associate Professor of NUS and Deputy Director of Singapore National Eye Centre (SNEC) in 1997. In 1999, he became Medical Director of SNEC. He was appointed Chief Executive Officer of Singapore General Hospital in 2000.

Dr Balakrishnan has been a Member of Parliament since 2001.

Currently the Minister for Foreign Affairs and the Minister-in-Charge of the Smart Nation Initiative, Dr Balakrishnan has also previously held appointments as the Minister for the Environment and Water Resources, Minister for Community Development, Youth and Sports, Second Minister for Trade and Industry, Minister responsible for Entrepreneurship, Second Minister for Information, Communications and the Arts and Minister of State for National Development
Dr Thomas Becker
Vice President Sustainability, Mobility, BMW Group
Since October 2019, Dr Thomas Becker holds the position as Vice President Sustainability, Mobility at the BMW Group. Dr Becker was Vice President Government and External Affairs at the BMW Group in Munich from 2007 to September 2019. During his time in the area of Government and External Affairs, he supervised the worldwide representation of the BMW Group's political interests, the company's approach to integrate political topics into the product as well as business communications and the steering of the sustainability communication of the company.

Dr Becker started his career as an expert in the department of environmental policy at the Association of the German Industry (BDI) in Berlin. After this, he held several leadership positions at the Association of the Automotive Industry (VDA) in Frankfurt. Before his current role with the BMW Group, Dr Becker worked as Deputy Managing Director at VDA, where he was responsible for the association's co-management.

Dr Becker received his PhD degree (Dr. rer. pol.) from the Reinhard-Mohn Foundation Chair for Management at the University of Witten / Herdecke. He also holds a diploma in economics from the University of Cologne.
Ritu Chandy
Regional Chief Executive Officer of Financial Services, Asia Pacific, BMW Group
Ms Ritu Chandy is responsible for the Financial Services business across seven countries in the Asia Pacific region – Australia, New Zealand, India, Japan, Malaysia, South Korea and Thailand – as well as the strategic partnerships in Indonesia, Singapore and Vietnam. Ritu, who holds an Executive MBA from the University of Chicago Booth School of Business, has been working with the BMW Group since 2001. Beginning her career in Australia, she has held a variety of senior leadership positions across the Asia Pacific region and North America over the past 17 years.

From 2010 – 2014, Ritu was based in Singapore and was Head of Treasury for Asia Pacific where she led teams based in Singapore and Beijing, responsible for Foreign Exchange, Interest Rate Risk and Debt Funding across BMW Group operations in the region. Prior to her latest appointment, Ritu served as Chief Financial Officer and Vice President of Finance, BMW Group, Financial Services, North America from 2014 – 2018 where she was responsible for the financial oversight and development of all Financial Services Companies of the Americas Region.
James Chang
Chief Executive Officer, Lazada Singapore
James Chang is the CEO at Lazada Singapore. He has 8 years of eCommerce experience and has been with Lazada Group since 2012, managing key functions across Southeast Asia. His skills include eCommerce, operational strategy, corporate strategy, start-up management, market analysis, and operation consulting.

Before his current appointment, James co-founded Lazada Philippines and served as Managing Director for two years, building the team and growing the business to be one of the top eCommerce marketplaces in the Philippines. James also incubated Lazada Group's Crossborder business as the Chief Crossborder Officer, paving the way for Southeast Asia's over 600 million customers to have access to overseas products.

James graduated from the University of Western Ontario and holds a Bachelor of Finance (Management and Organizational Study) and a Bachelor of Honours Business Administration from the Richard Ivey School of Business.
Russell Cohen
Group Managing Director, Operations, Grab
Russell Cohen currently leads Grab's operations and country teams across Southeast Asia, responsible for P&L, business and operational performance. Russell has over 18 years leadership experience in the mobile, telecom, software and distribution industries, leading teams and businesses across Asia Pacific whilst living in Australia, Hong Kong, Singapore and Japan.

Prior to Grab, Russell was with SoftBank C&S in Tokyo as Board Director and Vice President of Business Development & Corporate Strategy from 2014 to 2017, leading all new business, partnerships, global vendor management and M&A strategy. Russell joined SoftBank following the acquisition of Brightstar Corp, where he was Regional Managing Director of Asia based in Singapore from 2012 to 2014, covering 9 markets across the region. Russell also established and ran the Greater China region for Brightstar from Hong Kong, between 2009 and 2012. Prior to Brightstar, Russell worked at Telstra Corp. in Australia.

Russell holds a Master of IT from University of Melbourne and a Bachelor of Commerce (Accounting & Finance) from Monash University in Melbourne, Australia.
Simon Dale
Managing Director, Southeast Asia, Adobe
A respected leader in the industry, Simon Dale has over three decades of professional experience in the technology sector, including eighteen years in Asia Pacific. His career has spanned development, sales management and executive leadership at both start-ups and large corporations. Most recently, Simon held senior roles at MapR and SAP where he established and scaled new businesses across the region, and gained deep and practical understanding of the software and cloud services business.

Simon currently sits on the advisory board of the Nanyang Polytechnic School of IT, and is an active mentor and angel investor in multiple start-ups. He is also a mentor and coach to early talent through Mentorshub.

Simon graduated from Middlesex University with a Master's Degree in Sales Management and Sales Transformation, and has a Bachelor's Degree in Computing Science from Staffordshire University. He has also attended a Management Development Program at INSEAD, and is currently a student of the Singapore Management University SID-SMU Directorship Program.
Ahmed Mazhari
President, Microsoft Asia, Microsoft
As President of Microsoft Asia, Ahmed Mazhari oversees a vibrant and diverse region comprising 20 countries, 22,000 employees, and 100,000 partners. He focuses on acceleration of the Asia Pacific region's digital transformation enabled by Microsoft, as the leading productivity and platform company, through its product, service and support offerings. He also continues to build and reinforce Microsoft's reputation as a trusted partner for individuals, organizations and governments.

Ahmed believes in deepening collaborations with Microsoft's customers and partners in Asia to accelerate digital adoption and empower innovative advancements in the region. This is fueled by his deep understanding of business process transformation and his passion for embracing change and implementing creative solutions in a fast-paced world.
Nutan Singapuri
Senior HR Director, LinkedIn APAC
Nutan Singapuri, Senior HR Director for LinkedIn APAC, has over 20 years of working experience in a variety of industries. With a first class honours degree in Sociology and Economics from the National University of Singapore, Nutan started her career in business development in the aviation industry and co-created an NGO start up.

For the last 15 years, Nutan has been in Human Resources (HR) where she has taken on leadership positions in HR in a number of reputable large multinational /global organisations, including Microsoft, GE Capital, Cargill and SingTel. Her experiences include driving thought leadership for the HR function across a number of countries in the Asia Pacific region, M&A and integration, talent management and organisation development in emerging markets.

Nutan has also played an instrumental role in working closely with CEOs and senior business leaders on shaping the people agenda and imperatives in all the roles she has been in. She has been a trusted partner and coach with business leaders on a variety of personal/individual or team challenges in times of change and has supported building high performing teams.

Nutan's passion for sociology and the creative arts lends her to a natural curiosity to understand human motivation and challenges herself constantly to live with authenticity and significance. Nutan is married with two children and lives in Singapore.
Simon Tate
President, Asia Pacific, Adobe
Simon Tate is a 20-year IT veteran with rich experience across business development and leadership roles in APAC. He has served on advisory boards with technology companies in early stage funding, and holds copyright over the P6© Risk Management Methodology, now used by 5,000+ B2B sales people globally.

Simon was born in Australia, grew up in South Africa and Zimbabwe, and graduated in Engineering from the University of Technology Sydney. He has recently returned from Singapore and now lives in Sydney with his wife and two children.

Before joining Adobe, Simon worked with companies such as NetComm, SAP, and Salesforce. The three values Simon has firmly anchored himself to through his career are: Fun, Family and Freedom.
Grace Yip
Head of HR, Southeast Asia, Accenture
Grace Yip is currently the Head of HR for Accenture Southeast Asia and part of the Global HR Management Committee.

Grace is responsible for Accenture's Southeast Asia talent strategy, HR service delivery and HR business partners locally to bring their talent ambition to life in this important growth market. Strategic workforce enablement, HR innovation and future proofing HR practitioners are themes that she is passionate about. In this leadership capacity, she has led her team to win multiple awards within and outside of Accenture including HR innovation and Inclusion & Diversity awards.

Grace currently serves as a judge for Singapore Public Service for Excellence in Public Service and Best Practice awards. She is a member of Institute for Human Resource Professionals (IHRP) Professional Practice's committee. She also serves on the HR Committee of National Volunteer & Philanthropy Centre (NVPC).
Chih-Han Yu
CEO, Appier
Chih-Han Yu is the CEO and co-founder of Appier, a leading AI company whose mission is to help enterprises solve their most challenging business problems with AI-powered platforms. Under his leadership, Appier has grown from a 4-person living room startup to a multinational leading AI company with more than 400 employees across 15 offices in 14 markets. Appier has also been recognized as one of the top 50 revolutionary AI companies by Fortune Magazine.

In 2016, Chih-Han was named a Young Global Leader by the World Economic Forum, making Appier the only Asian AI company to make the list. Prior to Appier, Chih-Han has authored dozens of research articles in the field of AI, robotics and machine learning. He obtained his Ph.D. degree in AI from Harvard University and earned his master's degree from Stanford's AI Lab.
more stories on singapore