IN FOCUS: Attracted to danger - why some people go on risky vacations
With growing demand for adventure travel, CNA explores why some people want to embark on a vacation which puts them at risk of injury or death.
Global adventure tourism industry is on the rise, with some local operators specialising in such travel seeing more than 50 per cent increase in customers
People who engage in adventurous activities are aware of the dangers but are confident that they can manage the risk, say experts
Experts also highlight the gaps that still need to be addressed in the area of insurance for adventure tourism
SINGAPORE: Falling into loose rocks, sustaining minor cuts and bruises, and getting lost. This was the experience of climbing an unnamed peak in the Indian state of Manali for 24-year-old Paul Chow and his friend.
While the terrain looked manageable at first, the quality of the rocks became poor and increasingly loose as the pair climbed higher and higher. 
"We knew that the terrain was kind of getting out of hand. So, we realised that okay, this is not comfortably within our skill level and we decided that it would be best if we turn around," said Mr Chow, a final-year accounting student at the National University of Singapore (NUS).
However, upon turning around, Mr Chow and his friend found themselves lost, having strayed off from their initial ascent path. "We were a little bit worried because we were all by ourselves and there weren't other climbers around," he said. 
Recounting the incident, Mr Chow said he and his friend used terrain landmarks to ensure they stayed on track and were heading in the right direction - knowledge they picked up as members of the NUS mountaineering club. 
They also had access to compasses and a topographical map of the area, which helped with their navigation.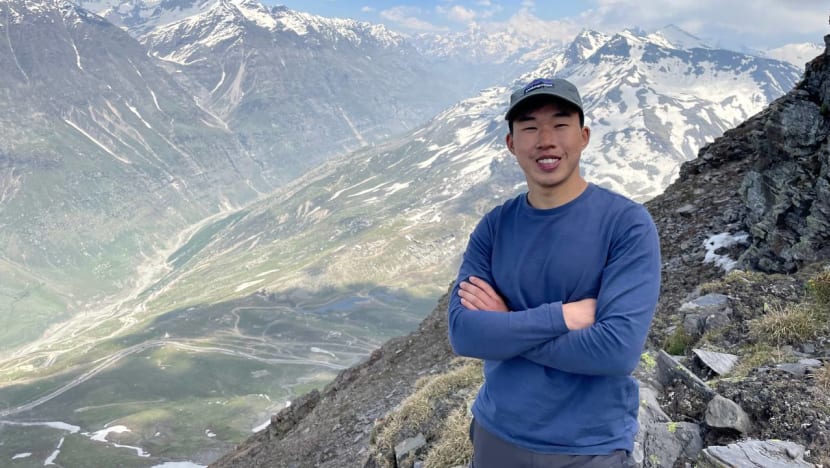 Mr Chow has been climbing mountains for about two years since joining the university's mountaineering club. He has gone overseas to scale mountains four times, half of which were solo efforts. These include the Friendship Peak in Manali and Mont Blanc in Europe.
Mr Chow recalled that he was well acclimatised when embarking on the Friendship Peak trek. But just a week prior, he had experienced nausea, dehydration and vomiting - symptoms of mild altitude sickness - when climbing the Baden-Powell Scouts Peak in Nepal with his club.
"I was a little scared but I was more bummed out that I had to leave. I was worried that I had to give up the attempt because I had been training so long for it," said Mr Chow, adding that he just needed a night's rest to cure his symptoms.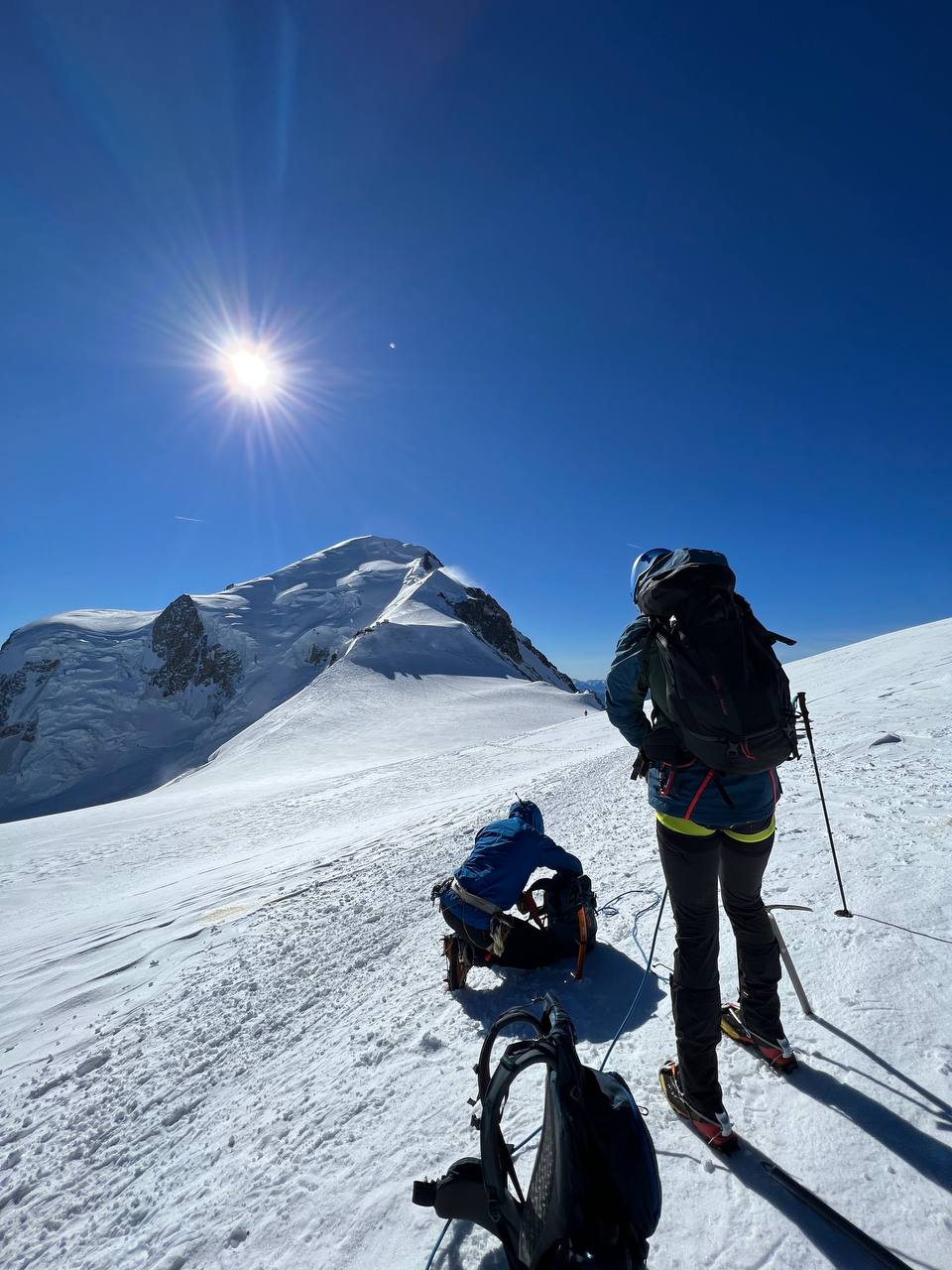 But altitude sickness can be deadly. Last month, a Singaporean man died from health complications due to altitude sickness while attempting to climb Mount Kilimanjaro in Tanzania.
He died of asphyxia, a condition that occurs when the body is deprived of oxygen, and high altitude pulmonary edema (HAPE), an altitude illness that can turn fatal.
In May, another Singaporean climber went missing after reaching the summit of Mount Everest. According to his wife, he developed high altitude cerebral edema (HACE) and "could not make it down".
Outside of Singapore, a deep-sea submersible made headlines around the world in June after it disappeared while carrying five people on a voyage to the century-old wreck of the Titanic.
The submersible Titan was found in pieces from a "catastrophic implosion" that killed everyone aboard.
Risks are prevalent when it comes to adventurous activities. But what is it about them that some people can't seem to get enough of? CNA takes a look at the rising interest in adventure tourism.
SENSE OF ACHIEVEMENT, BRAGGING RIGHTS AND MORE
For Mr Chow, climbing mountains gives him a sense of achievement and fulfillment knowing that he has put his own skills into the endeavour. 
"I think there's definitely a bit of adventure-seeking and adrenaline-seeking that you don't get from doing the typical tourist activities," the NUS student said. 
Feeling bored about the mundane routine of life could be one reason why people seek such adventures, an expert told CNA. 
"The fun part of those kinds of adventurous activities is that they're not boring. They're very exciting. They're entertaining. I think that probably explains why people engage in those kinds of adventurous activities," said Associate Professor Zhang Kuangjie, a marketing professor from Nanyang Technological University's (NTU) business school. 
He added that people's threshold for stimulation may get higher and higher, and that once they get into the activities, they will try to go for more of these experiences. 
Assoc Prof Zhang, who has done research on consumer behaviour and psychology, also highlighted that these activities give those who pursue them "bragging rights".
"When you hang out with your friends, you can talk about those kinds of interesting activities, and people might actually be more likely to enjoy the conversation. So, there's also some kind of social value (in) sharing these risky activities," he added. 
Assoc Prof Zhang also likened risky activities to watching horror movies and haunted house experiences. 
"You are facing something that might potentially be scary or risky, but you made it. During the process, you derive a sense of excitement and stimulation," he said.
"Afterwards, you might feel a sense of pride and achievement. In that sense, the emotional benefits you can derive (from risky activities and experiences like haunted houses) are a bit similar in my opinion."
Principal clinical psychologist Dr Joel Yang also said that people are "attracted to the danger element" of risk-taking behaviours in the world of social media. 
Participating in risky activities gives one a sense of invincibility and courage that is also psychologically rewarding, added Dr Yang of psychology consultancy Mind what Matters. 
"I CAN MANAGE THOSE RISKS"
Adrenaline junkies - those who are "addicted" to adrenaline -  may feel the need to engage in new or more risk-taking behaviour over time to feel the same excitement and pleasure, said Dr Yang.
"(Research) has shown that over time, 'adrenaline junkies' may miscalculate or downplay the risks of risk-taking behaviours," he added. 
Assoc Prof Zhang explained that those who engage in risky activities are in fact aware of the potential dangers involved.
"The people who actually engage in those kinds of activities are those who actually have a sense of confidence and they feel that even though it's potentially risky, 'I can manage those risks. I think I'm not going to get into those kinds of dangers'," he added.
"You know there's risk, you know there's danger but at the same time, you also feel that the danger is not (going to) come to you."
RISING DEMAND FOR ADVENTURE TOURISM
The global adventure tourism industry was valued at US$292 billion in 2022, according to a report by Future Market Insights, a market research organisation that is headquartered in the United States. 
The industry is anticipated to reach a market value of US$1,491.5 billion by 2033, growing at a rate of 16.2 per cent. 
In Singapore, many local tour operators specialising in adventure travel have also been seeing an influx of customers in recent years. 
Ace Adventure Expeditions, an outdoor adventure company, has seen a more than 50 per cent increase in clients participating in adventurous activities. 
Founder and director Joanne Soo said that the company had seen a gradual increase in interest before the pandemic. " (After) the pandemic, because many Singaporeans had the chance to try out hiking around Singapore due to travel restrictions then, they (now) seek to elevate their outdoor experience outside Singapore after the travel bans were lifted," Ms Soo added.
Ace Adventure Expeditions started organising treks in 2000, before becoming a travel agency in 2013. Popular travel destinations among its customers include Nepal, Taiwan and Mongolia for activities ranging from trekking to mountaineering. 
The company sees more than 100 customers a year coming in for such trips. It also has a steady pool of returning clients, said Ms Soo. The age group of clients range from mid-30s to late 60s, although the company has also been seeing more younger trekkers in recent years, added Ms Soo. 
Similarly, SGTREK has observed a 25 to 30 per cent increase in the number of participants for overseas trekking activities, compared to last year.  
Founded in 2013, the outdoor travel platform organises hiking and trekking trips as well as mountain climbing expeditions. 
Currently, Mount Kinabalu in Malaysia, Mount Everest base camp trek in Nepal, Kashmir Great Lakes in India, Mount Rinjani in Indonesia, Mount Bromo in Indonesia have been popular among clients of SGTREK, said its director Vijay Kumar. 
Some customers who go for the Everest base camp trek do so more for their own personal achievements, rather than it being their dream trek, while treks in the Kashmir regions are more for exploring untouched areas, said Mr Vijay.
He added that the travel platform had about 980 clients last year, of which 90 per cent signed up for overseas trekking trips. 
The growing trend of people seeking adventure travel experiences reflects a greater interest in exploring unique destinations and engaging in thrilling activities, said co-founder of X-Trekkers Adventure Consultant, Lik Wong.
Adventure tours offer customers a break from routine, a chance to challenge oneself as well as an opportunity to connect with nature, said Mr Wong. 
"Adventurers often seek personal growth, a sense of accomplishment, and unforgettable memories that come from pushing their boundaries in inspiring settings," he added. 
REASONS FOR DEMAND AND KEEPING UP WITH IT
The recent increase in customers opting for adventure travel can be attributed to the COVID-19 pandemic, according to some tourism experts. 
The pandemic had kept many people confined in their homes for too long –  a term coined as cabin fever, said Associate Professor Lau Kong Cheen from the Singapore University of Social Sciences (SUSS).
"It made them miss the sense of freedom that most of us want. It triggers our innate desire to explore and discover all over again," noted Assoc Prof Lau, who is part of the university's marketing programme. 
He added that the ability to go for an adventure-themed travel experience gives people a sense of "breaking free from a sedentary life in a more extreme manner".
Dr Michael Chiam, senior tourism lecturer at Ngee Ann Polytechnic, also pointed out that many people began exploring different sports during the pandemic, when lockdown and travel restrictions were in place.
Some of them developed a deeper interest in these sports and they want to stretch themselves, and challenge themselves further by participating in adventure trips, Dr Chiam added.
The current increase in demand for adventure tours is also part of the overall increase in tourism demand, coming off the pandemic-reduced travel in 2020 and 2021, noted Mr Benjamin Cassim of Temasek Polytechnic. 
Some of the main drivers behind the renewed interest in adventure tourism include a growing appreciation to explore new areas and search for new travel experiences, the increase in demand for authentic and personalised travel experiences, as well the higher income levels, especially of couples who make up 40 per cent of the market, said Mr Cassim, who teaches hospitality and tourism management.
How then can the tourism industry keep up with this rising demand? For one, travel agencies will need to hire and train staff who can lead adventure tours, said SUSS' Assoc Prof Lau.
Those hired should not only be more physically fit, but they should also be aware of risks and ensure the safety of the tourists that they are accompanying, said Assoc Prof Lau. 
He added that travel agencies should be "very familiar" with safety measures to avoid injuries that will be "bad for their reputation". 
Mr Cassim also pointed to statistics that indicate that more than 60 per cent of the revenue share from adventure tourism came from direct bookings in 2021.
"This means an increasing number of adventure tourists are booking their tours and activities through direct channels. This is directly related to the desire for personalised experiences and convenience," the senior lecturer said.
Travel agencies will therefore need to respond to the growing demand by providing efficient bookings and confirmation for flights and hotels, said Mr Cassim.
He added that one of the major changes in consumer behaviour that has taken place over the past three to five years, especially heightened as a result of the pandemic, is the expectation of having personalised experiences in almost every area of consumption such retail, dining, leisure, music, travel and hospitality.
"This expectation is no different when it comes to adventure tourism as well," said Mr Cassim, adding that those who consume adventure tourism products and services demand personalised service and experiences.
"It is not enough just to offer an adventure tourism product. The travel agents or travel consultants need to be more attuned to what their customers want and be able to curate the end-to-end adventure tourism experience for the individual customer," Mr Cassim added. 
The activity forms "just a part of the overall travel experience" and personalisation of these experiences are now "part of the forefront of travel", he highlighted.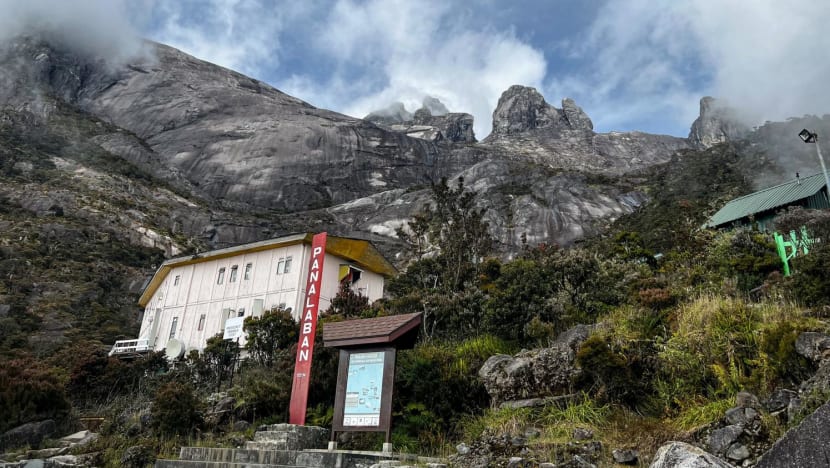 HOW TOUR OPERATORS ENSURE SAFETY
All three tour operators told CNA that they have safety protocols in place to minimise risks during adventurous activities, starting from pre-trip briefings and training. 
Ms Joanne Soo from Ace Adventure Expeditions said that customers are advised to engage in specific training to prepare them for their upcoming treks and climbs. This involves carrying a loaded backpack while climbing up and down hills or vertical steps. 
"One of the best places to do this is at Bukit Timah Hill, or climb the steps of high-rise buildings like one of the HDB blocks with 30 to 40 stories," added Ms Soo.
The company also organises night walks to prepare trekkers for when they have to walk in the dark, as most of the time they will need to trek under such conditions on the summit day.
These walks also allow trekkers to test out their equipment such as headlamps as well as to manage their personal discomfort when trekking with little sleep. 
Should the climb require the use of climbing ropes and harnesses, the company will organise specific skills training workshops to prepare them for it, added Ms Soo.
At SGTREK, the team will assess some of the participants' fitness level and advise them on the training required for each trek, said director Vijay Kumar.
The team conducts regular free training for all the participants who have joined the upcoming adventure trips, Mr Vijay said. 
During the pre-trip briefing session, participants will also be prepared with the required gears, knowledge of the trek they signed up for, and the training required. 
"During the trip, we monitor everyone's physical conditions (and) health conditions on a daily basis and advise them on the next step. If someone feels very sick, we evacuate them to safety first," said Mr Vijay.
Both X-Trekkers Adventure Consultant and Ace Adventure Expeditions also said they closely monitor weather conditions. 
"Weather is unpredictable when in remote regions, where we may not have easy access to available resources," said Ms Soo.
"Our briefings and training aim to prepare them for unforeseen circumstances, and (to have) the correct gear and equipment (required) to battle nasty weather changes."
Mr Lik Wong of X-Trekkers highlighted that regular communication between clients and experienced guides as well as constant assessment of participants' health contribute to a "safe and enjoyable adventure" for customers.  
He added that the guides are well-trained in wilderness first aid and are "intimately familiar" with the terrain. Mr Wong also said that he has high altitude trekking experience and knows how to spot acute mountain sickness symptoms.
In the event that a client encounters an accident during a trip, X-Trekkers has "comprehensive emergency response plans in place", said Mr Wong.
"Our guides are trained to provide immediate medical assistance and initiate evacuation procedures if needed. We maintain communication with local authorities and have access to medical facilities," he said.
Similarly, Mr Vijay of SGTREK said they have a standard protocol for emergencies for all of their treks, and that their local guides and trek leaders are experienced in handling such situations. 
The guides or trek leaders will access the conditions of the clients and provide the required assistance to keep the clients safe. "In the worst case scenario, we also work closely with the insurance companies to get the clients to be evacuated to the nearest safest place," said Mr Vijay.
He added that the team will also monitor the situation and inform the relevant parties such as embassies and families. 
At Ace Adventure Expeditions, the company makes sure that clients have bought travel insurance that covers trekking activities, said Ms Soo. 
For climbs that are higher in altitude, the company will advise them to buy the necessary rescue packages offered by agencies that specialise in handling emergency rescue and evacuation, Ms Soo said, adding that this will help to protect them from suffering "heavy financial loss".
INSURANCE FOR ADVENTUROUS ACTIVITIES
Tourism experts CNA spoke to also highlighted the importance of travel insurance for adventurous activities. 
Assoc Prof Lau from SUSS pointed out that travel agencies should be knowledgeable about appropriate insurance coverage that their clients would need prior to engaging in any extreme adventure travel. 
At present, there are some insurance companies that offer coverage for adventurous activities under their travel insurance packages, said Assoc Prof Lau, who cited the example of DirectAsia Insurance. 
DirectAsia Insurance offers additional coverage for extreme sports and activities as an optional benefit that is only available in its annual policy.
Those who have opted and paid for the additional coverage will be covered up to the limits listed under the travel insurance plan for activities such as winter sports, water sports, aerial sports and land sports. 
Under this policy, the maximum altitude for any extreme sport or activity that will be covered is 4,000m. Any incidents or injuries sustained above this maximum altitude will not be covered, according to DirectAsia Insurance. 
For FWD Singapore, the overarching approach is to provide coverage for an extensive list of leisure activities while also supporting customers on some common activities that are perceived as riskier, said chief executive officer Adrian Vincent. 
"For more dangerous activities, such as skydiving that is operated under licensed companies, one consideration would be on the risk mitigation factor where we look at if the activity has been operated with the necessary safety precautions," Mr Vincent said.
FWD travel insurance covers common leisure activities undertaken by travellers and offered by license operators and "only certain extreme sports", he noted. 
This includes paragliding, scuba diving, mountain climbing, rock climbing, skydiving, snowboarding and more, as long as the person insured stays within certain conditions.
Some of these conditions are that the person insured is not training as a professional, and that if he or she is hiking or trekking, it cannot be higher than 3,000m below sea level. 

As such, the company does not cover a traveller embarking on a climbing expedition for Mount Everest, said Mr Vincent. 
The FWD CEO also said that the number of claims being made for extreme sports coverage are "still relatively small" compared to claims being made for other coverage included in the travel insurance. 
A spokesperson from the General Insurance Association of Singapore (GIA) said that travellers are "strongly encouraged" to understand the policy terms and conditions, exclusions as well as benefits of the travel insurance they purchase before their trip.
"This is especially for higher risk activities, which may be excluded from a basic travel insurance policy. Depending on the insurer, an extended cover may need to be purchased to cover these activities," said the spokesperson.
The type and range of adventurous or sporting activities covered also differs among insurers, the spokesperson added. 
For instance, insurer A may cover for scuba diving up to 30m depth, while insurer B may cover for up to 20m depth.
"Each insurer will stipulate the activities covered and its exclusions, and individuals are encouraged to compare policies to purchase one that meets their needs," said the spokesperson, adding that the type and range of cover, policy terms and exclusions are commercial decisions made by each insurer. 
Travellers looking to engage in higher risk activities should review their policy to ensure that these activities are covered under medical expenses, accidental death, and permanent disability, said the GIA spokesperson.
In addition, they are also encouraged to purchase policies that cover for personal liability relating to these higher risk activities in case of any injury or damage caused to others as these may also add up to substantial amounts, the spokesperson added. 
Those who require more coverage can also purchase personal accident insurance to supplement their travel insurance benefits.
Yet, there are gaps that need to be addressed given that the area of adventure tourism is "still rather new", noted Assoc Prof Lau.
There are still limitations pertaining to the types of activities that can be covered, he said.
These include the types of pre-existing medical conditions that prevent coverage, types of adventure gears and equipment that needs to be certified and geographical coverage, according to Assoc Prof Lau.
"Some insurers are apprehensive to cover activities such as high-altitude tracking (beyond certain height) or independent travel without being accompanied by an experienced (and licensed) guide," he added.
"On this premise, insurance providers need to be innovative and keep up with the demand and changes in tourism trends."
The main reasons why there are limitations to the type of activities covered under insurance policy are to reduce the insurer's liability and to make the premium affordable for most travellers, said Associate Professor Chen Renbao from NUS.
"If the traveller takes risky activities within the travel period, the policyholders normally need to pay an additional premium and this policy only covers the activities indicated in the policy, or those activities normally excluded in the policy," said Assoc Prof Chen, who is from the department of finance. 
He also added that travel insurance normally only covers travel-related risks such as travel accidents, plane delays or loss of luggage. "Most travellers do not take part in risky activities during their travel and keep their premiums low," he said. 
However, Assoc Prof Chen noted that the demand for insurances that cover adventurous activities will increase as people become more interested in these types of activities. 
On whether this calls for a specialised travel insurance policy targeted at adventurous activities, Assoc Prof Chen said that insurance companies should come up with such policies to meet people's needs.
But insurers also need to use available data to price these policies well to reflect the underlying loss distribution, he noted. This means to use data from past years to estimate the probability of an accident happening and the average amount of loss that will occur should an accident happen.
"What could be the benefits of having such a policy? Well-designed travel insurance policy will provide both needed coverage for travellers of taking risky activities in case of injuries or even death.
"This will reduce the financial burden faced by the policyholder and his or her beneficiary. At the same time, insurers will have the needed business and have market competitive advantages," added Assoc Prof Chen.
Likewise, Assoc Prof Lau from SUSS agreed that insurance providers should start to look into specialised adventurous activities to be covered.
This way, clients may benefit by paying lesser premiums compared to an insurance that covers a wide range of high risk activities that one may not be interested to participate in, he added. 
"This will reduce the cost for the clients and make the products more appealing and also increase the take-up rate by prospective adventure tourists," said Assoc Prof Lau.
"In the long run, this will further encourage the adventure tourism sector to grow faster as more people are more willing to embark (on) such tourism options with the knowledge that they are protected - to a certain extent - with specialised insurance."
"IT'S BECOME A LIFESTYLE" 
For NUS student Paul Chow, climbing trips come with mixed emotions of excitement and nervousness because of the danger and risk involved. 
"Obviously it's how you manage your risk and your risk appetite. But I think all climbers understand the risk and they decide to undertake that risk," he said. 
The 24-year-old is now planning a trip to Nepal next year, where he and a teammate will attempt to ascend a mountain that has not been climbed before. 
Just like with Manali, "nobody knows the route", said Mr Chow, except for what is in the topographical maps he and his friend have been studying.
"I think definitely, there's a greater element of risk because there will be more route-finding. So, we both want to place an emphasis on improving our skills before heading to that mountain," said Mr Chow.
"The fact that it's been unclimbed is also part of the adventure of it. I think in a lot of these adventure sports, risk is a big part of the expedition … and it's just how you manage it."
Mr Chow, who is in his final year at NUS, plans to continue climbing mountains when he starts working. 
"I think it's become kind of a lifestyle, and it's something that I could see myself doing for a long time."