New digital tool for healthcare workers to help cancer patients estimate treatment costs and subsidies
SINGAPORE: A digital calculator was launched on Friday (Aug 19) to help healthcare workers better estimate the monthly treatment costs for cancer patients, taking into consideration factors like their eligibility for government subsidy schemes. 
It was jointly developed by a team at the National University Cancer Institute, Singapore (NCIS) and local artificial intelligence start-up Bot MD.
"The calculator enables staff to instantly estimate out-of-pocket costs to patients based on inputs which are easily accessible from healthcare systems," they said in a media release.
The estimations are based on patients' prescribed cancer treatment, residency status, means-testing tier and eligibility for various government schemes.
Schemes loaded into the calculator include the Ministry of Health's (MOH) cancer drug scheme, drug subsidy schemes, the Pioneer and Merdeka Generation schemes, as well as subsidies for outpatient specialist services.
"The calculator will be updated in tandem with national revisions and institutional price revisions to ensure that the estimated costs align with the actual costs patients can expect to pay," said NCIS and Bot MD. 
They added that frontline employees at NCIS, including pharmacists, patient services associates, ground operations staff, medical social workers and doctors, were involved in developing the calculator.
"This ensured a user interface that is intuitive and simple," said NCIS and Bot MD said, adding that they hope to make the calculator available to all cancer and non-cancer patients in public and private healthcare institutions.
To use the calculator, called ChemoCalc, healthcare workers need to enter information such as a patient's chemotherapy regimen, height and weight, and select options from simple dropdown menus that include their residency status, monthly household income and subsidy status.
It will then compute the estimated out-of-pocket monthly expenditure for the patient, as well as display an itemisation of the drugs and services relevant to the treatment that they are receiving.
This makes it easier for users to submit claims for patients, said NCIS and Bot MD, adding that a summary can also be downloaded and printed for patients to take home.
Healthcare workers can access the calculator online, as well as through the BotMD Hospital mobile application.
"The NCIS ChemoCalc simplifies calculations of patient-specific costs, allowing our frontline medical staff to spend the time instead with patients and helping them cope with a devastating and life-changing illness," said Dr Jen Wei Ying, an associate consultant at the NCIS Haematology-Oncology Department who led the development of the calculator.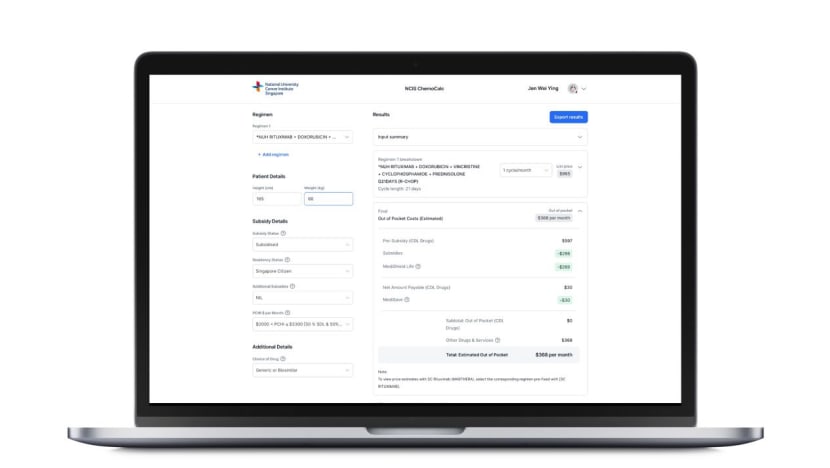 The team said the digital tool was created in light of the Health Ministry's changes to the MediShield Life (MSHL) reimbursement model, which are set to take effect in September. 
It will only cover a positive list of clinically proven and cost-effective cancer drug treatments.
Patients will be able to make claims of between S$200 and S$9,600 per month under a list that will cover 90 per cent of existing cancer drug treatments used in the public sector. An additional S$1,200 will be claimable for services such as scans, blood tests and doctor consultations per year.
"Most cancer treatments are administered in combination with other drugs at patient-specific doses, which can make financial counselling challenging, as manual calculations are required to estimate the cost of cancer treatment," noted NCIS and BotMD.
"In line with the new MOH policy, out-of-pocket costs for patients will also need to factor in drug and clinical indications to estimate their eligible subsidies and claims."
As such, the calculator can be customised to meet the specific needs of various healthcare institutions based on how they procure and administer cancer treatments.
This is done by finding the most cost-effective combination of drug strengths to make up a patient-specific dose, and by highlighting to healthcare workers when a generic or biosimilar alternative is available, said NCIS and BotMD.
"Given the increasing complexities of healthcare financing and the fast-growing range of new possibilities in oncology treatments, I believe this tool will be useful not only for the public hospitals but potentially extend to the private hospitals and clinics as well as private insurance companies to help simplify the process of chemotherapy financial counselling in Singapore," said BotMD's CEO and co-founder Dorothea Koh.
Ms Alexis Koh, a senior medical social worker at the National University Hospital, said medical costs and treatment affordability are key concerns which can add to patients' stress and anxiety.
"The ChemoCalc allows patients to know the estimated treatment costs, monthly out-of-pocket expenses and any accorded government subsidies quickly," she said. "With this knowledge, they can then better plan and mobilise their resources to meet their financial needs."