'How to get business?': Motor workshops face uncertain future as Singapore moves towards electric vehicles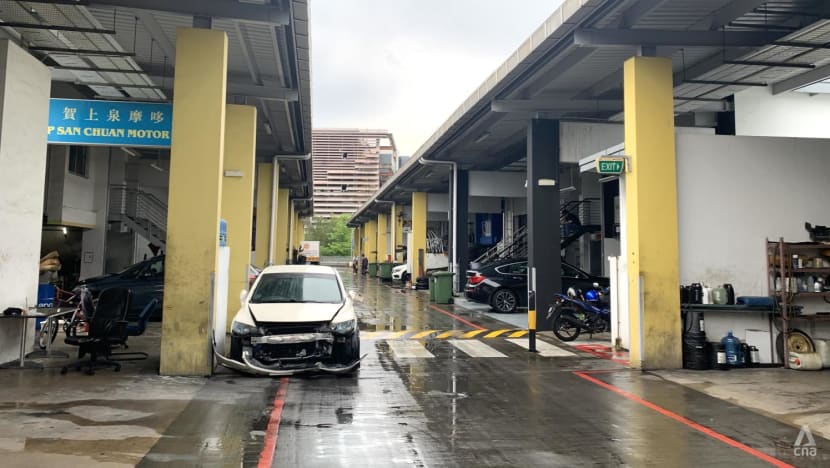 SINGAPORE: Mr Khor Joo Heng, 60, was hurrying about his stuffy motor workshop in AutoCity at Sin Ming when he was asked what he would do if Singapore achieved its aim of phasing out internal combustion engine (ICE) vehicles by 2040.
"Die lah," he quickly told CNA without missing a step, shuffling from car to lorry wearing stained overalls with tools in hand.
Mr Khor is among a number of traditional motor workshop owners who said they would likely shut down if Singapore's vehicle population becomes fully electric, attributing it to factors like advancing age and a potentially crippling lack of business.
In particular, the workshop owners pointed to how brand new electric vehicles (EVs) would come with extended warranty periods – longer than some ICE vehicles – and thus be exclusively maintained at authorised agents, ending their stream of customers.
And with no potential successors intending to enter what could be an increasingly niche and costly market, the workshop owners said they were only biding their time before retirement.
The Singapore Motor Workshop Association (SMWA) said about 50 to 60 per cent of its roughly 2,000 members have indicated they could shut down once EVs fully roll out.
"Either they stop business or they diversify," its president Mike Keh told CNA, explaining that this includes shifting to EV maintenance or other areas like body work.
"Right now, most of the workshops are run by first-generation owners. They are old already, with no second generation to take over. So, they got no choice. They have to close."
Many of these traditional workshops specialise solely in servicing ICE vehicles, which require a number of maintenance tasks at various age or mileage milestones in their lifetime.
EVs, on the other hand, require significantly less maintenance as they do not have an engine and thus have fewer moving parts.
"For ICE cars you have to change engine oil and other minor things, mostly on the mechanical parts in the engine," Mr Keh added.
"Whereas for EVs there's totally nothing you can do, other than checking the battery health and how much they are in working condition."
ELECTRIC VEHICLES ON THE RISE
The plan to phase out ICE vehicles was first unveiled during Budget 2020, when then-Finance Minister Heng Swee Keat announced that all vehicles should run on cleaner energy by 2040 in a bid to cut emissions.
While Mr Heng mentioned cleaner alternatives like hybrids and EVs, it should be noted that hybrid vehicles are still powered by ICEs with batteries that cannot be charged externally.
In February 2021, the Government launched the Singapore Green Plan 2030, aiming to achieve its long-term net-zero emissions goal "as soon as viable".
This includes "a strong push to electrify our vehicle population", supported by a campaign to raise awareness of EVs, the Land Transport Authority (LTA) said on its website.
By the end of 2021, the EV population more than doubled as authorities doled out about S$30 million in rebates under the Electric Vehicle Early Adoption Incentive, announced in Budget 2020. There were 3,713 EVs in 2021, up from 1,397 the year before.
Then in March, the Government said it would push forward a target to make every Housing and Development Board (HDB) town EV-ready from 2030s to 2025, with charging points to be installed at nearly 2,000 HDB car parks over the next three to four years.
Inadequate charging infrastructure is commonly cited as one of the main roadblocks to widespread EV adoption.
Finally in May, authorities introduced a move that made EVs more affordable, by allowing more mass-market EV models to qualify for the smaller car Certificate of Entitlement category. Premiums for this category are usually cheaper.
EXTENDED WARRANTIES A CONCERN
Mr Khor of BKS Automotive said he is getting fewer customers these days as some have switched to EVs.
"If you don't have a contract with a dealer selling EVs, how are you going to get the business? The EVs will all come with a warranty of eight years to 10 years, so drivers won't (service) their cars outside (at regular workshops)," Mr Khor said.
Mr Khor admitted that this, coupled with fierce competition amid a glut of workshops in Singapore as well as increasing rental and utility prices, means he would eventually have to pull the shutters on his business.
"What to do? Maybe I will go and work for other people," he said.
Another workshop owner Mr Lee, who only wanted to be known by his surname, said more established workshops or automative-related businesses could set up specialised EV maintenance facilities, further drowning out the competition.
For instance, a taxi company with a fully electric fleet could run its own maintenance facility that caters to other EVs as well, the 56-year-old from Lee Brothers Automotive at AutoBay in Kaki Bukit said.
"EVs will go there, so they will definitely have a better volume than us," he said. "I don't think we can fight with them."
Furthermore, Mr Lee said the cost of the equipment needed to service EVs will likely be "very high", expressing concerns about whether it would be worth it.
"You must invest a lot of money, but whether people come is another thing," he said.
Mr Hanip Abdul Hadi from Hanip Automobiles, another workshop at AutoBay, said Singapore's plan to phase out petrol and diesel vehicles has pushed forward his retirement plan.
"Honestly before EVs came, I don't have this type of thinking (to retire)," said Mr Hanip, who declined to reveal his age but said he wanted to retire when he hit 60.
"But now the Government is pushing for EVs very hard. When the Singapore Government wants to do something, they make sure it happens. They are not like others, they will go for it."
Nevertheless, Mr Hanip encouraged younger automotive technicians who want to enter the burgeoning EV industry to upgrade their skills, recalling how he had to do the same when hybrid vehicles first entered the local market.
"If you want to sustain the business, you have to upgrade. If not, you will be left behind," he added.
SOME WORKSHOPS PREPARING TO PIVOT
Over at Precise Auto Services, also at AutoBay, its managing director Eric Ong said he has sent two of his five employees for a basic EV maintenance safety course organised by SMWA, covering topics like how to disconnect the battery and isolate the power supply.
"We just need to prepare for the next 10 years; we have to," the 62-year-old said, noting that the course costs about S$1,000 per person, which is a subsidised rate for association members.
In December 2020, the SMWA opened a new training facility for technicians to learn about servicing hybrid and electric vehicles. An EV's high-voltage batteries can pose a safety risk if not handled properly during maintenance.
Then in May this year, LTA said it would work with training providers and institutes of higher learning to train and certify automotive technicians in safety-related areas of EV maintenance and servicing. The courses are expected to be available in the second half of this year.
Despite that, some workshops might be wary of sending their employees for EV courses, Mr Ong said.
"With this kind of knowledge, there's a likelihood they might jump somewhere else. So, a lot of companies are also quite reluctant to send workers for this type of upgrading courses," he explained.
"For other workshops with owners up to my age, if they can't deal with all this sort of electronic stuff, or if they have no successors for the business, then likely they will wrap up."
Back at AutoCity in Sin Ming, Ricardo Auto Centre director Jeremy Soh believes it is only a "matter of time" that EVs are widely adopted, saying that his workshop will move towards EV-applicable maintenance.
This includes aesthetic-related areas like tyres and rims as well as undercarriage maintenance like wheel alignments and suspension changes.
"For us, we don't intend to just call it a day. We will try to pivot to newer areas where you can still work on EVs," the 41-year-old said.
"We are also doing financing, insurance and things like that. So, it's not just about operating a workshop for us."
But Mr Soh said he will not be "jumping straight into" sending his employees for EV courses as they are currently "very basic".
"We might even have to send our boys overseas instead, rather than training in Singapore," he added.
TECHNICAL CHALLENGES
While Mr Keh of SMWA acknowledged that the current EV courses are basic, he stressed that they have to be foundational at the start to cater to technicians who might have little formal education, especially since many of them are foreigners.
He said SMWA has conducted a "few runs" of the courses together with engineering company Robert Bosch for a total of 70 technicians thus far.
In fact, Mr Keh is concerned about the national plan to roll out certification courses as they might prove too complicated for technicians.
"Because you are training someone only with primary school knowledge, and you straight away want to go to a diploma course," he said, adding that he will bring this up with LTA.
Despite that, Mr Keh suggested that no course can currently prepare technicians for the nitty-gritty of servicing EVs, pointing to how EV manufacturers do not sell their vehicle spare parts, motors or circuit diagrams in Singapore to protect their intellectual property.
"For EVs, the only things involved are the motor and the battery. The battery you can maintain by measuring the battery (health). Whichever cell is spoilt, just change it out," he explained.
"For the motor, you can't repair because it has a lot of winding armatures. Once damaged, you have to change the whole motor. Then the other thing is the inverter. These are all electrical components; you don't have the circuit diagram, you can't repair."
Mr Keh said technicians also require the circuit diagram to know where the EV's "main switch" is, so they can take the crucial first step of isolating the battery before maintenance.
"Current motor workshops can only attend to the battery, bodywork and brakes. That's about it, unless they diversify and go towards servicing diesel vehicles," he added. "Diesel will never die."
WILL ELECTRIC VEHICLES REALLY BECOME MAINSTREAM?
Mr Keh cast doubt on whether EVs can truly become mainstream in Singapore, highlighting that logistics vehicles that go for long distances would still have to run on diesel. This includes freezer trucks that use a lot of energy and would thus drain a battery quickly.
"You can't use EVs if you are travelling long distance, only 300km max," he said, referring to an EV's range before needing a 30-minute charge.
"If you doing delivery every day running here and there, one day you can easily cover 300km. You can't wait for an EV to charge and do delivery."
Beyond range limitations, Mr Keh identified potential battery supply bottlenecks globally as well as insufficient charging points locally as speed bumps in the rise of EVs.
"Whether EVs will (fully) roll out is still a big question mark," he added. "I'm not fully convinced."
Indeed, Mr Jason Tan at Lai Huat (Meng Kee) Motor in AutoCity is adopting a wait-and-see approach before taking steps to switch to servicing EVs.
"We definitely thought about it, just that we are still gathering information. Currently EV adoption is very low. From my point of view, these numbers are not a big deal," the 50-year-old said.
"You think everyone will change to EVs? I think it's not practical, a lot of hidden costs. Nobody knows at the moment. An EV has to be very affordable, or else I don't think it will be adopted by the middle class."
In 2021, only 2,942 out of 568,376 cars were fully electric, or a meagre 0.5 per cent of Singapore's total car population.
"For now, I'm definitely not going to jump in and say I'm going to plan for the future and invest in equipment or upgrade my workers' skills," Mr Tan said, noting that EV equipment could cost tens of thousands of dollars and courses could become obsolete in a few years.
Ultimately, Mr Tan feels the question is how "broadly" the Government will push for EV adoption.
"I know some government sectors are changing (their fleet) to EVs. Are you even talking about heavy vehicles? Are companies doing logistics going to convert their fleet to electric?" he asked.
"Things are changing fast, and I don't see any (EV) volume or even sales coming in in the next five years."