Construction on Changi Airport's Terminal 5 to start in 2025
The Government will inject a further S$2 billion into the Changi Airport Development fund.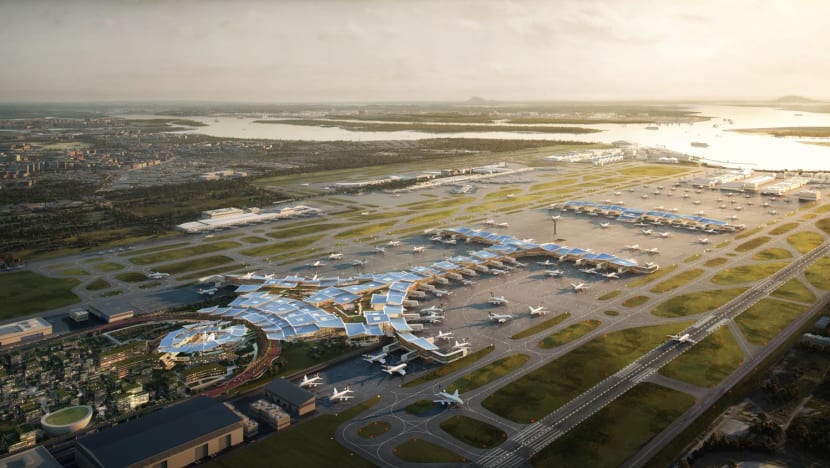 SINGAPORE: Construction on Changi Airport's Terminal 5 (T5) is expected to start in 2025, with the terminal to be operational around the mid-2030s, announced Transport Minister S Iswaran on Friday (Mar 3).
Providing an update on the project, Mr Iswaran said land preparation and drainage works at Changi East have been completed, and the third runway will also be ready towards the later part of this decade.
The project was put on pause for two years due to the pandemic.
To this end, the Government will inject a further S$2 billion into the Changi Airport Development fund, as it is important to set aside some resources whenever it has the means for projects with "large and lumpy expenditure", he added.
Prime Minister Lee Hsien Loong said at the National Day Rally last year that T5 has been redesigned to be pandemic-ready and more energy-efficient. 
To anticipate the growth in flights and passengers at Changi Airport in the run-up to T5, Changi Airport Group and airport stakeholders have worked out "operational plans", said Mr Iswaran.
The aviation workforce currently stands at about 90 per cent of pre-pandemic levels, with a full recovery expected by this year, he shared. 
Meanwhile, passenger traffic volumes, flights and city links currently stand at about 80 per cent of pre-pandemic levels. And based on the current trajectory, passenger level at Changi Airport is on track to recover to pre-pandemic levels by 2024 or earlier.
AVIATION SUSTAINABILITY PROGRAMME 
To encourage the aviation sector to step up its sustainability efforts, the Government will establish a S$50 million Aviation Sustainability Programme, added Mr Iswaran. 
The programme will provide up to 70 per cent funding for sector-wide projects and up to 50 per cent funding for company-level projects, added the Civil Aviation Authority of Singapore (CAAS) in a media release. 
"Examples of projects which the Aviation Sustainability Programme could support include the adoption of novel or more energy-efficient airport systems and/or equipment; optimisation of airport processes to enhance operational efficiency and sustainability of key processes, such as reducing aircraft turnaround time or improving airside vehicle movements; and transition to cleaner energy sources such as testing of new alternative or low carbon fuels."
400 NEW ELECTRIC BUSES TO REPLACE DIESEL BUSES
The land transport sector is also ramping up efforts towards a greener Singapore.
Mr Iswaran on Friday announced that about 400 new electric buses are expected to be deployed for passenger service from December 2024 onwards.
To replace diesel buses that are reaching their statutory lifespan, the Land Transport Authority (LTA) will be calling a tender in March to procure these new electric buses. The tender is expected to be awarded in the second half of this year.
These announcements are in line with Singapore's electrification of its public bus fleet. By 2030, electric buses are expected to make up half the public bus fleet, while the nation hopes to have a 100 per cent cleaner energy bus fleet by 2040.
To date, 60 electric buses have already been purchased and deployed, added LTA in a factsheet. 
Electric bus chargers have been installed at Bulim Bus Depot, Seletar Bus Depot, Loyang Bus Depot, Bedok Integrated Transport Hub and Bukit Panjang Integrated Transport Hub. More bus depots supporting electric buses will progressively be completed and commissioned by 2030.
EXTENSION OF ELECTRIC VEHICLE COMMON CHARGER GRANT
To further encourage adoption of electric vehicles (EV), LTA will be extending the Electric Vehicle Common Charger Grant by another two years until December 2025, announced Senior Minister of State for Transport Amy Khor on Friday.
"The extension complements recent amendments to the Building Maintenance and Strata Management Act, that make it easier to pass resolutions to install chargers, and further boost charger deployment," she said. 
The grant was launched in July 2021 and initially slated to end in December this year. It has co-funded the installation of 267 chargers, added LTA in a factsheet.
The grant will continue to co-fund 50 per cent of the cost components of smart chargers, subject to an overall cap of S$4,000 per charger.
In line with the target of 60,000 public EV charging points by 2030, the first batch of HDB charging points was deployed last month, and an additional 2,000 charging points will be deployed by the end of the year.
More than 600 charging points, which were awarded in the pilot tender by LTA and the Urban Redevelopment Authority in 2021, covering more than 200 public carparks will also be completed this month, added Dr Khor.