As temperatures rise, Singapore races to find solutions to secure its food supply
On Earth Day, CNA looks at how import-reliant Singapore is beefing up its food security as the climate changes.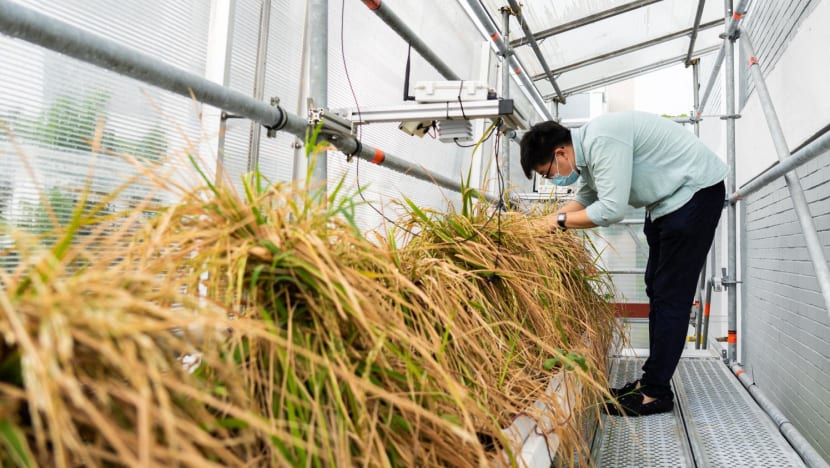 SINGAPORE: When one thinks about rice production, the image of large flooded paddy fields usually comes to mind – but what about growing it in an urban setting such as your own neighbourhood?
That is what researchers at Temasek Life Sciences Laboratory (TLL) managed to do under a pilot study funded by Temasek Foundation, which ended in February.
After the rice germinated in TLL's greenhouse, it was transported and transplanted in a six-storey high-tech vertical farm built against the wall of a Housing and Development Board (HDB) flat in Tampines.
Using a precision drip irrigation system, water and nutrients were delivered in suitable amounts to the rice's roots, ensuring that each stalk grows optimally.
This also helped to reduce the amount of water needed to grow 1kg of rice from about 3,000 litres to just 750 litres, according to sustainable technology firm Netatech, which manages the farm.
But it is not just the set-up that is helping to make rice production more sustainable and resilient to climate change. The rice itself, known as Temasek Rice, was developed by TLL and specially bred to be able to withstand tough weather conditions such as heat, drought and floods.
"What we did was to essentially look at the entire library of diversity in rice and pick up traits that were lost when people wanted to get more yields," said TLL's CEO Peter Chia, adding that they chose rice that had a shorter stature, greater submergence tolerance and fungal resistance.
"Then we backcrossed those traits into those good quality rice and introduced so-called trait into the rice we have now, which is called Temasek Rice."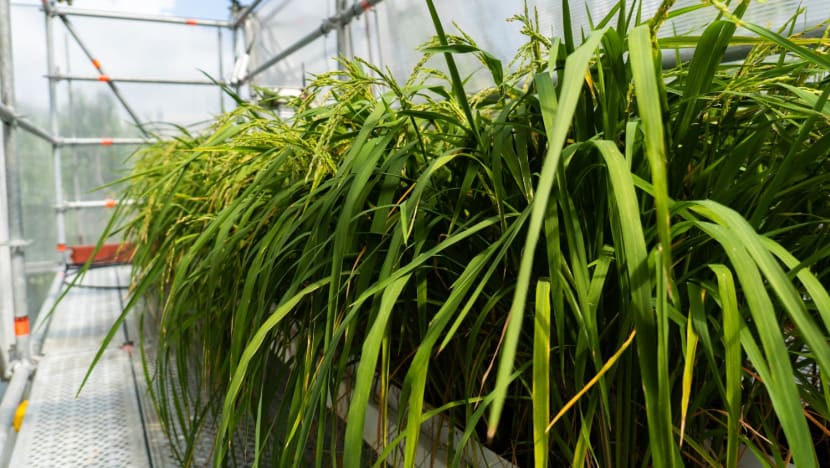 The first batch of the hardy and climate-resilient grain variety was harvested in February and is being used for research and development by TLL, which is studying how to grow rice more sustainably and produce more nutritious crops.
It is part of a growing body of research in climate-resilient foods and sustainable farming methods as Singapore ramps up efforts to secure its food supply.
According to a report published in February by the Intergovernmental Panel on Climate Change (IPCC), rising global temperatures will increase the likelihood of heatwaves and floods in Asia, exposing the region to threats including food scarcity and health risks.
Such factors pose a particular challenge for Singapore, which imports more than 90 per cent of its food. The country has set a target of producing 30 per cent of its nutritional needs by 2030.
In particular, studies suggest that climate change could result in substantial modifications in land and water resources for rice production as well as the productivity of rice crops grown in different parts of the world.
A study conducted by researchers from Stanford University, published in scientific journal Nature Communications, showed that rice yields could drop about 40 per cent by 2100 under future climate conditions.
The decline could potentially have devastating consequences for the world with more than half of its 7 billion people depending on rice as their staple food.
Meanwhile, the United Nations' Food and Agriculture Organization (FAO) estimates that the global demand for rice is increasing by around 5 million tonnes each year.
To save and even boost production, farmers, engineers and researchers have turned to water-saving irrigation routines and rice gene banks that store hundreds of thousands of varieties ready to be distributed or bred into new, climate-resilient forms.
In 2016, Temasek Rice seeds were deposited into the world's largest secure seed storage facility, Svalbard Global Seed Vault.
The "doomsday vault" houses seeds of more than 4,000 plant species, including crops such as beans, wheat and rice, to regenerate food supplies in the event of catastrophes such as natural disasters, and as a backup for other seed banks.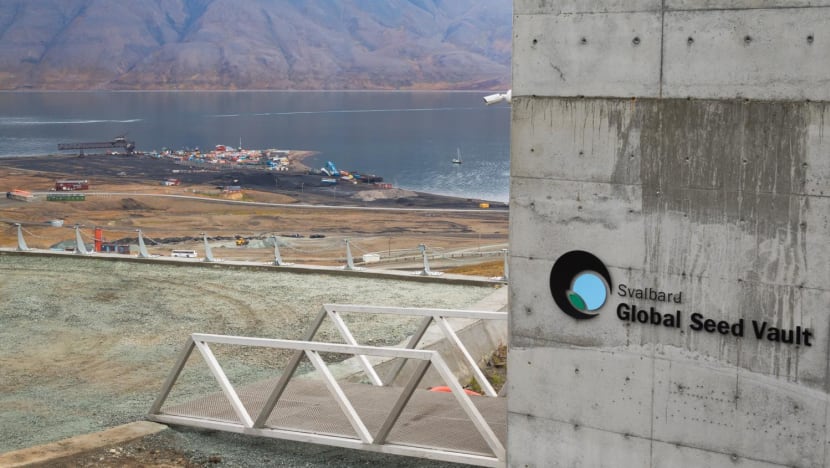 THE HUNT FOR ALTERNATIVES
According to an independent assessment by alternative protein think tank The Good Food Institute, Singapore now possesses the most technologically advanced network for plant-based protein production anywhere in Southeast Asia.
Up to S$144 million has been set aside by the Government for research and development for sustainable urban food production, future foods such as advanced biotech-based protein production, as well as food safety science and innovation.
Last month, Minister of State for Sustainability and the Environment Desmond Tan said that more than half of this – around $75 million – has been committed to more than 30 projects.
The country's forward-thinking moves on alternative protein has also attracted global brands such as Swedish plant-based milk maker Oatly and California-based fermentation startup Perfect Day to scale up operations here.
In 2020, local food tech company NamZ launched a range of climate-resilient products including instant noodles and milk under the brand name WhatIF Foods.
They are made from Bambara groundnuts and moringa, which are packed with nutrients but also able to survive drought and poor soil conditions with minimal demand for inputs such as water and fertiliser.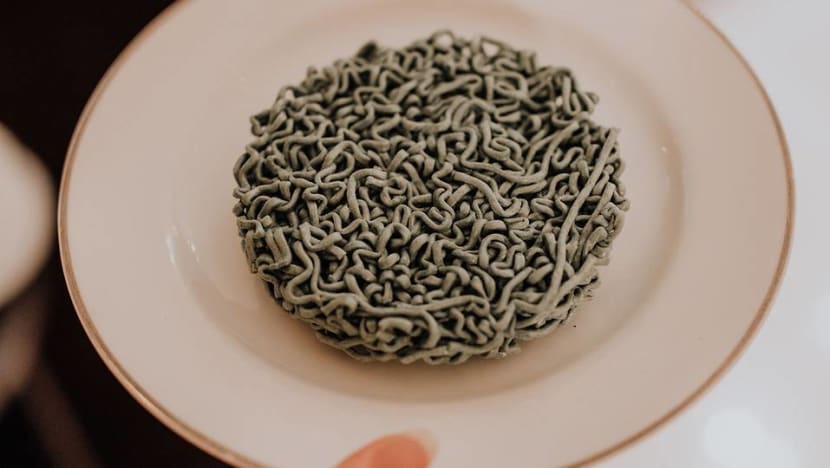 Professor William Chen, who is the director of Nanyang Technological University's (NTU) Food Science and Technology Programme, believes that the key to dealing with the looming food crisis is to find and develop alternative sources of protein such as mushrooms and insects.
His team of researchers is currently working with industry players to create alternative foods using mushrooms, which he said is rich in protein and micronutrients.
"We should not wait until a food crisis kicks in before we start looking for food, it will be too late," said Prof Chen, who is also a consultant to the Asian Development Bank on food security matters including novel foods.
Citing the example of potato, which was initially regarded with suspicion in Europe when it was introduced from the Americas in the 1500s and 1600s, he said that attitudes only began shifting during the 1700s as a result of war and famine.
Disruptions to the food supply meant that some people had no choice but to eat potatoes, and soon discovered that their fears about them were unfounded. 
"It's an example of how we should not be reactive but rather, proactive in looking for alternatives because we should take a pre-emptive approach to a possible food crisis," said Prof Chen.
"This will prevent the shock of the food crisis. No one says it's coming tomorrow but with all this tension around the world and the increasing demand for food production, we need to have more options."