Singapore reports a record 287 new COVID-19 cases with more than half linked to dormitory cluster
Link established between Mustafa Centre cluster and dormitories.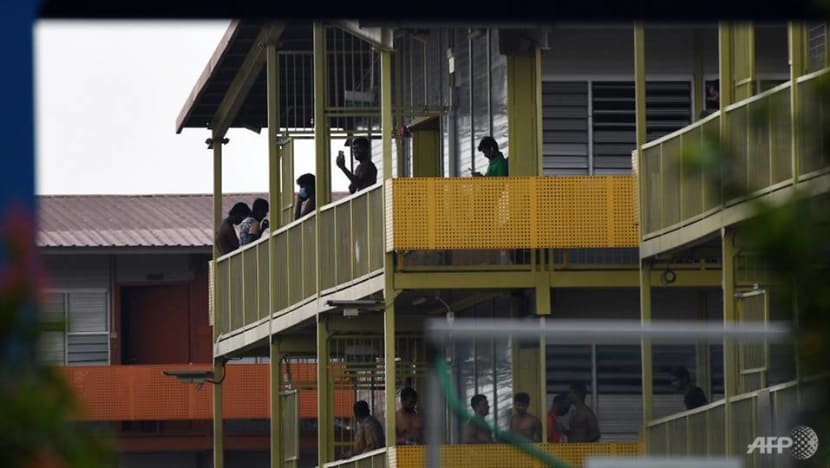 SINGAPORE: Singapore reported 287 new cases of COVID-19 on Thursday (Apr 9), the largest daily increase so far and more than double yesterday's highest record, the multi-ministry task force dealing with the coronavirus said during a press conference. 
This brings the national tally to 1,910. 

Of the new cases, 217 are linked to existing clusters, with 166 more cases linked to the S11 Dormitory @ Punggol. The dormitory at 2 Seletar North Link now has a total of 283 confirmed cases, the Ministry of Health (MOH) said in a later update on Thursday.
Nineteen cases are linked to previous cases, the task force said. 
Among the linked cases, 202 cases were linked to clusters at foreign worker dormitories and 34 were linked to non-dormitory clusters or other cases, the Ministry of Health (MOH) said.
Three of the latest cases announced are imported, and in total 48 cases are still pending contact tracing.

A total of 314 cases have been discharged from acute care, and 705 cases have been moved to a community isolation facility, the task force said. 

Singapore has also seen six fatalities from COVID-19, the task force said. 
This is not including the 32-year-old Indian national whose death was reported on Wednesday. The man died before test results confirmed that he had COVID-19. The MOH is investigating the cause of death. 

MOH added 54 more people were discharged on Thursday and in all, 460 patients have fully recovered from COVID-19.

Of those still in hospital, 29 are in critical condition in the intensive care unit. However, most are stable or improving.
There are a total of 559 cases who are clinically well, but still tested positive for COVID-19. They are isolated and cared for at Concord International Hospital, Mount Elizabeth Hospital, Gleneagles Hospital, Mount Alvernia Hospital, Mount Elizabeth Novena Hospital and the Community Isolation Facility at D'Resort NTUC.
NEW LINKS AND CLUSTERS
One new cluster at Shaw Lodge, a foreign worker dormitory at 12 Shaw Road, was announced on Thursday by MOH. Five of the earlier confirmed cases are linked to this cluster.
The task force said that with the help of the police and Ministry of Defence, it established a link between the cluster at Mustafa Centre shopping mall and the Project Glory construction site, as well as a number of foreign worker dormitories: S11 Dormitory@Punggol, Sungei Tengah Lodge, Tampines Dormitory Cochrane Lodge II  and Toh Guan Dormitory. 
Director of medical services at MOH Assoc Prof Kenneth Mak described how some of the dormitory cases were linked to the Mustafa Centre cluster.
"Many of these cases started out in fact with a cluster at Mustafa - a number of these were employees at Mustafa.
"We believe that the workers had visited Mustafa and they subsequently transmitted the infection to their co-workers," he said.  
"Transmission most likely occurred through close contact,for example at meal times, during breaks, and also between co-workers at work due to physical proximity at work sites," he said.

Subsequently, they could have spread the infection to colleagues and friends within the dormitories, he added. 
Singapore has seen an increase in COVID-19 cases at foreign worker dormitories recently.
Sungei Tengah Lodge became the fourth foreign worker dormitory to become an isolation area from midnight on Thursday, in a move aimed at preventing the spread of the disease.
The other three dormitories that have been gazetted as isolation areas are: S11 Dormitory @ Punggol, Westlite Toh Guan dormitory and Toh Guan Dormitory.
On Thursday, the task force detailed the range of measures taken to curb the spread of COVID-19 in dormitories. These include "aggressively" testing workers to separate those who are infected or suspected cases from those who are healthy.
More than 5,000 workers in essential services who are not ill have been moved out to army camps and vacant HDB blocks such as those at Tanjong Pagar and Jurong.
Overall on Thursday, Westlite Toh Guan dormitory saw 11 more cases linked to the cluster, taking its total to 49.
Over at Toh Guan Dormitory, there were two more cases linked to the cluster, bringing the total number to 25.
Sungei Tengah Lodge was linked to 14 more cases and now has a total of 43 confirmed cases.

Seventeen additional cases were linked to the cluster at Tampines Dormitory, which has a total of 38 cases.

Cochrane Lodge I now has nine cases after two new links were found, while Kranji Lodge has seven confirmed cases with one new link at the cluster.

A dormitory at 55 Sungei Kadut Loop was linked to two more cases, bringing this total to seven.

Ten additional cases were linked to the cluster at a construction site at Project Glory, which has a total of 37 confirmed cases.

A construction site at 6 Battery Road had one new link, taking the total to five cases.
Seven additional cases are linked to the cluster at Mustafa Centre, which has a total of 57 confirmed cases now.

The cluster at Keppel Shipyard has five new cases, bringing the total to 17 cases.

As of Apr 9, 12pm, MOH has identified 20,008 close contacts who have been quarantined. Of these, 5,642 are currently quarantined, and 14,366 have completed their quarantine.

The health ministry set out more details of Thursday's new cases on its website.

HEALTHCARE WORKERS AFFECTED
One more healthcare, a 27 year-old Singaporean, also tested positive for COVID-19, MOH said.
Case 1566 had no recent travel history to affected places and reported symptoms on Apr 4. Before being hospitalised, she had gone to work as a programme coordinator at the Singapore General Hospital.

She was confirmed to be infected with the virus on Apr 7. She is currently warded in an isolation room at Singapore General Hospital.
ONE MORE FACILITY, ADDITIONAL MEASURES & MORE ENFORCEMENT
MOH announced on Thursday a second Community Isolation Facility (CIF) at The Singapore EXPO & MAX Atria has been set up​​​​​​, which will be operationally from tomorrow.
Additional measures to ensure social distancing on public transport networks were announced earlier on Thursday. 
These include thermal scanners at select MRT stations and safe distancing stickers on buses, trains, train stations, bus interchanges and bus stops.
Heightened safe distancing measures kicked in on Tuesday as part of a "circuit breaker" period until May 4 to stem the spread of COVID-19.
About 10,000 written advisories were issued on the first two days of the circuit breaker for breaches, including individuals who gathered in public and those who failed to adhere to safe distancing rules.
People who repeatedly flout the stricter safe-distancing measures will face a fine or be charged in court, Minister for the Environment and Water Resources Masagos Zulkifli wrote on Facebook on Thursday.
First-time offenders will get a stern written warning. Anyone who commits a second offence will be fined S$300, while a third offence will lead to the person being charged in court.

Download our app or subscribe to our Telegram channel for the latest updates on the coronavirus outbreak: https://cna.asia/telegram