'It's about time': Preschool teachers say mandating CCTVs is a good move
Parents of preschoolers also said having CCTV cameras in schools will give them peace of mind.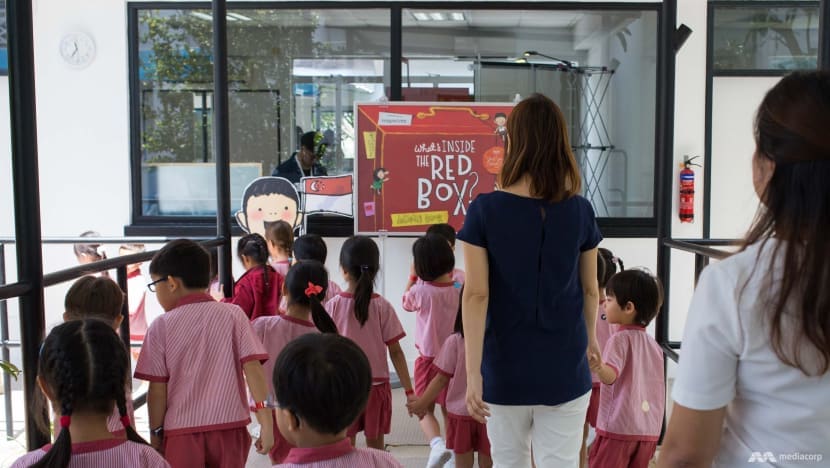 SINGAPORE: Making closed-circuit television cameras mandatory at preschools is not only good for children and parents, but benefits teachers too, early childhood educators told CNA.
The issue of having CCTVs in preschools has been in the spotlight since videos of alleged abuse at two Kinderland centres emerged last week.
The Early Childhood Development Agency (ECDA) said last week that CCTVs will be mandatory at all preschools and government-funded early intervention centres from Jul 1 next year.
The footage would be an "objective and reliable source of evidence" in the event of any incidents, ECDA said, adding that the move is part of a regular review of security and safety measures.
When asked about CCTV cameras being made mandatory, preschool educator Anita Kaur said: "I love it. It's about time to protect the teachers."
The senior teacher at Presbyterian Preschools Services' centre in Ang Mo Kio said many teachers work hard and genuinely care for the children in their care, and the footage can help to clear up misunderstandings with parents. "Most teachers are comfortable with having that," the 52-year-old said.
A teacher who wanted to be known as Ms Chua, 32, said the centre she works in already has CCTV cameras.
"I feel that it's a good move, I don't feel defensive or anything," she said, noting that there are no cameras in areas like the toilet or rooms that are only for teachers.
"In common areas where I am teaching or running lessons, I think CCTV will also be, in a way, protection for myself," said Ms Chua, who has worked as an early childhood educator for seven years.
For example, a child could get hurt when the teacher's back is turned or when they are in the teacher's blind spot.
"When you try to find out what happened, (the children involved may) tell different stories," said a former preschool teacher who gave her name as Cynthia.
"I also feel like I want to know the truth," she said, adding that teachers can make changes to the classroom arrangement to prevent similar accidents.
She recalled an incident in a previous workplace, where a child lost her balance and fell on her arm, spraining it badly. Though there were two or three teachers in class at the time, it happened so quickly that they did not notice.
The girl did not complain of pain until she got home, and her parents wanted to know what happened.
"The CCTV helps us to clarify (what happened). Without that, the parents would be so upset, like oh, are you trying to hide something?" she said.
Cynthia's last workplace, which she left in April, did not have CCTV, but she has also taught at MindChamps and KiddiWinkie, where there were cameras installed.
She said her coworkers who were not used to the idea of having CCTV at school were taken aback by the idea when they first heard about it.
There would also need to be adjustments made because the school was converted from a landed residential property, and the classroom doubled up as a changing room, where CCTVs are not allowed.
Overall, she said the cameras would make parents feel more assured, and help teachers to be more aware of their actions.
TRUST AND PARTNERSHIP
While having cameras in the classrooms can be helpful, the relationship between parents and teachers is also important.
"The partnership with the parents should be built on trust and not just because of the CCTV," said Ms Chua.
ECDA said that parents can be given access to CCTV footage within "reasonable grounds". A teacher with 10 years of experience, who asked to be known as Ms Y, said she was concerned that this could be abused by some parents.
"If there's a good level of trust, it will be fine, but if there's distrust, it might stir up some problems," she said.
Schools may also need to pay for the footage to be edited to protect the privacy of other children before parents can view it, she added.
Another teacher, Ms Zhang, said parents may not form the right impression from watching a short clip from the CCTV cameras.
"You may not see the children over the length of a couple of months like we have, so we know the dynamics, so maybe to us they're just playing or roughhousing, but to the parent it may seem like another child is cornering their child," she said.
Ms Kaur of Presbyterian Preschools Services pointed out that some children are cared for by teachers for nearly 12 hours a day. "Some of them are very young and non-verbal. There needs to be trust."
She said she has confidence that parents in Singapore will not be unreasonable with their requests to view footage. But she expects a "teething period" as parents and educators get used to having CCTV cameras around.
"I'm more concerned about management misusing it and breathing down teachers' necks," she said.
CONFIDENCE FOR PARENTS
Parents of preschoolers also said having CCTV in schools will give them peace of mind.
Mr Sky Sun, whose son attends Kinderland at Woodlands Mart, said he thinks teachers will be more careful since CCTV would capture evidence of any mismanagement.
In February last year, he said the school sent a picture on the app for parents that showed his son crying in the background. The long sleeves of his son's shirt appear to have been tied together to restrain the child.
"If there were CCTV cameras, for example, there would be more certainty about the incident where my son's hands were bound together," he said.
On Saturday, after a dialogue session with Kinderland, a parent who declined to be named said it is good that CCTVs have been installed, but parents wanted to know what the rules are surrounding their access to the footage.
"We just need the policy to be sent out, and they agreed that yes, they will do so," she said.