'Love and patience get tested': Preschool educators on hiring processes and their challenges at work
Teachers say preschools usually have disciplinary guidelines, but it is ultimately left to the educator to decide how to apply them if a situation arises.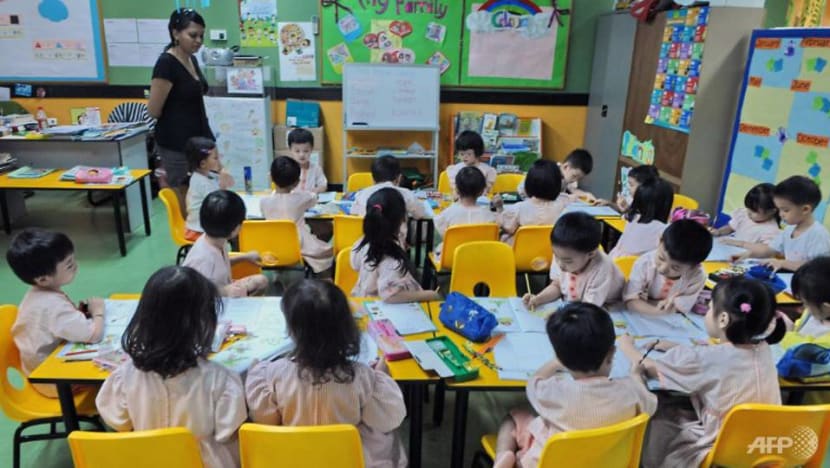 Alleged abuse of children at two Kinderland preschools has raised questions about how teachers are screened and hired

Schools and educators say that they perform additional vetting but it is hard to screen for personality traits like patience and compassion

Preschool teachers say they are stressed by the long hours, a heavy workload and a high ratio of children to each teacher
SINGAPORE: Retired preschool principal Lynna Leow recalls an incident in her school where a teacher shut a child into a cabinet because she "could not handle" the kid.
The teacher thought no one had seen her, but Mdm Leow, whose office was separated from the classroom by a glass panel, did. She immediately got the child out and calmed the child down, then told another teacher to take over the class.
She gave the teacher a warning and monitored her closely after that, said Mdm Leow, 65.
Alleged instances of abuse at two Kinderland preschools, leading to the arrests of two teachers this week, have raised the issue of how preschool teachers are hired and screened. CNA spoke to Mdm Leow and three current or former preschool teachers for insight into industry practices.
The Early Childhood Development Agency (ECDA), which oversees preschools in Singapore, said it had an average of 10 "substantiated child mismanagement cases" for every 100,000 enrolled children a year from 2019 to 2022.
Nearly 190,000 infants and children were enrolled in Singapore preschools last year, excluding MOE kindergartens, which are run by the Education Ministry.
The errant staff and operators in those cases were issued warnings, fined, or both, ECDA said.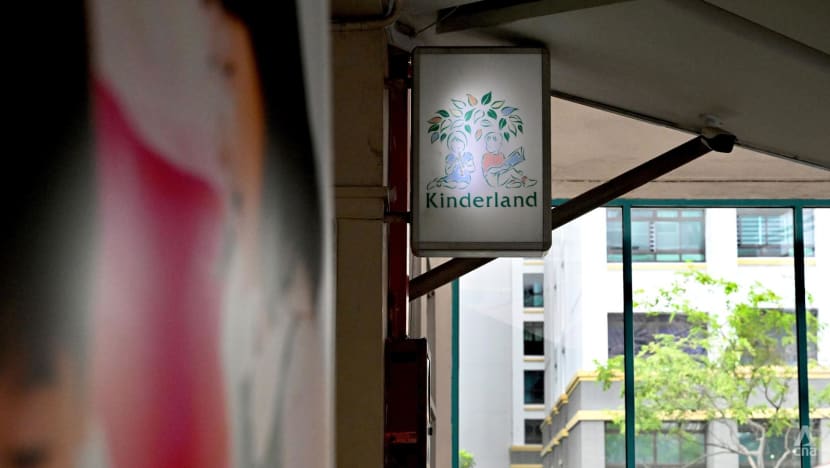 While Mdm Leow did not come across more of such egregious cases, she agreed that it can be tricky to gauge if an applicant has the relevant experience and "passion for kids".
"What we wanted to know is whether the teacher is compassionate, (whether) she has passion for kids … that's the most important," she said.
Besides considering applicants' paper qualifications, Mdm Leow said she posed them hypothetical scenarios during interviews – such as how they would handle a situation where one child keeps disturbing other children in the class.
But Mdm Leow admitted that there is a limit to such screening processes, and ultimately, the principal has to be aware of how kids are being treated in the school. For example, he or she has to walk around the school every day, no matter how busy they get, she said.
"It's very important that the principal goes round to check and spot any situation," she said. Any issues can be brought up during the teachers' meeting, and if the particular teacher does not improve, then the principal should "call up" the teacher and talk to him or her.
HOW SCHOOLS HIRE TEACHERS
Preschool operators have to seek ECDA's approval before hiring educators, which checks that the applicant holds the required qualifications. Applicants also have to declare that they have not committed offences, received warnings from the police or ECDA, or are under police investigation.
"Individuals with a previous conviction for offences involving ill-treatment of children will not be allowed to work in the preschool sector," an ECDA spokesperson said.
Some preschools perform additional screening of candidates on top of ECDA's requirements.
Star Learners Child Care, which runs 43 centres across Singapore, said it first conducts phone interviews to determine candidates' qualifications and suitability. Background checks are done where necessary to verify information.
Suitable candidates are referred to the principal of the centre for formal interviews, said Star Learners' head of people Audrey Chen.
Support staff, including assistant educators, do not require the letter of notification from ECDA that certifies early childhood educators, she said. But they undergo screening and interviews that are "no less stringent" and must also complete ECDA's declaration of offences. 
Ms Angela Kho, the manager of EtonHouse International Education Group, said it conducts a "thorough reference check" with the candidate's previous employers before making any employment offer.
An English teacher at E-Bridge Pre-School said that on top of providing the required documentation, she went through an interview with human resources and a medical check-up.
Patience and adaptability are necessary for an early childhood educator, said the 22-year-old, who asked not to be named. She has been teaching for two-and-a-half years.
But she echoed Mdm Leow's observation that it is hard to screen for such personality traits in interviews. She believes that a candidate can get through the screening process "quite easily", and that any concerning practices may only be observed on the job. 
While there are no staffing issues at her current workplace, she said that private preschools – those that are not anchor operators or operated by the Ministry of Education – tend to be understaffed and have trouble hiring. This is because they pay less and may have "under the table" practices.
The teacher said that some private preschools take on students without going through ECDA's portal for enrolment. This is done to "hide" enrolment from ECDA so that on paper, the school meets the stipulated staff-to-children ratio for that age group. It also reduces administrative work for the school.
The staff-to-children ratio is 1:8 for playgroup, which is for children above 18 months to three years old. The ratio rises to 1:12 for children turning three in pre-nursery. For each subsequent year of nursery and kindergarten until the children turn six, the ratio rises to 1:15, then 1:20, and then 1:25.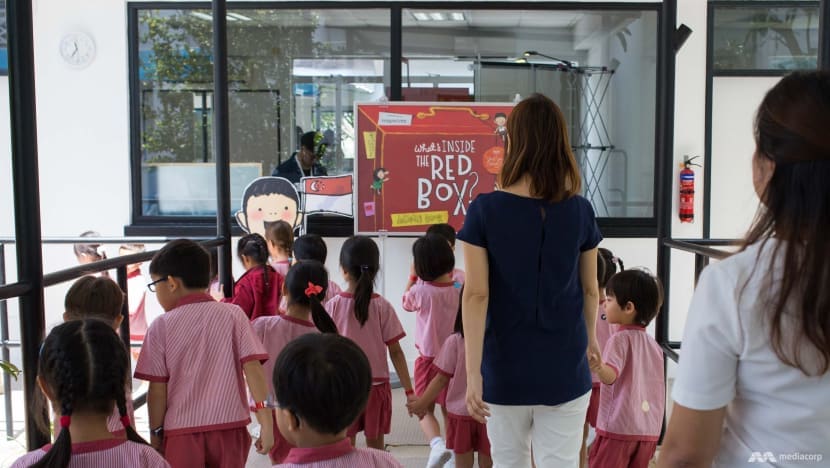 HOW TEACHERS DISCIPLINE CHILDREN
ECDA said that principals are expected to carry out regular observations of staff-child interaction and provide feedback to educators or intervene on concerns about their management of the children. To check preschools' compliance with regulations, the agency conducts regular unannounced visits.
While preschools usually have disciplinary guidelines, it is ultimately left to the individual educator to decide how to apply them when specific situations arise. 
Ms Chen of Star Learners said its new educators are informed about standard operating procedures, which cover child guidance and behavioural management.
The E-Bridge teacher said the school has a "policy on respecting children", with guidelines that teachers are not allowed to threaten children and should use "positive guidance" to manage behaviours.
New joiners receive training on the policy and a refresher every year from the principal, said the teacher, who works with children aged 18 months to two years old.
The policy does not go into specifics like what to do if a child refuses to drink water or eat food, and it is up to the teacher to apply the general principles in each situation, she said.
She has seen inappropriate disciplinary methods during internships at other preschools, such as a teacher who pushed children. It was also common to see teachers "threatening" children they could not manage, such as by warning the child that they would be sent to another class.
"It's not like physical abuse where you can see it very obviously, but ... verbally, I think children are threatened in terms of emotions," she said.
Still a student at the time, she anonymously reported the pushing incidents to her polytechnic rather than the preschool's staff, as she was concerned that her internship would be affected.
She was not informed of any follow-up action, but observed that the teacher did not seem to be working there anymore towards the end of her internship.
A former English teacher at MindChamps PreSchool, who requested not to be named, said there were "school guidebooks" but "no hard rules" to follow on disciplining children.
While the teachers never physically disciplined students, shouting was "very common", said the 32-year-old, who taught children at the playgroup and nursery levels.
"It's very different from theory where we're always taught to be kind, patient and loving. It just doesn't work as well when you have a class of 19 kids to manage all day," she said.
Both teachers said their preschools had closed-circuit television cameras in all the classrooms. At E-Bridge Pre-School, the principal is required to "frequently" review the footage.
ECDA said it has been engaging the preschool sector on the implementation of CCTV cameras as part of its regular review of safety and security measures. More information will be provided soon, it added.
Another former teacher, who taught for 15 years before retiring this year, said her preschool had guidelines such as teachers not being allowed to raise their voices at, touch or hit children when disciplining them.
The teacher, who did not want her name, age and preschool to be published, said that punishment can be important for older children. But rather than getting physical, this is done by establishing consequences, such as taking away playtime for an hour, she said.
But she added that some principals have a more hands-off approach, which is not ideal, as they should be proactive and frequently communicate with the teachers about these challenges.
TIGHT ON TIME AND LABOUR
Preschool teachers described the toll taken by the long hours and heavy workload that includes not just lessons, but unseen preparation and administrative work.
Star Learners' Ms Chen said the demand for early childhood educators "significantly surpasses" the available supply of qualified applicants.
The school's centres are adequately staffed, but "short-term staffing gaps" appear from time to time, she said. These are filled by relief teachers. The school also offers internships and practicums, and participates in career conversion programmes.
The retired preschool teacher said that the staffing situation has already improved from the past, recalling that 10 years ago, the ratio was two teachers to almost 30 nursery students.
But others may still find the situation untenable.
The former MindChamps teacher left in 2020 after three years on the job, when the stress started spilling over into her personal life and she found herself getting "very irritable, exhausted and sick most of the time".
"Preschool teachers are overworked, lowly paid and put under so much pressure," said the former teacher, who has left the sector entirely.
"Everyone joins the industry with love and patience, but it really gets tested throughout. I think it's not something that the ordinary public will understand."
On top of daily routines for the children – such as having lessons, meals, showers and naps within the stipulated timetable – teachers also have to manage and update parents, meet key performance indicators, write class reports, plan the curriculum and do lesson plans, among other duties.
"It's a never-ending list of administrative things we need to do, but yet somehow cannot do it during our work hours because we need to be with the class all the time," she said. At her school, teachers were not allowed to use laptops or phones when in class with the students.
For the E-Bridge teacher, her day is supposed to start at 7am and end at 4.30pm, with a one-hour lunch break.
In reality, lunch is scarfed down in 10 minutes, with the rest of the time used to do administrative work. After classes end, she continues to work at home.
She hopes that ECDA will consider lowering the staff-to-children ratio from 1:8 to 1:5 for children up to two years old. The 1:5 ratio is currently in place for infants aged up to 18 months.
"If the teachers are very stressed and anxious in class, it's not going to do anything good for the children," she said, while acknowledging that lowering the ratio will add to hiring demand in the sector.
ECDA said it recognises that many educators join the sector with a passion to nurture young children and work hard to make a positive impact in their lives. 
"ECDA has put in place measures to improve working conditions of early childhood educators and will continue to do so … We urge parents to continue supporting our educators, as they work tirelessly in caring and supporting our children," said the spokesperson.