In Rwanda, a Singaporean company selling electric motorcycles woos bikers fed-up with high pump prices
Uber-green Rwanda wants to do something about its tens of thousands of motorcycle taxis that constantly pollute the air. Could the answer be a Singaporean company's electric motorcycles?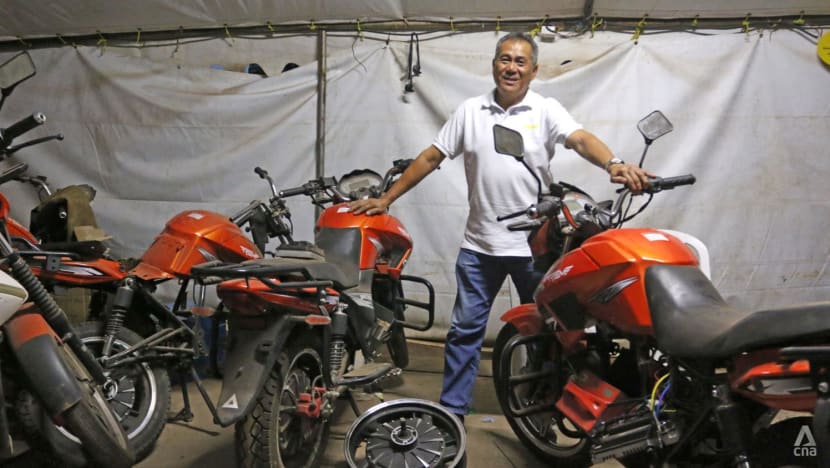 KIGALI, Rwanda: In the late afternoon of Jun 27, Singaporean Simon Ting wound down his day in a nondescript warehouse at the foot of a dusty slope in Kigali, Rwanda, an east African nation more than 8,000km away.
A big part of the warehouse was filled with neat rows of metal racks, lined with dozens of batteries being charged. A smaller and more haphazard section contained motorcycle spare parts. Mr Ting's desk, spartan with only a laptop, is tucked away in a corner.
It sounds like modest surroundings, but Mr Ting, business development manager at Rwanda Electric Mobility (REM), is playing an important role in the uber-green country: Helping to electrify its more than 100,000 internal combustion engine (ICE) motorcycles.
Almost half of these are used as motorcycle taxis, a cheap and mobile app-driven form of point-to-point transport that locals prefer. According to a December 2021 article by GreenTech Research, Rwanda has 46,000 of these "moto taxis", with 26,000 in Kigali alone.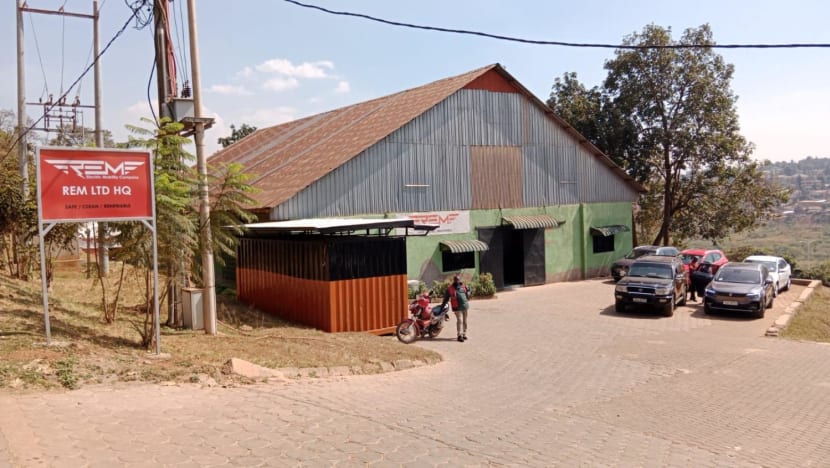 REM sells its own brand of electric motorcycles in Kigali, and for a cheaper rate, retrofits popular ICE models with batteries to convert them to electric. The target is to retrofit 25,000 motorcycles, most of them moto taxis.
Roughly one in five trips in Kigali goes on these red-vest rider moto taxis, contributing to air pollution, high demand for imported fuel and rising greenhouse gas emissions, the GreenTech article said.
While Rwanda has banned plastic bags, vowed to eliminate single-use plastics and designated a community cleaning day each month, it wants to do more to cut vehicular emissions.
In 2019, President Paul Kagame unveiled a plan to make the country's motorcycles fully electric, in line with a 10-year climate action roadmap to reduce 4.6 million tonnes of carbon dioxide emissions by 2030.
"The government could mandate electric bikes in the near future, in fact in a few years' time," Mr Ting, 63, told CNA.
HOW IT STARTED
The idea for REM was conceived in Singapore in 2018, by Singaporeans Chia Lee Wee, Timothy Liew, Kelvin Tan and Paul Ho.
Mr Chia, Mr Liew and Mr Tan, all aged 63, were schoolmates from primary school to junior college. Mr Ho, 57, is a mutual friend of the trio with a broad base of contacts in China, home to almost half of all electric cars in the world.
"They had this idea of coming to Kigali because Rwanda is very green and is trying to go completely green," Mr Ting said. "They thought electric bikes would work here."
For their business venture to work, REM first looked into electric motorcycles, including their parts and design. The company wanted to ensure their bikes had a technological edge and could be marketed well.
In 2019, the founders hired Mr Ting, who had also gone to the same primary and secondary schools, and by then had vast experience working abroad in industries like sand dredging and bulk procurement.
The deal was that Mr Ting would set up the company's base in Rwanda and eventually oversee operations on the ground. He took up the offer, and was first sent to China to learn about electric motorcycle technology.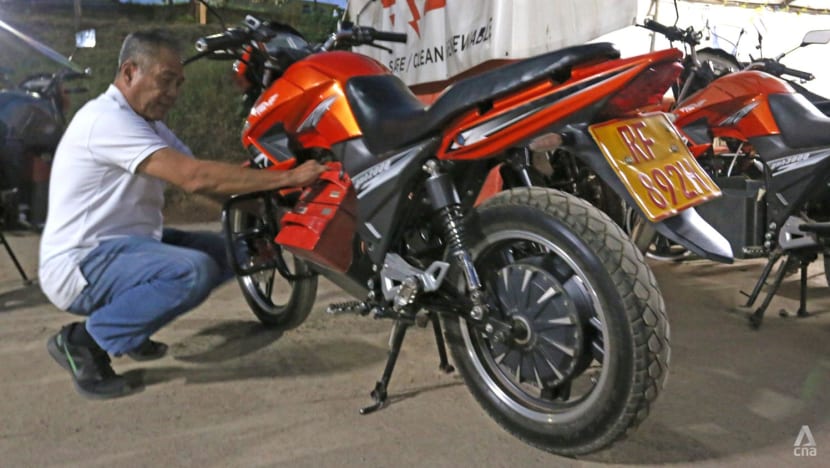 REM decided that its motorcycle would have a dual battery swap system, meaning that its two depleted batteries could be swapped out for fully charged ones in minutes at battery swap stations around the city, instead of making riders wait three-and-a-half hours for them to be fully charged.
Extended downtimes would turn away moto taxi riders, who earn more by transporting more passengers. REM would also pitch the electric motorcycles as a way to cut costs.
Mr Ting said the company did its research and found that a rider could save up to US$900 a year by switching to electric bikes, given the lower maintenance fees and currently high fuel costs.
The price of a full tank of petrol for motorcycles is now about US$8.50, compared to less than US$1 (900 Rwandan francs) for a single battery swap.
Even swapping out a major faulty component takes less than half an hour, Mr Ting said, as opposed to three hours for the routine servicing of ICE motorcycles.
"We just diagnose the fault, replace the part and they're off to make money," he added. "Of course, the strongest point is the bikes are environmentally friendly."
If riders do not want to spend US$1,700 on a brand new REM electric bike, they can get their existing ICE bike - assuming it is an eligible model - retrofitted for a US$600 fee.
Mr Ting pointed out that some moto taxi riders have worked hard to buy their own bikes, and that the company had always planned to offer retrofitting as a "value-added service".
"We help the moto riders make more money, but then again, what are they going to do with their old bikes?" he said. "If you build up the ability to retrofit petrol or diesel bikes to run on batteries, it's a win-win for both parties."
Retrofitted bikes would have their engine, sprockets and chain removed, to be replaced with two batteries, a controller and a motor attached to the rear wheel. Before retrofitting, the motorcycle is safety inspected to ensure it can physically handle the modifications.
SETTING UP
With plans firmly in place, Mr Ting landed in Kigali in January 2020, just as the pandemic hit. But Mr Ting persisted through the lockdown and set up REM's first premises "pretty much on my own".
"We brought in with us the parts and technology and finetuned after our arrival. Some additional parts were then air freighted to Kigali," he said.
The orders came in quickly. Mr Ting said a security company bought eight electric motorcycles, whose parts were shipped from China and assembled in Kigali. Mr Ting himself rode the bikes and did about 50 test runs to ensure they were fit for purpose.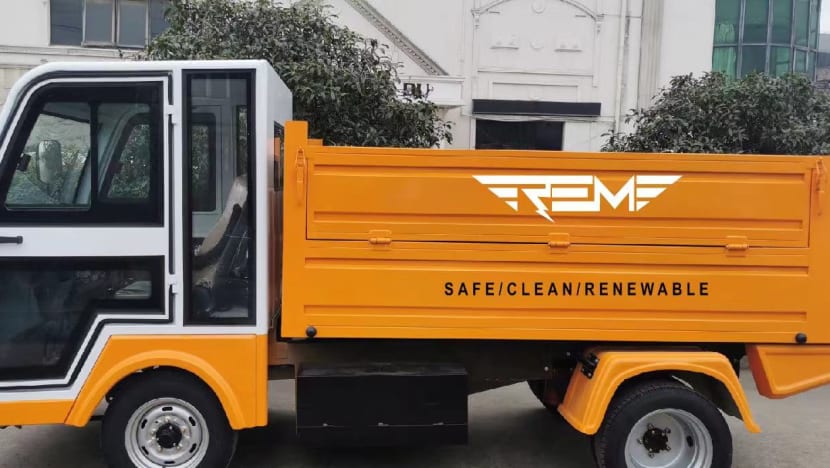 Swapping batteries on REM's bikes is easier as it has two relatively lighter batteries, Mr Ting said, pointing out that REM's competitor in Rwanda Ampersand uses a single battery system that made swapping more labour intensive.
REM's swapping system only works because it has two electric trucks that ferry fully charged and depleted batteries between its centralised charging station - located in the warehouse - and three other battery swap stations. This is a 24-hour operation.
HIGH DEMAND
Riders seem to have recognised the benefits and have been "very happy" with the cost savings, Mr Ting said. REM has so far sold 170 motorcycles and retrofitted 86 motorcycles. Mr Ting expects the take-up rate to "keep skyrocketing".
Current demand for both brand new bikes and retrofits is outstripping supply, he said, adding that the company is awaiting the delivery of more batteries held up due to pandemic-induced supply bottlenecks in China.
Even the microfinancing companies that work with REM to provide loans for buyers are urging the company to bring in more bikes, Mr Ting said.
"Especially now, who wants to be caught out by the petrol prices? We just have to tell them to hang on, we are waiting for the next batch of batteries," he said. "When the batteries come, of course we will be happy to do business with you."
Mr Ting revealed that the company is also working to make their stocks available to moto taxi rider cooperatives, which sometimes rent out motorcycles to the riders.
"They also want to keep up with the times. They don't want to be stuck with petrol bikes and then the government says stop. So, they also want to be retrofitted as soon as possible," he said.
In December 2021, Rwanda partnered the United Nations Development Programme (UNDP) to launch a sustainability project aimed at rolling out more electric motorcycles. The government worked with REM - with financial support from UNDP - to retrofit 80 moto taxis in a pilot.
"We are very lucky that they gave us that opportunity," Mr Ting said.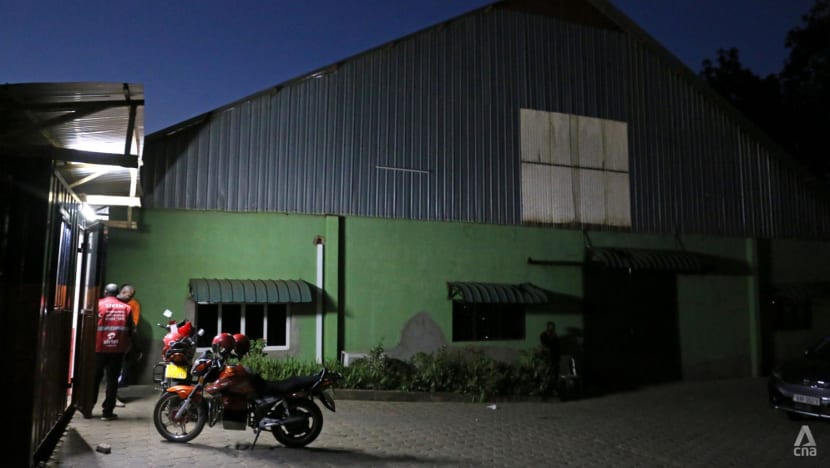 As business expanded, REM that same month moved to its current warehouse, a larger space with four times the capacity to charge batteries and assemble motorcycles.
The facility can handle up to 500 bikes and has a larger power supply, Mr Ting said, gesturing at an "expensive" transformer right next to the warehouse.
"We will continue to expand, either by moving to larger premises or setting up more centralised charging stations," he said, adding that the Singapore-based founders are in talks with Rwandan authorities on a more spacious base with an even larger power supply.
DAY TO DAY
These initiatives, coupled with high demand, meant REM has had to beef up manpower. The company has hired 31 locals, including mechanics, administrative staff and a chief executive officer.
REM also runs student internships to attract future talent as it grows. In fact, Mr Ting said the company will hire another 10 local employees in the next two months.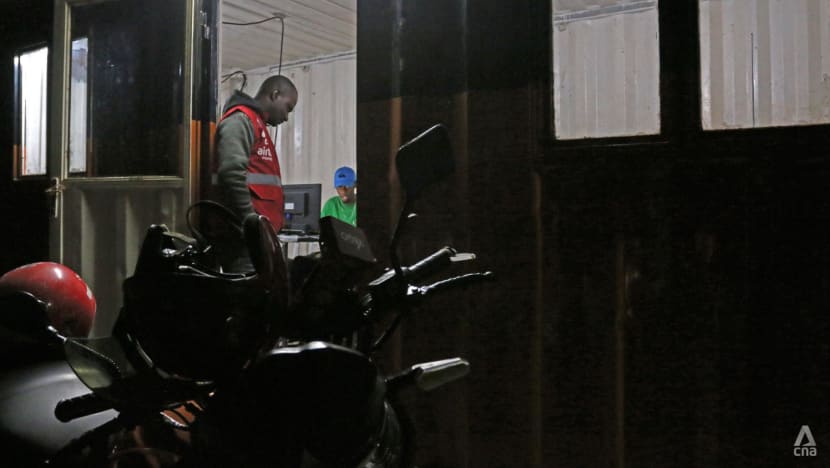 As dusk descended on the warehouse, REM's electric bikes continued to pull in beside a small container facility, swapping out batteries that had run out of juice. The moto taxi riders looked surprised by Mr Ting giving a tour to yet another foreigner.
At the charging racks, Mr Ting demonstrated how REM's batteries were designed exclusively for its chargers, protecting intellectual property and deterring theft. Photos in this area were not permitted for security, he said.
Mr Ting is also proud of how he has organised the warehouse to maximise operational efficiency, especially in terms of battery charging and the storage of spare parts.
His job now, however, is focused on requisition. He reviews the daily service logs to ensure every maintenance detail, including faults and what parts have been used, is recorded properly.
"Because of the fact that it takes more than 35 days for goods to arrive, I've got to be very careful with stock balance," he said, noting that Rwanda as a country is landlocked.
LIVING IN RWANDA
Rwanda might not have a beach, but Mr Ting described life there as "pleasant" with "fine" weather. The country, dubbed the "land of a thousand hills", is at a relatively high altitude. Kigali's average daily temperature is about 21 degrees Celsius.
"You don't need to be in air-conditioned place; you can actually sit down with a cup of coffee and chit-chat and it's still very pleasant," he said, praising the lack of flies or mosquitoes unlike in other African countries.
He also called Rwanda the cleanest country in the world and stressed that Kigali is "very safe". The policemen stationed at many road junctions were not just for show during the recently held Commonwealth summit, he said.
"It's a daily thing ... it's providing a sense of security which is important. It makes you feel as safe as in Singapore," he added.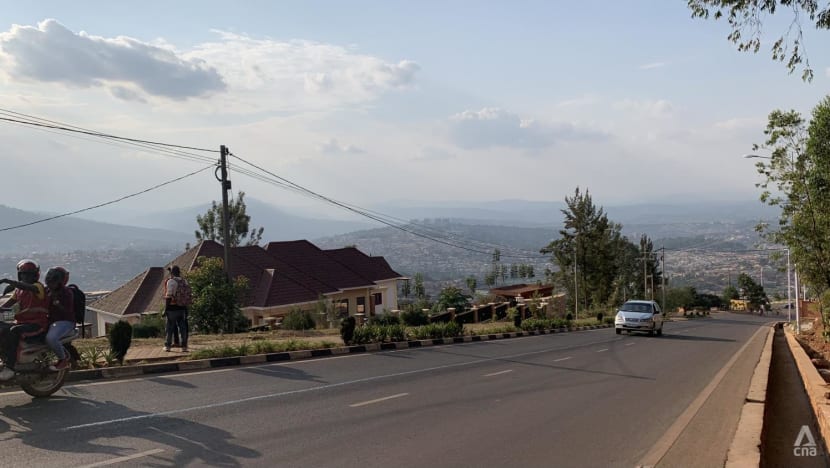 Nevertheless, Mr Ting said as a foreigner he has had to pay more for daily necessities. While a moto taxi ride to work cost him 2,000 Rwandan francs, a local paid 700 Rwandan francs for the same journey.
When he bought a pair of jeans for 25,000 Rwandan francs at a market, he felt pleased with his bargaining skills. During another visit with a local colleague, the price for an identical pair dropped to 12,000 Rwandan francs.
"People here are very honest. They don't steal, they don't rob, but they try to get a better bargain from you," he said.
"Locals here will call you mzungu, which means white but also foreign. Anything not African is mzungu, which means everything is more expensive."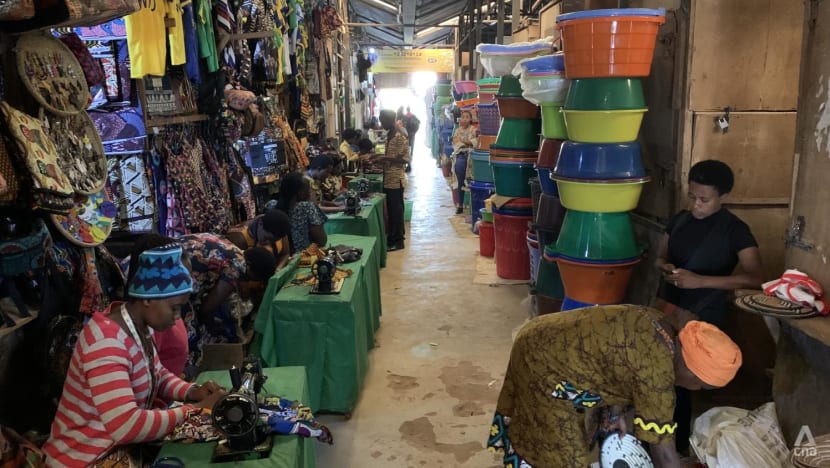 Mr Ting, a Muslim convert, has an Indonesian wife and a Singaporean daughter, both living in Jakarta. His daughter has just started university, and Mr Ting said she feels "comfortable" there.
Furthermore, he prefers to focus on his work in Rwanda, noting that even family could be a "distraction" in a foreign land.
"The reason why I had my wife and daughter stay together is because I have postings all over, so let the daughter grow up with the mother," he said, adding that he visited them "pretty often" when he was based in Singapore.
Mr Ting plans to use his 60 days of accumulated leave - COVID-19 prevented him from going home - to see his family sometime this year and take a "well-deserved" break, including a trip to Singapore to settle administrative issues.
"I won't be here forever," he said of his time in Rwanda. "It's a pleasant challenge."
ELECTRIC MOTORCYCLES IN SINGAPORE?
Singapore is also challenging itself to phase out ICE vehicles by 2040 in a push to cut emissions. While electric cars might be gaining popularity in the country, adoption of electric motorcycles severely lags behind.
Land Transport Authority figures show that in 2021, only five of Singapore's 141,594 motorcycles were electric.
According to a public transport analyst, challenges to adoption include a lack of charging infrastructure and the high cost of electric bikes compared to their ICE counterparts.
"While key manufacturers have started producing electric motorbikes, the entire electric bike ecosystem still lags behind the electric car market," Mr Satya Ramamurthy, global co-head of public transport at KPMG, previously told CNA.
Indeed, REM's chief technology officer Albert Tan, another schoolmate of the co-founders, told CNA that most electric vehicle initiatives in Singapore revolve around electric cars, including for charging points.
"I think ultimately for electric bikes the business case is harder, simply because each bike, even the bigger ones, you put in about a maximum of four or five kilowatt hours (of charging that costs) S$2 or S$3," the 63-year-old said.
"Car batteries are three to 15 times bigger, so immediately you have a big revenue differential."
Furthermore, Mr Tan said REM's business model targets moto taxi riders who can chalk up more than 100km a day and do not have time to wait for batteries to be charged.
Many Singaporean riders, on the other hand, do not use their motorcycles so consistently and would thus have the time to charge their own batteries, he said.
"In Singapore, clearly there is a business of people riding the bike for the whole day, especially now the delivery riders, but it still forms a relatively small percentage of all bike riders," he added.
"In Rwanda, the motorcycle taxis form a fairly large percentage. So it's not a matter of whether we are interested. The Singapore environment is just different, circumstances and usage are different. It simply says this particular business model will not work." 
There are signs that things are changing. Following a review, the Government in March allowed swappable batteries for electric motorcycles, paving the way for wider adoption of smaller models that use this technology.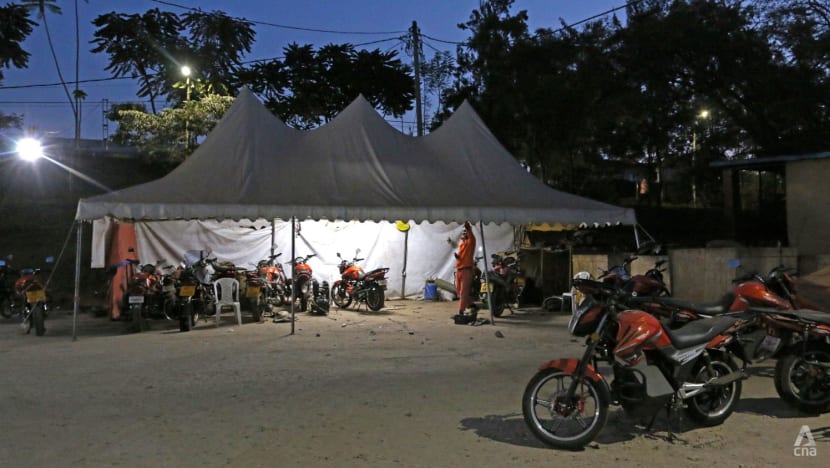 Still, REM co-founder Timothy Liew said the business is focused on expanding in Africa, with countries like Kenya, Nigeria and Tanzania each having more than a million moto taxis. "I mean, that's enough to keep us busy," he said.
The company's pilot franchise has also launched in Kenya, and Mr Liew said "quite a few" African countries have reached out with interest.
Mr Liew pointed out that REM has carved out a niche in Africa, something that would be harder to achieve in Singapore given the presence of many large automotive-related companies.
"Over there, we have the attention of the Rwandan government. Over in Singapore ... who are we?" he added.
"Essentially, I'd rather be a big fish in a small pond than a small fish in a big pond."