SINGAPORE: When dark clouds start rolling in, one Eng Kong Place resident starts looking for higher ground to park her car.
The resident, who wanted to be known as Mrs Yeo, said her car was damaged seven years ago after a heavy downpour flooded the front entrance of her house in the Bukit Timah area.
"The water level rose by quite a bit and actually went inside the car, damaging it," the 52-year-old housewife told CNA.
Despite being more alert and cautious, last month's flash floods still caught her by surprise.
"It was really bad … We've lived here for about 13 years and we know it's prone to flooding (but) normally, the water only comes up to the (front garden), it never goes into the house," she said. "This time around, the water came in from the front as well as my backyard, and flooded my entire house."
The water destroyed electrical appliances and cables, as well as her carpet, resulting in several thousand dollars worth of damage.
Mrs Yeo now places shoes and electrical appliances on racks to prevent them from getting wet again.
Another resident in the area, who only wanted to be known as Mdm Lim, said she is now more alert and will keep an eye out for bad weather. But beyond that, there's very little she can do, she said.
"During the heavy rain last month, my helper and I were trying to clear some of the drains (outside) – which helped a little but not much – just so that the water can quickly move off and subside. But it just happened so fast that we didn't really have a chance to react and to bring up all our furniture, so it was all wet," she said.
Last month's flash floods highlighted the worsening effects of climate change and Singapore adapting to more intense rainfall.
According to the Meteorological Service Singapore, it was the wettest August in more than 40 years, with a total monthly rainfall of 426.2mm.
The wet weather was attributed to a phenomenon known as the Indian Ocean Dipole, which influences rainfall patterns in the Indian Ocean, including Singapore.
National water agency PUB announced it will raise a 450m stretch of Dunearn Road, which has been hit by three flash floods this year. This is an interim measure to reduce the risk of floods until drainage expansion works in the Bukit Timah area are completed in the first quarter of 2024, it said.
PUB also said its officers have gone door-to-door to teach residents how to quickly set up flood protection devices, such as portable flood barriers and floodgate barriers, during heavy rainfall.
Since November 2019, it has issued 480 of these devices and around 10,000 flood bags to residents and businesses in flood-prone areas.
About 100 flood protection devices were loaned to those affected by the recent flash floods. PUB said it recently purchased another 200 devices for residents or businesses who need them.
BUSINESSES TAKING PRECAUTIONS
While the forecast for the first half of September is expected to be less wet, Bukit Timah businesses hit hard by the August floods told CNA that they were not taking any chances.
Mr Farhad Sorouri, whose carpet shop at Bukit Timah Plaza was badly affected after a flood, said he plans to place his carpets on pallets to protect them from future floods.
"Looking back, I was really not prepared at all because I never imagined that water could come into the building and flood my shop," said Mr Farhad.
"My carpets were ruined and I'll probably have to stop operations for at least two weeks while the carpets are being dried and treated, and my shop is being repaired," he said.
Other shop owners at Bukit Timah Plaza are also taking precautions, according to Mr Dave Prashad, who owns a bedding store at the mall.
"Everybody is raising their stock so that it's not on the floor. I bought foam boxes to put all my items in," he said.
"But the building management has to do something because if the water comes in again, we can't really do much."
CNA has contacted the management of Bukit Timah Plaza for comments.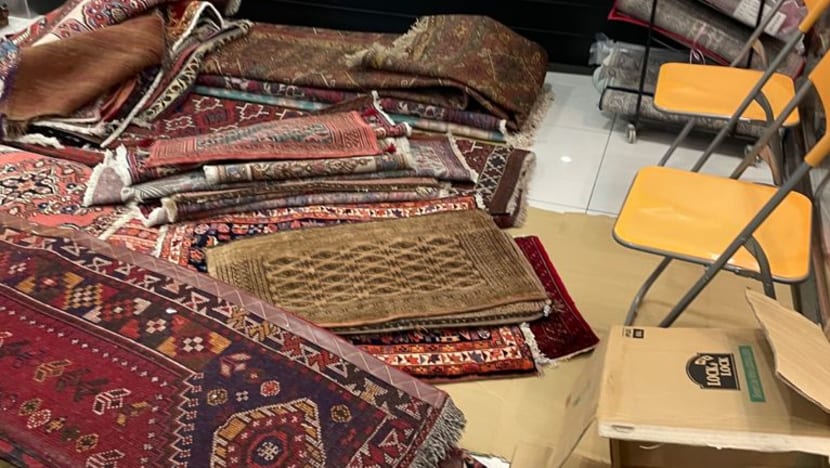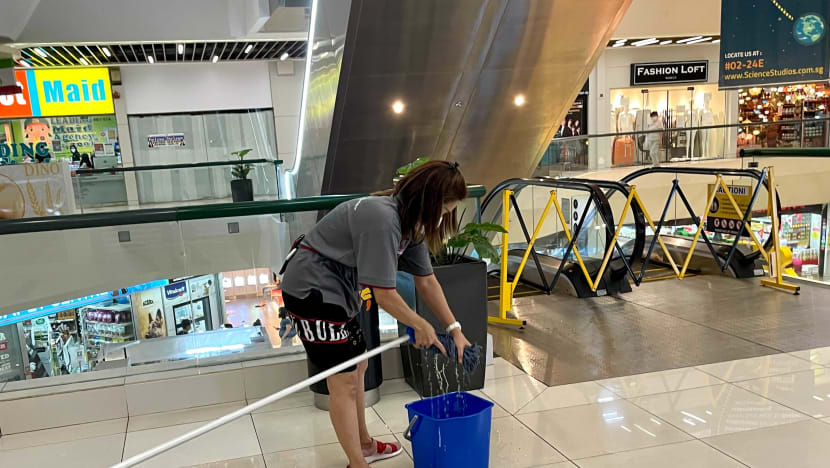 Over the years, Singapore has invested significantly in projects to improve drainage, spending around S$2 billion. It includes the expansion of Bukit Timah First Diversion Canal – a massive and complex project which took seven years to complete – to increase its capacity by 30 per cent.
The project was expected to provide enhanced flood protection in the Bukit Timah area, benefiting buildings such as Bukit Timah Shopping Centre and Beauty World Plaza.
Data from PUB shows that the situation in the area has improved. Since the project's completion in 2019, there have been only two flash floods in Bukit Timah – both of which occurred this year. It's a significant decrease from 2018, when the area was hit by at least six flash floods along Dunearn and Bukit Timah Road.
Investments in drainage improvements and flood protection measures have helped to reduce flood-prone areas in Singapore from 3,200 hectares in the 1970s to 28 hectares today despite increasing urbanisation.
Earlier this year, Sustainability and the Environment Minister Grace Fu announced that the Government will pump in another S$1.4 billion in the next five years to enhance its drainage systems and better deal with the effects of climate change.
However, there is a limit to how flood-proof Singapore can be, said Dr Cecilia Tortajada, an adjunct senior research fellow at the Lee Kuan Yew School of Public Policy's Institute of Water Policy.
"Singapore is very small so it has to be efficient with its resources and land, and every time we talk about (improving or expanding) drains, they are associated with changes to land use," she said.
"If we plan for storms like the (recent one at Bukit Timah in August), we will have to extend the drains by one more metre, so we will have drains that instead of being 1.5m would be 2.5m. You will also need a bigger outlet drain for all the water to go out and expand major waterways too," she added.
This means existing roads and houses in the area may have to be cleared in order to make room for bigger drains, she said.
As climate change worsens, efforts to educate and inform the public of heavy rain and flood risks must continue, said Dr Tortajada. She noted that PUB already works with the Land Transport Authority to tap on their CCTV network to monitor water levels across the island and issues flood risk warnings.
"When there are specific warnings on water levels reaching 90 per cent and that there is a high flood risk, it informs people in their planning … you're in the place, it won't help that much. But for those who don't have anything to do in that area, it's very important to inform them because then you don't have more problems such as cars getting stuck in these areas or accidents," she said.